To the international traveler, crepes were once simply a sweet treat enjoyed best with Nutella. With the dawn o f the internet, Netflix, and general access to information most travelers know that sweet crêpes aint the only crêpes! Salty crêpes are delicious too. But what if I told you that the world of crêpes was more broad than sweet and salty?
---
The History of Crêpes
Few French foods have become as internationally known as the crêpe. Simple yet flavorful with a wide variety of ingredients offered and a small price tag, crêpes can appeal to just about anyone.
It's generally thought that French crêpe making began way back in the 13th century in the Brittany (Bretagne) region. The buckwheat that is now synonymous with galettes was originally brought to France from Asia after the Crusades, and the French discovered that it grew well in the Brittany climate. Nowadays, crêpes have become synonymous with France. There's even a "Day of Crêpes" in the country: every year on February 2nd, the French enjoy crêpes as part of the celebration of La Chandeleur (Candelmas).
If you walk into a crêperie (crêpe restaurant) in Paris, you'll notice that crêpes are actually in the dessert section of the menu. But wait, you might think – what about savory crêpes? Many of us have already bit into a delicious crêpe filled with chicken, cheese or even seafood. In France, there's a big distinction between sweet and savory crêpes. In fact, technically there's no such thing as a savory crêpe…
Galettes
That's because crêpes filled with savory ingredients are actually called galettes. They are made with buckwheat flour, which gives them a distinct dark brown color and also makes them gluten-free. Besides the buckwheat flour, only butter, salt, water, and eggs normally make up the batter. Galettes are also usually formed in a square shape, with an opening in the center of the square that showcases a bit of the deliciousness inside. The taste is not drastically different than a crêpe, but there is a bit more flavor and heartiness to it.
Galettes can be filled with pretty much any savory ingredient imaginable. Parisian crêperies sometimes try to get creative with their menus, but common examples of galettes include La Complète which is made with Emmental cheese, ham, and egg. From there you have La Forestière which includes ham, mushrooms, and crème fraîche (my personal favorite). Finally, there is La Raclette which is prepared with lardons, potatoes, onions, and raclette cheese.
You'll almost always find a galette filled with some sort of seafood on the menu, like salmon or scallops. Vegetables such as spinach, onions, and tomatoes are commonly added, and sometimes fried eggs. And of course, almost no galette is complete without some type of cheese.
Hard cider is the drink traditionally paired with galettes in France. You'll have a choice between cidre brut, a less sweet option with about 5% alcohol, or cidre doux, a sweeter option that will taste more like apple juice with only about 3% alcohol. Our recommendation would be to go with some cidre brut for your galette, then follow it up with some cidre doux with dessert. If you order a cup of cider, it will traditionally come served in a small bowl (une bolée) instead of a glass – don't expect any straws here!
Crêpes
Crêpes, in contrast, are filled only with sweet ingredients and served as dessert or a sweet snack. Common ingredients include chocolate, hazelnut cream, Nutella, bananas, strawberries, salted butter caramel, and apples. Some crêpes also include an extra punch, like the famous Crêpe Suzette made with a flavorful orange sauce, then topped with Grand Marnier liqueur that's set on fire (flambéed), usually right in front of diners.
Crêpes are usually folded in a triangle shape with the main ingredients inside, sometimes topped with drizzles of chocolate sauce, whipped cream or sugar.
Our Best Guided Tours of Paris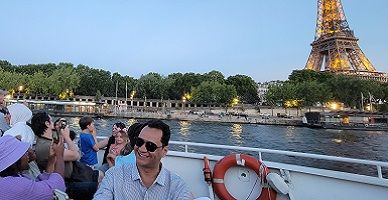 Likely to Sell out
Privileged Access Eiffel Tower Night Tour With Seine River Cruise
Sometimes the most amazing moments happen by chance. Other times, they are orchestrated by professionals. Our Eiffel Tower tour takes you on a cruise down the Seine River for incredible views of Notre-Dame and the Eiffel Tower. Champagne included, of course. Then you'll be guided to the Eiffel Tower, skip the long lines, and head up the elevator to the second floor for a night to remember.





See Prices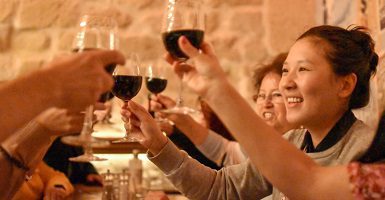 Top Selling
Ultimate Taste of Paris Food Tour in Le Marais
Embark on a culinary journey in Le Marais—one of the hippest neighborhoods in Paris. Most food tours in Paris offer cheese and wine, but we include a full, sit-down meal! Enjoy a feast of French cheeses, oysters, street food, boeuf bourguignon, crème brûlée, and more. This 3-hour food tour combines the best of Paris' culinary heritage and you won't find a better deal out there!





See Prices
Not ready to book a tour? Check out Paris Guide for more resources.
Street Crêpes
Now don't be confused – if you walk up to a crêpe stand on the street in France, they will technically serve crêpes with savory fillings. This is just because it's impossible to serve a galette as takeaway food.
Crêpe stands will always have a selection of both sweet and savory crêpes. The most popular is normally the classic Nutella and banana crêpe – make sure you take a napkin with you as it can get a bit messy. These will be made in front of you, then folded in a triangle shape and handed to you for immediate devouring.
Where to Eat the Best Crêpes in Paris
Today, a large concentration of Parisian crêperies are located in the Montparnasse neighborhood. If you want dozens of options, head there. Otherwise, we've outlined a few of our favorites for you below.
Breizh Café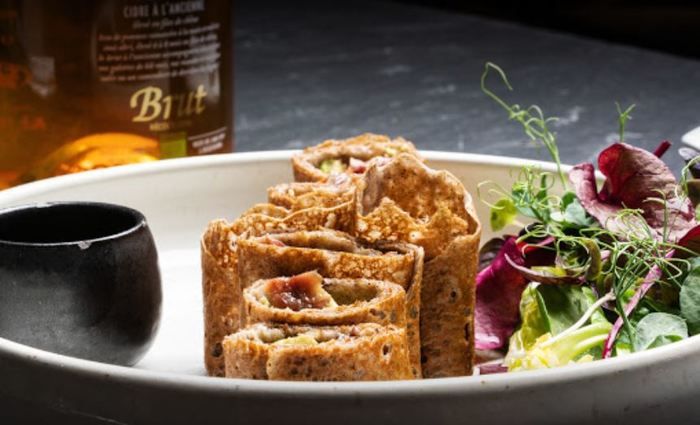 €€ | Non-Traditional Crêpes | Outdoor Dining Options
"Breizh" is the Breton name for the French region of Brittany, most commonly associated with crêpes and galettes. While their galettes are authentic, they definitely have a creative, modern and slightly upscale twist to them. Menu options include a smoked salmon galette with crème fraiche and dill, or a spinach galette topped with an egg sunny-side-up and grated cheese. Their galettes and crêpes come in various forms that are sometimes unique, like the rolled version in the picture above. They also have over sixty types of different ciders to try.
Breizh Café is actually a chain, with seven locations in Paris, two in other regions of France and a handful in Japan. We've listed the address for their oldest Parisian restaurant below, which has great indoor and outdoor dining options.
Address: 109 Rue Vieille du Temple, 75003 Paris | Tel: +33 1 42 72 13 77
Hours: Everyday 10AM – 11PM
Le Petit Josselin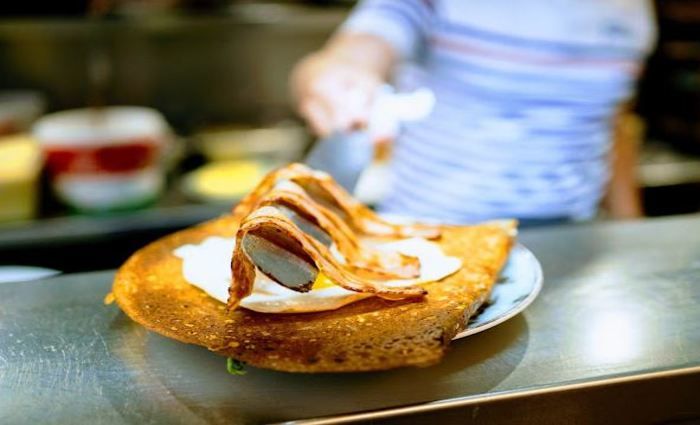 €€ | Traditional Crêpes | Family Owned & Operated
A crêperie started by Marie-Thèrese, a young woman from the small town of Josselin in France's Brittany region, and Giorgio, a young Italian who loved to cook. Today, Marie-Thèrese's son continues to run the establishment and strives to make everything just as his mom would. They have a big variety of galettes and crêpes, and the restaurant has a great family feel to it.
Address: 59 Rue du Montparnasse, 75014 Paris | Tel: +33 1 43 22 91 81
Hours: Mon – Sat 12PM – 2:30PM | 6:30PM – 11PM
Le Kiosque du Carrousel
€ | Take Away Crêpes | In front of the Eiffel Tower
In some touristic parts of the city, you'll find stands selling crêpes and a variety of other items like candy and drinks. This stand just so happens to be right across the bridge from the Eiffel Tower. While it will almost certainly be more expensive than a crêpe stand in a non-touristy part of Paris, it feels pretty magical to be eating a crêpe right next to one of the most famous monuments in the world. The view is amazing, and truthfully the crêpes won't be any worse quality than at another stand. Grab one and gaze at the Eiffel Tower, or walk over and sit on the grass in front of the tower while chowing down.
Address: Next to a carrousel in front of the Pont d'Iéna, the bridge right in front of the Eiffel Tower
Hours: Mon – Sat 8:30AM – 8PM | Sun 2PM – 5PM
Crêperie Little Breizh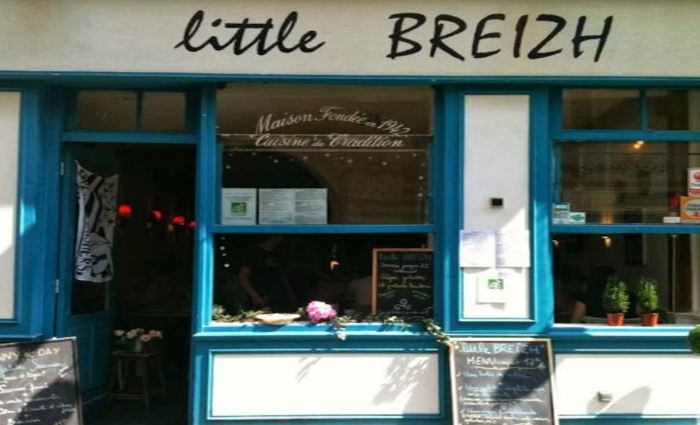 €€ | Traditional Crêpes | Good Deal
This small and cozy crêperie is a perfect choice for anyone exploring the Latin Quarter. They offer great menu combinations, such as one savory galette, one sweet crêpe, plus a bowl of cider for less than eleven euros! We love their Little Breizh crêpe, filled with apples cooked in butter, homemade salted butter caramel and whipped cream, then topped with vanilla ice cream. An amazing sweet treat!
Address: 11 Rue Grégoire de Tours, 75006 Paris | Tel: +33 1 43 54 60 74
Hours: Mon – Sat 12PM – 2:30PM | 6:30PM – 11PM
Caramel Sarrasin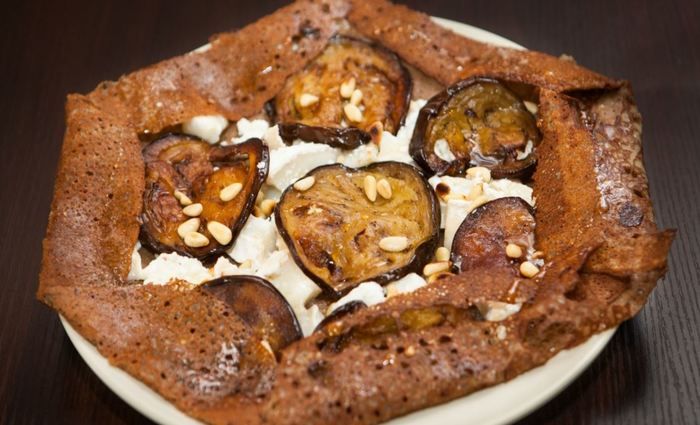 €€ | Traditional Crêpes | Local Choice
Parisians love Caramel Sarrasin, and it shows when you walk in. This is a local spot where French diners definitely outnumber tourists. Located in a neighborhood not too far from Montmartre that's home to many French business headquarters, this place can be packed at lunchtime but becomes the ideal quiet spot on Thursday and Friday evenings.
The chef, who did all of his training in the Brittany region, prepares as many ingredients as possible from scratch, including the chocolate and caramel sauces for the dessert crêpes.
Address: 47 Rue du Faubourg Montmartre, 75009 Paris | Tel: +33 9 51 25 80 04
Hours: Mon – Wed 11AM – 3PM | Thurs – Fri 11AM – 3PM | 6:45PM – 9:45PM
Krügen gardette
€€ | Traditional Crêpes | Sausage Specialties
The texture and crispiness of the galettes here is incredible. The signature dish is the sausage galette, which you can get with added ingredients like fried onions, mustard or cheddar cheese.
The restaurant's interior is more modern with a little bit of a surf theme (the Brittany region is on the coast), so don't expect the traditional crêperie décor here. They're open all day Sunday, which is a plus since many restaurants in Paris close on Sundays.
Address: 4 Rue du Général Renault, 75011 Paris | Tel: +33 9 51 99 81 25
Hours: Mon – Thurs 12PM – 2:30PM | 6PM – 10:30PM | Fri – Sun 12PM – 10:30PM
Our Best Versailles and Paris Louvre Tours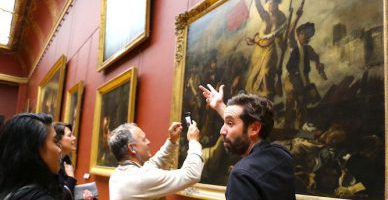 Top-Rated Tour
Secrets of the Louvre Museum Tour with Mona Lisa
The Louvre is the largest art museum on Earth and the crowning jewel of Paris, which is why it's on everyone's bucket list. Don't miss out on an incredible opportunity! Join a passionate guide for a tour of the most famous artwork at the Louvre. Skip-the-line admissions included.





See Prices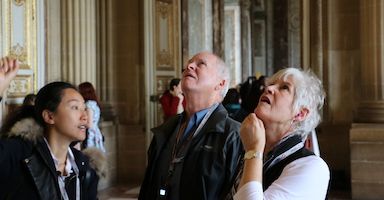 Likely to Sell Out
Skip-the-Line Palace of Versailles and Gardens Tour from Paris
Versailles isn't that difficult to get to by train, but why stress over the logistics? Meet a local guide in central Paris who will purchase your train tickets and ensure you get off at the right stop. Then enjoy a guided tour of the palace and the unforgettable gardens. Skip-the-line admissions included to the palace and gardens.





See Prices
Not ready to book a tour? Check out Paris Guide for more resources.
TANGUY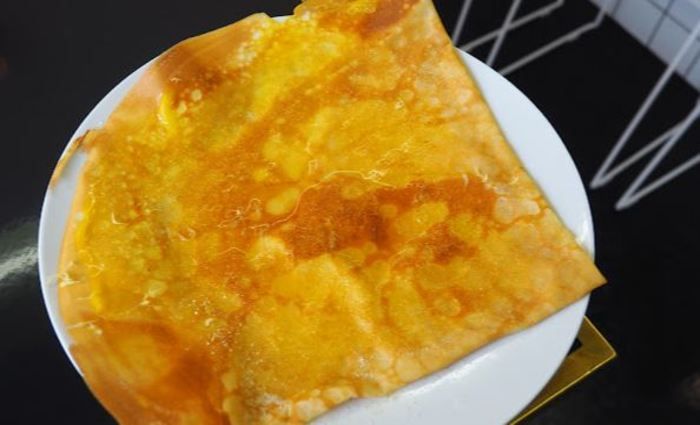 €€ | Traditional Crêpes | Great Flavors
Excellent crêpes and galettes in a restaurant that has a slightly more chic vibe to it. This crêperie is very small so think about making reservations if possible. Each dish comes with a generous helping of melted butter on top which really adds to the flavor of the ingredients.
Address: 15 Rue de l'Échiquier, 75010 Paris | Tel: +33 1 42 46 01 41
Hours: Tues – Sat 12PM – 3PM | 7PM – 11PM
Au P'tit Grec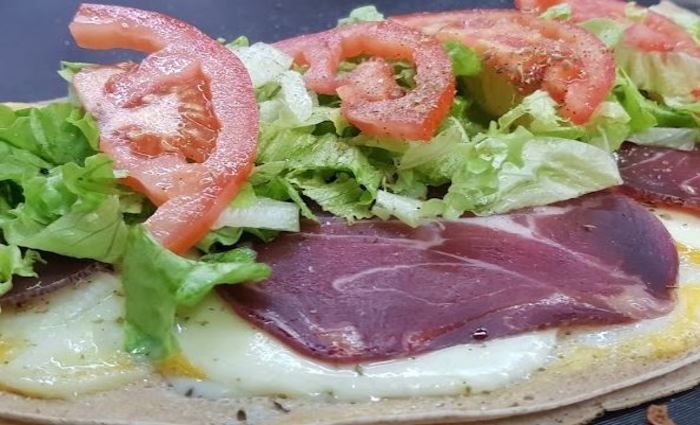 € | Take Away Food
Au P'tit Grec has become famous in Paris over the years which is due to their larger-than-life street crêpes. You'll watch the food cooking right in front of you and it'll come out piping hot. In addition to crêpes they have a few sandwich and panini options. The servers are usually friendly and very willing to interact with clients.
There's only a handful of seats inside, so this is definitely a take away food spot. Depending on the time of day you go there might be a line, but it moves fairly quickly.
Address: 68 Rue Mouffetard, 75005 Paris | Tel: +33 1 43 36 45 06
Hours: Everyday 11AM – 12:30AM
Chez Alain Miam Miam
€€ | Casual & Quick | Located in a Market
This crêpe spot is located in the famous Marché des Enfants Rouges, the oldest covered market in Paris. Chez Alain Miam Miam offers a handful of galette options that are packed with ingredients and guaranteed to fill you up. This is a great place to try a galette because of the actual food but also for the ambiance. During the day, the market is lively and becomes home to dozens of different food vendors. It's a fun way to discover the market culture in Paris while also making your taste buds happy.
Address: 26 Rue Charlot, 75003 Paris | Tel: +33 9 86 17 28 00
Hours: Tues – Sun 9AM – 5PM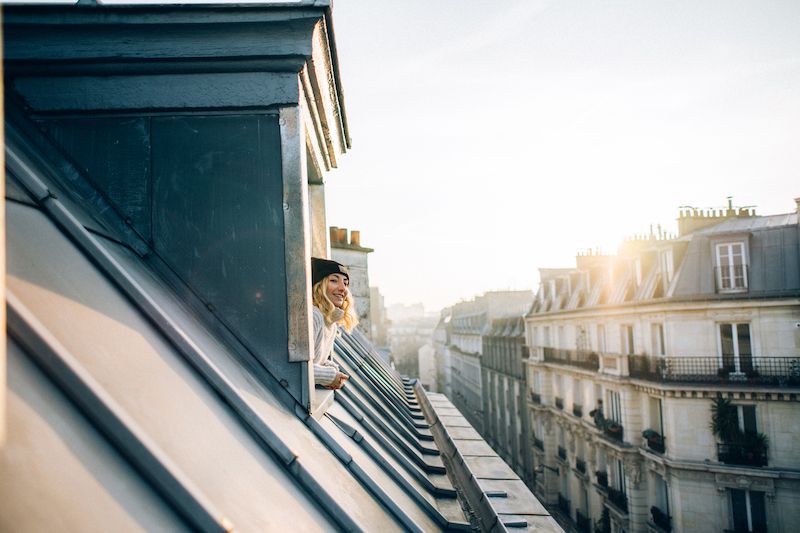 Find the best places to stay
Where To Stay in Paris
With a city as magnificent as Paris, it can be hard to find the perfect hotel at the perfect price. Explore the best hotels and places to stay in these incredible neighborhoods in Paris.