Fisherman's Wharf is by far one of the most visited neighborhoods in San Francisco, and perhaps even its most famous. Come see what all the fuss is about with best restaurants near Fisherman's Wharf in San Francisco.
---
The Best Restaurants in Fisherman's Wharf
Fisherman's Wharf is known for Pier 39, Ghirardelli chocolate, sea lions, street performers and more. This neighborhood should be at the top of every visitor's list when in San Francisco, even if it's only for the views of the bay and Alcatraz you can find there. As you might have guessed by the neighborhood's name, seafood is one of the most popular eating options here. From casual coffee shops to fancy French cuisine, read on to discover what Fisherman's Wharf can offer you and your appetite.
Scoma's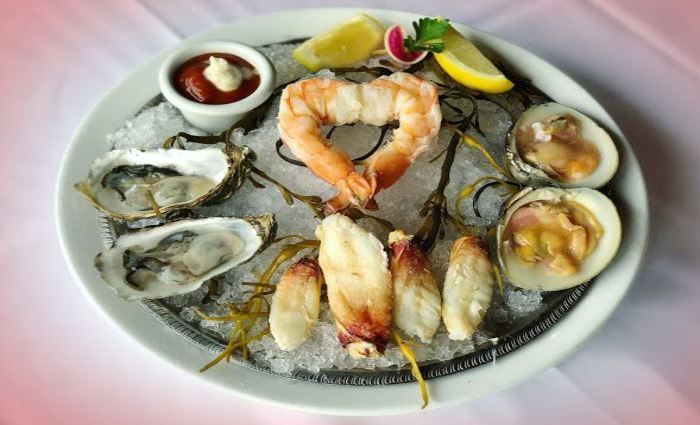 $$$ | Seafood | Some Outdoor Seating
Scoma's has been around since 1965 and is a Fisherman's Wharf favorite. The restaurant is located right on the water, offering outstanding views whether you're seated inside or outside. The specialty here is all things seafood! From crab cakes to clam chowder to oysters, get ready to put on your bib and chow down.
The seafood here is extremely fresh. Scoma's has their own fishing boat, and you can watch the fishermen drop off their fresh catch every morning right on the fish receiving station on Scoma's pier.
Address: 1965 Al Scoma Way, San Francisco
Hours: Thurs 11:30AM – 9PM | Fri – Sat 11:30AM – 9:30PM | Sun 11AM – 8PM | Mon 11:30AM – 9PM
Tanguito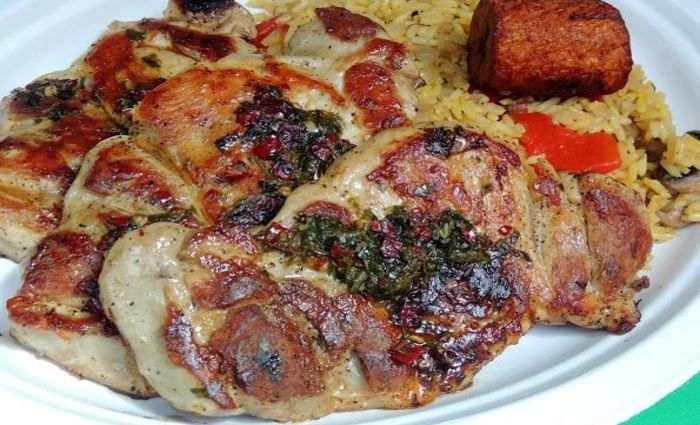 $ | Argentinian | Food Truck
An Argentinian food truck with a patio, perfect for those who don't have a ton of time or are just looking for something more casual. You'll find empanadas, burgers, choripán, steak sandwiches and more at this small eatery. The prices are fair and most out-of-towners don't know about Tanguito, so it feels far from a tourist trap.
Address: 2850 Jones St, San Francisco
Hours: Tues – Fri 11:30AM – 6:30PM | Sat 12PM – 7:30PM | Sun 12PM – 6PM
The Codmother Fish & Chips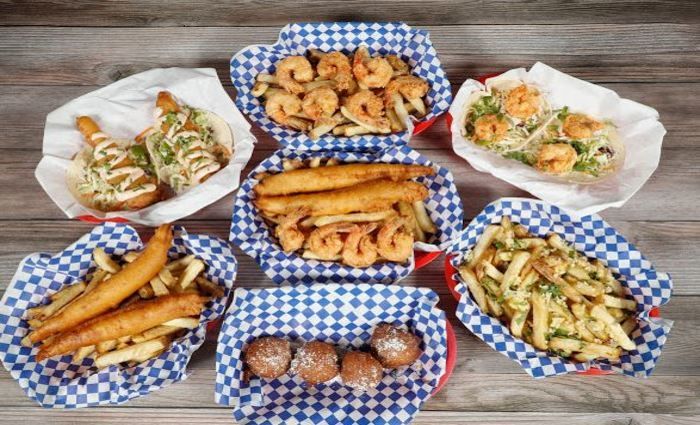 $ | Fish & Chips | Outdoor Seating Only
Those looking for traditional fish and chips, look no further! Owned and operated by a woman originally from the United Kingdom, you'll feel like you're getting the real deal here. The menu is somewhat limited, offering fish, shrimp, calamari and a variety of fry baskets.
The servings are generous, and the restaurant is located just one block from the water. The only downside is seating is outdoor only (it's set up more like a nice food truck), but the fish and chips will heat you up quickly. This is a popular spot with SF locals and by far the best place to eat fish and chips in the area.
Address: 496 Beach St, San Francisco
Hours: Sun – Fri 11AM – 7PM | Sat 11AM – 8PM
Surisan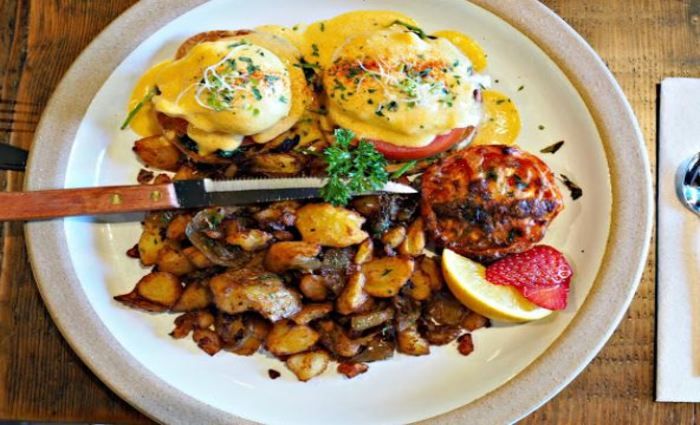 $$ | Korean | Some Outdoor Seating
Surisan describes its food as Asian-inspired American comfort breakfast and brunch, with an emphasis on innovative Korean dinners. Expect to chow down on different scrambles, eggs benedict dishes, kimchi fried rice or Korean fried chicken. The vibe inside is modern and innovative, feeling a bit like an industrial spot that's been given a chic makeover. This is a good choice for those who like to try fusion food and are craving brunch.
Address: 505 Beach St, San Francisco
Hours: Mon – Fri 10AM – 2PM | 5PM – 9PM | Sat – Sun 9AM – 3PM | 5PM – 9PM
Boudin Bakery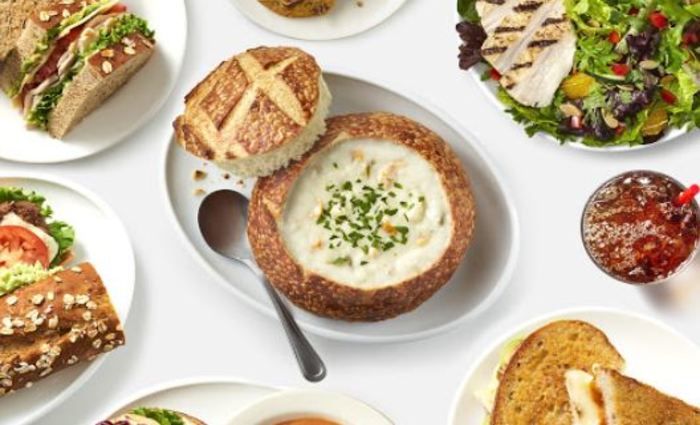 $$ | Sandwiches & Bread Bowls | Family-Friendly
While we normally try to only give non-touristy options, Boudin Bakery is a tourist hit that is actually worth the stop. Boudin Bakery is famous for their sourdough bread. Using four simple ingredients – flour, water, salt, and mother dough – they've been wowing customers since 1849 in San Francisco.
At Boudin at the Wharf, the flagship building located on famous Pier 39, you can eat but also watch the bakers at work through an observation window. They even have a two-way intercom system so that customers can ask the bakers questions while they work.
Of course, we're not suggesting you go just to pick up a baguette (although that's a good choice, too). Over the years, Boudin's soup in a bread bowl has become the star menu item. This is one of the most famous food items in San Francisco!
The most popular is the clam chowder bowl, although the rustic tomato, broccoli cheddar and chili options are just as good. Boudin Bakery is a great stop for families, but if you're looking for something slightly more upscale, they also have a location called Boudin Bistro not too far away that you can try.
Address: Pier 39, Space 5-Q, San Francisco
Hours: 8AM – 7PM, Every day
Fog Harbor Fish House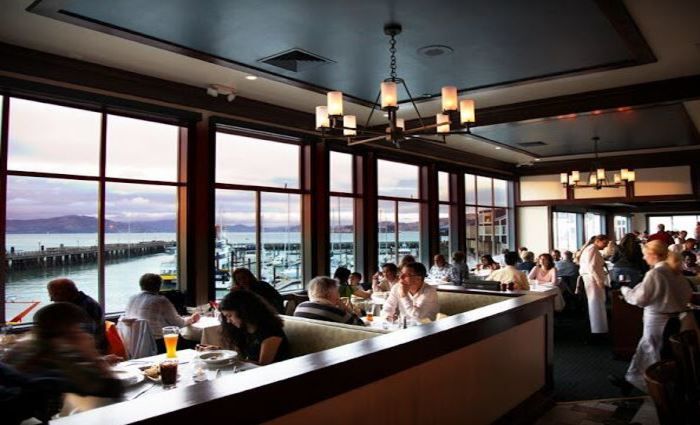 $$$ | Seafood | Great Views
A family owned and operated restaurant serving high quality, fresh seafood. As a plus, this was also the the first restaurant in Fisherman's Wharf to serve 100% sustainable seafood. You'll feast on cioppino, whole Dungeness Crab, seared Pacific Cod and more here.
The seating both inside and outside offers fantastic views of the San Francisco Bay and the Golden Gate Bridge. The restaurant dishes are a bit more upscale, but there's no need to get dressed up here. This is an awesome spot to have good seafood and one of the best views in Fisherman's Wharf.
Address: Pier 39, San Francisco
Hours: Sun – Thurs 11AM – 9PM | Sat – Sun 11AM – 10PM
The Buena Vista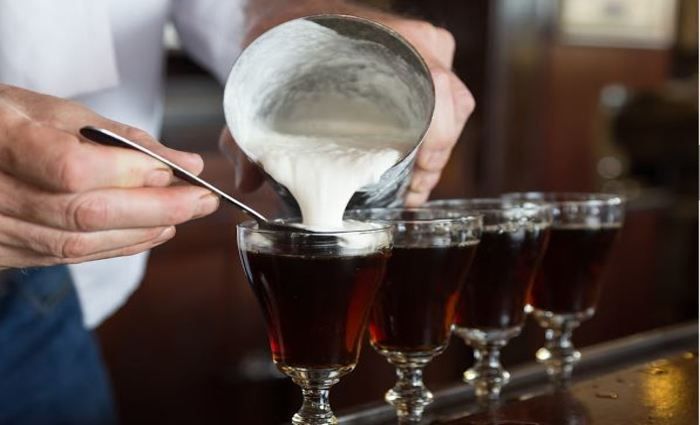 $$ | American | Some Outdoor Seating
American classics are served here, but the real star is the Irish Coffee they've been serving since 1952. People literally come from all over the city to have some! This is a no-fuss, old-school bar which has a great classic vibe to it. You'll find lots of regulars eating here. Plus, The Buena Vista is right next to Ghirardelli Square, so you can run over and grab some famous Ghirardelli chocolates after.
Address: 2765 Hyde St, San Francisco
Hours: Mon – Thurs 10AM – 8PM | Fri – Sun 10AM – 9PM
Gary Danko
$$$$ | French | One Michelin Star
Gary Danko is the most chic spot on our list of Fisherman's Wharf eateries, having earned one Michelin star. The food is mainly French inspired, coupled with local ingredients. The ambiance is best described as old-school luxury, and you'll feel more at home here than in other stuffy venues. Beautiful flower arrangements are always present and wood paneling give this place a less modern but cozy vibe.
As far as recommendations go, save room for dessert: the chocolate soufflé with vanilla bean crème anglaise is one of the house favorites. Reservations should be made in advance.
Address: 800 North Point St, San Francisco
Hours: Mon – Thurs 10AM – 8PM | Fri – Sun 10AM – 9PM
Hollywood Café
$$ | American Breakfast | Some Outdoor Seating
Breakfast served all day, every day! Of course, there's a couple of San Francisco twists, like the crab omelet and salmon-shrimp eggs benedict. Sandwiches are burgers are also available. Believe it or not, the fresh fruit bowl is their signature dish (you'll find fruit you've never seen in a fruit bowl before, which is great).
You'll find the café filled with classic photos of old movie stars. Think of your typical American diner, but with a fun theme. Note that if you go on a weekend, you'll need to show up early (reservations not accepted) or likely have to wait in line.
Address: 530 North Point St, San Francisco
Hours: 8AM – 2PM, Every day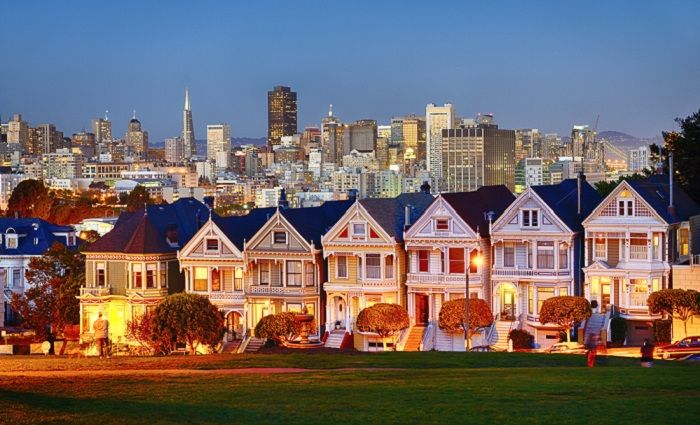 Find the best places to stay
Where to Stay in San Francisco
Make the most of your visit to San Francisco by choosing to stay in the best neighborhoods for seeing all this iconic city has to offer. You'll love our hotel recommendations.