Palo Alto is where some of the world's most famous tech companies got their start. Located in Silicon Valley, Palo Alto is also home to many different things to see and do. Keep reading to find the best places to stay in Palo Alto!
---
Pro Tip: Planning your trip to Palo Alto? It's easier to organize when you have all your resources in one place. Bookmark this post along with our favorite things to do in Palo Alto and popular nature activities nearby!
Where to Stay in Palo Alto: Best Hotels and Neighborhoods
Did you know that San Francisco isn't actually in Silicon Valley? However, Palo Alto is, and it's around a 45-minute drive from San Francisco. Therefore, if you want to tour Stanford University or see where Tesla was born, it's worth carving an extra day or two out of your California trip to spend some time in this little city. Of course, if you do that, you'll need somewhere to stay! Here we will explore three neighborhoods with the best hotels.

However, Palo Alto is also close to many other cities in Silicon Valley, such as Menlo Park and Los Altos. Therefore, many of the hotels that will come up if you search for hotels in Palo Alto are actually in one of these neighboring cities. That's why we put some great Menlo Park hotels on this list as well.
Even Stanford University is technically not in Palo Alto, but in Stanford, a small town nearby. Keep reading to discover our picks for the best hotels in Palo Alto and surrounding areas.
Our Partnership with Booking.com. If you like our content, please book by clicking on our Booking.com links. The price is the same for you and we get a small commission that helps support our blog. We've partnered with Booking.com because they have the most options, great prices, and a solid loyalty program. Just about every hotel is on Booking so our recommendations are not incentivized.
Downtown Palo Alto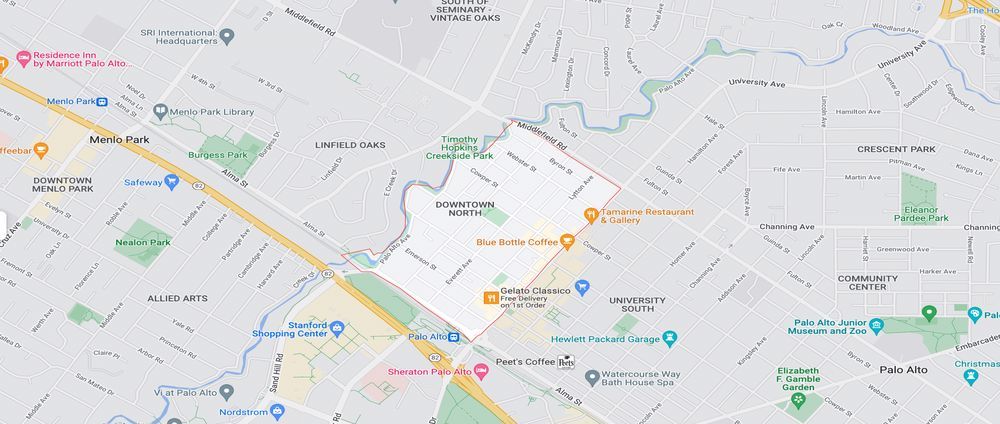 If you're hoping to do lots of shopping and good eating, then downtown Palo Alto is a great place to stay. Centered around the bustling University Avenue, downtown Palo Alto is home to most of the city's popular restaurants.
Adjacent to University Avenue is Hamilton Avenue, which is also home to many great places to eat. What's more, downtown Palo Alto also boasts many clothing stores, several art galleries, two movie theaters, and some incredible hotels!

Because of Palo Alto's proximity to Stanford, it's a big university town, and this downtown area is a short drive from the university. That means many Stanford students hang out in downtown Palo Alto. Given this, downtown Palo Alto is where most of the city's fun bars are as well.
Why I Love Downtown Palo Alto:
A wide variety of great restaurants
Good for shopping
Always something going on
Something for everyone
Attractions Near Downtown Palo Alto:
Downtown Palo Alto Farmers Market
The Watercourse Way Bathhouse & Spa
The Hewlett-Packard Garage – where Hewlett Packard developed their first-ever product back in 1938!
Stanford University
Best Restaurants in Downtown Palo Alto:
Best Hotels in Downtown Palo Alto:
Nobu Hotel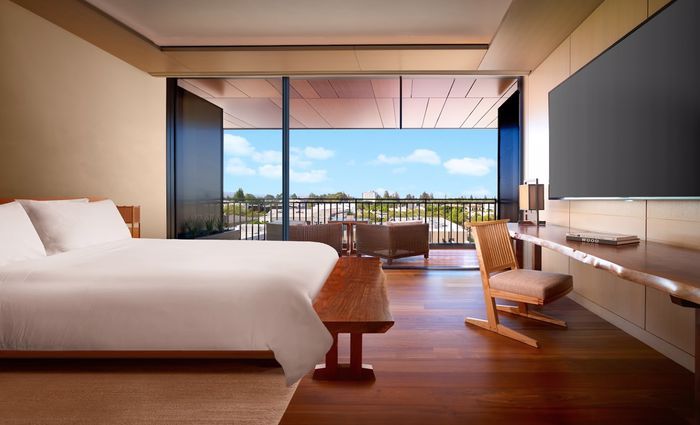 $$$$ | 5 Star | Attentive Staff | Amazing Room Features

With heated toilets, doorless showers, and in-room Alexa devices, the Nobu Hotel is on another level. What's more, the staff also goes out of the way to make sure you have a 5-star experience. Of course, the famous sushi restaurant Nobu is here too. If you want to celebrate something or pamper yourself, this is a great place to stay.
El PRADO Hotel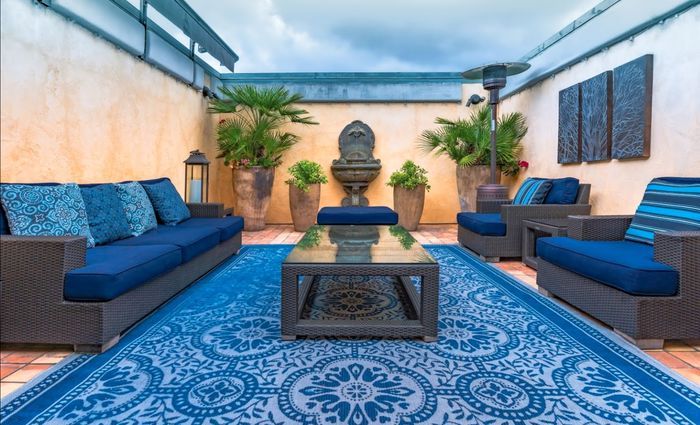 $$$ | 4 Star | Newly Renovated | Room Service
A great perk about El PRADO is they always provide room service. Guests also love the modern clean rooms. Formally known as the Garden Court Hotel, this newly renovated hotel is known for its attentive staff. Additionally, there's an Italian restaurant on-site called Il Fornaio.
The Clement Hotel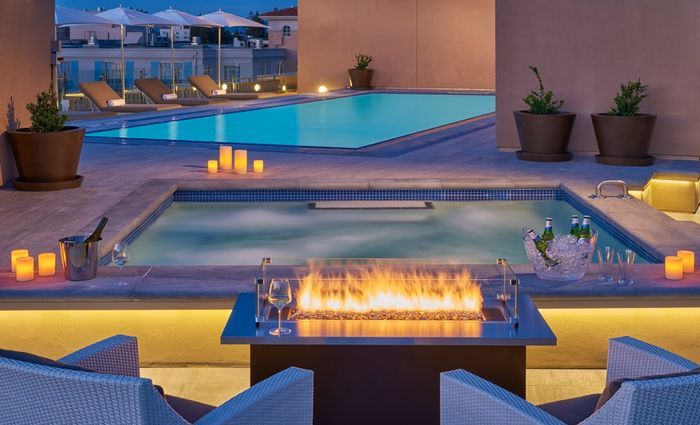 $$$$ | 5 Star | Rooftop Pool | Amazing Amenities
This boutique hotel has incredible modern rooms. We're talking a TV in the bathroom mirror! Additionally, they also have a stunning rooftop pool. Their staff goes above and beyond to ensure your stay is perfect. Above all else, we've heard of them providing complimentary glasses of wine at check-in!

Location, photos, and booking
Palo Alto Orchards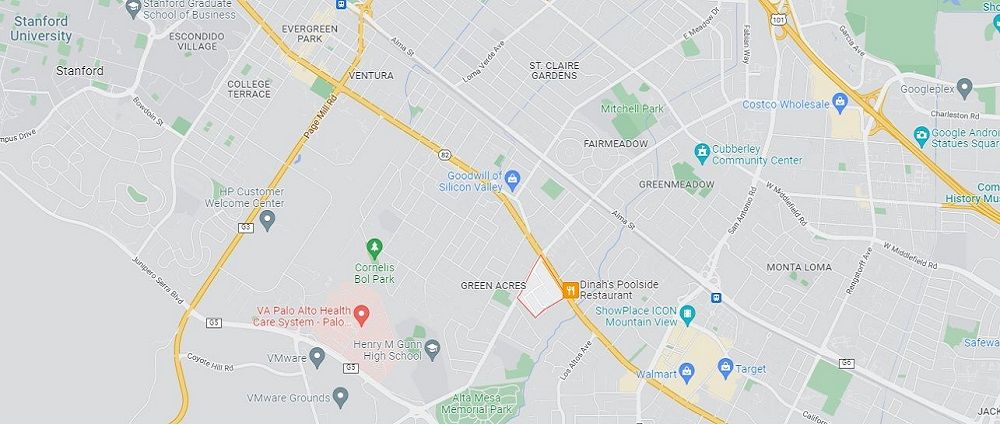 If you're traveling with children, Palo Alto Orchards is a great place to stay. It's quiet and tucked away from the hustle and bustle of downtown Palo Alto. However, there are still lots of activities nearby.
In addition, if you'll have a car with you, it's a short drive to one of our favorite museums for kids. What's more, it's also located close to many parks and places where kids can run around, such as the 19-acre Rinconada Park!

Although not as busy as downtown Palo Alto, there are still a lot of great restaurants in Palo Alto Orchards. Additionally, it's also home to one of the absolute coolest hotels in Palo Alto. However, we'll talk more about that in a minute.
Why I Love Palo Alto Orchards:
Close to fun activities
Calm place to stay
Close to places to get outside
Fun for the whole family
Attractions Near Palo Alto Orchards:
Palo Alto Junior Museum & Zoo
Frenchman's Tower
Rinconada Park
The Magic Forest in Rinconada Park
Best Restaurants in Palo Alto Orchards:
Best Hotels in Palo Alto Orchards:
Crowne Plaza Cabana Hotel, an IHG Hotel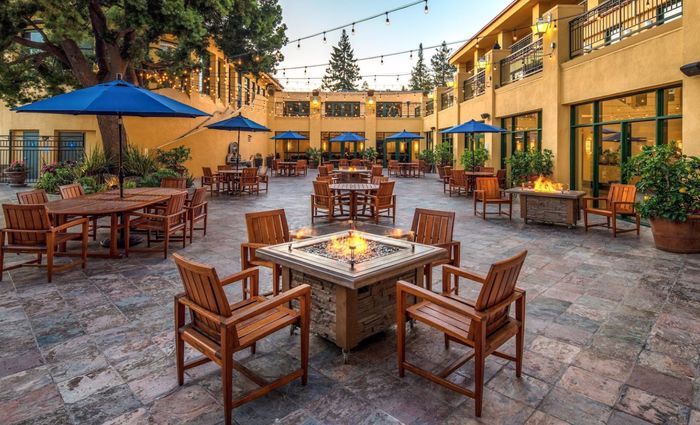 $$ | 4 Star | Free Parking | Clean & Comfortable Rooms
Guests rave about the accommodating staff and comfortable beds of this hotel! What's more, the parking is free, which is an amazing perk as well. Although it's not included in the room rate, they offer a delicious breakfast. Because of all the amenities, this is an ideal place to stay if you're traveling with your family, or in Palo Alto on a business trip.

Location, photos, and booking
Dinah's Garden Hotel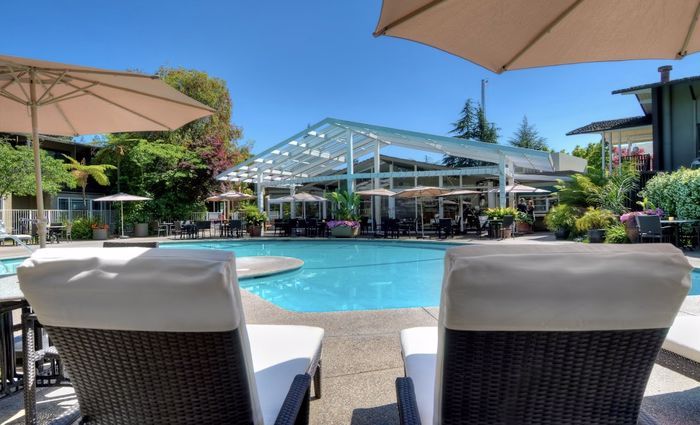 $$ | 3 Star | Walk-In Showers | Rooms With Tiki Vibes
When we said Palo Alto Orchards includes one of the coolest hotels in the city, we were talking about this one! For instance, this hotel has an awesome pool, a koi pond, and even a dog park! In addition, they provide free koi and duck food in the lobby so you can feed the animals in the pond. What's more, the tiki-themed rooms also come with walk-in showers!

Location, photos, and booking
Barron Park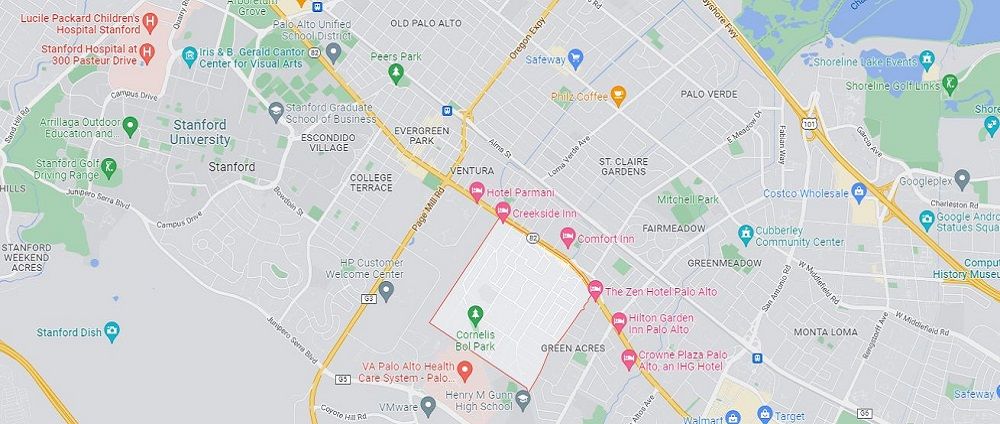 You may have heard of Barron Park because it has something cool that sets it apart from the rest of Palo Alto. If you said "wild donkeys," you're correct! Stanford University physicist Cornelis Bol started collecting donkeys when he lived here back in the 1930s. Unfortunately, he has since passed away. However, the donkeys are still there! What's more, they reside in the aptly named Cornelius Bol Park!

The donkeys usually hang out in a fenced-off area in the park. However, in the mornings, volunteers come to take them for walks! Because of the neighborhood's laid back nature, the Barron Park area is a great place to stay when traveling with your family. What's more, the donkeys make it a fun place to stay. Additionally, Barron Park is adjacent to the Palo Alto Orchards neighborhood. However, we love both neighborhoods for their relaxing atmospheres.
Why I Love Barron Park:
Did we mention the wild donkeys?
Peaceful place to stay
Close to a park for the kids to play in
Short drive to Stanford University
Attractions Near Barron Park:
Cornelius Bol Park and the donkeys
Bol Park Native Garden
Best Restaurants in Barron Park:
Best Hotels in Barron Park:
The Zen Hotel Palo Alto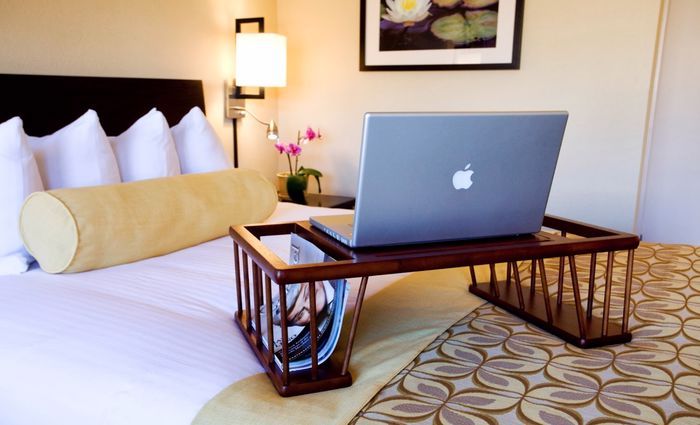 $$ | 3 Star | Free Breakfast | Free Parking
The Zen Hotel offers a complimentary hot breakfast to its guests. In addition, they're also known for providing free water and snacks! Similarly, parking is also free. As an added bonus, the rooms are clean and comfortable. Because of this, the Zen Hotel is a great place for a peaceful stay.
The Creekside Inn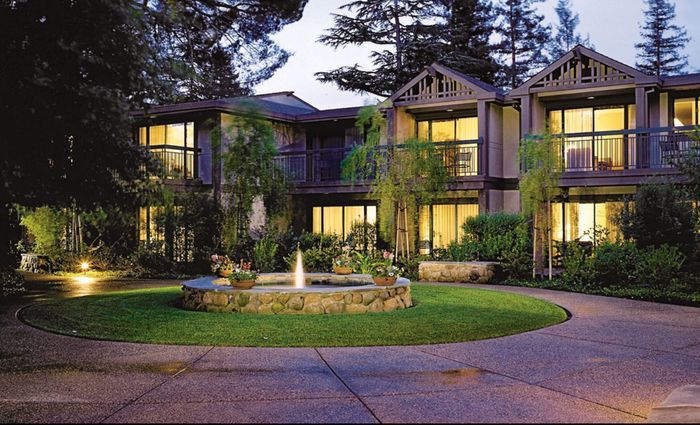 $$ | 3 Star | Hidden Oasis | Heated Outdoor Pool
As the name suggests, this quaint inn is next to a bubbling creek. Additionally, the rooms come equipped with a fridge and microwave. Although Creekside Inn doesn't offer a continental breakfast, it partnered with the nearby Driftwood Market for contactless in-room food delivery! In addition, Creekside Inn has a heated pool and a 24-hour gym.
Menlo Park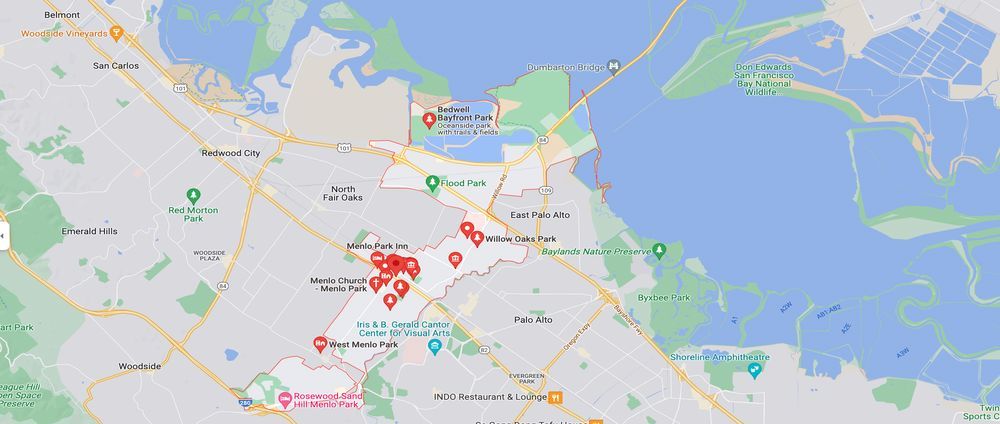 Technically, Menlo Park is actually not a neighborhood in Palo Alto. Instead, it's a nearby city where the Facebook (Meta) headquarters actually calls home. What's more, it boasts many stunning hotels.

Clearly, there are a lot of things to do in Palo Alto. Also, there are many attractions in its surrounding cities as well. Both Menlo Park and Palo Alto are great places to stay in order to explore Silicon Valley and visit Stanford University and all it has to offer.
Similarly, you can tour the campuses of famous tech companies. Additionally, you can visit popular nearby attractions such as the Winchester Mystery House.
Why I Love Menlo Park:
Full of amazing places to stay
Lots of great restaurants
Attractions Near Menlo Park:
Facebook Headquarters
Sharon Park
The Guild Movie Theater
Best Restaurants in Menlo Park:
Best Hotels in Menlo Park:
Hotel Nia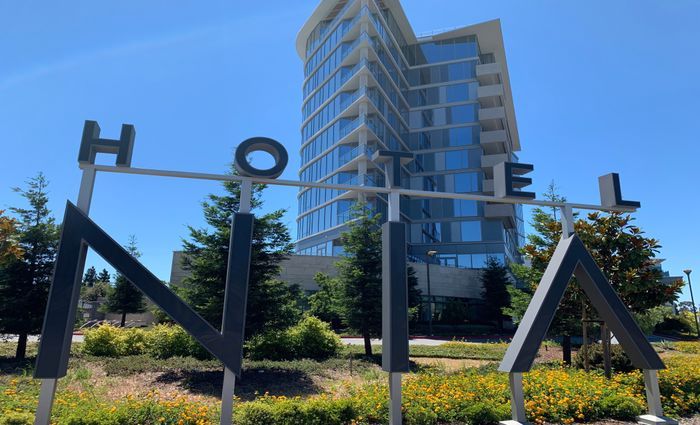 $$ | 4 Star | Fun Patio | Heated Outdoor Pool
This is a sophisticated, modern hotel with comfortable rooms and a heated pool! Similarly, it has an adorable patio area. Clearly, the patio is the star of the show. Additionally, Hotel Nia also includes an on-site restaurant and coffee shop.
The Stanford Park Hotel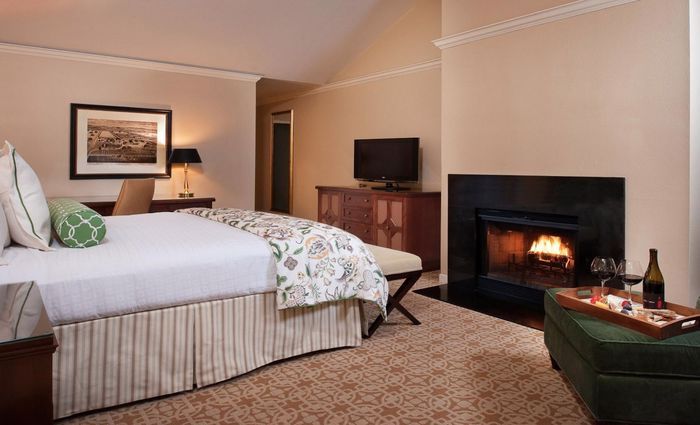 $$$ | 4 Star | On-Site Bar and Restaurant | Free Cookies For Guests
The Stanford Park Hotel is a boutique hotel with a charming ambiance. In addition, there's an on-site bar and restaurant for guests, as well as a cozy fire pit. What's more, the management provides complimentary cookies for their guests every evening! Additionally, the rooms are spacious and clean. Even better, the beds are comfortable.
Park James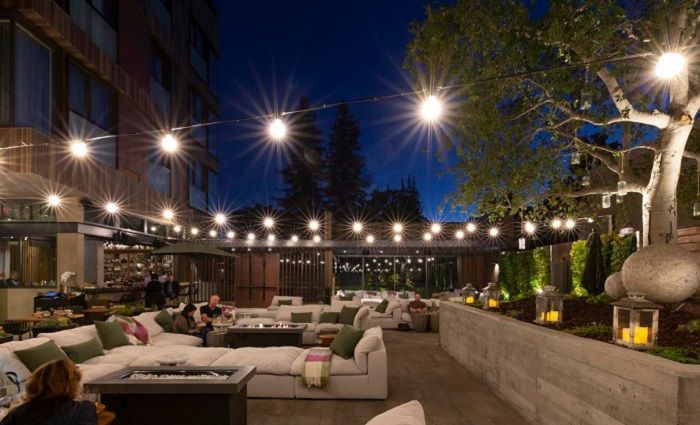 $$$+ | 4 Star | Garden Terrace | Digital Service | Pet Friendly
Enjoy the Park James if you love spending your evenings a stunning terrace. Or if you love farm-to-table restaurants like Oak+Violet. It's also the perfect place for business travelers or guests who brought their furry friends. The suites have Murphy beds that stow away when you need some extra space and a tablet to order room service or control the lights and blinds.
Rosewood Sand Hill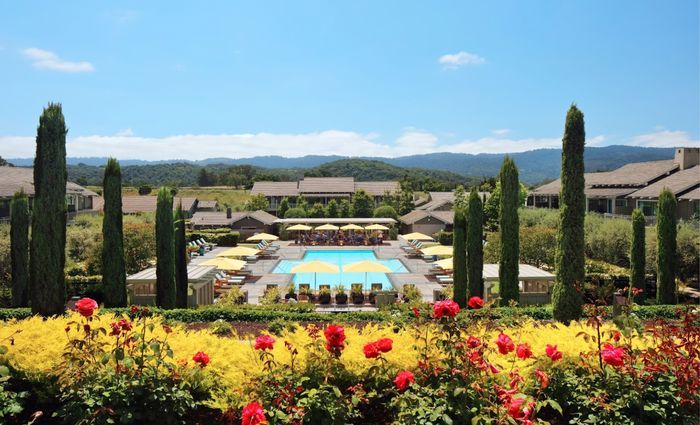 $$$$ | 5 Star | Jaw-Dropping Views | On-Site Michelin Star Restaurant
Rosewood Sand Hill is a resort with stunning views. Even better, guests stay in a series of cottages instead of rooms, and it's perfect for a high-end work event or a celebration. What's more, there is a spa on-site. In addition, it's home to Madera, a Michelin-star restaurant.