There's plenty to do in San Francisco, but what about the neighboring city of Palo Alto in the Silicon Valley? If you have some extra time while visiting San Francisco, we highly recommend you pay a visit to this fascinating city. Keep reading to find out what we think are the top things to do in Palo Alto, California!
---
Our Partnership with Booking.com. If you like our content, please book by clicking on our Booking.com links. The price is the same for you, and we get a small commission that helps support our blog. We've partnered with Booking.com because they have the most options, great prices, and a solid loyalty program. Just about every hotel is on Booking so our recommendations are not incentivized.
The Top 14 Things to Do in Palo Alto, California
Most people know that Silicon Valley is the tech hub of California, but not everyone knows where Silicon Valley is! It may surprise you to learn that San Francisco is not part of Silicon Valley, but Palo Alto is. Located around 40 minutes from downtown San Francisco, Palo Alto is the hub of innovation in California.
So, why is Silicon Valley such a big deal? Well, some of the world's most famous tech companies got their start in Silicon Valley, specifically in Palo Alto! Tesla and Hewlett Packard Enterprise were born in Palo Alto. Additionally, the famous Stanford University is located in Palo Alto as well—sort of. Technically, the university is in a small town called Stanford, which is adjacent to Palo Alto.

Silicon Valley includes many other great cities, such as Gilroy (famous for their garlic), Los Gatos, and San Jose. But Palo Alto is one of our favorites. We love it for the wide range of activities you can do both there and in the surrounding areas. We're talking haunted mansions and magic forests! See, told you it was cool!
Downtown Palo Alto is also well-known for excellent shopping and wonderful restaurants. Keep reading to discover all the things to do in Palo Alto.
Pro tip: Palo Alto is a great day trip from San Francisco. Check out this article to learn about some of our other favorite day trips from SF!
14. See World-Renowned Art at the Cantor Center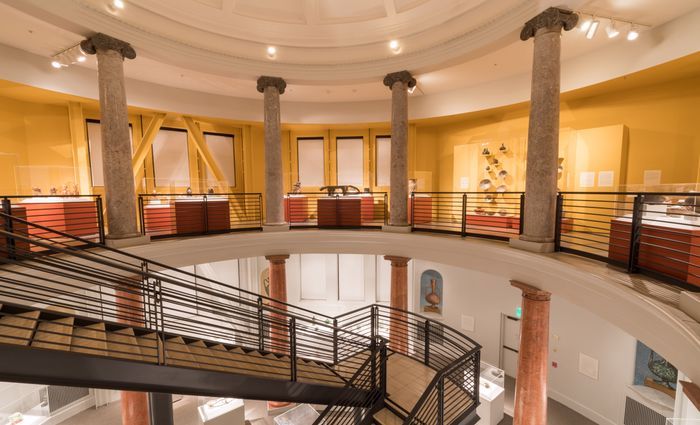 The Iris & B. Gerald Cantor Center for Visual Arts includes more than 38,000 different pieces of artwork from all over the world. Located at Stanford University, this museum contains some art that is at least 5,000 years old! Their website notes that they have 24 galleries and more than 15 exhibitions every year.
It's known for its collection of bronze sculptures by the famous sculptor Auguste Rodin, which are displayed both indoors and outdoors. If you are an art enthusiast, you need to include the The Iris & B. Gerald Cantor Center for Visual Arts in your Palo Alto itinerary.
Address: 328 Lomita Dr, Stanford, CA
13. See the Magic Forest in Rinconada Park
Located in the 19-acre Rinconada Park, the Magic Forest is a peaceful grove of redwood trees. If you've had a busy day, this is the perfect place to stop by and meditate or take some great photos. With around 50 trees, the grove isn't very big, so this is a good place for a quick stop. California is one of the only places in the world where these majestic trees can grow, so make sure you enjoy them while you're in town!

Rinconada Park itself is also an excellent place for a picnic. In addition to the Magic Forest, Rinconada Park also includes a public swimming pool, tennis courts, and walking trails. It's one of the oldest parks in Palo Alto, and a popular spot for people to visit on sunny weekends.

Address: 1400-1432 Hopkins Ave, Palo Alto, CA
12. Find the Frenchman's Tower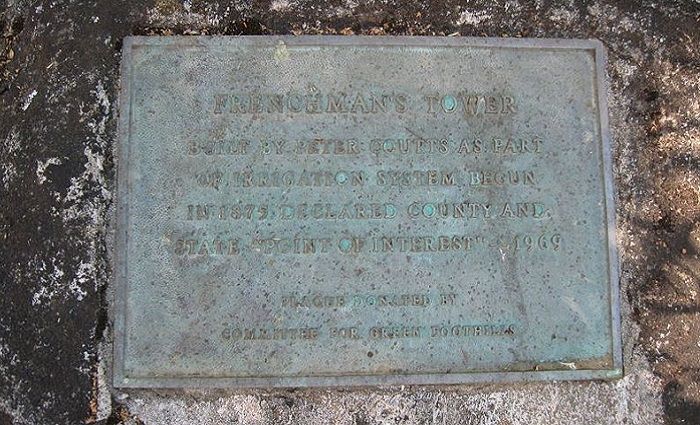 How about a short, off-the-beaten path adventure to a historical landmark? See if you can find the Frenchman's Tower. Built in 1875 by a French refuge, this tower once served as part of an irrigation system. Now, it's an interesting photo op that will make you feel like you stepped into a fairy tale.
There are a lot of myths that there are underground tunnels and passageways hidden under the tower, but these haven't been confirmed. Maybe you can find them? There is, however, a small hole in the back of the tower that can fit someone small for a cool interior photo. Over the years, the Frenchman's Tower has been covered in graffiti, making for interesting Insta pics.

Address: 2055 Old Page Mill Rd, Palo Alto, CA
11. Get Fresh Produce from the Downtown Palo Alto Farmers Market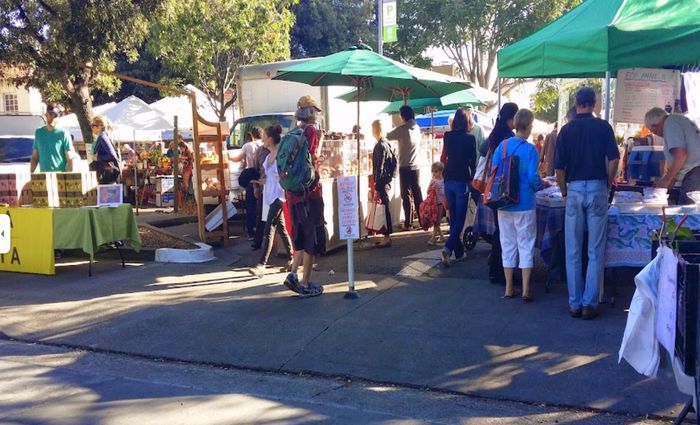 If you're in Palo Alto on a Saturday, make sure you check out the farmers market. Located in bustling downtown Palo Alto, the market is open from 8 am to noon every Saturday. It's only a 5-minute drive from Rinconada Park, so it's a great place to stock up on picnic supplies!
Like any good farmers market, the Downtown Palo Alto Farmers Market is a great place to buy local produce. You can also find honey, cheese, meat, ice cream and other artisan products! This is a good activity if you're in Palo Alto with kiddos in tow.

Address: 601-699 Gilman St, Palo Alto, CA
10. Relax at the Watercourse Way Bathhouse & Spa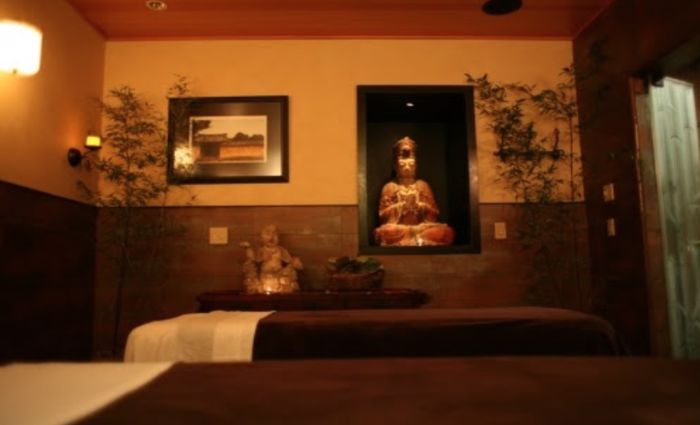 If you're in Palo Alto on a couples trip or a solo "treat yourself" getaway, you'd be remiss not to stop by the Watercourse Way Bathhouse & Spa! This elegant spa has many different rooms for experiences of all kinds. People especially love their hot tub rooms—some of the hot tubs have cascading waterfalls. They also have sauna and steam rooms.

Visitors love the other signature massages as well as the calming atmosphere. This spa is pretty popular, so we recommend making a reservation at least a few weeks ahead of time. Please note that although you are able to book a massage online, you need to call them in order to book one of those cool, waterfall hot tub.

Address: 165 Channing Ave, Palo Alto, CA
Planning a trip to the San Francisco Bay Area? We've made a helpful list of the top day trips to take, plus the best national parks and nature activities in the area!
9. Indulge in Modern Vietnamese Food at Tamarine Restaurant & Gallery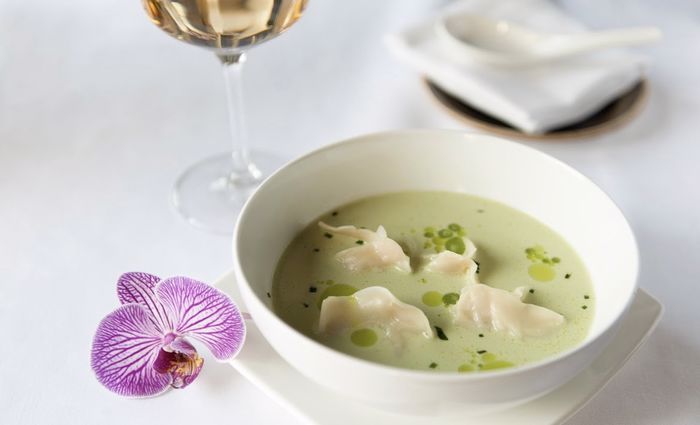 Located on University Avenue, Tamarine Restaurant is well known for its upscale Vietnamese cuisine. Customers love the great, friendly service and the creative dishes. The clay pot cod is an especially popular dish, but almost everything on the menu is amazing.

We suggest this restaurant for birthdays, anniversaries, and other celebrations. It's also good for date night. Please note that University Avenue is a popular area. Therefore, if you are coming to Tamarine Restaurant on a weekend, you should call to make a reservation ahead of time!

Address: 546 University Ave, Palo Alto, CA
8. Feed the Ducks and Koi Fish While Staying at Dinah's Garden Hotel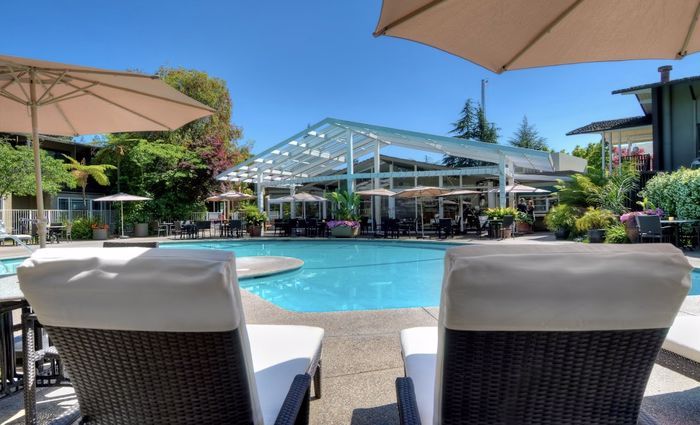 This unique hotel in Palo Alto has some tiki-theme vibes! It features some ponds full of ducks and koi fish, and they provide free koi and duck food in the lobby so you can feed them. (Order poolside food and drinks for yourself!) It also features a dog park if you've brought your fur baby. In terms of the rooms, you'll definitely appreciate the walk-in showers and mini fridge.
Dinah's Garden Hotel features two types of rooms: themed and non-themed. What's more, guests report that the staff is friendly and attentive, and the hotel is kept very clean. So why is this on our list? Because it's a fun place to spend a night or two while visiting Palo Alto. If you are here for longer than just a day, we highly suggest staying at Dinah's Garden Hotel.
7. See Some of Silicon Valley's Best Architecture at Hanna House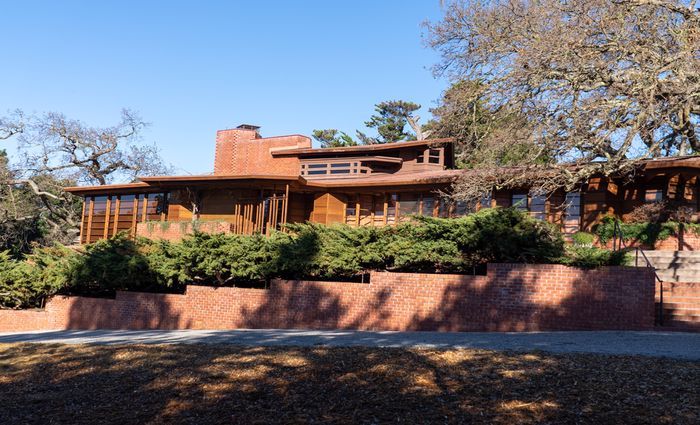 Located at Stanford University, the Hanna House is known as of the best pieces of architecture in Silicon Valley. Designed in 1936 for Stanford University professor Paul Hanna, this house was designed by famous architect Frank Lloyd Wright, according to the Hanna House website.
Although he has designed many buildings all over Silicon Valley, this one is special because it was his first masterpiece made with no rectangular angles! The Hanna House was nicknamed the "Honeycomb House" because the front features glass panels in a hexagon, honeycomb-like shape.
If you're an architecture buff, you should definitely check this house out. Plan your trip around the two times per year that they actually open for tours inside the house. Sign up on their website to be notified so you don't miss it!
Address: 737 Frenchmans Rd, Stanford, CA
6. Eat at Nobu Palo Alto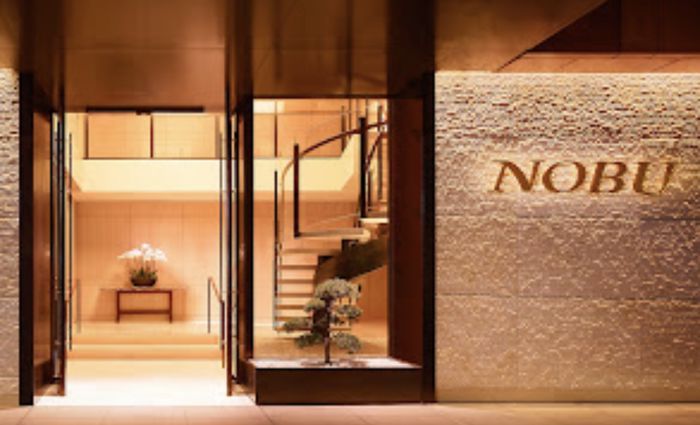 You've definitely heard of Nobu, the world-famous sushi restaurant with locations across the globe. There's a Nobu in downtown Palo Alto, which boasts a number of fine dining restaurants. Located inside of Nobu Hotel Palo Alto, this restaurant is loved for its attentive service and amazing dishes.
There's also free parking just a block away, which is a huge plus in this city where space is a premium. Nobu Palo Alto is a popular spot for date nights. If you are going on a weekend, make sure you make a reservation as far ahead as possible. People love the yellowfin tuna!
Pro tip: Did you know that Restaurateur Nobu Matsuhisa built a luxury hotel in Las Vegas near his Nobu restaurant at Caesars Palace? Check it out here if you're planning a trip to Vegas this year!
Address: 180 Hamilton Ave, Palo Alto, CA
5. Pet the Barron Park Donkeys
"Donkeys" you ask? Yep! One day in 1934, Stanford University physicist Cornelis Bol set out to buy a horse, but returned to his home in Palo Alto's Barron Park neighborhood with a donkey instead. It was a less costly investment, according to the historic record from their website.
Over the years, Mr. Bol continued to buy more donkeys since his and other children enjoyed playing with them. Although the original donkeys are long gone, the Barron Park community continued to buy more donkeys as the years went on to keep up the tradition.

Now there's a small park in the area named Cornelius Bol Park with two play structures and frequent appearances from the famous donkeys! They usually hang out in a fenced-off area, but in the mornings, volunteers come to take them for walks around the park. Visiting the donkeys and the park are great Palo Alto activities if you have your kids with you.
Address: 3590 Laguna Ave, Palo Alto, CA
Planning a trip to the San Francisco Bay Area? We've made a helpful list of the top day trips to take, plus the best national parks and nature activities in the area!
4. Hewlett Packard Garage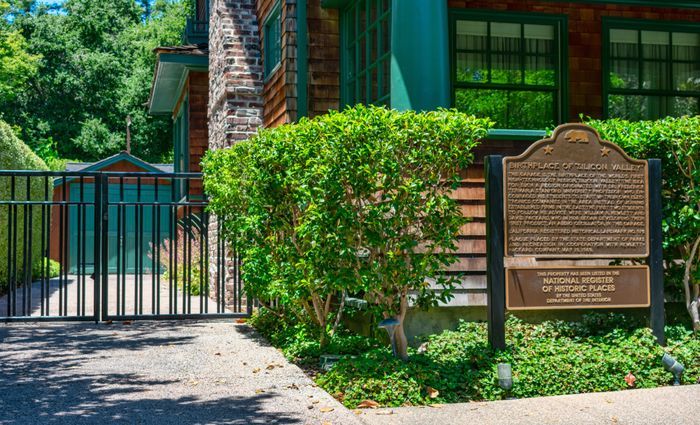 Known as the "Birthplace of Silicon Valley," this garage is where Hewlett Packard developed their first-ever product back in 1938! Close to the bustling University Avenue, this garage is a must-visit for tech enthusiasts.
Admittedly, there isn't much to do here except for take photos and read the helpful information displayed on the plaque. However, Silicon Valley would not be what it is today if not for the things created inside this unassuming garage. It's an important piece of California history, and that's why we like it.

Address: 367 Addison Ave, Palo Alto, CA
3. Learn About Wild Animals at the Palo Alto Junior Museum & Zoo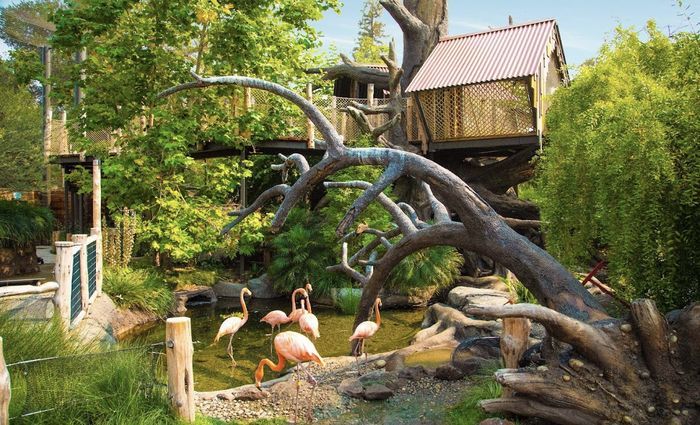 More than 50 species of animals can be found at the Palo Alto Junior Museum & Zoo. The animals roam freely in an outdoor aviary area, and you'll find everything from flamingoes to meerkats to parrots and more. Not to mention the giant tortoise! There's also an outdoor play area where children can explore nooks, crannies, and an underwater tunnel.

There's an indoor portion to explore as well. The science exhibits inside aim to each children about gravity, balance, energy, and more. There's also a natural history section, and an area specifically for babies as well. The museum also hosts frequent events to teach visitors about the animals in the facility. The admission price for the Palo Alto Junior Museum & Zoo is $10.
Address: 1451 Middlefield Rd, Palo Alto, CA
2. Tour the Winchester Mystery House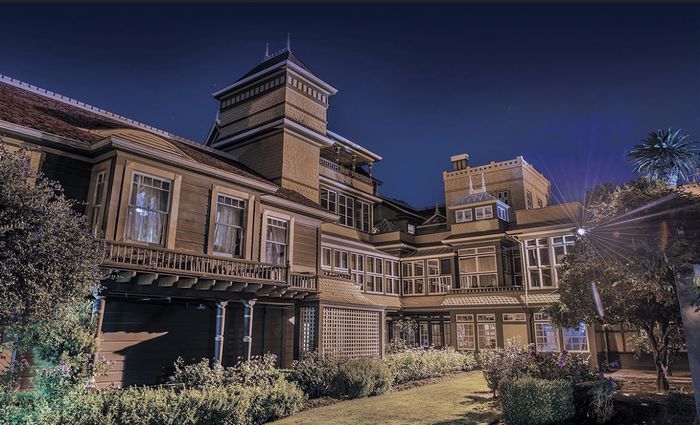 The Winchester Mystery House is a must-see for fans of the supernatural! It's technically not in Palo Alto, but it's a short 30-minute drive away in San Jose and so worth it. Sarah Pardee Winchester built this Victorian mansion in 1884.
It's supposedly haunted, but you'll have to go for yourself to see what you think! This unusual house is now a historic landmark and visited by many each year. Take a guided tour and learn about the fascinating history behind this mansion.

Address: 525 S Winchester Blvd, San Jose, CA
1. Tour the Apple and Google Campuses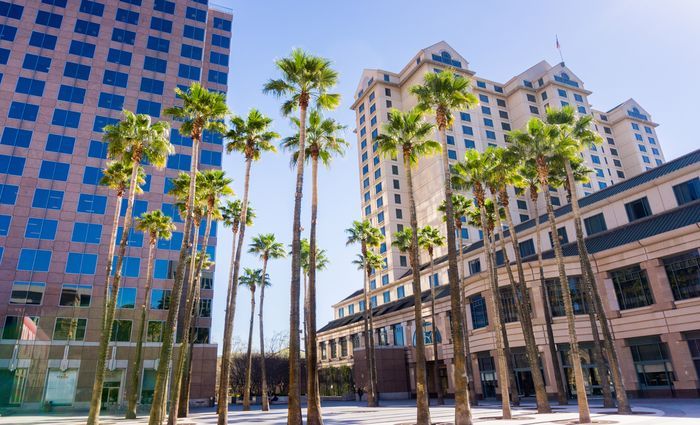 Don't miss out on the opportunity to visit the campuses of the world's biggest tech companies! It's hard to visit the campuses by yourself, because they are so spread out from downtown Palo Alto. With a tour, however, you can visit the Oracle, Facebook, Google and Apple campuses in one day.
Take selfies at the Facebook sign, drive by Steve Jobs' home, and learn all about the history of this iconic area. Most tours also include the Hewlett-Packard garage too. If you don't have much time in San Francisco, and you want to make sure you see a lot in Palo Alto as well, a tour of the area is a great option!