Santorini is certainly one of the most visited places in the world. Every year, millions of people travel to the Greek island in order to admire the popular sunset. However, there are several great things to do in Santorini. Therefore, in this article, you are going to read all the must-see and must-do things on the island.
Pro Tip: Bookmarks are the key to organizing a great trip. So, bookmark this post in a "Greece" folder in your browser. This way you can circle back to it while you are traveling.
Best 11 Things To Do In Santorini
People all over the world know Santorini. Many of them have also visited at least once. Above all, Santorini is really popular for its sunsets and the breathtaking scenery of the caldera. Once you arrive at the island, you feel a unique sentiment. By the time the ship approaches the port, you know that you are going to have the most unforgettable holiday in your life.
11. Ancient Thira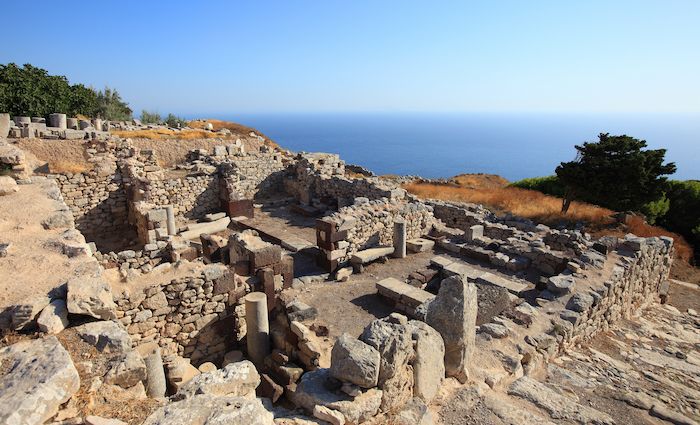 Ancient Thira is located in a village named Mesa Vouno. In ancient Thira, you will find the remains of the ancient settlement from the time of the Dorians and the later Hellenistic Period. Visiting this archaeological site is the ideal choice of spending a day of your holiday especially if you love ancient history.
Moreover, this place offers a wonderful panoramic view while the landscape is really picturesque. Finally, after visiting Ancient Thira, you can easily drive to Kamari beach where you can spend the rest of your day swimming in the sea or relaxing at a cafe.
10. Dinner At Ammoudi Bay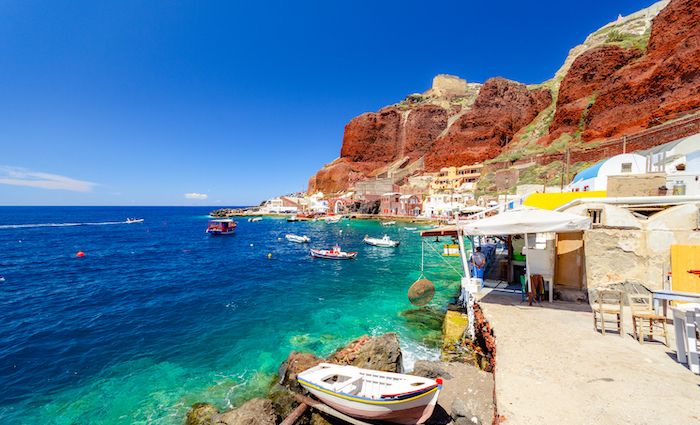 Ammoudi Bay is a small and traditional port where you can find several little shops and taverns. More specifically, is the famous port of Oia village that is encircled by the impressive red cliffs.You can go down from Oia on foot. Above all, it is a wonderful place to enjoy a traditional dinner tasting fresh fish dishes.
Further, if you prefer to visit Ammoudi Bay in the morning, then you have to know that there is a really beautiful beach where you can spend your daytime. That is to say, you will love the crystal clear seawater and the sandy beach.
9. Ancient Site Of Akrotiri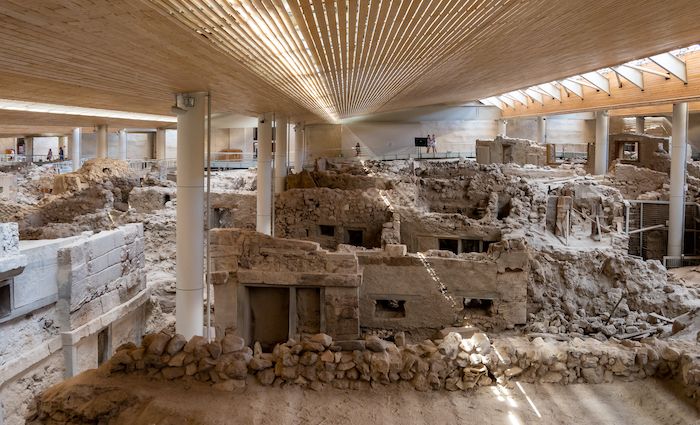 One of the most well-known attractions in Santorini is the Ancient Site of Akrotiri. The ancient settlement of Akrotiri was particularly impressive for various reasons. To clarify, the large area, the excellent urban organization, the sewerage network, the ornate high-rise buildings, and rich furniture and household items testify to its great development.
Moreover, after visiting the ancient site of Akrotiri, remember to spend some time admiring the view of the Aegean sea. Finally, in Akrotiri, there is also a beach where you can spend some of your time relaxing on the sunbeds under the umbrellas.
8. A Daytrip To Thirasia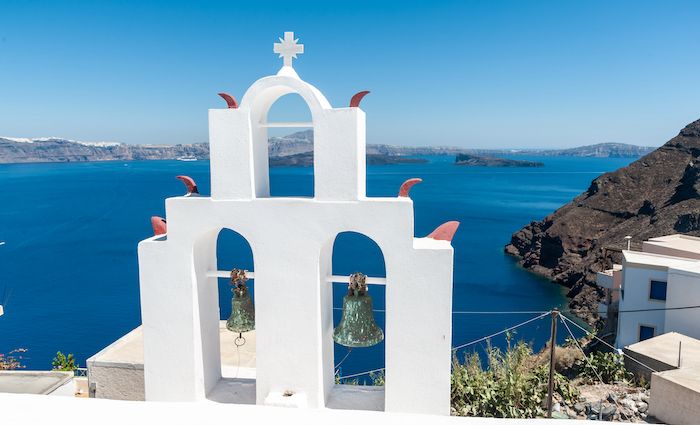 While we know so many things about Santorini, Thirasia is almost unknown. Thirasia is a small island opposite Santorini. It is really beautiful and traditional. That is to say, there aren't many things to do, but it worths a visit. You go there by boat. So, you can organize a daily trip to Thirasia.
Most important, in Thirasia, you will have the chance to enjoy the traditional side of Greece. You can explore this picturesque village and also try some really tasty fish dishes. So, if you have enough time, choose to visit this unique place.
7. Fira By Night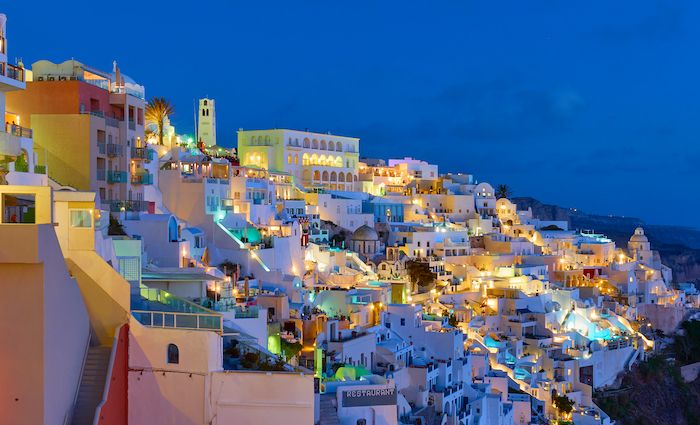 If you visit Santorini, you will certainly enjoy Fira which is the center of the island. Fira is up on the caldera. In other words, everyone who visits it is amazed by the breathtaking view. From this point, you can admire the Aegean sea as well as the volcano of Santorini.
As Fira is the center of Santorini, this means that here is the nightlife. So, in Fira, of course, you will enjoy your breakfast at the wonderful cafes in the morning, but, most important, you will have fun at night. That is to say, there are some nightclubs where you can dance until the next morning and several bars if you need to spend a more luxury night in front of the wonderful scenery.
6. Red Beach
A really famous beach in Santorini is the Red beach. It is called "Red" because of the red cliffs all around. In other words, the scenery looks like a lunar landscape. Here, you will certainly love the crystal clear seawater.
Further, what you need to know is that it is better to wear a pair of sport shoes in order to reach the beach. Because of this landscape, it may be a little difficult or tiring at some points to arrive at the beach. However, once you dive in the breezy water, you will live a unique experience.
5. Wine Tasting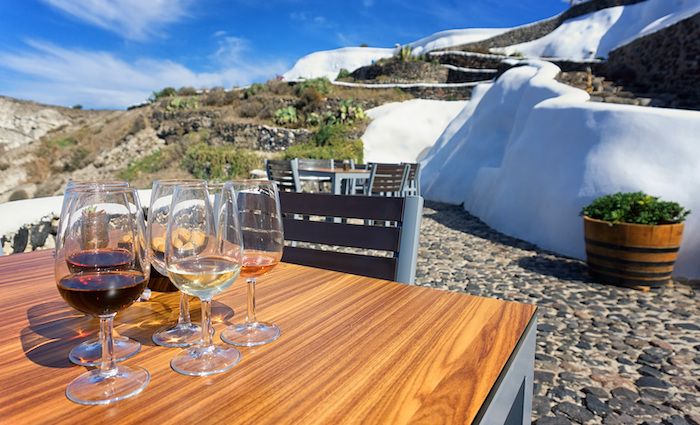 Apart from the amazing sunset and the volcano, Santorini is also popular for its wine. Wine production is estimated to begin 3,000 years ago. So, when you visit Santorini, remember to try the awarded Vinsanto wine. Moreover, you can also try some Vinsanto liqueur. Wine tasting is certainly one of the top things to do in Santorini.
The most exciting thing is that you have the chance to organize a Wine Tasting Tour in Santorini. In other words, not only you may try some of the best Greek wines, but you also have the chance to get to know all the processes concerning wine production.
4. Staying At A Luxury Hotel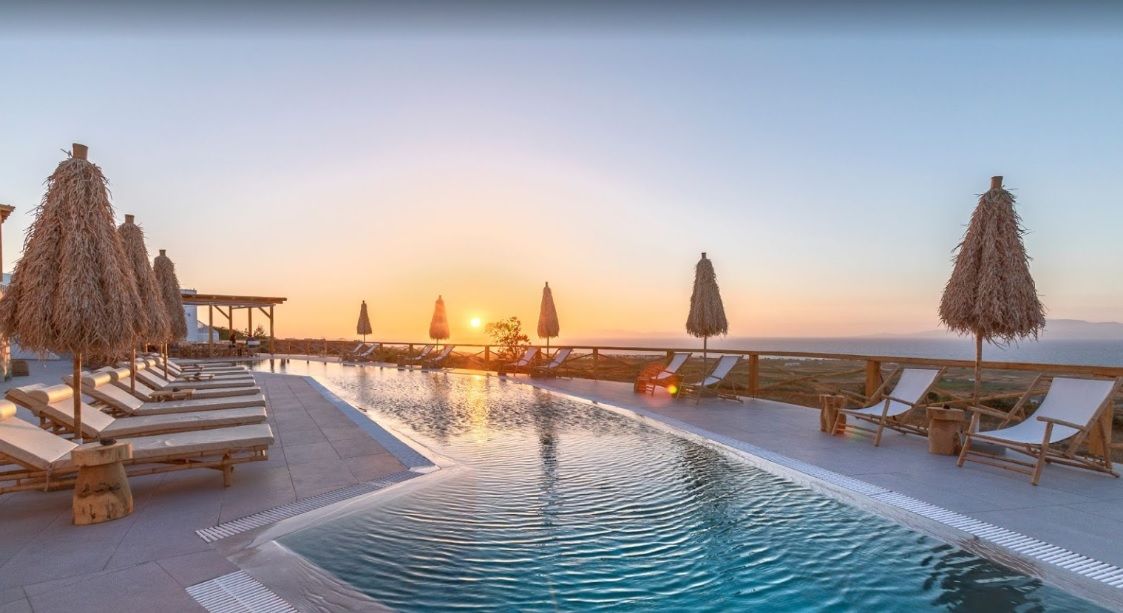 In Santorini, you will certainly find numerous luxury hotels almost all around the island. Most importantly, staying at a luxury hotel is one of the best things to do in Santorini. In other words, luxury hotels here offer a number of amenities in order your holidays to be unforgettable.
For example, most of these hotels offer an amazing view of the Aegean sea and the volcano. Moreover, you may have the opportunity to book a room with a private hot tub or a swimming pool on your veranda. So, staying at a luxury hotel in Santorini is a unique experience.
Check out the article I wrote on the Best Luxury Hotels In Santorini!
3. Trip To Volcano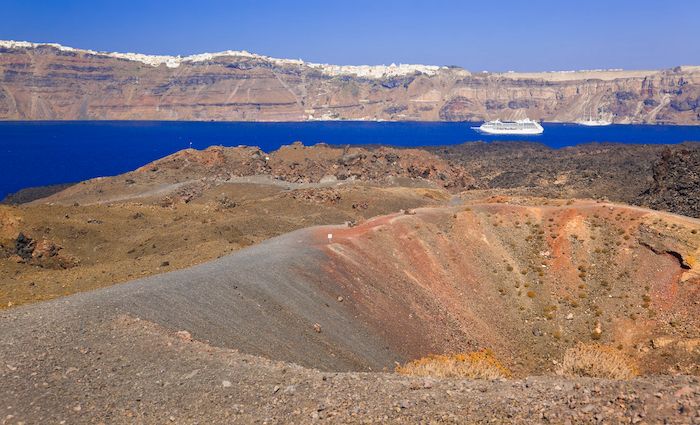 One of the most wonderful attractions in Santorini is certainly the volcano. Besides, this volcano is responsible for the island's beauty. So, you can't leave Santorini without visiting Nea Kameni – this is actually the name of the volcano. Therefore, you can organize a daily trip there.
In other words, a trip to Nea Kameni can be a boat tour around the volcano or a daily sailing cruise. Further, you can walk and see up close this unique landscape. Finally, there are some hot springs where you can stay for a while. That is to say, you will have the opportunity to enjoy natural spa.
2. Black Beach In Perissa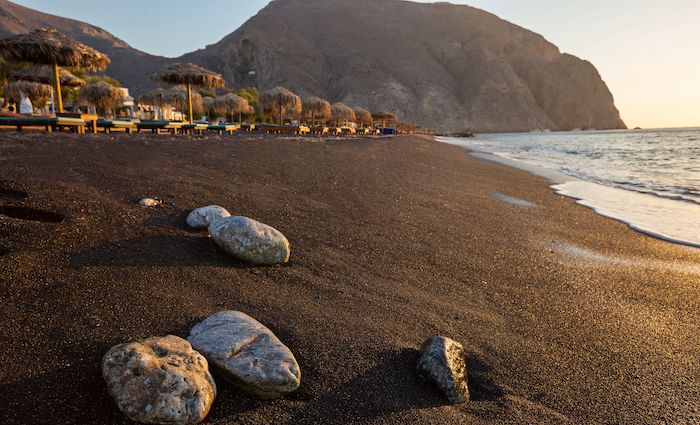 Once you visit Santorini, you must spend at least a day of your holidays in Black beach in Perissa village. It is a long beach with black sand in the southeast side of the island. Its sand is really black because of the volcano and the volcanic soil, and this makes it really impressive.
Moreover, in Black beach you will find sunbeds and umbrellas in order to have a great and relaxing time. Further, you need to know that the water is cold enough and the sea deep. It is certainly the ideal choice id you love swimming. Finally, you will find a lot of taverns so that you can have your lunch break.
1. Sunset At Oia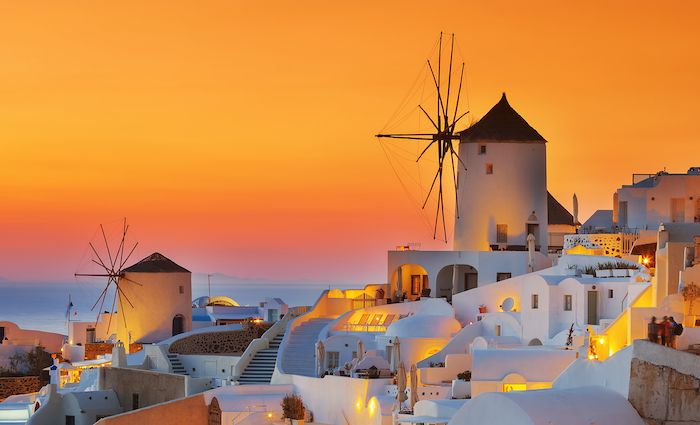 At the top of the list couldn't be other than the sunset of Santorini. That is to say, we all know Santorini for its breathtaking sunset. This is certainly one of the top things to do in Santorini. So, the first thing that you may do when arriving is to admire the sunset from Oia village.
Oia is a picturesque but cosmopolitan village. There, there is a castle from which you can admire this unique spectacle. To clarify, it won't be just "another one sunset". However, you will feel that you could really touch the sun.