With so many different types of food in San Francisco, it might be hard to decide what to eat during your trip there, especially if you only have a few days. We've compiled a list of the 12 best foods you must try while visiting one of California's best food cities! With incredible dishes like clam chowder, Dungeness crab, and tasty phở, you won't go wrong with this list of the top foods to try in San Francisco.
---
Pro Tip: Bookmark this article on your phone browser! That way, you can pull it up when you need a break from walking up SF's hills and your travel buddy says, "So, where are we eating?" Check out our San Francisco Guide for more planning resources, our best San Francisco tours for a memorable trip, and the top things to do in San Fran.
12 Must-Try Foods in San Francisco
Generally speaking, California cuisine is focused on sustainable ingredients. "Californian" food is full of fruits, vegetables, and fresh seafood from the California coast. Although you can easily find this style of food in San Francisco, you can also find…well, almost anything else.

San Francisco is one of the most diverse food cities in the United States. Not only does it have almost every global cuisine imaginable, it does most of them very well. San Francisco is home for people from all over the world, who have brought international dishes to this unique, wonderful city.

While you should absolutely try the clam chowder and Dungeness crab that San Francisco is known for, you'd be remiss if you skipped the incredible Chinese dim sum and a big bowl of phở while in the city. Read on to find out all the San Francisco cuisines that are not to be missed!
If you love food and travel, you'll love going on a food tour! Check out our local food tours in San Fran—they're a great way to explore a new city and eat good authentic food.
Not ready to book a tour? Find out if San Francisco tours are worth it.
12. Clam Chowder Bread Bowls at Fisherman's Wharf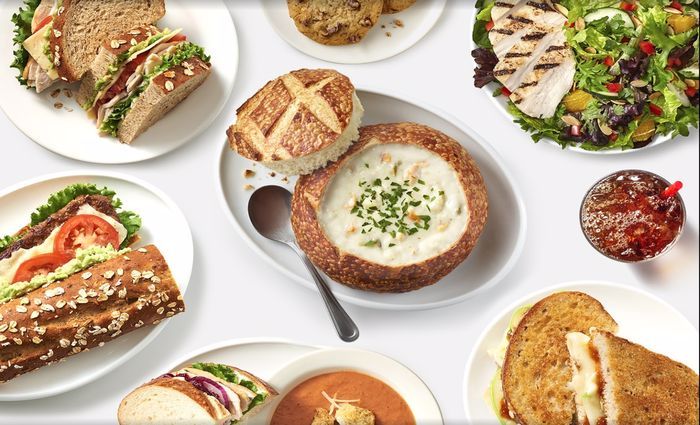 Also known as Pier 39, Fisherman's Wharf is well-known as the place to grab a bread bowl full of clam chowder. You could, of course, get your clam chowder in a regular bowl, but then you couldn't rip off pieces of your soft sourdough bread and dip them in your soup. And why would you deprive yourself of that luxury?!
Although it might seem easier to grab clam chowder bread bowls from one of the outdoor stands, believe us when we say that Boudin is better. It's right on the pier and has been a San Francisco staple since the 1840s!
Where to get it: Boudin
11. Pasta in North Beach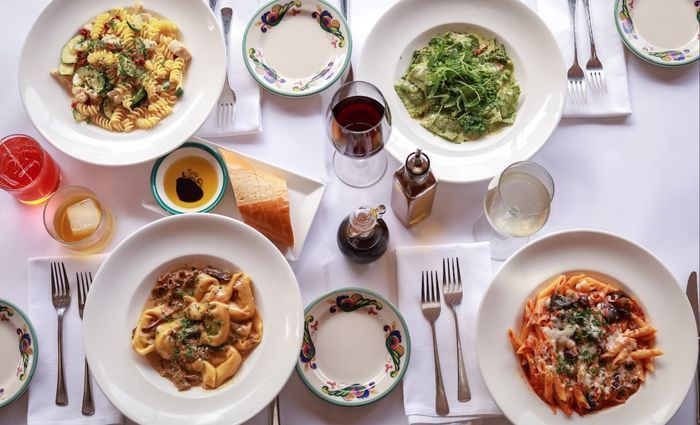 San Francisco's North Beach neighborhood is the go-to San Francisco destination for Italian food. If you're a fan of Italian, you can't go wrong with a hearty pasta dish. From penne pasta and tomato sauce to seafood cavatappi, pasta is the perfect dish to eat after a long day of exploring the city. And there's no better place to enjoy it than North Beach.
Where to get it: Trattoria Contadina
10. Good Ole' Burger and Fries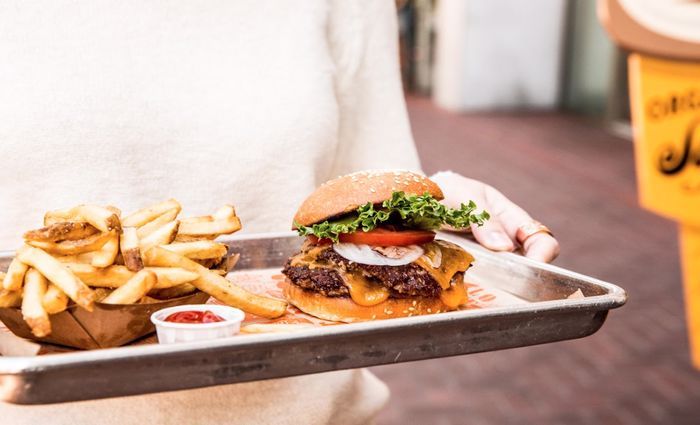 A hamburger and fries might not be exciting for people coming from other U.S. states. However, if you're coming from another country, you'll have to try the American fast food staples no matter which U.S. city you're in, and San Francisco is no exception. We think Super Duper is the one of the best burger joints in SF, partly because they use local ingredients that are usually organic. Make sure you also try their garlic fries!
Where to get it: Super Duper Burgers
Popular San Francisco Tours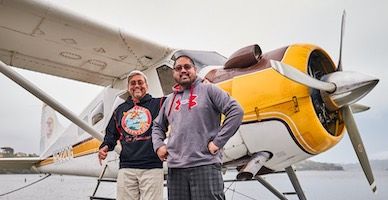 Best Selling Tour
Morning in Marin: Muir Woods, Seaplane, and Sausalito Ferry Tour
A VIP experience with a local storytelling guide. With hotel pickup included from San Francisco, begin your day in style. Head to the Muir Woods before the crowds and spend an hour amongst thousand-year-old Giant Sequoia trees. Next, hop onto a seaplane, take in the beauty of the bay, and see the top sights from above. Once landed, enjoy a locally-sourced lunch in Marin. The day ends in Sausalito for free time to explore before ferrying back to San Francisco.





Starting at $449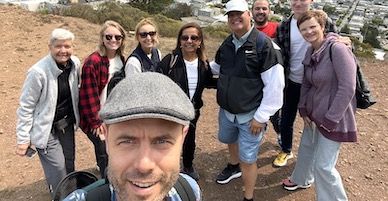 Likely to Sell Out
San Francisco in a Day Tour with Golden Gate Bridge and Alcatraz
In a small group, hop on board and see San Francisco with a local expert. Visit the Golden Gate Bridge, the Twin Peaks, and countless hidden gems on this full-day exploration. The last stop of the day is Alcatraz. Embark the ferry and see the stunning surroundings of San Francisco Bay before reaching the infamous prison. Once you disembark, enjoy the famous Cellhouse Audio Tour where you can explore the entire prison and island. Hotel Pickup Included.





Starting at $179
Not ready to book a tour? Find out if San Francisco tours are worth it.
9. Warm Indian Indian Curry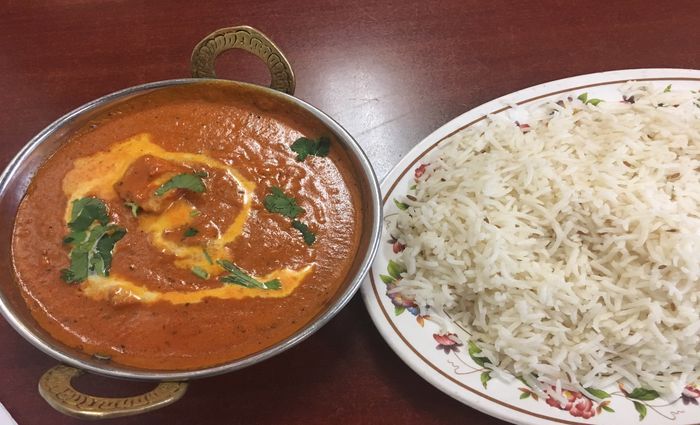 San Francisco has been ranked as one of the best cities for Indian food in the U.S. This city has many Indian restaurants to choose from, with dishes ranging from spicy to savory. San Francisco can get quite chilly, so one of our favorites Indian dishes is creamy curry to warm you up and fill your belly.
Wash it down with white rice and chai tea, and you've got the perfect cold-weather meal. Raavi North Indian Cuisine in North Beach is one of our go-tos.
Where to get it: Raavi North Indian Cuisine
8. Burritos in the Mission District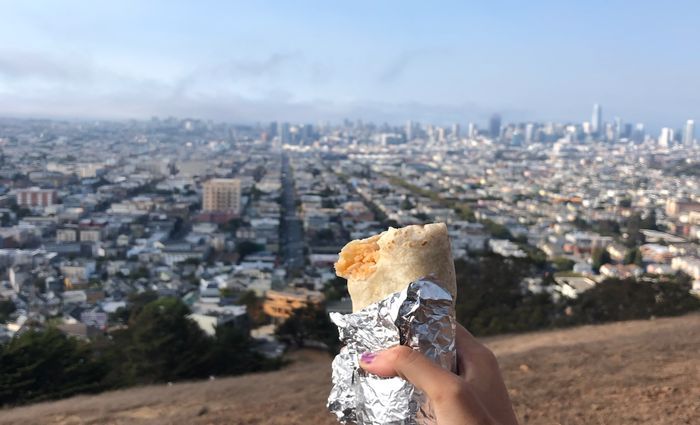 San Francisco's Mission district is known for its Mexican food, especially its burritos. While meandering through the city, you will frequently see groups of people at a scenic spot like Dolores Park or Bernal Heights (pictured), takeout burritos in hand.
El pastor or carnitas burritos are among the most popular city-wide, but you can't go wrong with traditional beans, rice, and cheese. These burritos easily rank high on our list of top foods to try in San Francisco.

Where to get it: Taqueria el Buen Sabor
7. Dim Sum in Chinatown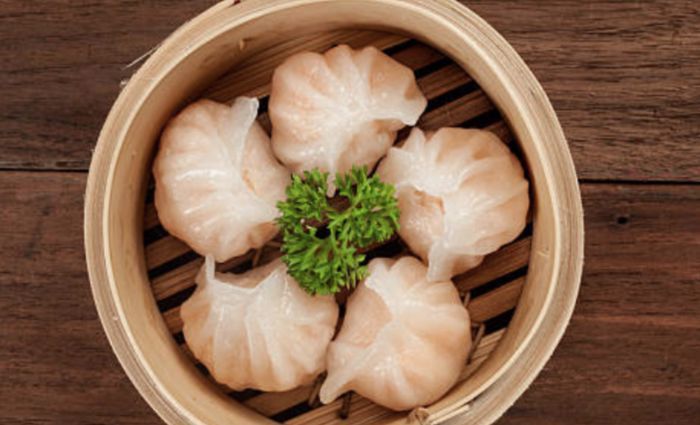 There's a large Chinese population in San Francisco. The Chinatown, Sunset, and Richmond neighborhoods are home to some amazing Chinese restaurants, and dim sum is at the top of the list for Chinese dishes to try. Dim sum is usually eaten for breakfast, but many places in Chinatown serve it until early afternoon. There are many types of dim sum, but it's usually meat, seafood, or vegetables in a wrapper, and typically served with tea.
Where to get it: Dim Sum Bistro
6. Seasonal Dungeness Crab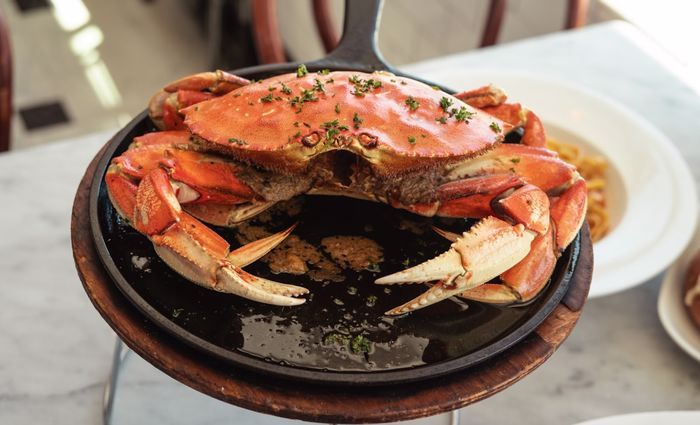 Although not available year-round, the Dungeness crab in San Francisco is some of the best around. San Francisco is known for its seafood in general. Some of the best seafood can be found at Fisherman's Wharf. No surprise there!
Dungeness crab season typically starts in November and runs until late June. However, it was delayed a bit this year and is not set to start until late December. If you're heading to San Francisco soon, make sure you hit restaurants along the wharf and sink your teeth into some Dungeness crab!
Where to get it: Crab House at Pier 39
Not ready to book a tour? Find out if San Francisco tours are worth it.
5. Tasty Russian Pierogis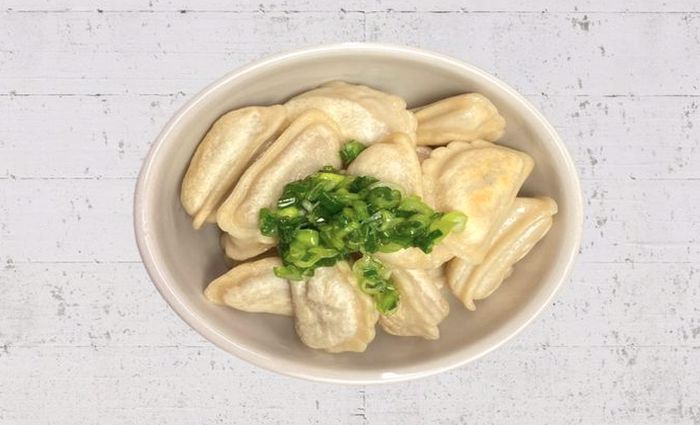 If you've never had Russian food, your San Francisco trip is your chance to try it! San Francisco has a large Russian population, and there are several Russian restaurants, cafés, and markets throughout the city.
Pierogis are among our favorite Russian dishes and a top food to try in San Francisco. They are basically small dumplings filled with potatoes, cheese, or meat. Some people like to eat them with sour cream! We like Pushkin in the Financial District, but the Richmond district is also a great place for pierogi and other Russian dishes.
Where to get it: Pushkin
4. Traditional Phở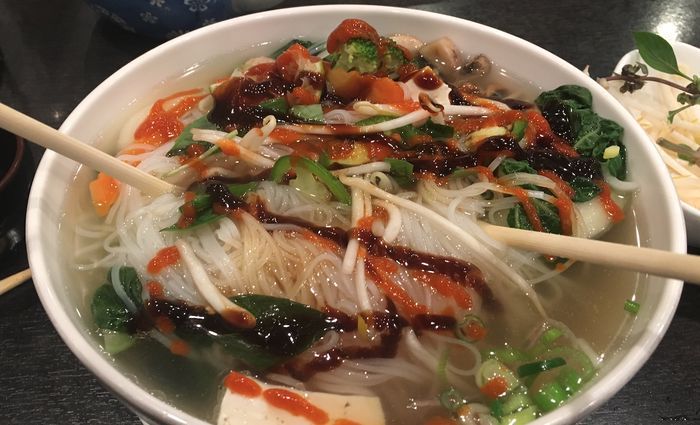 Did you know San Francisco is so prone to fog that residents have given the fog a name? It's true! Her name is Karla, and you can look her up on Twitter. When Karla rolls in, there's no better soup to warm you up than the hearty Vietnamese soup phở. Typically made with beef, vegetables, and noodles in a savory broth, phở (pronounced "fuh") is a great pick for cold weather and a must-try in San Francisco.
The Sunset and Richmond districts are two of the absolute best San Francisco neighborhoods to find this delicious soup. Though it's traditionally a beef soup, there are vegetarian and vegan versions available using vegetarian broth. One of our top picks for non-meat phở is PPQ Beef Noodle House. Their vegetarian phở is pictured above!
Where to get it: PPQ Beef Noodle House
3. Pizza Done California Style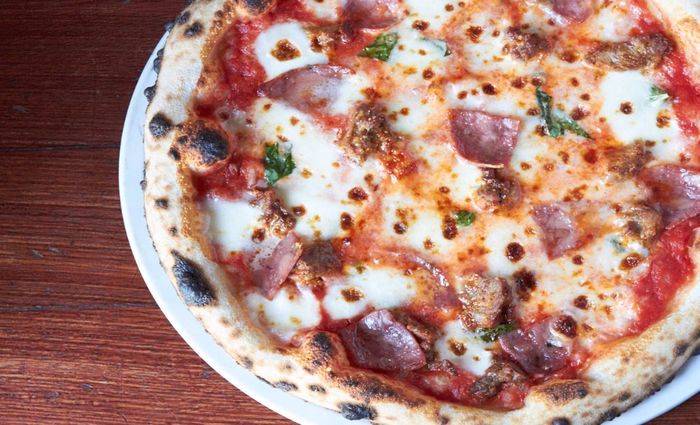 Although Chicago and New York are obviously the two U.S. states that are most known for their pizza, San Francisco is making its way up there as well. You can find all types of pizzas in San Francisco, whether your favorite is classic Italian, Chicago deep dish, or wood-fired.
No matter which neighborhood you explore during the day, chances are there's a nearby delicious pizza place to check out when you're done. Pictured above is pizza from Zero Zero on Folsom Street. We especially like their Margherita pizza, and anything with their house-made sausage. Some of the pizzas are also named after San Francisco neighborhoods (Excelsior, Castro, etc.), which we think is adorable.
Where to get it: Zero Zero
2. Not Your Average Ramen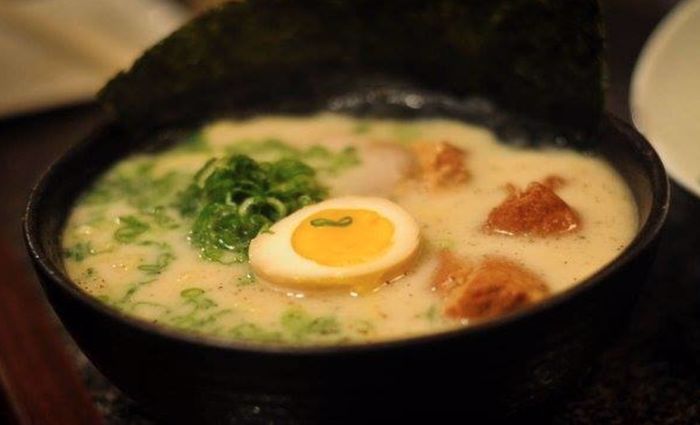 Sure, you can buy ramen packages for 38 cents in the supermarket, but this ramen tastes so much different. (And better!) This delicious Japanese noodle soup can be found all over San Francisco, but some of our favorites are in the Sunset and Richmond districts. Full of noodles floating in a savory broth, and typically with an egg on top, this is a quintessential dish if you're a fan of Japanese cuisine. Don't hesitate to try an unconventional ramen dish that should be the standard for all ramen.
Where to get it: Izakaya Sozai
1. Seaside Oysters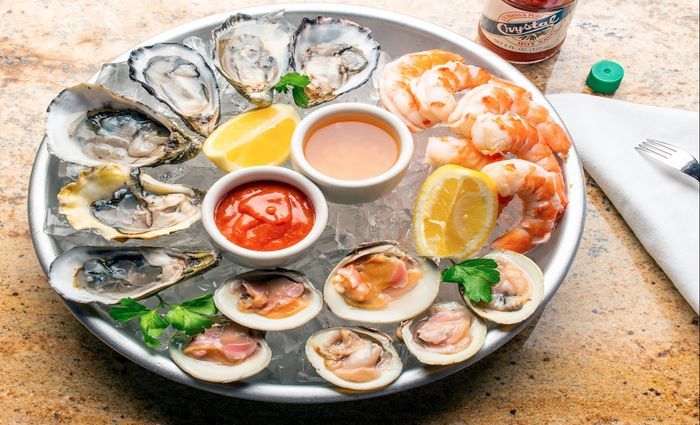 Known for some of the best oysters in the country, San Francisco is one of the best places to go for this creamy, salty, seafood favorite. Oysters can be found all over the city, but some of our favorite are in—you guessed it—Fisherman's Wharf or the nearby Financial District neighborhood. The only type of oyster that is native to San Francisco is the Olympia oyster, but all types of oysters can be found all over the City by the Bay.
Where to get it: Sam's Grill & Seafood Restaurant
Not ready to book a tour? Find out if San Francisco tours are worth it.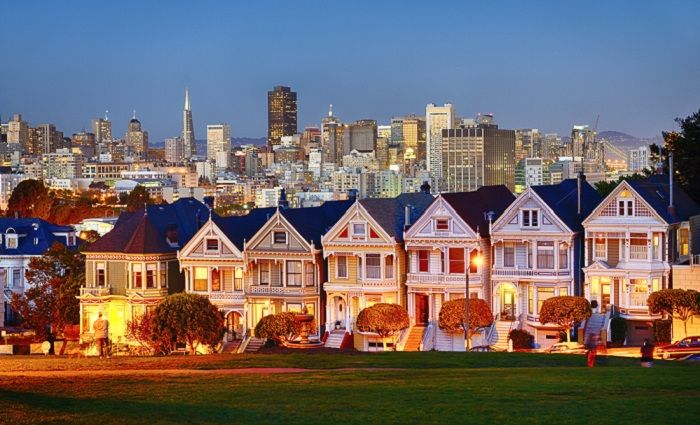 Find the best places to stay
Where To Stay in San Francisco
Make the most of your visit to San Francisco by choosing to stay in the best neighborhoods for seeing all this iconic city has to offer. You'll love our hotel recommendations.