New York City is home to some of the best bars and restaurants around, but it's also full of cool speakeasies. These prohibition-style bars are often hidden and tucked away in a basement, backroom, or even a subway station. You might not be able to spot them on your own but we're here to help. Here are the coolest speakeasies in NYC right now.
---
Pro Tip: Planning your trip to NYC? Bookmark this post in your browser so you can easily find it when you're in the city. See our guide to New York City for more planning resources, our best NYC tours for a memorable trip, and the top things to do in New York City.
NYC's Best Speakeasies You Have to Visit
If you're looking for a cool speakeasy, New York City is the place to be. The city is full of these hideaway bars, peppered throughout various neighborhoods and in some of the most interesting locations. Here's our list of the coolest speakeasies in New York City.
Interested in traveling back to the roaring 20s and Prohibition era? Join a local guide on the NYC Speakeasy and Prohibition History tour to sip cocktails in the coolest hidden bars and discover this iconic time.
Not ready to book a tour? Check out how to spend 3 days in New York.
UES.
$$$ | Sweet Escape | Ice Cream and Cocktails
Head to this Upper East Side ice cream shop and you'll be able to order your favorite scoop and then some. The front of the space is cute and pink with a wall full of ice cream pints. This is key. You'll need to choose the right one in order to enter what's behind it: a secret bar hidden in the storage room.
Once inside the bar, you'll find a whole different vibe with dim lighting and brick walls, and a bar lined with top-notch bottles. But you'll have to dress to impress as there is a strict cocktail attire dress code required to enter.
Address: 1707 2nd Ave, New York
Little Branch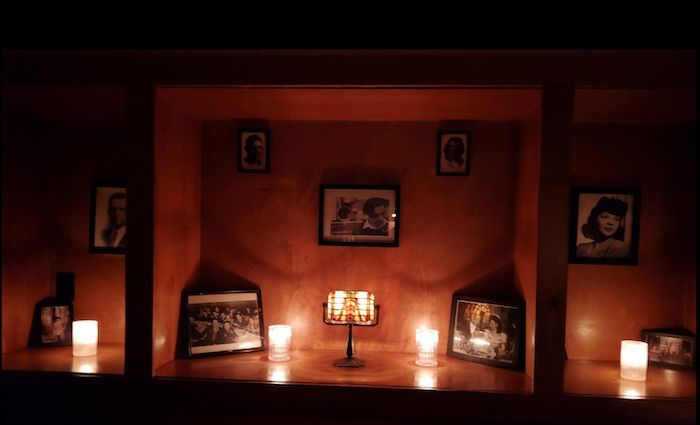 $$$ | Cozy Hidden Den | Handcrafted Sips
Sitting inconspicuously on the corner of busy Seventh Avenue in the West Village, Little Branch is a delight. It may not look like much on the outside but once you're in, you'll see what all the fuss is about. Walk downstairs to a room with low ceilings and sunken-in booths that create the ultimate cozy vibe.
Every now and then, there is live music that utilizes the resident piano that sits in the space. The handcrafted cocktails are prepared by well-trained bartenders donning suspenders. Expect all the classic sips here, like a killer Old Fashioned. But the professionals often whip up their own concoctions, too.
The space is small so there's usually a long wait to get in. If you can get there on the early side, there's a better chance of you getting in. And there are some old school rules to abide by, such as no shouting or fighting while inside, and no lingering by the door once you leave.
Address: 20 7th Ave S, New York
The Garret
$$ | Second-Floor Hideaway | Customized Burgers
You go to Five Guys for the burgers that can be customized to your liking. But when you hit up the burger joint on Bleeker Street in the West Village you also go for the speakeasy bar residing on the second floor. Here you will find The Garret.
Unlike most speakeasies, this place is not dark. Instead, the windows overlooking the street get plenty of natural sunlight during the day. But it's still cozy thanks to the fireplace, couches, and small tables perfect for intimate conversations.
To enter the bar, you'll first have to go through Five Guys and head all the way back to the stairs. You can also grab a burger and fries on your way upstairs and bring them with you to pair with your cocktail of choice. You can't go wrong with a classic, such as the Paper Plane or Between the Sheets, but there are house cocktails to try here as well and wines by the glass that change regularly.
Address: 296 Bleecker St, New York
Bathtub Gin
$$$ | Back Door Nook | Live Burlesque
Step into the bustling Stone Street coffee shop in Chelsea to grab your favorite cup in the morning. But come evening, you'll be walking right through the shop to the back door where you'll find Bathtub Gin. And you guessed it, lots of gin cocktails. The space is decked out in dark woods and retro-inspired decor, bringing you back to the 1920s.
The cocktails are big here, especially the long list of different types of gin and tonics. But there are also some quality eats, such as beef tartare and crudo. And let's not forget the cookies and milk for dessert. Pretty much every day of the week there is entertainment ranging from live music to dancing and stellar burlesque shows.
Address: 132 9th Ave, New York
2nd Floor Bar & Essen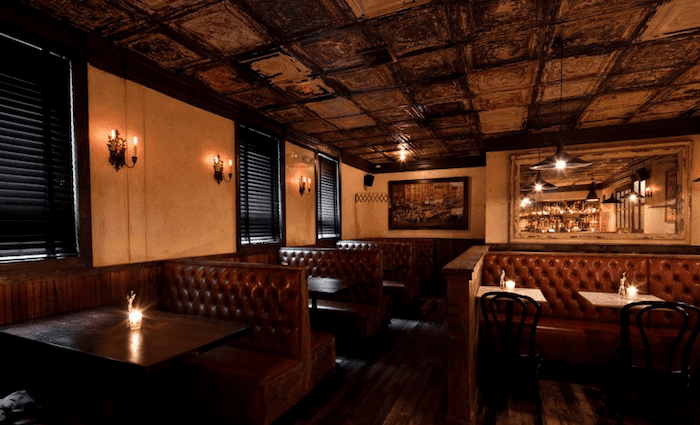 $$$ | Unpretentious Retreat | Jewish Deli Grub
Located atop the local 2nd Ave Deli on the Upper East Side, you'll find the 2nd Floor Bar & Essen. This vintage-inspired bar hosts comfy banquettes and candle-lit tables along with delicious cocktails. But we can't lie, this spot is where we go when we want some Grade-A Jewish deli eats to complement our drinks. Might we suggest the deviled eggs sprinkled with strips of pastrami?
You'll need to enter the bar on East 75th Street between 1st and York. From there, you'll head upstairs and find a relaxing retreat that won't ask for any passcode to get in so the vibe is always low-key.
Address: 1442 First Avenue, New York
Apotheke
$$$ | Back Alley Hideout | Medicinal-Inspired Sips
Make your way down a back alley in Chinatown and you'll be happy you did. No, really. Nestled in an old opium den, you'll find Apotheke. This space is a play on a traditional apothecary but instead of selling medicine, it mixes up medicinal-esque cocktails, which are labeled as "aphrodisiacs" and "pain killers," depending on your poison. Did we mention the bartenders are also dressed like pharmacists? Its antique fixtures, vintage furniture, and ornate accents all make this speakeasy a must.
But it's not always easy to get into this bar. The host may or may not let you enter, most likely eyeing your attire, which should always be smart and sophisticated for the best chance to get in.
Address: 9 Doyers St, New York
La Noxe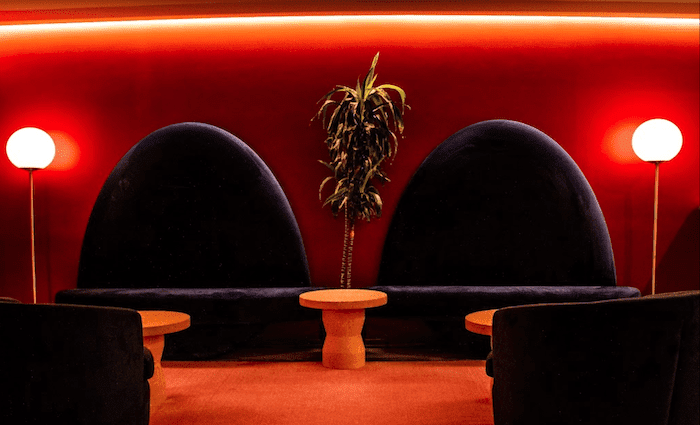 $$ | Subway Subterranean | Haute Tapas
New to the scene of New York City speakeasies is La Noxe. But don't be fooled, this is one newbie that holds some clout. This speakeasy is located inside the 28th Street subway station but is hidden in a secret location. Make your way down the flight of stairs on the corner of 28th Street and Seventh Avenue and don't go through the turnstiles. There, you'll find a door to knock on twice to have it open. But with a massive waitlist, you may not be getting in anytime soon.
If you do get a chance to enter, you'll enjoy espresso martinis and banana daiquiris. There are also tapas served that can include anything from grilled octopus to feta-topped guacamole. As for the look, expect dark colors and low lighting, and a perfect space to park it before or after grabbing your train.
Address: 315 7th Avenue, New York
Not ready to book a tour? Check out the top things to do in New York.
Please Don't Tell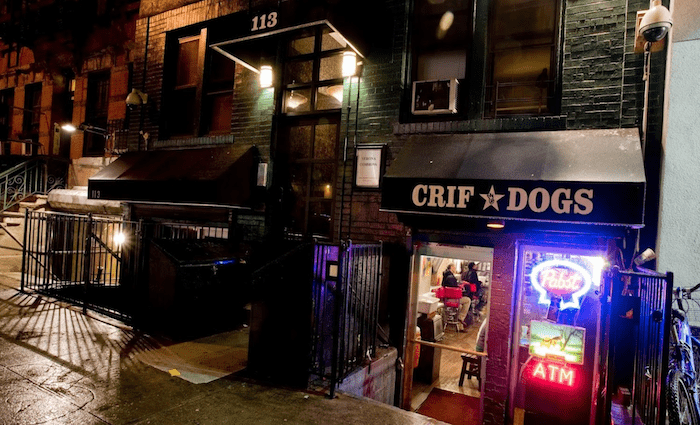 $$$ | Offbeat Getaway | Gourmet Hot Dogs
When you head to the East Village's Crif Dogs, you enjoy more than a hot dog. Although, those are pretty good, too. Make your way into this hot dog joint and walk through the old phone booth where you'll get whisked away to the secret bar: Please Don't Tell.
You'll be happy you did as the cocktails are legit. They aren't James Beard award-winning for nothing. The ceilings are low and the ambiance is dark. But there's also taxidermy spread throughout the place, which takes this speakeasy to a whole other level.
You don't have to jump through too many hoops to enter this bar, and the whole entrance through a phone booth is kind of fun. Plus, you can still enjoy those tasty hot dogs while here, which we think pairs well with those fancy cocktails.
Address: 113 St Marks Place, New York
Fig. 19
$$ | Swanky Sanctuary | Late Night Dancing
SFA Gallery on the Lower East Side might hold some impressive art. But it also holds a very cool (and very secret) speakeasy in the back. This is where you'll find the swanky space called Fig 19. Enjoy the sparkling chandeliers hanging over your head as you order something at the small bar. The bar isn't the only small thing here, as the entire space is not big by any means. But that's what gives it the exclusive feel we crave.
There's always great music and a tiny dance floor to move where the beat takes you. Just FYI, the music can get loud so if you're looking for more of an intimate, date-style atmosphere, this might not be it.
Address: 131 Chrystie Street, New York
Coby Club
$$$ | Sultry Seclusion | Live Music
Directly under Chelsea's popular Elmo restaurant, you'll stumble upon the relatively new Coby Club. The space is inspired by San Francisco's booming nightlife in the 1960s, paying tribute to the well-known performer Miss Coby Yee. Take a seat on a velvet banquette as you take in the sexy gold-adorned walls and funky lampshades covered in black fringe.
You have your choice of high-end bubbles or signature libations which include the club's take on a traditional Cosmopolitan. Salmon tostadas and truffle pizzettes also make for the perfect addition to the menu. Another solid addition? The intimate live music acts from Broadway performers on a nightly rotation.
Address: 156 1/2 7th Avenue, New York
Not ready to book a tour? Check out our New York Guide for more resources.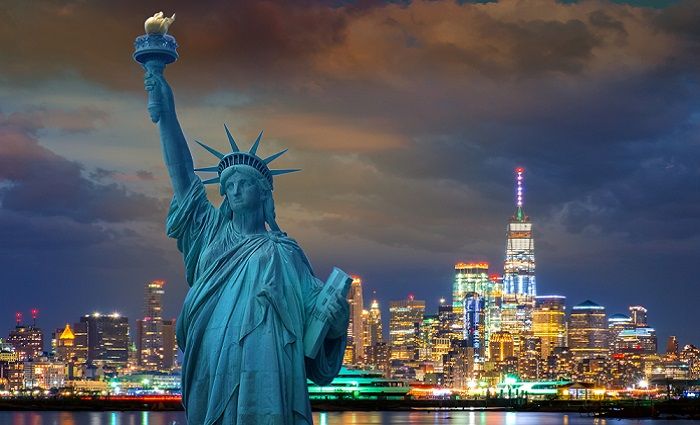 Find the best places to stay
Where to Stay in NYC
New York City is the center of the universe to those who adore this iconic city. Choose the best neighborhood to stay in as you plan your upcoming trip to the Big Apple.