Knowing the local language can always help when traveling to a new place. Though many people speak English, here are some helpful Spanish and Catalan phrases to know before your trip to Barcelona to make your visit a little more cultured.
---
Pro Tip: Barcelona is an amazing city best seen with a local guide. Check out our Barcelona tours and get some language tips from one of our expert guides?
Difference Between Spanish and Catalan Languages
When visiting Barcelona, in the underground, buses or touristic monuments, you will notice that some signs are written in two or three languages. Barcelona is the capital of Catalonia, an autonomous region of Spain, and therefore it maintains certain cultural singularities, among them its own language, Catalan.
To make your visit easier and funnier, here we will show how to differentiate both languages (although sometimes they use the same words and expressions!) through useful phrases that can help you understand better local culture and Barcelona's dynamics. 
1. Hola!
Pronunciation: OH-la
This is the easiest and most useful word when visiting Barcelona. Hola means hello and is the simplest way to salute people you will come across during your visit here. When saying hola, people reply with the same word alongside good morning/afternoon or asking you how are you doing today.
It's weird when hola is said alone, and depending on the time of the day, you will have to say good morning or good afternoon as well. So, you can say bon dia (Catalan), buenos días (Spanish), or good afternoon, which is bona tarda (Catalan) or buenas tardes (Spanish).
To make things easier, you can skip this second part and just say què tal? after saluting, "how are you?". Asking this question will make your life easier if you want to stop somebody in the street to ask for an indication or for orientation.
2. El compte, si us plau/la cuenta, por favor (check, please)



Pronunciation: el-komte-si-oos-plau/la-kuenta-por-fahvor
When sitting in a nice restaurant, usually the server will ask you if you'd like to have the check. When this does not happen, you will have to either pronounce these magic words el compte, si us plau in Catalan or la cuenta, por favor in Spanish (check, please).
Popular Barcelona Tours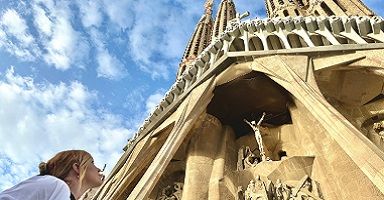 Best Selling Tour
Skip the Line Sagrada Familia Tour
Sagrada Familia is a three-sided gothic masterpiece designed by visionary Antonio Gaudí which has yet to be finished. The church is nearing completion and a wonderful display of color and architecture. Visit with a passionate local guide and skip the lines for admission!





See Prices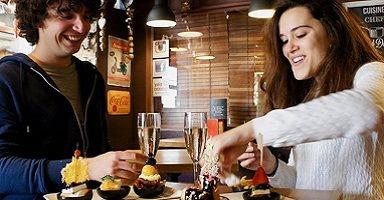 Customer Favorite
Barcelona Food & Wine Tour with Local Sommelier
We can't think of a better way to explore a city than to eat your way through it, and there will be enough tapas and wine to discover a lot of Barcelona! Join us on a delicious discovery of the Gothic quarter – one of Barcelona's most vibrant areas!





See Prices
3. A on està…? Dónde está…? (Where is…)



Pronunciation: ah-on-estah/dohnde-estah
If lost in Barcelona, and after saying the saluting words Hola, com estàs? this new phrase can help you reach your hotel or the monument you would like to visit in Barcelona. Many people in Barcelona speak English, especially young people, so in case you forgot the words a on està/dónde esta mi hotel (my hotel)? you can always use English to ask your question, don't worry!
4. Merci! Gràcies/Gracias! (Thank you!)



Pronunciation: mersi/grasies/grazias
Like in French, Catalan people say thanks by saying merci, which is a very useful word and easy to remember. So don't be surprised if somebody uses this French word when thanking you in Barcelona. If this French word does not appeal to you, there are other words that can be used for thanking people in Barcelona, gràcies in Catalan and gracias in Spanish!
5. Una cervesa si us plau/Una cerveza por favor (A beer please)



Pronunciation: oo-na ser-vay-zah si oo-plow / oo-na ser-vay-zah por fah-vor
Well, as you will see while walking around Barcelona, many people will be sitting on terraces relaxing and chatting, but more importantly, most of them will be drinking beer. To order this drink you will need to know how to order it: una cervesa si us plau, in Catalan, and una cerveza por favor, in Spanish. Waitresses will likely offer you local beers, Estrella Damm and Moritz, nice and cold beers that will help you relaxing after visiting this amazing city.
6. Parles anglès? Hablas inglés? (Do you speak English?)



Pronunciation: parles-angles?/ablas-ingles?
If some of these words can't help you when asking locals about directions or when ordering food, you can go ahead and ask if they speak English. Most people in Barcelona and Spain speak English or can understand it, so even if their English is limited they will try to be as helpful as possible.
7. Quant costa això? Cuánto cuesta esto? (How much does that costs?)



Pronunciation: kuan-kosta-asho?/kuanto-kuesta-estoh?
Barcelona is full of souvenir shops, but there are also the most famous fashion brands shops. In Passeig de Gràcia you will be able to shop in the most exclusive fashion firms shops, but also for local and souvenir shops this phrase will help you to know what is the price of articles you might be interested in purchasing.
8. Perdó!/Perdón! (Sorry!)



Pronunciation: perdoh/perdon
If caught in the middle of a subway wagon or a packed bus and you need to get to the exit, this word is going to help you get through it. This word can also be used as excuse me, when you are in a bar or a restaurant and you'd like to get the server's attention.
Popular Barcelona Tours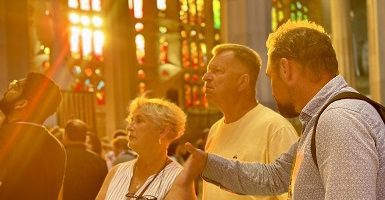 Best Selling Tour
Unbeatable Barcelona in a Day Tour

Our Barcelona in a Day tour covers all the major attractions plus hidden gems. This walking tour includes Sagrada Familia, Casa Batlló, Casa Mila, the Gothic quarter, Park Güell, and transportation to reach the more remote sites. You get skip the line entry and a passionate guide too!





See Prices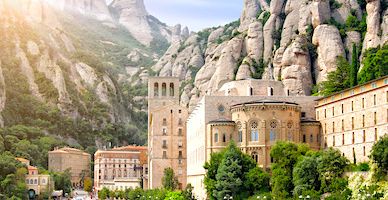 Day Trip
Full Day Trip to Montserrat from Barcelona with Winery & 3-Course Lunch
Enjoy a day away from Barcelona on this trip to a magical place nestled on a mountain top above the clouds. Experience Montserrat where the myth comes to life before visiting an amazing winery in the hills for lunch and wine tasting at an organic vineyard.





See Prices
9. Vaig a…/Voy a… (I am going to…)



Pronunciation: vach-ah/voy-ah
When talking to a taxi or bus driver, you can make sure you are going to the right place by saying vaig a/voy a and then your desired destination. 
10. Adéu! Adiós! (Bye bye!)



Pronunciation: adew/adiohs
This is the simplest and most educated way to say goodbye when visiting Barcelona. In general, locals in Barcelona are grateful when hearing foreigners using the local language, especially if you use Catalan!