The National Museum of Scotland is one of Scotland's treasures, due to its storytelling of the history of the nation through its galleries and collections. The National Museum of Scotland is recognised and loved both locally and internationally with many visitors each year, so join the fun! Here's everything you need to know about how to visit the National Museum of Scotland.
---
Pro Tip: Bookmark this article as your ultimate guide for this destination! Additionally, if you want to see other great attractions make sure to check our top things to do in Edinburgh and how to visit the Edinburgh Castle articles.
Hours, Tickets, Tours, And More! What We'll Cover
How To Visit The National Museum of Scotland: Hours And Info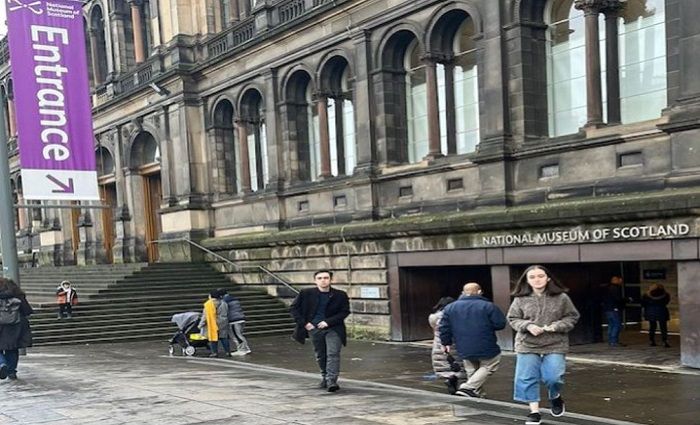 The National Museum of Scotland is open daily, which makes it easy to plan how to visit the National Museum of Scotland.
Museum Hours:
Sunday – Saturday: Open 10 am; closes 17:00 (5 pm)
However, it's advised to come to the museum a bit early to save time and avoid waiting in long queues.
Exhibition Hours:
Exhibitions at the Museum occur according to seasons and the hours can differ a little. Here are the upcoming exhibitions for 2022.
Audubon's Birds of America: 12 February 2022 – 8 May 2022; Hours: 10 am – 17:00 (5 pm)
Inspiring Walter Scott: 6 August 2021 – 8 January 2023; Hours: 10 am – 16:30 (4:30 pm)
Scotland's Climate Change: 24 September 2021 – 27 March 2022; Hours: 10 am – 17:00 (5 pm)
The Typewriter Revolution: 24 July 2021 – 11 September 2022; Hours: 10 am – 17:00 (5 pm)
Museum location: Chambers St, Edinburgh
Pro Tip: To make your visit easier, I recommend planning ahead of time. For example, you can utilise the National Museum of Scotland's map to plan your visit by viewing it online. Also, you can print out the map to see where you want to explore and what to do.
Information About The Museum:
The National Museum Of Scotland was established in 2006. However, the Museum dates back to 1866, which is when the building initially opened as the Museum of Science and Art. As a result, the National Museum of Scotland has a long-embedded history in this city.
With over 2 million visitors in 2019 and that number growing again, the National Museum of Scotland has often been the most visited attraction in Scotland over the years.
There are also around 22,000 objects on display in the Museum with fundamental historical significance. For instance, there are animal specimens which are used for research in core scientific and historical purposes, plus royal relics from Scotland's historic past. All of the artefacts have crucial significance not only for Scotland, but also international research and preservation.
Tickets and Admissions To The National Museum Of Scotland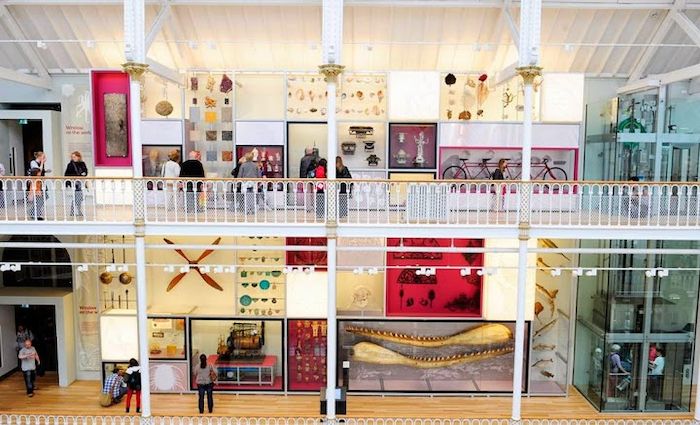 Admission Fee: Entry is free
Exhibitions: Some exhibitions are free and some will cost a little extra, which is why it's important to check the website for current information.
2022 Exhibitions and Prices:
Audubon's Birds of America: Adult (16+) £10 I Over 60 £8.50 I Student, Unemployed, or Disabled £7.50 I Children (Under 16) Free (Exhibition Gallery 1, Level 3)
Inspiring Walter Scott: Free (Exhibition Gallery 4, Level 1)
Scotland's Climate Change: Free (Exhibition Gallery 3, Level 1)
The Typewriter Revolution: Free (Exhibition Gallery 2, Level 3)
Pro Tip: Although pre-booking a ticket isn't required, you can pre-book to make sure you don't wait in lines.
How To Get to The National Museum Of Scotland
Firstly, the National Museum Of Scotland is centrally located, making it easy to get to from any part of Edinburgh. The museum is also close to many core transportation alternatives used to get here.
Here are a the most common transportation options:
By Train:
The closest rail station is Edinburgh Waverley. This station is the best choice because it's the nearest to the museum, and the distance to the museum is just a 10-minute walk. Visit Traveline website to plan your journey from where ever you're staying. If you haven't booked your hotel yet, use our recommendations for where to stay in Edinburgh!
By Bus:
There are three main bus stops that are available and sensible to use for the museum. Firstly, the stop named Chambers Street is the closest to the museum since it stops just in front of it. The second stop is nearby on George IV Bridge and is a 2-minute walk to the museum if you miss the Chambers Street stop. The other stop is South Bridge and is a 5-minute walk.
Also, Edinburgh Bus Tours, which are open-top buses, stop at the Museum too. You can checkout Edinburgh Bus Tours for the exact stops.
By Tram:
Edinburgh's trams are easy to access and are available every seven minutes from early morning until late at night. Also, the tram line runs from the Airport to York Place. However, the nearest tram stop to the museum is on Princes Street, which means you have a 10-minute walk to the museum.
By Car:
Off-street parking is available at nearby National Car Parks. For example, you can park at NCP Edinburgh Castle Terrace and walk 15 minutes to the Museum.
Another alternative to use for car parking is park and ride. You can use this by riding the tram or bus after parking at a local park and ride. For instance, you can park and ride at the tram station Ingliston, and then take the tram to the museum. By leaving the tram or bus to Princes Street, the museum is a 10-minute walk.
Parking is challenging in Edinburgh, so while it's entirely possible to use a car, you might prefer the ease of public transportation or the park and ride options mentioned above.
Pro Tip: You can get a discount for car parking at the NCP Castle Terrace if you're visiting a special exhibition at the National Museum of Scotland. You need to present your parking ticket to the National Museum Of Scotland Staff or at the Entrance Hall ticket desk to receive your discount!
By Bike:
Edinburgh is a cycle-friendly city and has many options to park your bike. Also, there are many dedicated cycle lanes and many junctions have advance cycle stop lines. Edinburgh is very safe to cycle and explore. In fact, there are numerous cycle racks on Chambers Street to park your bike close to the museum.
Pro Tip: If you're planning to park your bike on Chambers Street arrive early before the spots are taken!
Famous Attractions, Relics, And Galleries In The National Museum Of Scotland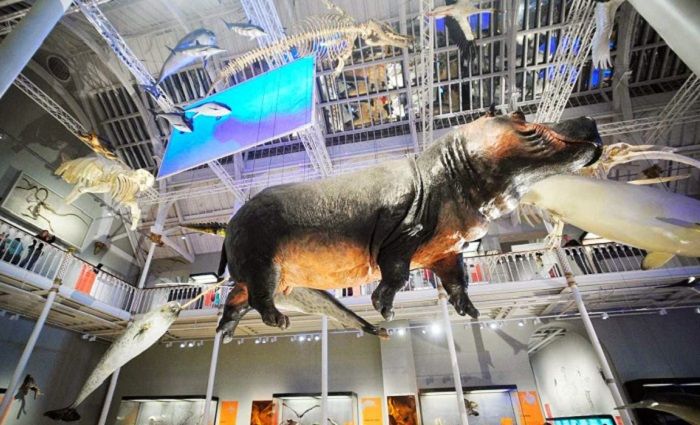 The Grand Gallery
Animal World Gallery
Earth In Space
Scottish History Gallery
Archaeology Gallery
Fashion And Style Gallery
Patterns of Life Gallery
Ancient Egypt Rediscovered Gallery
Technology By Design
Animal Senses Gallery
There's a lot to uncover and explore at this museum. You should also spare at least 2-3 hours to see all the attractions and galleries here!
More Fun Things To Do At The Museum:
If you love shopping or want to keep a souvenir from the National Museum of Scotland, you should certainly visit the gift shop. There are many interesting and fun gifts that are often inspired by the unique exhibits happening throughout the year. It's a much better souvenir than a traditional trinket!
Also, many visitors love to eat at one of the two incredible cafes at the museum. First is the Balcony Café. The café is both modern and stylish and also has great views of the Grand Gallery! There are many delicious options to buy, from coffee to home-baked goods to cold snacks and salads. I highly recommend having hot homemade soup and freshly prepared sandwiches because they're surprisingly delicious.
The Museum Brassiere is also lovely to eat at. There are many selections such as: gourmet burgers, open sandwiches, desserts, and salads. Don't miss out on the Cullen Skink soup – made out of a classic, creamy Scottish soup of smoked fish, potato, and leeks!
How To Visit The National Museum Of Scotland: Tour Options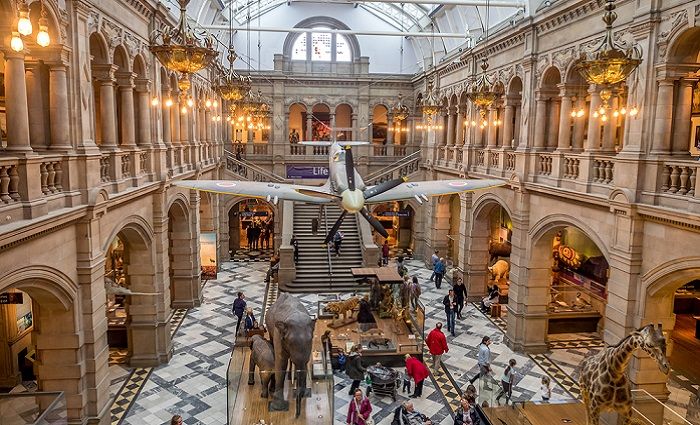 If you're planning a trip to Edinburgh and want to explore the National Museum of Scotland, you can check for current tours. However, with the current Covid-19 restrictions, there are no guided tours of the museum. But, there are still several fun and informative tour alternatives.
The National Museum of Scotland offers Museum Trails, which are self-guided, interesting, and informative tours. Each of these trails have their own downloadable maps that you can get online or at the museum.
Here are the museum's trail options:
Winter Trail
LGBTQIA+ Hidden Histories Trail
Wellbeing Trail
Staff Picks Trail
Architecture Trail
Family Puzzle Trail
Rewilding Trail
Selfie Safari Trail
Mode
Winter Trail:
The Winter Trail is the best to complete with families or with children. One reason is because it is designed specifically for children to have fun and learn while moving along the trail. The trail is hosted by baby King Penguin, and the theme focuses on winter celebration. Also, you can explore major items in the galleries from fashion to the animal world.
LGBTQIA+ Hidden Histories Trail:
This trail is part of a new collaboration to highlight unexplored LGBTQIA+ stories across the museum's many collections, specifically found on Levels: 1, 3, and 5. For instance, Alexander McQueen's boots are found on Level 1 as object 3 of the trail. Above all, this trail has audio recordings for each object you view, and there is an audio transcript available too.
Well-being Trail:
The Wellbeing Trail is very calming yet informative at the same time. For example, this trail is designed to help you reset and uncover some moments of mindfulness and well-being at the Museum.
It's highly suggested to carry out this trail tour alone. Mainly because you will notice and enjoy sensations, sights, and sounds around you, so enjoying it without distraction is a must. Moreover, it's an audio Trail so be sure to bring your headphones!
Staff Picks Trail:
This trail is fun and communicative because you discover the favorite selections from the museum's staff. If you follow this trail, you'll notice items that are usually missed or not paid attention to since they're often more obscure. Also, this trail consists of the staff's top ten picks from the Ritchie Clock to Inukshuk, and more. It's fun for anyone looking for more interesting artifacts.
Architecture Trail:
The Architecture Trail is a magnificent opportunity to uncover the architectural designs present in the museum. This trail also incorporates many references to Scotland's history and landscapes. From decorative radiators to neoclassical designs, this trail will enlighten you.
Family Puzzle Trail:
If you want to complete a short, sweet, and fun trail, this is for you (or rather, the kids with short attention spans). You can also enjoy this trail by yourself, with friends, or with family. This trail is really structured making it easy to follow as you try to figure out which animal footprint matches the exhibit, look for certain artifacts, and other fun scavenger hunt activities.
Rewilding Trail:
This trail's main focus is on rewilding, and it explores Scotland's native species. With this trail, you follow and interact with the museum's many galleries. For example, you can visit the Grand Gallery, then explore the Animal Sense Gallery. The Rewilding Trail is more appropriate for kids and families, but foreign visitors might also love exploring Scotland's native species too.
Selfie Safari Trail:
Th Selfie Safari trail is a family-friendly activity and is adventurous for all ages. This trail's main theme is the Natural World galleries where you can take a selfie with the animals, and try to match the photo challenges recommended in the trail guide. Don't forget to be creative with your selfies!
Mode:
Get to know the Museum's Fashion and Style Gallery before you even visit! This Mode Trail is totally free and even available online, which is a great way to get the relevant information you need before visiting here so you know your way around.
This mode is fantastic to explore and understand the 30 iconic garments on display at the museum. The mode is filled with close-up images and virtual tours of 360 views, so it's the perfect way to explore Scotland's fashion history.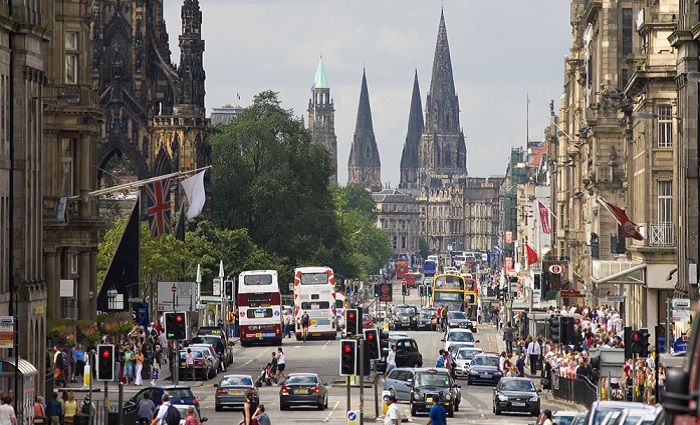 Find the best places to stay
Where to Stay in Edinburgh
Get to know the best areas to stay in Edinburgh. We've recommended our favorite hotels for those who love to stay in the busy city or out along the coast for more peaceful views of the sea.