Having the masterpieces from the art books in front of you is incredibly satisfying! Picasso, Dalí, you can see them all at the Reina Sofía Museum. But with so many things to do in Madrid, how to go about including a museum tour? I know the Spanish capital and its museums by heart, so I have collected all the essential info for how to visit the Reina Sofía Museum to perfection. This article has everything you need, from opening times to transport and tour options.
---
Pro Tip: Planning what to do on your trip to Madrid? Bookmark this post in your browser so you can easily find it when you're in the city. Check out our Madrid guide for more planning resources, our best Madrid tours for a memorable trip, and how to see Madrid in a day.
Visiting The Reina Sofía Museum: What We'll Cover
While planning your stay in Madrid, you may be tempted to skip the Reina Sofía Museum and only go to El Prado. But the two museums are like two sides of the same coin. So if you are an art lover, make sure to plan a visit to the Reina Sofía Museum.
The Museum is dedicated to modern and contemporary art only, so it has some of the most astonishing artworks in recent art history. The exhibition includes several pieces of Salvador Dalí and a rich collection of surrealism masterpieces. And, of course, you cannot miss out on one of the most admired paintings of all time Guernica, the 25-foot painting that Picasso finished in only 33 days!
This article covers all the critical information you need as you plan how to visit the Reina Sofía Museum:
Not ready to book a tour yet? See our Madrid Guide for more info.
Reina Sofía Museum: Hours and Info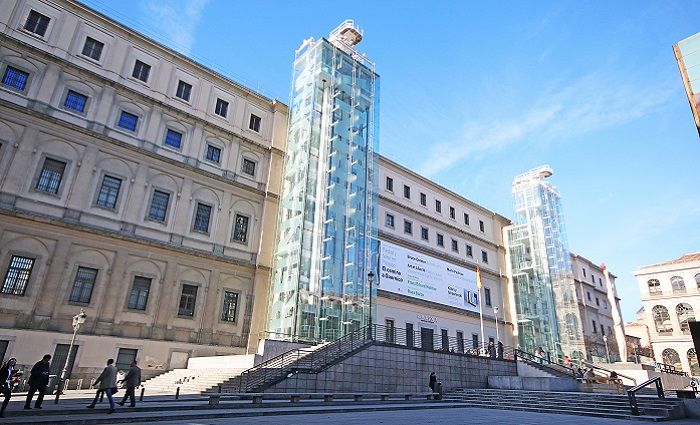 Besides the main venue, the Reina Sofía Museum has two other buildings in Retiro Park, about 20 minutes away on foot.
Reina Sofía Main Venue (Sabatini Building and Nouvel Building)
Opening Times
Monday and Wednesday through Saturday: 10 am to 9 pm
Sunday: 10 am to 2:30 pm
Closed
Tuesdays
January 1st and 6th | May 1st and 16th | November 9th | December 24th, 25th, and 31st
Reina Sofía Venues on the Retiro Park (Velázquez Palace and Palacio de Cristal)
Opening Times
Monday to Sunday: 10 am to 7 pm
Closed
January 1st and 6th | May 1st and 16th | November 9th | December 24th, 25th & 31st
Tickets To Visit The Reina Sofía Museum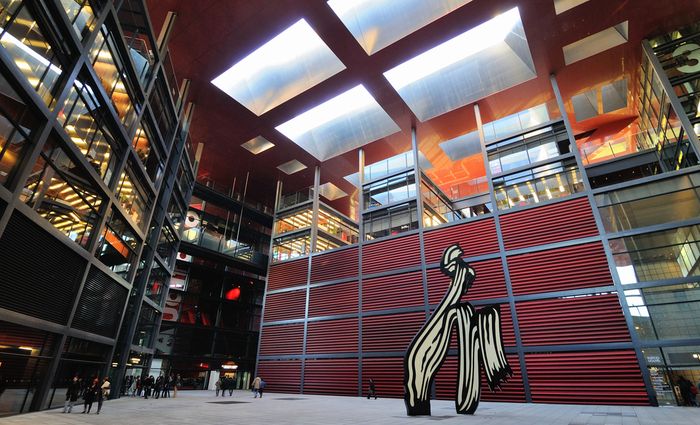 The Reina Sofía has online booking and a ticket office at the main venue entrance. The ticket office closes 30 minutes before the closing time.
Pro tip: Online booking is also available for free-entry tickets. Take the opportunity and avoid long waiting lines at the entrance.
Main Venue Admission Fee:
Adults (18+) €12
Free-entry categories: Minors under 18 | Seniors 65+ | Students under 25 with ISIC cards | Students 25+ in arts degrees or postgraduate degree | Teachers with ITIC cards | Visitors with 33%+ disability | Journalists | Official tour guides
Free-Entry Hours:
Monday and Wednesday to Saturday: 7 pm to 9 pm
Sunday: 12:30 pm to 2:30 pm
April 18th, May 18th, and October 12th
Venues in Retiro Park:
Other options: If you plan to visit more museums in Madrid, buy the Abono Paseo Del Arte ticket. It is a combined ticket to access the Reina Sofía, Prado, and Thyssen-Bornemisza museums.
Address main venue: Calle de Santa Isabel, 52, Madrid
How To Get To The Reina Sofía Museum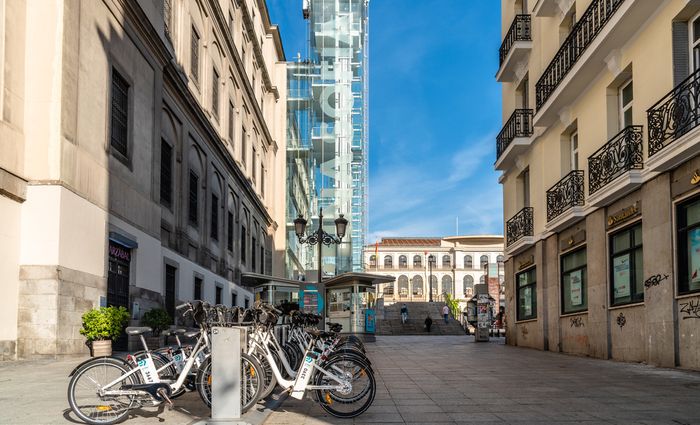 The Reina Sofía Museum sits between Paseo del Prado and Ronda de Atocha. It has nearby bus stops, and it is just a few steps away from the Estación del Arte metro station and the Atocha train station, making it very easy to get there using public transportation.
Metro
Metro is a good transportation choice to visit the Reina Sofía Museum. The Metro stop Estación del Arte (Line 1) is about 6 minutes away by foot from the main entrance. For a nice walk, you can also stop at the Lavapiés metro station (Line 3) and get to the museum in about 7 minutes.
Suburban Train
The suburban rail Cercanias is also a great transportation option. The best stop is the Cercanias station at Atocha railway station, basically across the street. Cercanias lines connected to Atocha are: C1, C2, C3, C4, C5, C7, and C10.
Bus
The Reina Sofía bus stop is in front of the museum. The bus lines that stop here are the following: 6, 10, 14, 19, 26, 27, 32, 34, 36, 37, 41, 45, 59, 85, 86, 102, 119, C1, C2, and E1.
Car
There are paid parking areas close to the Reina Sofía at Atocha train station and Plaza Juan Goytisolo. However, traffic is usually heavy around the train station, so I suggest choosing other transportation options.
Bike
If you like biking and are comfortable doing so on busy city streets, Madrid has a public electric bike rental service. There are two bike stations close to the Reina Sofía, one in Nouvel Square and another beside the Sabatini building entrance. The rental is by hours, and it costs around €2 per hour. You can buy a ticket and collect or park the bike at any station—there are 30 all around the city.
Retiro Park Venues
The easiest way to get to the Velázquez Palace and the Palacio de Cristal is accessing the Retiro Park through the Puerta de Felipe IV gateway. The access is located in front of the Prado's Casón del Buen Retiro.
Famous Artworks In The Reina Sofía Museum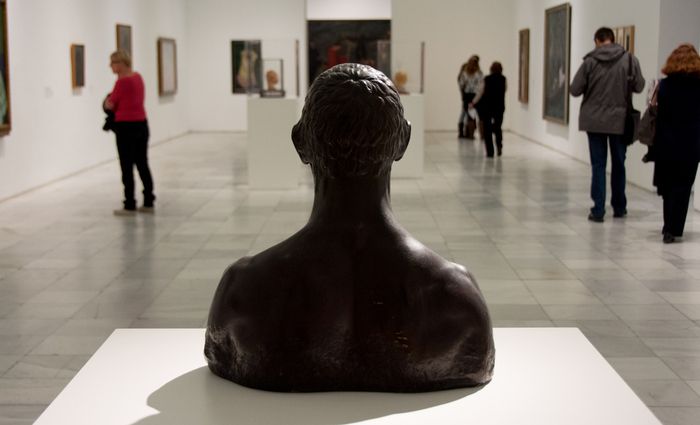 The Reina Sofía Museum's main venue has four floors on the Sabatini building and three on the Nouvel building. The collection occupies all the floors, except for the third one, which houses the temporary exhibitions.
The museum has a priceless collection of Spanish and international art from the 20th century and current contemporary. I am sure that Pablo Picasso's Guernica will take a special place in your heart. But it is not the only masterpiece in the museum.
If I had to choose just five must-see pieces, I would go for:
The sketches for Guernica – Pablo Picasso
Autorretrato cubista – Salvador Dalí
Grelots roses and ciels en lambeaux – René Magritte
Tableau et tabouret avec œufs – Marcel Broodthaers
Un mundo – Ángeles Santos
For a glimpse of the best masterpieces, check out our favorite 12 things to find in the Reina Sofía Museum.
Reina Sofía Museum Tour Options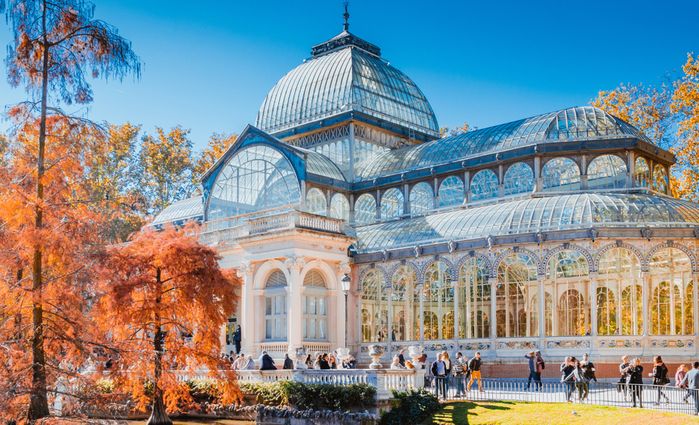 The Reina Sofía offers guided tours to selected artworks or rooms at no additional cost. Tours last from 30 minutes to 1 hour. They are organized in small groups of nine people max, but it is better to check the availability in English and the scheduled time on the museum website before your visit.
Audio guides are temporarily unavailable because of the COVID-19 restrictions.
Pro Tip: Visiting the Retiro venues is a good plan, even with no exhibitions. Retiro Park is an excellent opportunity for a nice walk through nature. Also, the Palacio de Cristal architecture is stunning. It is pure magic if you get there at the right time when the sun shines through.
Facts and History Of The Reina Sofía Museum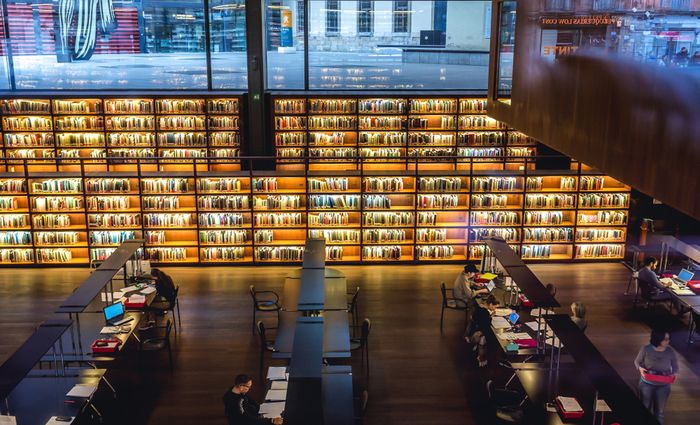 To get you excited for your trip, here are some interesting facts about the Reina Sofía, thanks to the official museum website.
The Sabatini building is a project by architects José de Hermosilla and Francisco Sabatini who built it in the 18th century. It was a hospital from 1788 to 1965.
After being restored, it opened its doors again as the Reina Sofía Art Center in 1986.
The Art Center (Museo Nacional Centro de Arte Reina Sofía) only had temporary exhibitions until 1992.
The building has been transformed several times throughout the years. The most significant additions were the glass elevators (1988) and the Nouvel building (2001).
The Palacio de Cristal is a structure of metal and glass built for a tropical plants exhibition in 1887.
Thanks to the artists and collectors donating their pieces and money, the exhibition expanded quickly.
The Reina Sofía Museum also has a book and document collection. The library has roughly 155,000 monographs, 13,000 periodical and archival publications, and 3,800 audiovisual records.
The most iconic piece, Picasso's "Guernica," arrived at the Reina Sofía in 1992 from the Prado Museum.