Heading to Barcelona and wondering how to get around in the city by the sea? It's great you're doing research ahead of time! A little bit of research goes a long way when visiting a foreign city. This quick guide will explain how to get around Barcelona including the metro system (subway), busses, and even ride-sharing apps like Uber.
---
Pro Tip: Consider bookmarking this page in your browser so you can circle back to it on your trip. Also, check out our guide to Barcelona page with tons of helpful articles. Finally, the best way to get your bearings is by taking a walking tour of Barcelona. Local guides can answer in-person questions not to mention a great tour will bring a city to life!
Your Options for Getting Around Barcelona: Metro, Bus, Bikes & Uber
Barcelona is such a cool town with many of different neighborhoods. Each neighborhood has a unique look and feel that makes the city so great to visit. Barcelona is fairly spread out with diverse sections of the city which means you'll need to move around. You will very likely need to hop on the subway or hail a cab at least once and that is why we built this super simple guide!
Barcelona's Metro (subway) & Bus System
Barcelona public subway system is known as "TMB" which stands for Transports Metropolitans de Barcelona. It is the same company that operates Barcelona's bus system.
You can purchase unlimited access to both bus and metro for 16.30€ for adults for 48hs. It is free for children 4 year old and under but they obviously need to be accompanied by an adult.
The travel card is known as Hola Barcelona and can be purchased directly when you arrive in the city. Here are some options:
Subway & Bus Costs
There are many subway & bus options to consider.
Single Use Cards:
A single-use card costs 2.40€ for bus or subway. You'd have to take mass-transit 7 times in 2 days to make a 48h card worth the price.
Multiple Use Cards: Recommended!
My preferred card would be the T-Casual Card which is good for 10 journeys and costs 11.35€.
Unlimited Use Cards:
16.30€ for 48h
23.70€ for 72h
30.80€ for 96h
38.00€ for 120h
I personally would wait until you arrive to purchase a pass. Normally when I visit Barcelona I end up purchasing a few individual metro passes,
Subway From the Airport
There is also a subway line from Barcelona Airport into the city which is something to consider. It is called the Metro line L9 Sud and it connects Terminal 1 & Terminal 2. It is a 32 minute ride to the center and costs 5.15€
Bus and Subway Maps
Here are two bus and subway maps direct from TMB for Barcelona you can print.
---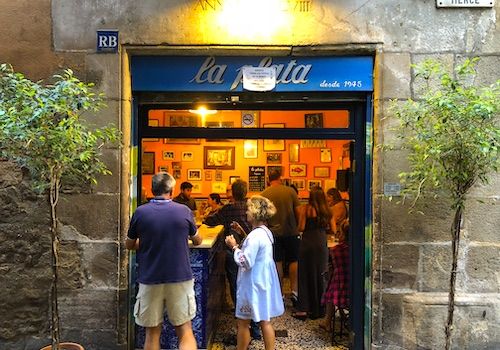 Barcelona Food Tour in Bari Gothic
Looking to get more hands-on with Catalonian cuisine? Our food tour in the Gothic Quarter of Barcelona will get you up to speed on tapas, Spanish wine, and food culture.
---
Walking & Bikes
Walking and Biking in Barcelona are great options. The city center is mostly flat which makes both options relatively fatigue-free. There are many pedestrian areas that are bike-friendly in zones like Bari Gothic and El Raval which make both biking and walking ideal.
Also, areas like Eixample are relatively new and feature grid-like roads which makes it difficult to get lost. There are also biker friendly lanes on many of the major thoroughfares.
Rent a Bike System
Unlike many other cities, there is no rent by the hour bike service available for Barcelona visitors as of November 2020. This post is updated twice annually so if that changes this article will be updated.
Bicing
I do not mean you can't rent bikes in Barcelona. You most certainly can. I mean that there is no contactless system of bike stations for visitors. If you live in Barcelona there is a subscription program called Bicing that asks an annual fee of 47.16€ for the free use of bikes for up to 30 minutes. After that, you pay 74 cents every 30 minutes.
It doesn't really make sense to pay this fee if you are planning on a 4 day trip to Barcelona, but there are other options.
This company has 4 rental locations in Barcelona and charges reasonable prices. You may pay a few euros more or less elsewhere but being able to pick up and drop off in different parts of the city is pretty convenient.
Taxi, Uber, & Ride-Sharing Apps
These are all pretty obvious options in any city and so I will be relatively brief.
Taxi
Taxi's are available basically anywhere in Europe and pretty easy to access. If you've been to Europe you already know that and if you have not you'll find out soon. The main advice when taking a taxi is to not try and negotiate rates – they are not a black car in manhattan. Airport service has flat rates and all other services are pay by meter.
The best advice I can give you is to pull up your destination in wifi on your phone and get thee directions started. If you don't have a data plan for Europe, you can put your phone on airplane mode and your GPS will still work. You simply won't be able to pull up new directions.
Airport Fares for Barcelona:
Unlike other cities such as Rome, there is no fixed maximum price for a taxi-ride from the airport. Instead, there is a minimum. If your hotel is in central Barcelona it is a good idea to grab a taxi. I have taken them many times in the past and it always comes in under 35€.
Minimum Charge from Airport: 20€
Average Cost from Airport: 30€ – 35€

Remember, there is also a subway line from Barcelona Airport into the city which is something to consider. It is called the Metro line L9 Sud and it connects Terminal 1 & Terminal 2. It is a 32 minute ride to the center and costs 5.15€
Uber in Barcelona
This is a much more complicated subject. Uber is allowed to operate in Spain but currently is inactive in Barcelona. You can find it in Madrid. Instead, Uber partners with Spain's Social Car.
Basically, you can rent someone else's car from them. I don't recommend this option mostly due to parking being inconvenient and the option is a bit complicated to get from Sagrada Familia to the Barcelona Cathedral.
If you want to know more about Uber check our two articles that go more in depth:
Lyft does not currently operate in Europe.
---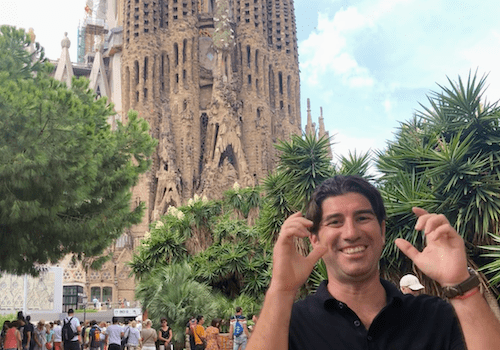 ---