The Eiffel Tower is one of Europe's top monuments. It is almost guaranteed that you'll at least stop by Champ de Mars or Trocadéro to see it up close. But what do you do before or after? This article is dedicated to all the things that you can see and do near the Eiffel Tower.
---
11 Things to See Near the Eiffel Tower
Pro Tip: Bookmark this page and the top things to see inside the Eiffel Tower in your internet browser. This way you can circle back to them on your Eiffel Tower day in Paris to ensure you have plenty to do and see.
Also, tours in Paris are highly recommended. Seeing the Louvre, Versailles, and other attractions with a small group tour and guide really enhance your experience.
11. Trocadéro Platform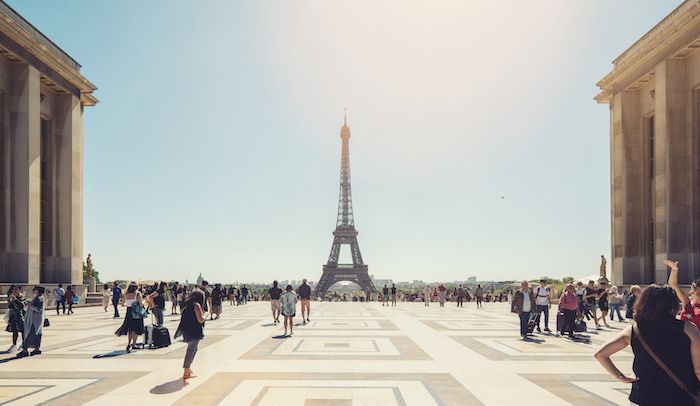 Trocadéro doesn't sound French to you? That's because it's named after an island in Spain known as Isla del Trocadero. This was the venue for a famous battle won by France against Spanish rebellion forces in 1823.
The French were not fighting to take over Spain. They were actually fighting to help restore King Ferdinand VII's power. A little help from your neighbors. The result- King Ferdinand comes back into power and a beautiful park is built that will eventually offer the best Eiffel Tower photo opportunity.
In this area there was once a massive and beautiful palace named Palais du Trocadéro. It was demolished to make way for Palais de Chaillot which stands today. The former palace was a more beautiful structure and the current structure is definitely the best place to view the Eiffel Tower.
If you get off at Trocadéro metro station you will not be able to miss the Eiffel Tower no matter how hard you try. The platform is the Palais de Chaillot and an incredible place to take a photo. After, you can walk all the way to the Eiffel Tower – no directions needed.
Address: Place du Trocadéro (16th arrondissement)
Hours: 24/7
10. Champ de Mars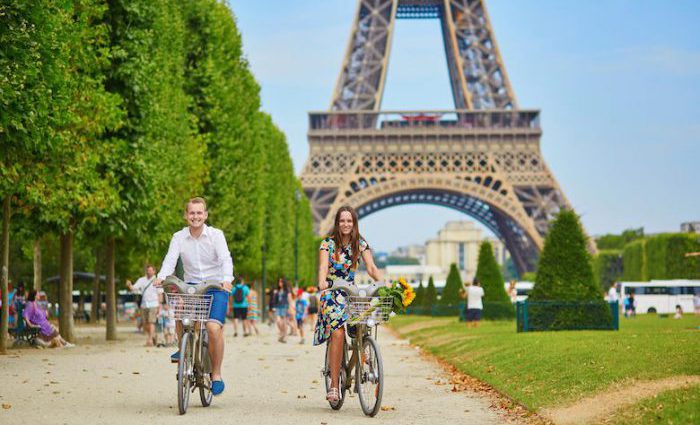 Champ de Mars is a massive public park in Paris that forms a sort of runway to the Eiffel Tower. Like the Eiffel Tower, the Champ de Mars is in the 7th arrondissement and along with the tower is a huge draw for the area. Having a picnic on the Champ de Mars looking at the Eiffel Tower has become the thing to do for travelers.
The name derives from the Campus Martius or Field of Mars in Rome. An area of Rome that was historically flooded and is home to famous attractions like the Pantheon, Piazza Navona and Campo de' Fiori. Why name this park in Paris after a crowded area with virtually no parks in Rome?
The Champ de Mars was an area where the French military famously trained in Paris. Mars is the god of war and everyone likes Rome, so why not? Today, you can enjoy this massive green space and have a picnic or walk through it and have a warm lunch at a restaurant near the Eiffel Tower.
Address: 2 Allée Adrienne Lecouvreur
Our Best Guided Tours of Paris
We take away the guesswork with getting tickets and a guide will elevate your experience and make it more memorable!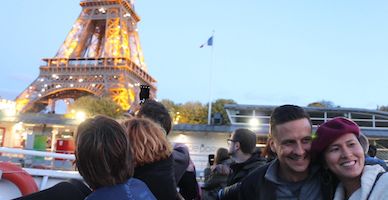 Likely to Sell out
Privileged Access Eiffel Tour with Champagne on the Seine
Sometimes the most amazing moments happen by chance. Other times, they are orchestrated by professionals. Our Eiffel tower tour cruises by the famed monument as it lights up and you drink champagne. After, you'll have tickets to enter the tower and ascend to the 2nd level with an elevator. Admissions included and we'll take care of the details… you simply pay and show up!





See Prices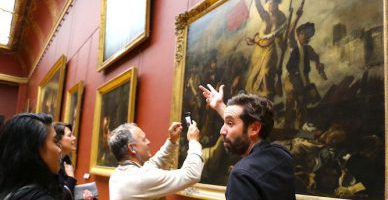 Top Selling
Royal Louvre Palace Tour with Mona Lisa & Crown Jewels
The Louvre is the largest art museum on Earth and the crowning jewel of Paris. It embodies the French vigor for life. Join a passionate English speaking guide for a tour of the most famous artwork. Skip the line admissions included.





See Prices
9. Paris Museum of Modern Art
Been to Paris so many times and you are way too cool for the Louvre? I have the museum for you. Musée d'Art Moderne de Paris or MAM Paris.
This is a pretty cool collection that you can pass through on your own possibly after a cocktail and before seeing the Eiffel Tower. It has a few huge works of art and a ton of other eye-grabbers. See it for yourself and I think you'll be convinced.
The Paris Modern Art Museum is technically free to visit but they ask a non-mandatory donation of 5€ to see the permanent artwork.
This museum is also great for exhibitions. They charge between 7€ to 13€ for different exhibitions. Promoting this museum is part of our "20th Century Medici" program to promote the curation and creation of art for future generations. While we love and appreciate classical art, one day our art will be classical in a sense and it won't compare without our support.
Address: 11 Avenue du Président Wilson (4th Arrondissement – near Eiffel Tower)
8. Hôtel National Des Invalides & Musée De L'Armée
This massive structure is most commonly known for being the tomb of famed French Emperor, Napoleon Bonaparte. The structure is 351 ft tall (107m) topped with a golden dome. Yes, real gold. About 30 pounds of gold leaf (12.65kilos).
The exact meaning of "invalides" is disabled, but the translation doesn't serve it much justice in this case. It refers more to the departed persons.
It is a very cool building and houses a military museum behind the tomb. Admission will run you 14€ which I thought was a little high for what you get. I would probably only recommend it to deep lovers of military history. I personally would rather spend my money entering our next stop which is the Rodin Museum and check out Invalides from the exterior.
There is a military museum in the adjoining complex which is included with the ticket (Musée de l'Armée).
Address: 129 Rue de Grenelle
Hours: 10am – 5pm daily
7. Rodin Museum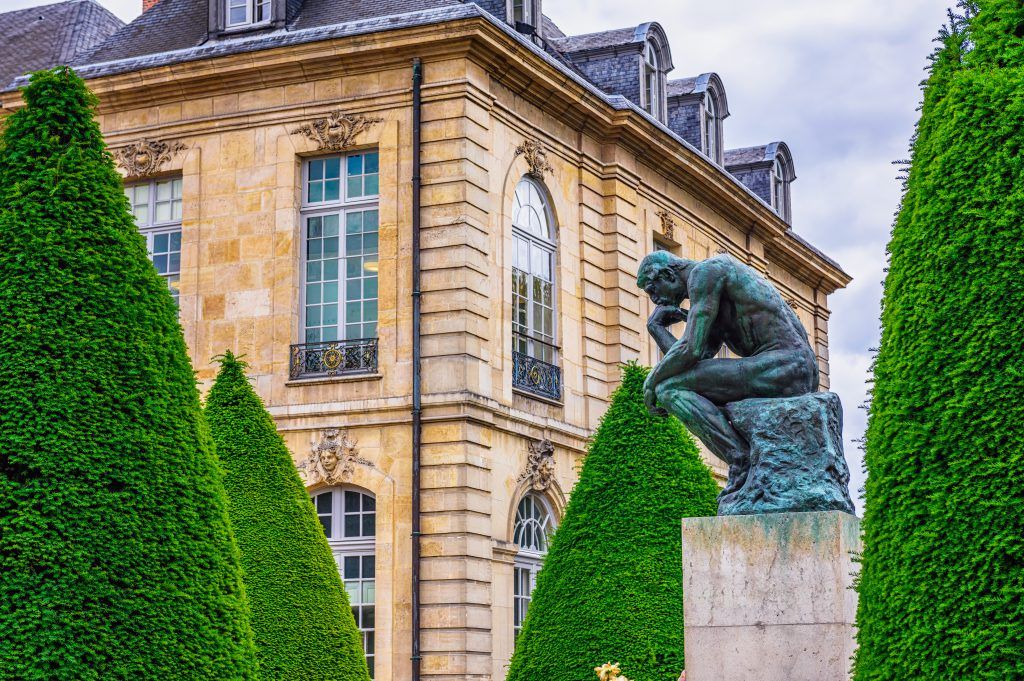 Auguste Rodin remains the most famous French sculpture to date. He is most famous for his sculpture The Thinker which is located at the Rodin Museum in Paris, France.
The museum is located next to Invalides metropolitan station. It consists of a garden with two structures on it. The first is Boutique du musée Rodin which is basically a gift shop and cafe.
Then there is the Mansion which is the main structure which is named Hôtel Biron. The name was due to the structure being sold to a very wealthy individual by the name Louis-Antoine de Gontaut-Biron. Hence, Hôtel Biron.
The mansion sits in a large well-manicured garden dotted with various sculptures created by the master himself. There are also works from other artists including Rodin's prize student Camille Claudel.
There are over 6000 sculptures in the collection but many are housed off-site. You will find The Thinker outside in the garden.
This museum is a wonderful visit with a local guide.
Address: 77 Rue de Verenne
Hours: 10am – 6:30pm (Closed Mondays)
6. Bois de Boulogne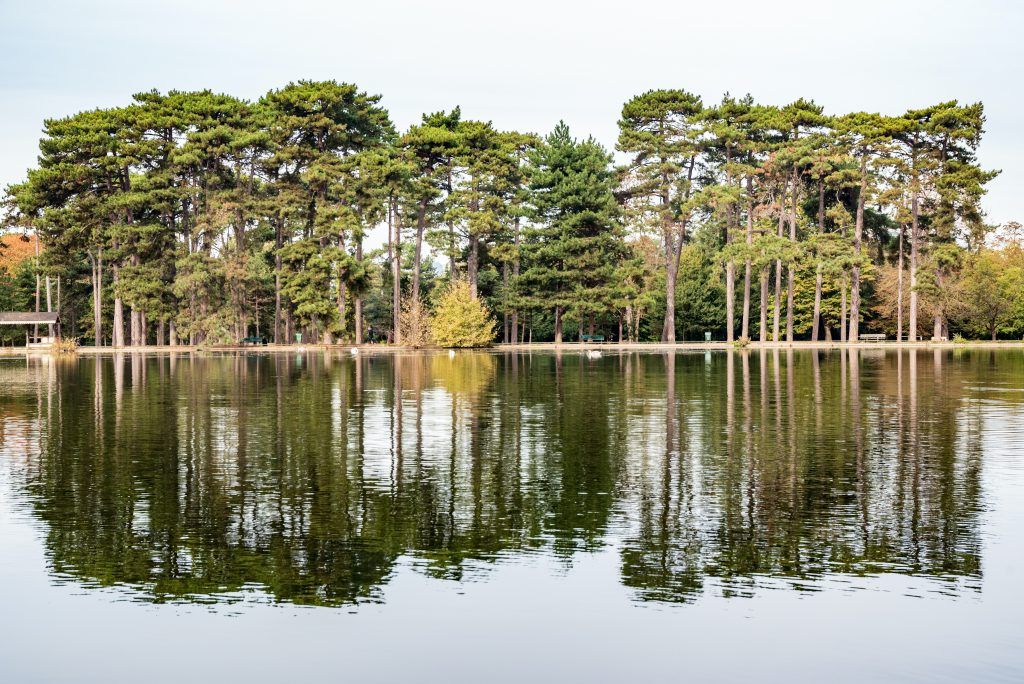 Of all the gardens on this list, Bois de Boulogne is the only extremely large park that you could really get lost in. You will also find an extremely high concentration of Parisians here as most tourists would gravitate towards a more famous park.
It is home to several lakes, one of which is large enough to have two islands in it. You'll see people rowing, exercising, walking around, and generally enjoying nature.
This park is also home to the Louis Vuitton Foundation Museum. You'll find a lot to do with kids here such as the Jardin d'Acclimatation. Cool little spot with rides and such.
A very cool experience for romantics is to eat at Le Chalet des Iles. It is located on an island in Lac Inférieur and you have to take a boat ferry to get over. It is pretty expensive so this would be a great place to go for a fancy night out. These are the types of things we arrange for our trip planning service.
This park is free and doesn't close but I don't recommend going too deep into the park too late at night.
Address Bois de Boulogne Paris
5. Palais de Tokyo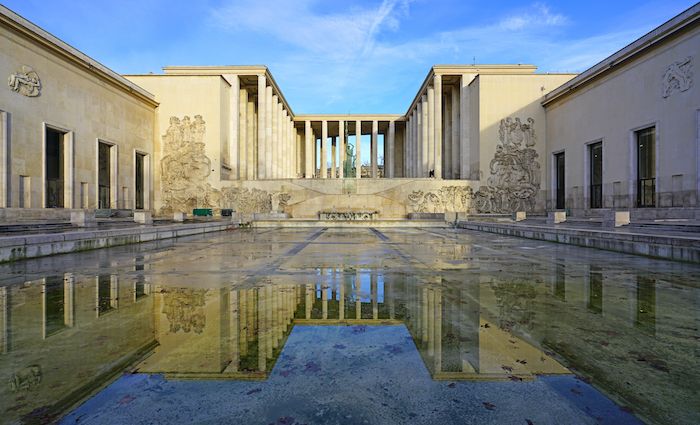 Attached to the Museum of Modern Art, Palais de Tokyo is the largest contemporary art museum in France dedicated to temporary exhibitions.
The museum is one of my recommendations for children as modern art installations are creative, fun and often colorful. The museum had a life size doll house at one time.
Ticket: 7€ adults
Address: 13 venue du Président Wilson
Hours: Noon to 9m
4. Passerelle Debilly (Footbridge)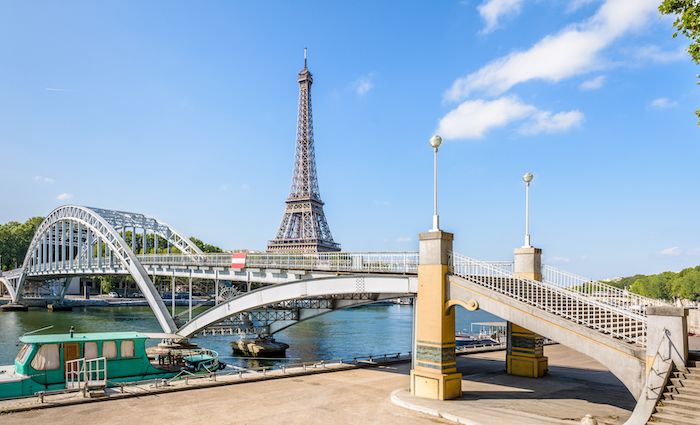 What is a bridge right? Well, the Seine is a hustling and bustling part of Paris and as you near the Eiffel Tower it gets even busier. There are ports where boats are docked and lots to do.
Passerelle Debilly, or the Debilly Footbridge in English, is the center of that. Don't worry about cars here but the bikes may honk at you if you are blocking the way!
Address: See Map
3. Refreshments at Le Bal de la Marine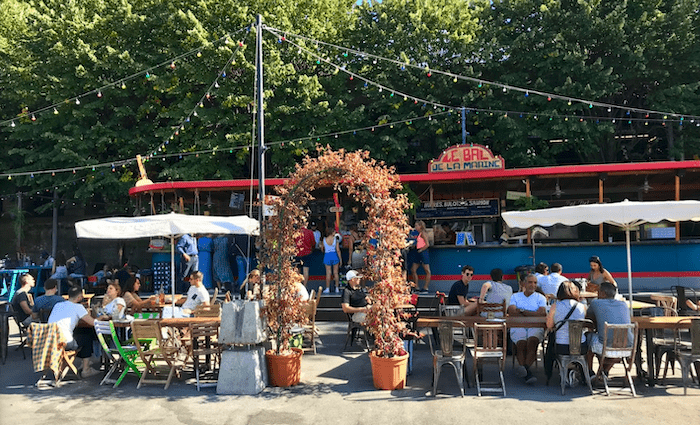 €€ | Bar & Restaurant on Seine | Outdoor Seating | Kid Friendly
This is a really cool spot on the Seine. If you get a nice warm day in Paris with some sunlight, you'll probably find me here. They serve mostly seafood but also have pizza and other French fare.
The variety is great and the management is focused on supporting suppliers who are focused on sustainability, "choosing winemakers concerned about respecting the land, brewers producing in France and French drink manufacturers who compete with multinational soda companies."
I like it!
Address: Port de Suffren
Hours: Wednesday – Friday 6pm to midnight | Saturday 4pm to midnight
2. L'île aux Cygnes
Another cool area is the island of Cygnes. It is a man made island on the Seine that connects two bridges, Ponte de Bir-Hakeim and Pont de Grenelle-Cadets de Saumur, and is a very Parisian thing to visit.
It is a 2789 foot island (850m) with a single walkway on it named L'Allée des Cygnes. By now you're probably wondering what Cygnes means – Swans! If you are looking for something local to do near the Eiffel Tower, pop over to the Island of the Swans and walk the path of the Swans.
It is very popular for running in the morning and has a 22 meter tall replica of the Statue of Liberty on it. Why? Well, the French built the Statue of Liberty and I guess they built this replica so nobody forgets it. It was inaugurated 3 years after the NY statue was erected on July 4th 1889. The statue faces its big sister to the west.
Address: See map
Our Best Guided Tours of Paris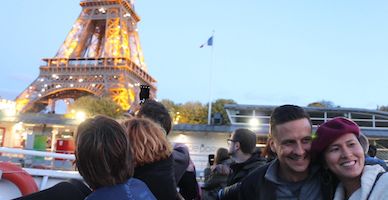 Likely to Sell out
Privileged Access Eiffel Tour with Champagne on the Seine
Sometimes the most amazing moments happen by chance. Other times, they are orchestrated by professionals. Our Eiffel tower tour cruises by the famed monument as it lights up and you drink champagne. After, you'll have tickets to enter the tower and ascend to the 2nd level with an elevator. Admissions included and we'll take care of the details… you simply pay and show up!





See Prices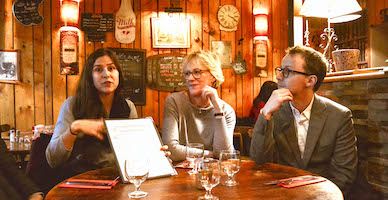 Top Selling
Le Marais Paris Food Tour with Champagne & Local French Food!
Embark on a culinary journey in Le Marais, one of the hippest neighborhoods in Paris. Enjoy a feast of French cheese, street food, boeuf bourguignon and crème brûlée, and more. This three-hour food tour combines the best of Paris' culinary heritage.





See Prices
1. Seine River Boat Cruise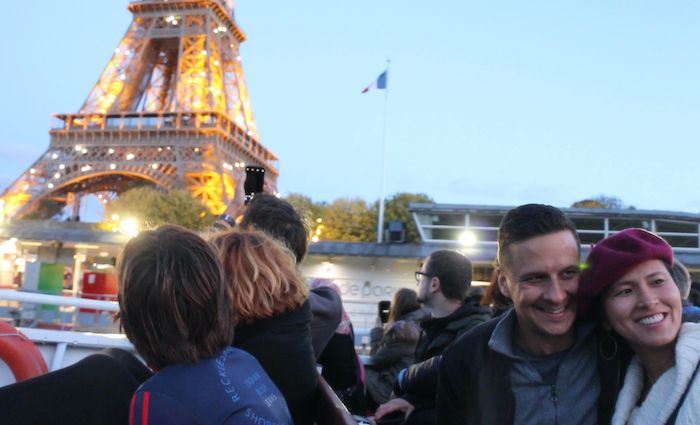 One of the great things about Paris is how clean they keep the Seine. I probably won't dive in but it was extremely common to take a dip into the Seine up until 1923 when the city of Paris banned it due to poor water quality, strong currents, and heavy traffic. That said, the river looks nice enough and the embankments lining the Seine are one of the most attractive features of the city.
Today, taking a Seine River cruise is practically compulsory. Why not? The city has an amazing perspective from on the Seine, especially during sunset. They also serve great food and have cold drinks. You can take a dinner cruise or just have a couple of drinks.
We organize a Seine River cruise coupled with a tour of the Eiffel Tower. It's a great way to combine the sites and not have to worry about logistics. We have hundreds of reviews stating it was the highlight of their time in Paris.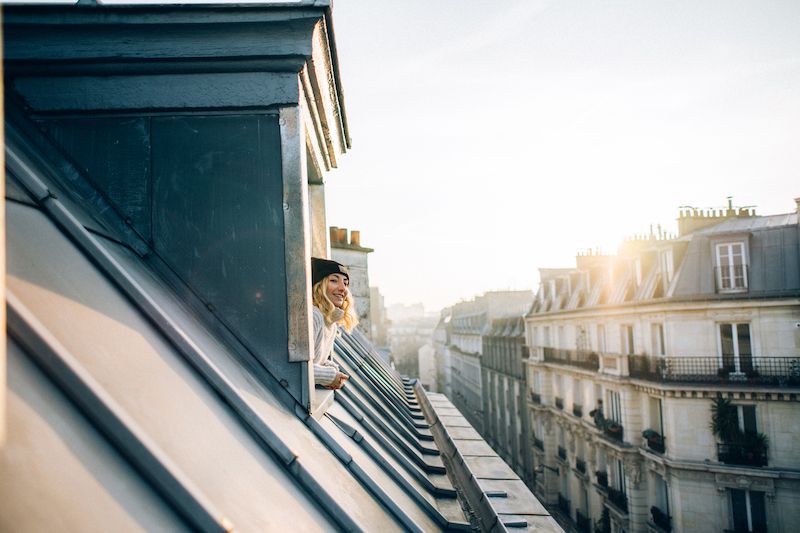 Find the best places to stay
Where to Stay in Paris
With a city as magnificent as Paris, it can be hard to find the perfect hotel at the perfect price. Explore the best hotels and places to stay in these incredible neighborhoods in Paris.