While drinking champagne might be all you think about while in Reims, we promise there's a bit more to this city. Read on to discover what to see and do there!
---
Top Things to See and Do in Reims
With most train rides from Paris to Reims lasting less than an hour long and at affordable prices, Reims is an ideal day trip option for many travelers visiting France. The city is, perhaps most importantly, the capital of the Champagne region, but there's more to it than that. Reims has over 2,000 years' worth of history in its streets! From museums to cathedrals and everything in between, find out why this city is mistakenly underrated.
9. Musée de la Reddition
The Musée de la Reddition, or The Surrender Museum, is a top spot in Reims for history buffs. On May 7th, 1945, German armed forces signed the official declaration of surrender which ended World War II in Europe in front of American, British, French, and Russian officers. The signing happened in the Musée de la Reddition, which actually served as General Dwight D. Eisenhower's headquarters during World War II. The room where the signing took place has been preserved to look exactly as it did on that day back in 1945 and is clearly viewable through glass panels. Exhibits of press reports, uniforms and more war memorabilia are available for viewing in the museum as well.
Touring this museum is an interesting and educational experience, but also a very moving one. Seeing the spot where one of the world's worst wars finally came to an end is something not easily forgotten. It will only take you about an hour or so to tour the museum but for only five euros, it is well worth the stop.
Address: 12 Rue du Président Franklin Roosevelt, 51100 Reims
Price: 5€ for adults, free for under 18
Hours: Every day, 10AM – 6PM
8. Jardin d'horticulture Pierre Schneiter
Sometimes it's nice to unwind in a calm, green space while traveling. The Pierre Schneiter Park has been around since 1841 and is much more than your average park. It features a pond with a wooden bridge, plenty of flowers, a rose garden and even a waterfall. You'll also see an example of an English Garden and a French Garden constructed inside. Locals are known for taking wedding pictures in this park because of its stunning beauty. This is a true zen space in Reims and a great spot for a picnic or simply to rest your feet for a little bit. Plus, it's free!
Address: 50 Boulevard Louis Roederer, 51100 Reims
7. Porte de Mars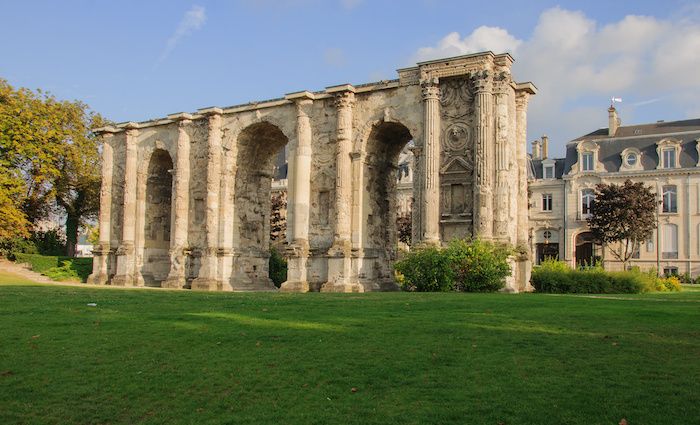 Built at the end of the 2nd century, the Porte de Mars is a stunning ancient Roman triumphal arch. The Porte de Mars is made of three distinct arches, which all miraculously have fairly elaborate details still intact. In total, it measures 32 meters long and 12 meters high! At one point, it was even the widest arch in the Roman world.
Finding treasures like this dating back from Roman times is not always this easy in France. The Porte de Mars is located very close to the train station, and situated practically in the middle of the street, at the end of a nice park. It's great to view at any time and also lights up at night. While this isn't a site you'll need to spend hours visiting, it is a must-see while touring Reims and a real historic treasure.
Address: Place de la République, 51100 Reims
6. Palais du Tau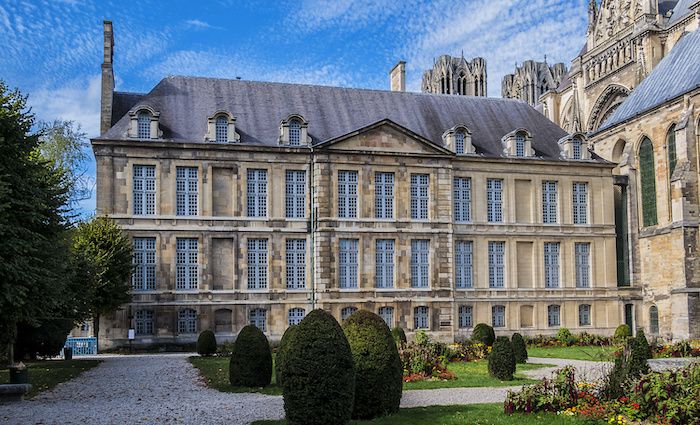 Another historical wonder in Reims that too many tourists end up missing. The medieval Palace of Tau dates from the late 4th century, and from the 8th century onwards it served as an Archbishop's Palace. This was where the Kings of France stayed during their coronations, which famously took place in the Reims Cathedral right next door. If you're interested in visiting the Palace of Tau, we recommend visiting the palace first and then the cathedral. Why? Inside the palace, you'll be able to see an explanation of the coronation ceremony, regalia, treasures, and more. This will give you the perfect background to imagine the whole coronation scene when you visit the cathedral afterward.
One tip if you plan to visit: most of the written descriptions of the exhibits are not translated into English, so we suggest choosing an audio guide (which is available in English) to learn more about what you are seeing.
Address: 2 Place du Cardinal Luçon, 51100 Reims
Price: 8€ for adults, free for under 18
Hours: Tues – Sun 9:45AM – 12:30PM | 2PM – 5:30PM
5. Taste the Pink Biscuit of Reims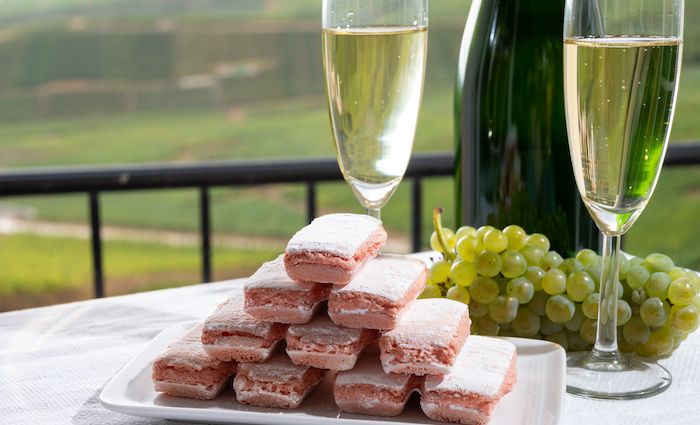 You shouldn't leave Reims without trying the city's famous Pink Biscuits. The Biscuit Rose (Pink Biscuit of Reims) dates from the 1690s, and it's really a bit more like a cookie or ladyfinger than a biscuit. To make these treats, a special dough is used that is cooked once, then left in the oven while still hot to be cooked twice. The pink color of the cookies is thanks to carmine, a natural red food dye. The best part? It's customary to dip these pink biscuits in champagne!
The best place to find these delicious specialties is at Maison Fossier, the oldest biscuit factory in France that has been making Biscuit Rose for more than 250 years. Before being called Maison Fossier, the biscuit factory was even the official French monarchy's biscuit supplier, and its biscuits were presented at the Coronation of Louis XV. Nowadays, it is recognized as a true piece of French culture and has been honored as a Living Heritage Company, a mark of recognition put in place to reward French firms for the excellence of their traditional and industrial skills.
The address we've listed below is for the store closest to the Reims Cathedral, but if you really want to learn more you can also visit the biscuit factory too, which is located in Reims.
Address: 25 Cours Jean-Baptiste Langlet, 51100 Reims
4. Explore Champagne Vineyards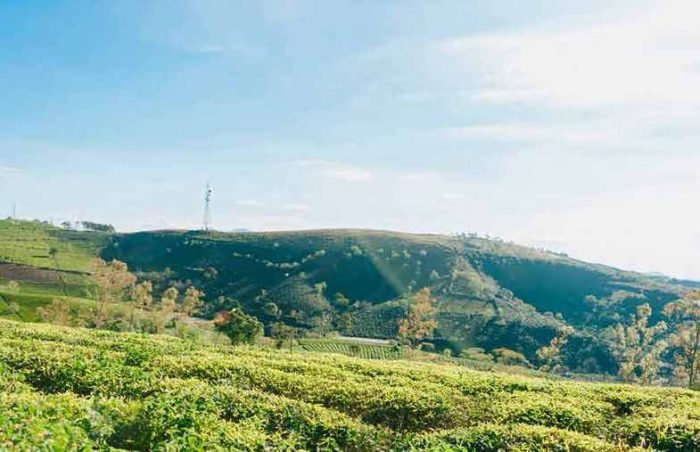 Tasting champagne in the Reims city center is a must, but for many what's even more fun is exploring the vineyards where this famous sparkling beverage begins. There is an official Route du Champagne, which provides an easy and mapped-out guide to touring the vineyards (there are over 80,000 acres of vineyards here!). There are actually five different circuits to explore, all tracing across the Champagne region. This is a fantastic way to meet small-scale, local producers who can teach you more about champagne and to learn more about the local terroir. Along the Route du Champagne, you'll pass picturesque villages, churches, and farmland which will give you a different perspective of France.
If the thought of renting a car and exploring on your own seems a little daunting, our Day Trip from Paris to the Champagne Region is a great option. We'll arrange the transport and tastings so you can sit back and relax.
3. Saint-Rémi Basilica
Most travelers visit the Reims Cathedral, then sadly bypass the city's basilica. While the exterior is not as impressive as the cathedral, the basilica boasts incredible history and a beautiful interior. The basilica is named after Saint Rémi (sometimes also known as Saint Remiguius), who was buried at this site in 533 and is the patron saint of France. While an archbishop, Saint Rémi converted the Merovingian king, Clovis, to Christianity and declared him the King of Franks, which was a key milestone in France's history. His relics are actually housed inside the basilica, in the center of the choir.
Inside the basilica, you'll admire 12th century stained glass windows and a massive candelabra showcasing a whopping 96 candles (one for each of Saint Rémi's 96 years). If you want a truly impressive view inside, there's a small machine located near the entrance where you can insert two euros and illuminate the church for ten minutes. It gives great lighting for pictures!
Address: Rue Saint-Julien, 51100 Reims
Hours: Every day, 9AM – 7PM
2. Reims Cathedral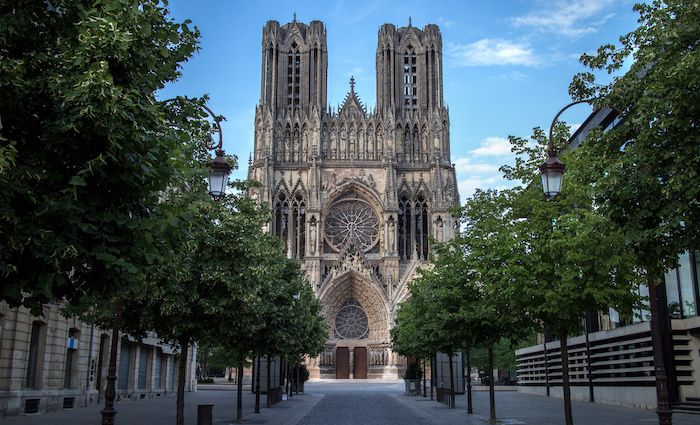 The Reims Cathedral is absolutely stunning and by far the top monument to visit in the city. It is also a vital part of French history – the cathedral was the site of the coronation of 31 French kings, beginning with Louis VIII in 1223! Perhaps the most famous coronation held at the site was the crowning of Charles VII in 1429, which was done in the presence of Joan of Arc. The cathedral has been classified as a UNESCO World Heritage Site since 1991 and should not be missed.
Besides its incredible history, the Reims Cathedral is generally considered to be one of the best examples of Gothic architecture in Europe today. It was damaged during both World War I and World War II, and while it still maintains some of its original materials, it's also been able to blend a bit of modernity into the structure. In 1974, for example, the same man who designed part of the ceiling of Paris's infamous Opera Garnier, Marc Chagall, designed the stained glass in part of the Reims Cathedral.
Seeing this cathedral is especially worthwhile at the moment since the Notre Dame Cathedral in Paris is currently unable to be visited for at least the next few years. These cathedrals are similar in many ways and this is a great "substitute" cathedral to visit in place of the one in Paris.
Address: Place du Cardinal Luçon, 51100 Reims
1. Taste Your Way Through Champagne Houses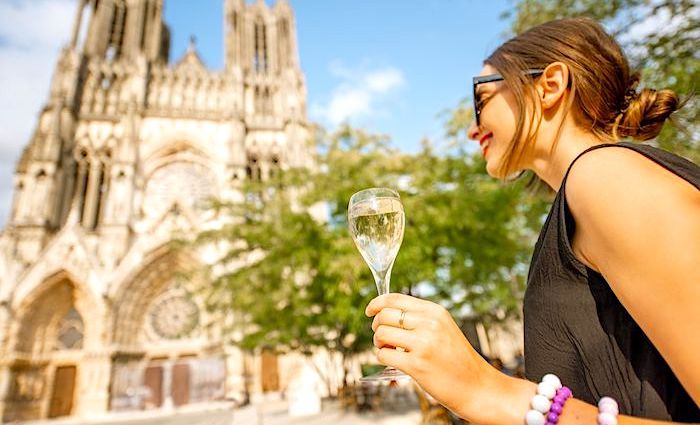 Coming in at number one on our list of top things to do in Reims…taste some champagne! Sixteen champagne houses are located in the city center, and plenty more are situated not far outside the city. There are over 150 miles (250km) of cellars here, so you have plenty to see. One of our personal favorites is Taittinger, which we tour on our Day Trip from Paris to the Champagne Region. Other famous houses in the city include Veuve Clicquot and Pommery. There's also a wide range of smaller champagne houses, which can be just as fun and interesting.
Visiting champagne houses is not just about tasting champagne. These houses are very proud of their products and their French heritage, and guests learn a lot about the production process. In most champagne houses you'll also be invited on an underground cellar or cave tour, which is a great experience. We recommend touring more than one champagne house so that you can get a well-rounded perspective. Plus, that means more champagne!