While many travelers turn Reims into a day trip from Paris, staying overnight in France's Champagne Capital is even more fun. It's an impressive city that boasts three UNESCO world heritage sights, so you know there's plenty to do during your stay here. Check out where to stay in Reims for a fun day trip outside of Paris!
---
What You Need To Know
Reims is an underrated city, mostly because it gets dwarfed being in such proximity to Paris. Don't be fooled, though—Reims has lots to do and is a wonderful blend of champagne and history. Staying overnight gives you more time to enjoy champagne tasting and venture out into the surrounding countryside.
In this article, I'll cover the two main parts of the city you should think about staying in (near the Cathedral and the Saint-Remi neighborhood) and give you some suggestions for countryside getaways.
Our Partnership with Booking.com. If you like our content, please book by clicking on our Booking.com links. The price is the same for you and we get a small commission that helps support our helpful blog content. We've partnered with Booking.com because they have the most options, great prices, and a solid loyalty program.
Where To Stay in Reims, France (Champagne)
Reims is a great city in Champagne that feels like "little Paris". You're right in the thick of Champagne which is what I want in a vacation! To make thing more digestible, we broke down the city of Reims and area into a few regions you could consider.
Near the Cathedral
This is the true city center (Centre-Ville) of Reims. It's also the closest you'll get to the Reims Cathedral, the city's coolest and most stunning monument. The Centre-Ville is the best neighborhood for those who want to be near the most action and within walkable distances from restaurants and shops. It's also the closest you'll get to the city's train station.
Why I love centre-ville
You'll never be far from the cathedral
Easy to find a place to eat
You'll get to see how non-Parisians live their day-to-day lives
Attractions in the centre-ville
Cathédrale Notre-Dame de Reims
Palais du Tau
La Porte de Mars
Hotel de Ville
Best Restaurants
Check out our article on the 10 Best Restaurants in Reims. Then, bookmark it in your browser so you can circle back to it!
Best Hotels in the centre-ville
La Caserne Chanzy Hôtel & Spa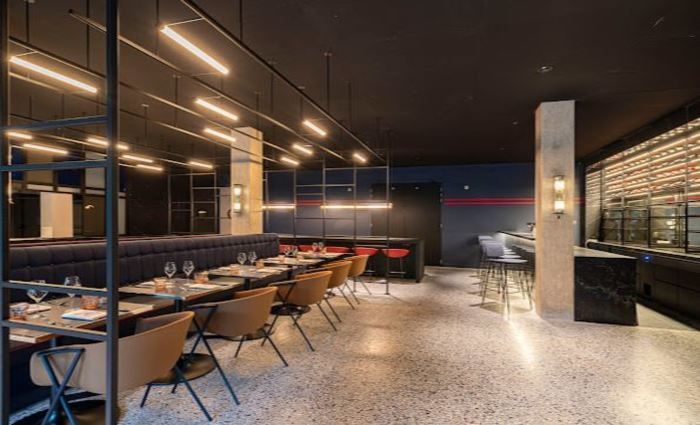 €€€ | Boutique Hotel | Indoor Pool
This boutique hotel in a converted firehouse is located just a one-minute walk away from the cathedral. An indoor pool and spa are inside, along with a champagne bar. The rooms are modern, chic, and recently updated. Ask for a room with a view of the cathedral if possible!
Hôtel Azur
€€ | Cozy and Quiet | Great Prices
A cute, small hotel equipped with all the basics. Located on a quiet street. A great, cheaper option that won't make you feel like you're on a budget.
Best Western Premier Hotel de la Paix
€€€ | Indoor Pool | Outside Terrace
An upscale Best Western with great service. If you like to spend more time at the hotel, this is a good option since it includes an indoor pool, restaurant, full bar, and outdoor seating.
ibis Reims Centre Gare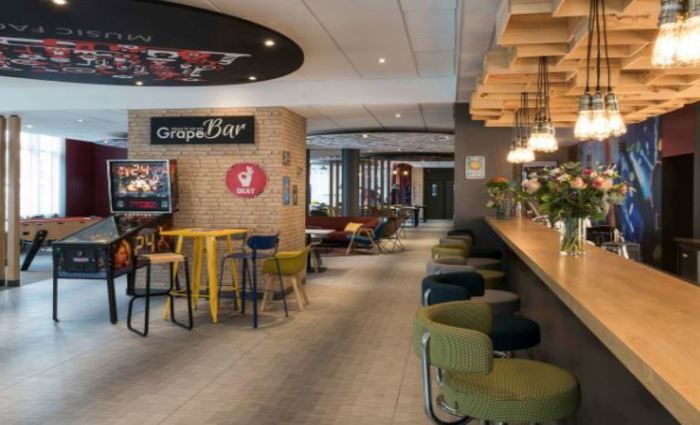 €€ | Next To Train Station
The best place to stay if you have an early train to catch. The hotel is actually very stylish, and the area by the train station is safe. Still less than a fifteen-minute walk from the cathedral!
Saint-Remi Neighborhood
Head down to the southeastern part of town, in the neighborhood surrounding the Saint-Remi Basilica, for a quieter stay farther removed from crowds and shopping. This isn't considered the city center anymore, but you'll be about a 20-25 minute walk to the cathedral so that you won't be too far either.
But, of course, the tradeoff is you'll be much closer to some of the biggest champagne houses, so think about staying here if your focus is all on the bubbly.
Why I love the Saint-Remi Neighborhood
Close to the basilica, arguably the second coolest monument in the city
Easy walking distance from champagne houses
A bit more off the beaten path
Attractions Near The Saint-Remi Neighborhood
Basilique Saint-Remi
Champagne Houses (Taittinger, Pommery, Veuve Clicquot)
Parc de Champagne
Best Restaurants Near The Saint-Remi Neighborhood
Check out our article on the 10 Best Restaurants in Reims. Then, bookmark it in your browser so you can circle back to it!
Best Hotels Near The Saint-Remi Neighborhood
Domaine Les Crayères
€€€€ | Château Luxury | 5 Star Hotel
The best hotel on this entire list! This is a splurge that is more than worth it. A historic château spread on 17 acres with luxurious and beautiful rooms. There's even a 2-star Michelin restaurant inside. Simply superb.
Résidence Hôtelière Laudine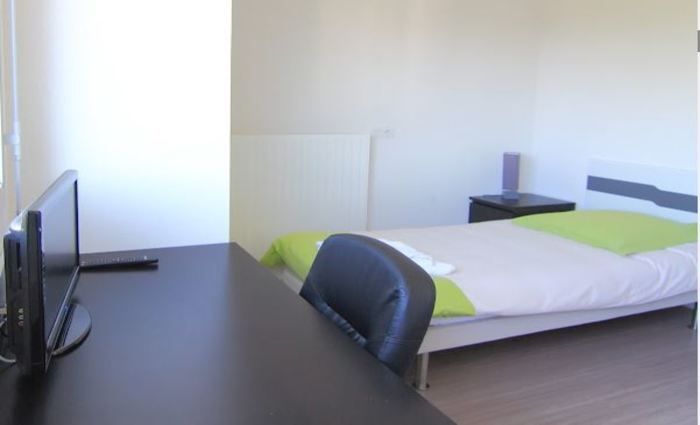 €€ | Calm & Clean | Very Budget Friendly
This hotel is actually part of student accommodations in the city, so it's much more affordable than other options. It's definitely a no-frills kind of place, but gets the job done for those looking for a cheap place to sleep close to champagne tasting.
Not ready to book a tour? Check out Paris Guide for more resources.
Champagne Countryside
The countryside surrounding Reims is pretty magical. Rolling hills of Champagne vineyards are everywhere, dotted with picturesque villages and historic churches. Exploring the countryside will give you a different perspective of the region. It will also give you the chance to visit small, family-owned champagne houses where you can receive a totally personalized experience.
Why I love Staying In The Countryside
Picturesque Views
Calm and No Crowds
Access to small champagne producers
Attractions In The Countryside
Hundreds of small champagne houses for tasting
Villages that look like they're straight out of a movie
Best Restaurants In The Countryside
This will vary depending on where exactly you go. Every village will have at least one or two small restaurants, but keep in mind that they might close early. Your best bet is to check with the hotel employees or B&B hosts for the best recommendations.
L'Écrin des vignes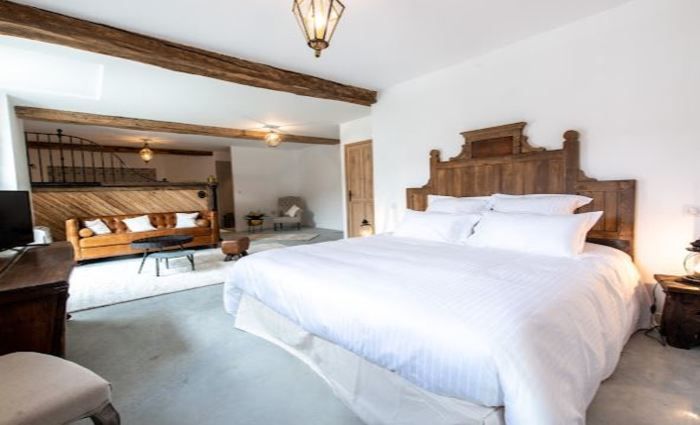 €€€ | Great Hospitality | Beautiful Views
This is an updated yet rustic bed and breakfast set in the middle of champagne vineyards on a former farm. It's located about 20 minutes outside of Reims and within minutes of multiple small champagne producers. This is a fairytale setting, and the hosts are fantastic too.
Château de Sacy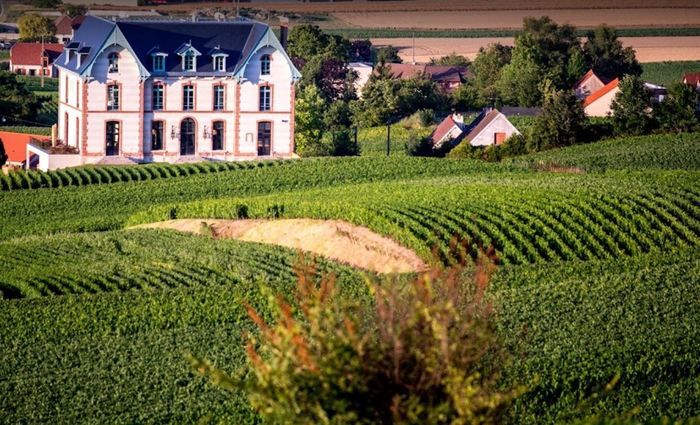 €€€€ | Gorgeous Decor | Amazing Views
A renovated château in the countryside with fantastic views and luxury rooms. Staying here is a bit pricier but a great splurge if you're traveling to celebrate a special occasion like a honeymoon or anniversary. A high-quality restaurant is on-site as well.
Dans les Vignes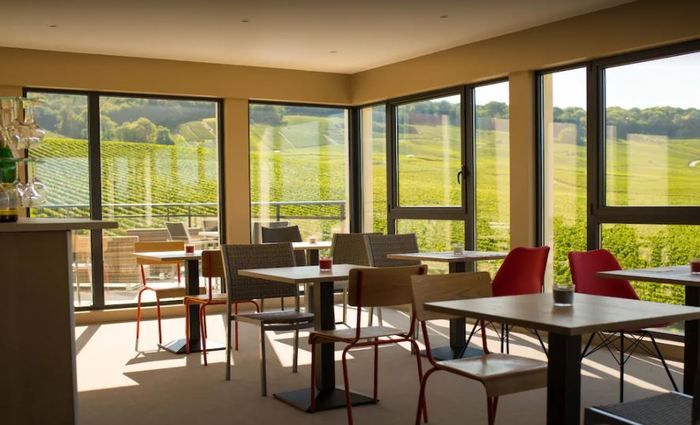 €€ | Boutique Hotel | Make Their Own Champagne
A small hotel with panoramic views of the surrounding vineyards. The hotel actually belongs to a family who make their own champagne, and as a big plus you can visit their cellar and have tastings on site.