A day of champagne tasting in Reims is not complete without a great meal. Check out our list of the top places to grab a bite to eat in the Champagne capital!
Pro Travel Tip: Looking to explore more of the Champagne region? We recommend joining our Day Trip from Paris to the Champagne Region to discover all of the local sites and taste some bubbly.
The Best Restaurants in Reims
The city of Reims is the unofficial capital of France's Champagne region. While the city is most famous for its connection to champagne and its incredible cathedral which was the site of dozens of coronations of French kings, it's also well known for its cuisine. Since Reims is a popular day trip from Paris, it has its fair share of tourist traps. To avoid the mediocre cafés and make sure you get a true taste of Reims, read on to discover our top places to eat here!
Racine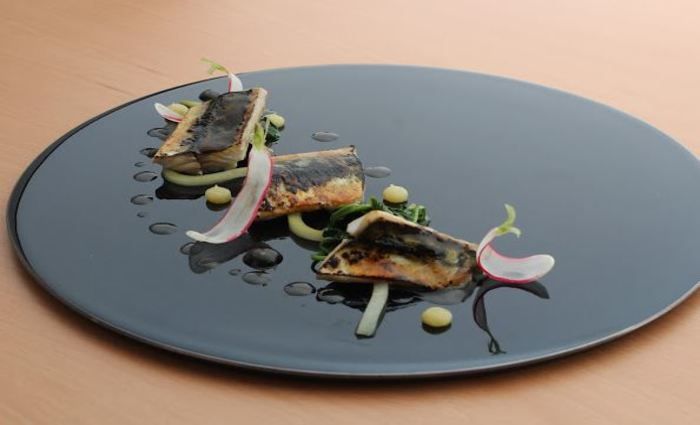 €€€ | French Fine Dining | Two Michelin Stars
This small, fine dining restaurant seats only fifteen people at a time, so you're sure to have an intimate and unique experience. Racine offers three different fixed price menus, all at different prices. If you go all out and get their most expensive menu, you'll receive ten courses! The menu changes on a monthly basis (or sometimes more often), but you'll be able to see what you're signing up for online. The chef is originally from Japan, so while the cuisine is French, he often incorporates Japanese influences into his dishes.
This is a restaurant where the food presentation comes out looking like a piece of art. The plates are set up in tasting size portions, but you definitely won't leave hungry. They also have great wine and champagne pairing options. There's a reason this place has earned two Michelin stars! Reservations are a must here.
Address: 6 Place Godinot, 51100 Reims | Tel: +33 3 26 35 16 95
Hours: Thurs – Mon 12:15AM – 1:30PM | 7:15PM – 9PM
Le Petit Basque
€€ | French Basque | Family Friendly
Travelers looking for French food with a twist will appreciate Le Petit Basque. The Basque Country straddles the border of both France and Spain, in the Pyrenees Mountains. It has a unique culture and is considered a mecca for food in Europe. At Le Petit Basque, you'll find a variety of grilled meats as well as a few seafood choices like mussels and shrimp. Their specialty is paella, and they offer five different kinds.
This spot is a bit outside the city center, but only about a fifteen minute walk from the Reims Cathedral. It's very family friendly with great hospitality too. This is one of our top votes for casual dining in Reims.
Address: 13 Rue du Colonel Fabien, 51100 Reims | Tel: +33 3 26 09 96 26
Hours: Mon – Sat 11:30AM – 2:30PM | 7PM – 11PM
Check Out Our Best Day Trips from Paris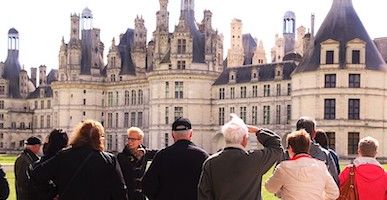 Top Rated Tour
Loire Valley Day Trip with Castles & Wine from Paris
Castles, rolling hills, Amazing wine, and Authentic Food are what come to mind when you think of the French countryside and you will find them all in the Loire Valley! Join your fun and expert tour guide in a small group as you travel on a climate-controlled bus from Paris. Your knowledgeable tour guide will unveil the secrets of the French Loire Valley with funny stories throughout your day together.





Starting at €169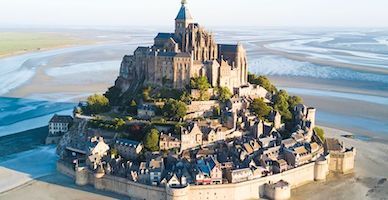 Top Rated Tour
Mont Saint Michel Day Trip from Paris
Looking to get out of Paris on an exciting day trip? We have the perfect experience for you. Make your experience more memorable in our small group with your fun and knowledgeable tour guide who will spend the day with you. There will never be a dull moment, as you learn fascinating stories about the history of Mont Saint Michel and Normandy. Private Transport & Admissions Included.





Starting at €139
Not ready to book a tour? Check out Paris Guide for more resources.
Le Bocal
€€ | Seafood | Inside a Market
Le Bocal is located behind the Étal de la Poissonnerie des Halles, a fish shop right next to the Reims market. Seating just fourteen people, this eatery will give you a true local French experience.
The food is simply prepared and the owners like to highlight the quality of the seafood, so you won't find a huge quantity of sauces or fancy side dishes. You can order off of their menu or put together your own seafood platter. The menu varies slightly depending on what they receive fresh that day, but you can expect plenty of fish, oysters, crab, prawns and more.
Address: 27 Rue de Mars, 51100 Reims | Tel: +33 3 26 47 02 51
Hours: Thurs – Fri 6PM – 9PM | Sat 11AM – 1:30PM | 6PM – 9PM
A l'Ère du Temps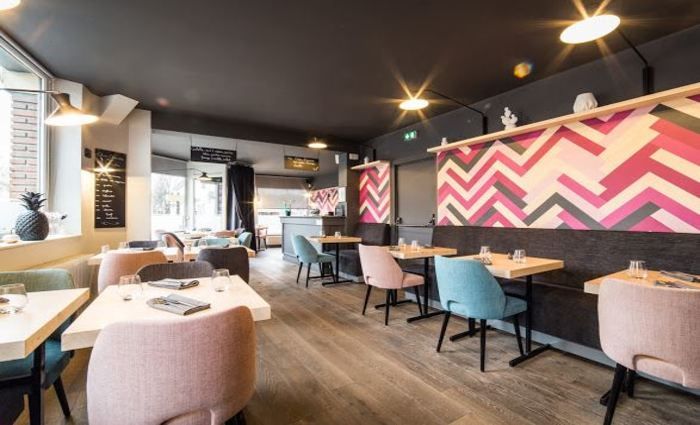 €€ | Crêperie | Inside a Market
The best place to go for crêpes in Reims! In France, savory crêpes are actually called galettes. The galettes here are made with pure black wheat, which means they are gluten-free. They have a variety of dessert crêpes as well (these are not gluten-free, however). The chocolate sauce, salted caramel, whipped cream, and apple compote are all handmade in the restaurant. If you happen to be in Reims on a weekday, we suggest stopping in for lunch. You can have one ham, cheese, and egg galette with a dessert crêpe and a coffee all for twelve euros. What a deal!
Address: 123 Avenue de Laon, 51100 Reims | Tel: +33 3 26 06 16 88
Hours: Tues – Sat 12PM – 2PM | 7PM – 9:30PM
L'Alambic
€€ | French | Indoor Seating Only
One of our favorite places to eat at in Reims because of its classic French food and affordable prices. Although L'Alambic doesn't have a fancy vibe to it, they go out of their way to creatively plate their dishes and give guests a special experience. A handful of tables are located in their downstairs cellar room, which has lots of character and is great for a romantic date night.
Menu-wise, this is about as French as it gets. You'll find items such as lambchops with rosemary and herbs, duck fillet, foie gras and more. There's a fairly wide variety of different meats and fish to please everyone in your travel group, and they have a big dessert menu. Reservations are recommended here – it's popular with locals.
Address: 63 Rue de Chativesle, 51100 Reims | Tel: +33 3 26 35 64 93
Hours: Mon 7PM – 9PM | Tues – Fri 12PM – 2PM | 7PM – 9PM | Sat – Sun 7PM – 9PM
Our Best Versailles and Paris Louvre Tours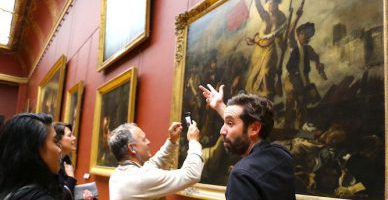 Top-Rated Tour
Secrets of the Louvre Museum Tour with Mona Lisa
The Louvre is the largest art museum on Earth and the crowning jewel of Paris, which is why it's on everyone's bucket list. Don't miss out on an incredible opportunity! Join a passionate guide for a tour of the most famous artwork at the Louvre. Skip-the-line admissions included.





See Prices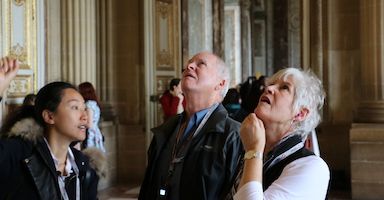 Likely to Sell Out
Skip-the-Line Palace of Versailles and Gardens Tour from Paris
Versailles isn't that difficult to get to by train, but why stress over the logistics? Meet a local guide in central Paris who will purchase your train tickets and ensure you get off at the right stop. Then enjoy a guided tour of the palace and the unforgettable gardens. Skip-the-line admissions included to the palace and gardens.





See Prices
Not ready to book a tour? Check out Paris Guide for more resources.
Le Foch
€€€ | French | One Michelin Star
Le Foch earned its Michelin star in 2003 and has held it ever since. This is one of the top places to eat in Reims, located right in the city center. It's run by a dynamic husband and wife team who started the restaurant from the ground up together.
While they have fixed price menus available, the great thing about Le Foch is that it's an upscale restaurant that also allows à la carte dining. Since 1997, their specialty has been sea bass cooked in Vallauris clay (served for two people), which provides a unique and photo-worthy presentation. They also have a fantastic lobster dish. The food and wine list here are certainly deserving of their Michelin star.
Address: 37 Boulevard Foch, 51100 Reims | Tel: +33 3 26 47 48 22
Hours: Tues – Fri 12:15PM – 1:15PM | 7:15PM – 9:15PM | Sat 7:15PM – 9:15PM | Sun 12:15PM – 1:15PM
Le Riad
€€ | Moroccan | Limited Outdoor Seating
If you're craving something other than French food while in Reims, head to Le Riad for Moroccan cuisine. Their menu is mainly concentrated on couscous and tagine, both of which are hearty and flavorful. There are seven types of couscous available, including a vegetarian option. The tagine is cooked and served in a clay or ceramic pot and also comes with a variety of ingredients. You'll be able to try some Moroccan wine here, as well.
Address: 12 Rue de Tambour, 51100 Reims | Tel: +33 3 26 89 60 26
Hours: Mon – Sat 12PM – 2PM | 7PM – 10:30PM | Sun 12PM – 2PM
La Table Saint Thomas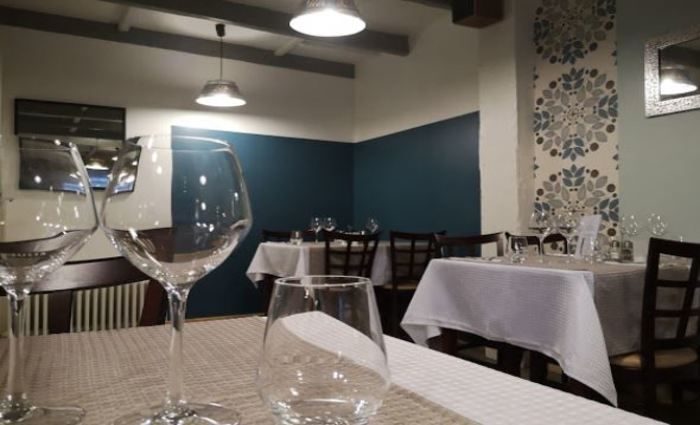 €€ | French | No Outdoor Seating
Located slightly outside of the city center but still within a comfortable walking distance is La Table Saint Thomas. The food here is simple but delicious, with an emphasis on fresh ingredients. The menu changes regularly to reflect whatever is currently in season, but because of this the menu is a bit more limited than some other places. The serving sizes are generous and the prices are very fair.
Note that the hours listed below are what time the kitchen closes, but the actual restaurant stays open until 3PM in the afternoon and until 11PM in the evening.
Address: 58 Rue Dr Thomas, 51100 Reims | Tel: +33 3 26 05 02 76
Hours: Tues – Sat 12PM – 1:30PM | 7:15PM – 9PM
Il Gusto
€€ | Italian | No Outdoor Seating
An authentic Italian restaurant offering a wide variety of pasta and other specialties. The price here is a bit higher than some Italian restaurants, but it's very high quality. The décor is modern and more on the minimalist side, yet still maintains a cozy vibe. Don't forget to save room for dessert – they normally have a pistachio tiramisu which is fantastic.
As a plus, this spot is within five minutes walking distance of the Veuve Clicquot and Taittinger champagne cellars, so it makes a great lunch break in between tastings.
Address: 48 Rue Dieu-Lumière, 51100 Reims | Tel:+33 3 26 36 00 50
Hours: Tues – Sat 12PM – 1:30PM | 7:15PM – 9PM
Restaurant Le Parc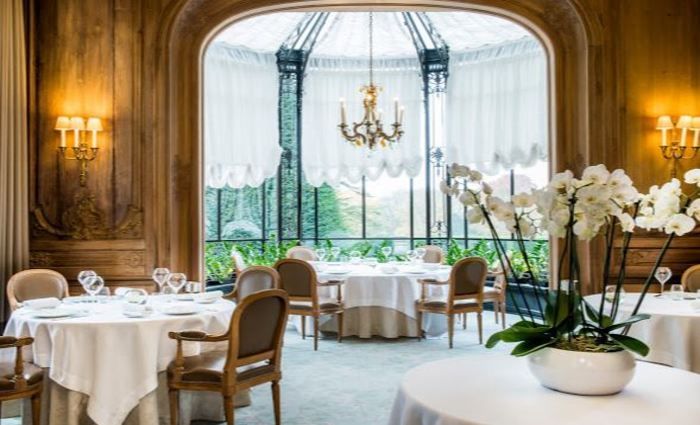 €€€€ | French Fine Dining | Two Michelin Stars
Let's say we saved the best for last this time. This restaurant is set inside the majestic Domaine Les Crayères, an incredible chateau whose grounds cover seventeen acres in Reims. You will be blown away by the setting, and equally as impressed by the interior, complete with chandeliers and traditional fine dining charm. The food here is excellent, with both à la carte and fixed price menu options. Did we mention that they have over 750 different champagnes on the wine list?
If you're looking to make reservations for a special occasion on your trip or simply want an amazing food experience, this is by far your best bet!
Address: 64 Boulevard Henry Vasnier, 51100 Reims | Tel:+33 3 26 24 90 00
Hours: Wed 7PM – 9PM | Thurs – Sun 12PM – 1:30PM | 7PM – 9PM