Looking to pass for a local when you come to Venice? The best way to do this is to try the typical foods in Venice! We have asked our local tour guides which foods to try when in Venice and also where to eat them. Buon Appetito!
---
15 Typical Food & Drinks to Try in Venice
Venice is literally built on the water, so not only is seafood widely available, but it's also of the highest quality. Many seafood dishes in Venice are influenced by Middle Eastern cuisine, due to the city's history of commercial trade.
Also, because Venetians were seafarers, they often ate foods that preserved well, like baccalà (dried and salted cod), corn, potatoes, and rice. Listed below are typical foods that every Venetian grew up with. Some are a bit adventurous, but that's why you go to travel!
1. Cicchetti -Cheap And Tasty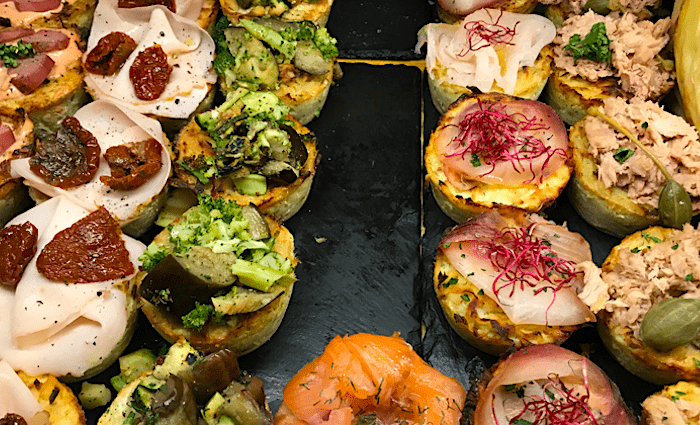 For a starter, Cicchetti are typical Venetian, small plates or finger foods accompanied by a glass of wine or Spritz.
When in Venice, you must try cichetti. Especially on a Venice food tour (a typical pub crawl). It might surprise you, but eating and drinking in Venice on a budget is actually quite easy. That's why we want to let you in on a secret, Cicchetti.
These bites of Venetian tradition are both cheap and filling, ranging from about €1 to €3 per plate. As always, ask the staff what you should eat & drink and trust them. Menus are for tourists.
Where to get it: Osteria al Portego
2. Ombra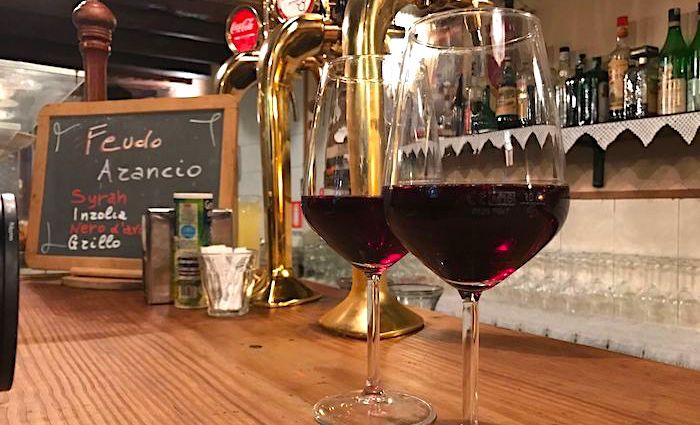 If you go into a bacaro ( local bar in Venice) and ask for an Ombra you will have firmly established yourself as a local. In popular culture, the bell tower's shadow, Ombra in Italian, is the term they use to describe a glass of wine in Venice.
This is because the fisherman would come back from fishing in mid-day and have a glass of wine in St. Mark's Square. To hide from the sun, they'd stand in the ever-moving shadow of the bell tower cast across the piazza. When you ask for an Ombra you have to say Bianca ( white) or Rossa ( red). At this point, the bartender will bring you a glass of house wine.
Where to get it: Literally any bar in the city
Popular Venice Tours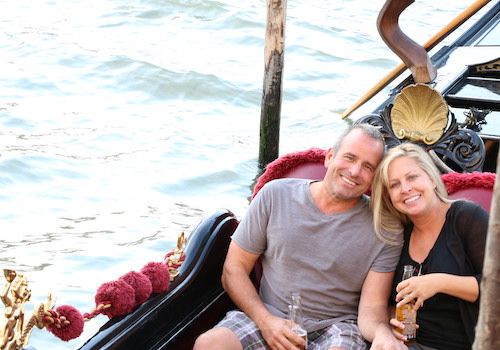 Best Selling Tour
Venice Highlights Tour with Gondola Ride
This is the perfect tour for Venice which is why it is so popular. Visit St. Mark's Square and Basilica before taking a gondola ride for 30 minutes. You'll also visit the famous Rialto Bridge and more with a licensed English speaking guide. All admissions and transport included.





See Prices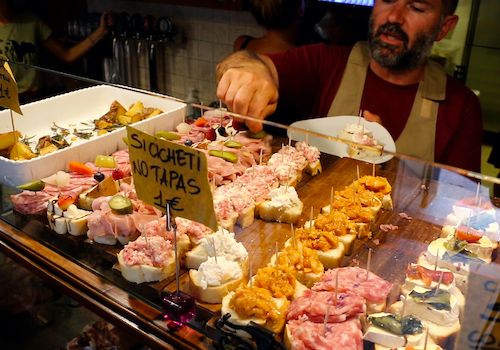 Authentic Experience
Venice Evening Food Tour in Cannaregio District
People who say Venice is too touristy have not done enough research. Cannaregio is an amazing break from the crowds and our food tour is the most authentic way to experience it. Taste Cicchetti and other Venetian specialties with tons of wine! You'll leave with a full stomach!





See Prices
3. Spritz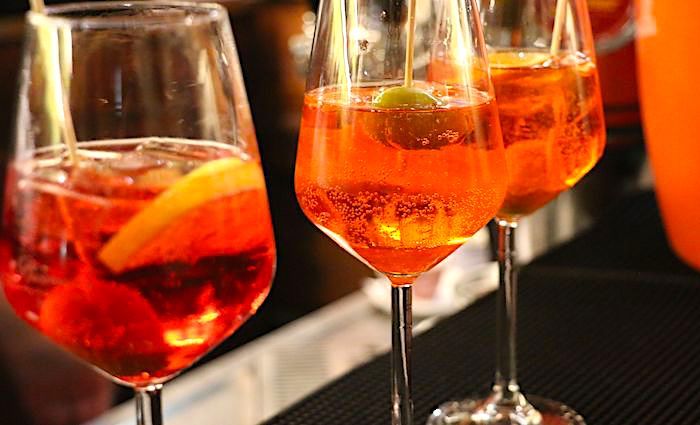 Today in Italy you can order a spritz anywhere in the country. Many are not aware however that the origins of this light aperitivo actually comes from this region.
In the 1800s during the Hapsburg reign over the Veneto region, the Austrian soldiers were not used to such a selection of wine as there was in Italy nor were they used to the wines being so strong. Therefore they would ask the bartenders to spray ( spritzen in German) some water into the wine to weaken it a bit. They added some sparkling water to a glass of sparkling white wine or a glass of red wine.
In the 1950's it became quite popular to add either Aperol ( an orange, sweet mixture) or Campari ( dark red and bitter) into the mix instead of the classic wine mixed with soda. Therefore today when you go to a bar in Venice and ask for a spritz they will ask if you want Campari or Aperol.
Where to get it: Literally any bar in the city
4. Baccalà Mantecato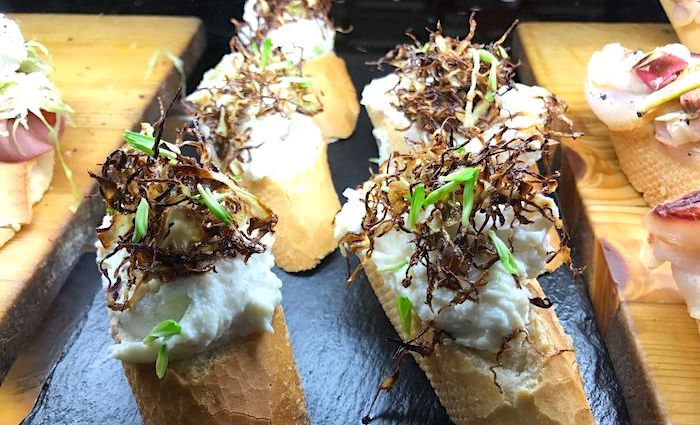 Baccalà Mantecato, a dish made of stockfish, is considered one of the most important traditional foods in Venice and dates back to 1431 when a Venetian ship, full of spices, was disrupted by a violent storm and dragged North for days.
The surviving sailors ended up on the island of Roest, where they discovered dried stockfish.
Eventually, they brought it back to Venice and the rest is history.
According to the local recipe, you only need to pair stockfish with few ingredients – add olive oil, black pepper, salt, garlic and lemon juice. Cook the fish until it's creamy.
Where to get it: El Sbarlefo
5. Sarde In Saor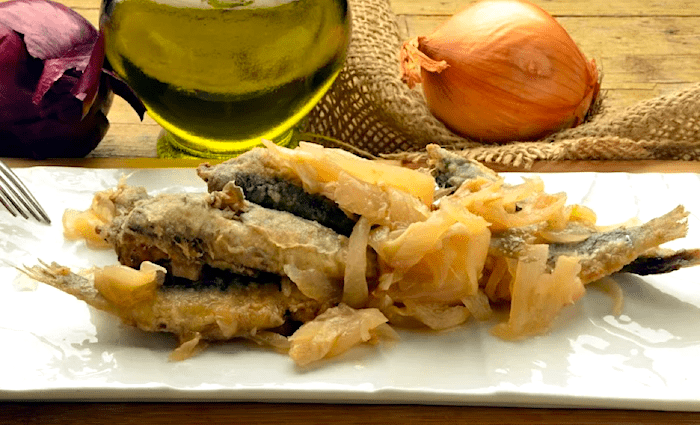 The last antipasto on our list is Sarde in Saor, a dish that consists of sardines, onions and balsamic vinegar. This one tastes quite strong, but they sweeten it with raisins, pine nuts, and red wine.
If you've been to Venice, you know how popular and crowded it gets. Avoid the tourist trap restaurants and taste some Sarde in Saor at Il Paradiso Perduto, a scenic Osteria in Venice.
Where to get it: Il Paradiso Perduto
6. Bigoli in Salsa
Bigoli is a type of fat spaghetti. This is definitely a staple pasta dish that can be found in most restaurants, similar to the pasta with red sauce in the sauce in the South of Italy.
The pasta sauce is based on onions and anchovies. While you might want to have a mint or something similiar to freshen up your breath after, this local favorite will have you coming back for seconds. As you will notice in many dishes in Venice, the onion seems to be everywhere.
Where to get it: Cà D'Oro alla Vedova
7. Risi E Bisi
Risi e Bisi is a simple meal made of rice and peas. While it isn't one of the most celebrated in traditional Venetian cuisine, it has a funny and peculiar origin story.
The production of rice in Venice started in the 15th century and was largely promoted because of its low cost and wide availability.
The Doge himself used to stand out in front of Doge's Palace and salute his subjects by holding a plate of Risi e Bisi. From then on, it became a symbolic dish for the locals to eat on St. Mark's Day, celebrated on the 25th of April. These days, you can find this dish in any restaurant in Venice.
Where to get it: Il Nuovo Galeon
8. Lasagnette con Nero di Seppia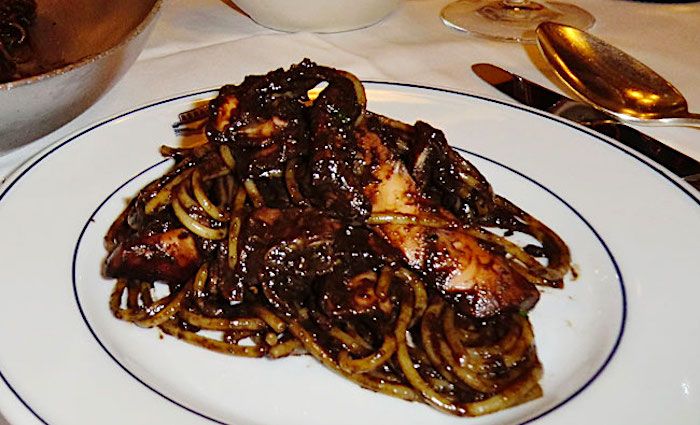 Translated into English would be " Little lasagna with black squid ink". Many people when they order this are surprised to find out that it is not lasagna at all, but actually a kind of long, flat pasta like tagliatelle. It is cooked however with squid ink.
It is also possible to order this as a dish as a more hearty meal replacing the pasta with polenta. Remember as you eat this not to smile!
Where to get it: Trattoria da Bepi
9. Scampi in busara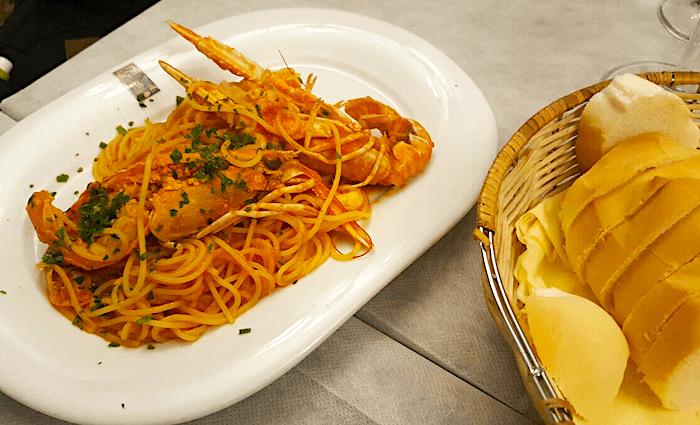 This dish is simply delicious. Busera was a kind of pot they used to use to cook food on the fishing boats. The actual dish consists of spaghetti with scampi and some red sauce.
The trick for cooking this is to first boil the scampi a bit. After you put them in the pan with some olive oil and a bit of tomato sauce. You let this simmer for a while which allows the scampi flavors to intermingle with the tomato sauce which creates a creamy consistency and an aroma that will have you salivating. If you like it, add some spicy red pepper inside as well!
Where to get it: Osteria la Busara
10. Pasta e Fagioli
Translated as pasta with beans, many Americans of Italian descent from the South of Italy will identify with know this dish as Pasta Fazull. While this dish is not from Venice proper, Venetians say that it originated in the Veneto region, which means the area surrounding Venice. While the dish has peasant and lower-class origins, it is now appreciated by everyone.
The actual dish is more like a hearty soup. Therefore you tend to find this on the menu more in the winter time as the dish is quite heavy. If you happen to be in Venice in the wintertime, it can be very humid, cold and foggy. What better dish to warm you up than a bean and pasta soup!
Where to get it: Trattoria alla Rampa
11. Fegato alla Veneziana
This is a calf liver dish. It is cut into very thin slices and cooked with onion, parsley, olive oil, salt, pepper and a glass of wine.
For the food nerds out there the word " Fegato" in Italian comes from two words in Latin- Iecur, and Ficatum- Liver and figs. In Ancient Roman times, they would cook the liver with figs to soften the iron taste. Figs were not a big thing in Venice, but onions were. The rest is history.
Where to get it: Trattoria Dona Onesta
Popular Venice Tours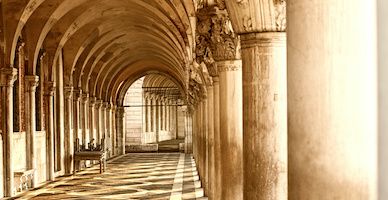 Best Selling Tour
Doge's Palace "Prisons & Tyranny" Tour in Venice
Hear how the Dukes of Venice ruled the "republic" using fear tactics, imprisonment, and torture. Now, the palace stands as a reminder of how the law was carried out in Venice. Skip the line with a passionate English speaking guide and go behind the scenes to see the best parts of this incredible Gothic palace. Admissions included.





See Prices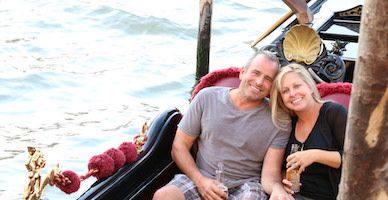 Most Popular Tour
Venice Highlights Tour with Gondola Ride
People who say Venice is too touristy have not done enough research. Cannaregio is an amazing break from the crowds and our food tour is the most authentic way to experience it. Taste Cicchetti and other Venetian specialties with tons of wine! You'll leave with a full stomach!





See Prices
12. Granseola alla Veneziana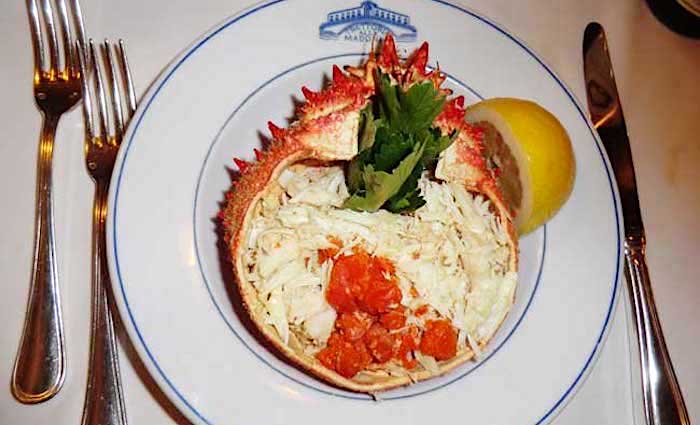 This is a dish that is based around the spider crab. The name Granseola comes from the Venetian words Granso ( crab) and Seola ( onion). Its dimensions are quite big and many believe the taste to be on par with lobster.
The actual preparation of this dish is extremely simple. Ready? You boil the crab meat with lemon, salt, and pepper. Once ready you put the meat on the plate and add a bit of olive oil and that's it!
Where to get it: Trattoria alla Madonna
13. Moleche fritte e Moleche col pien
Moleche are green crabs. They fry them while still alive. I know, this sounds extremely cruel, but have you ever prepared a lobster? For the second option ( Moleche col pien) they stuff them with egg. To do this, they give crabs egg to eat before they cook them.
Do yourself a favor and don't think about the preparation and just enjoy the taste. They are delicious.
Where to get it: Trattoria Al Gatto Nero
14. Polenta E Schie
Schie are a kind of shrimp you can only find in the Venetian lagoon. Typically and paired with polenta. Polenta e Schie used to be the most popular food for poor Venetians.
Nowadays, this dish isn't so cheap, as the main ingredient is difficult to source due to scarcity. Schie is cooked and seasoned in lemon, garlic, pepper, and salt, then served over steaming polenta. Buon Appetito!
Where to get it: Osteria dal Riccio Peoco
15. Buranelli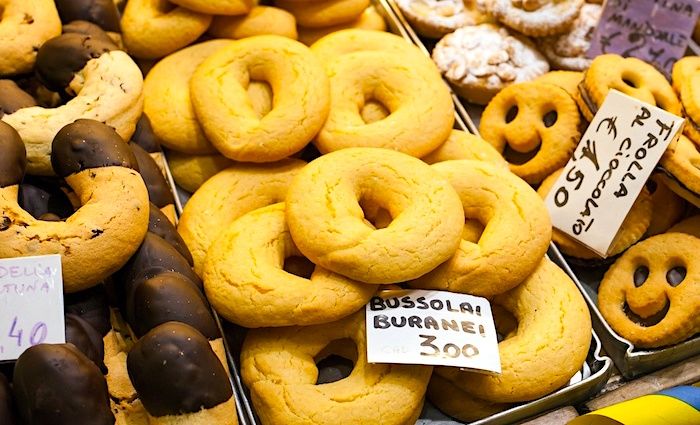 To end on a sweet note, try some Buranelli, a type of Venetian biscuit that's sure to please your tastebuds. Buranelli (Buranei plural), is named after the Venetian island of Burano, where they come from.
Popular among seamen, these treats were often packed along for long sea expeditions. The original shape was round, but nowadays you can also find them shaped like the letter "S", which makes them easier to dunk in coffee or mulled wine.
Where to get it: Pasticceria Tonolo