The classic "Vegas" thing to do is to stay on the Strip in a hotel with a casino. However, you might want to avoid larger hectic hotels and the exorbitant resort fees at most Las Vegas hotels. Or maybe your group simply wants more space and privacy than hotels usually provide. Whatever the reason, we've rounded up the best apartment rentals in Las Vegas for your next vacation.
---
Pro Tip: Planning your trip to Las Vegas? Bookmark this post in your browser so you can easily find it when you need it. See our guide to Las Vegas for more planning resources, our top Las Vegas tours for a memorable trip, and how to spend three days in Las Vegas.
Top Vacation Homes in Vegas
There are lots of reasons to book an apartment instead of a hotel room on your Vegas vacation. As we mentioned, maybe you'd prefer to avoid crowded hotels. Or maybe you're planning a romantic vacation and would like some privacy. Perhaps you're traveling with your family and would rather stay somewhere with a kitchen and more space.
Another huge reason to book a vacation home in Vegas is to skip the resort fees. As you likely know, many hotels and resorts in Las Vegas charge nightly resort fees. These fees can sometimes be higher than the price of the rooms themselves!

However, with most vacation homes and apartment rentals, you can avoid the resort fees and use that money towards other great activities in Las Vegas. That said, some still do charge a resort fee. We'll let you know which hotels on this list don't charge resort fees. If there's no mention of it, that means it does charge a fee and the rental made this list for the amenities, location, or other bonus factors. With that in mind, read on to see our top picks for the best vacation rentals in Las Vegas.
Our Partnership with Booking.com and Vrbo.com: If you like our content, please book by clicking on our links. The price is the same for you, and we get a small commission that helps support our helpful blog content. We've partnered with Booking.com and Vrbo.com because they have the most options, great prices, and a solid loyalty program.
Luxury Studio MGM Signature Rental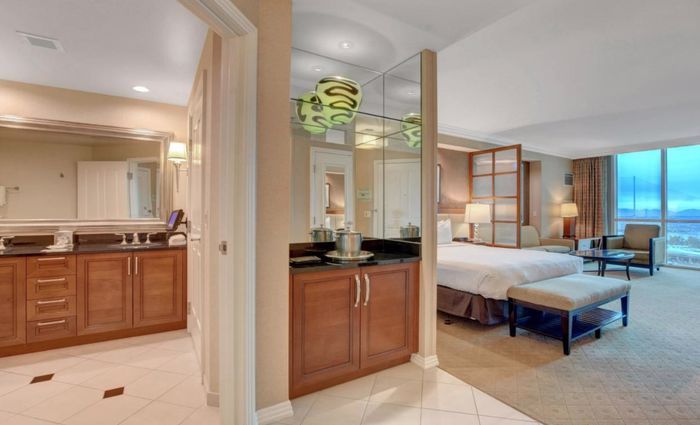 $$ | Close To The Strip | Free Parking | No Resort Fee
Located a short 8-minute walk from the Strip, rooms at this property boast a fully-equipped kitchenette. What's more, there's a microwave, a fridge, and a stovetop in the room to make your life that much easier. Perhaps best of all, however, is that this property does not charge resort fees.
In addition, there's a pool on-site. This is necessary for those hot Las Vegas summer afternoons. Trust us! Also, guests here can enjoy free parking. This is actually rare with most hotels. So, if you're in Sin City with a car, this vacation rental is ideal!
Jockey Resort Suites Center Strip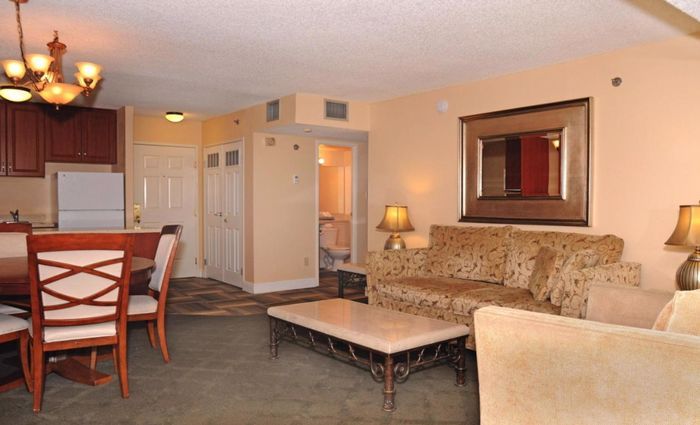 $$ | Great For Couples | Free Parking | No Resort Fee
Get to stay in the center of Vegas and avoid the resort fee! Located close to the Bellagio Hotel, this vacation rental includes a fully-equipped kitchen. After a long day of exploring, you can save some money by cooking dinner in your room. What's more, the room features modern amenities like a DVD player and free Wi-Fi.

There's also a clean pool and fitness center at this property for your downtime. Like some other hotels on this list, there's also free parking here. However, trust us when we say free parking isn't normal for Vegas rentals. If you see a place with free parking and you'll have a car with you, definitely take advantage of this amenity. Make sure to catch the world-famous fountain show at the nearby Bellagio if you stay here.
Privately Owned Condo Hotel – The Signature at MGM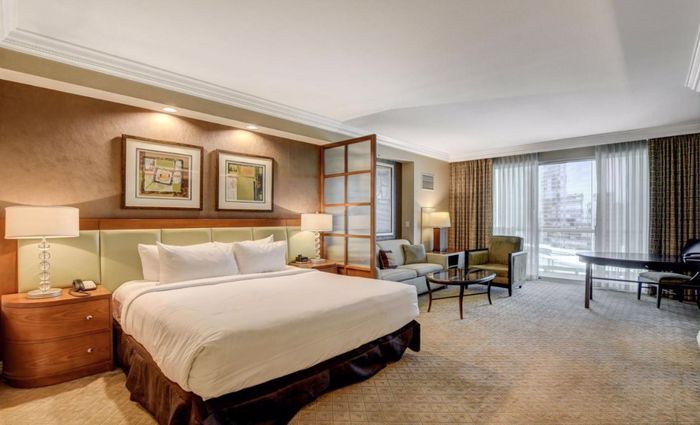 $$ | Pool and Hot Tub | Amazing Views | No Resort Fee | Strip View
Although this property is in a similar location to the first on the list, the difference is the amazing view! Located less than a mile from the center of the Strip, this vacation rental provides amazing views at a lower price.

This rental includes a pool and hot tub for its guests, as well as free parking. The rooms have a balcony where you can relax after a long day of sightseeing. Guests love the cleanliness of the rooms, as well as the speedy and efficient customer service at this property.
Jet Luxury at The Vdara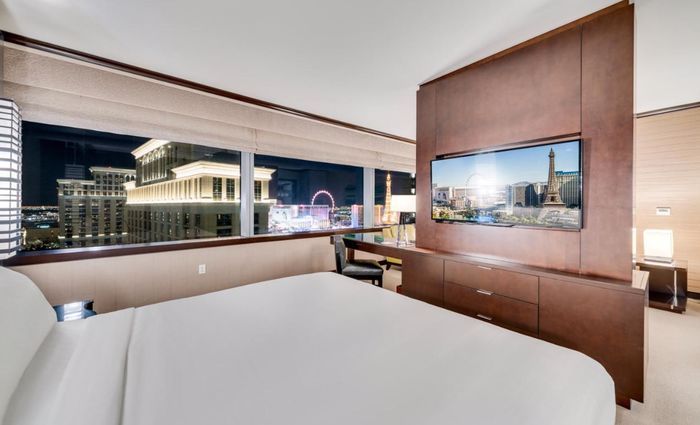 $$$ | No Casino | Stunning Views | Comfy Luxury
Located at the smoke-free Vdara, this rental does not have an on-site casino. If you hate the smell of cigarette smoke or you're not much of a gambler, this is an ideal pick for you. The clean spacious rooms at this rental include comfortable beds for a good night's sleep. Most of the room types also offer stunning views.

At this property, the units all have tiled floors. In addition, they also feature a fully-equipped kitchen with a fridge and a dining area. Guests love the on-site outdoor pool for a refreshing reprieve from the Vegas heat. What's more, the staff here are very friendly and will make sure you are well taken care of.
Palms Place Studio with Balcony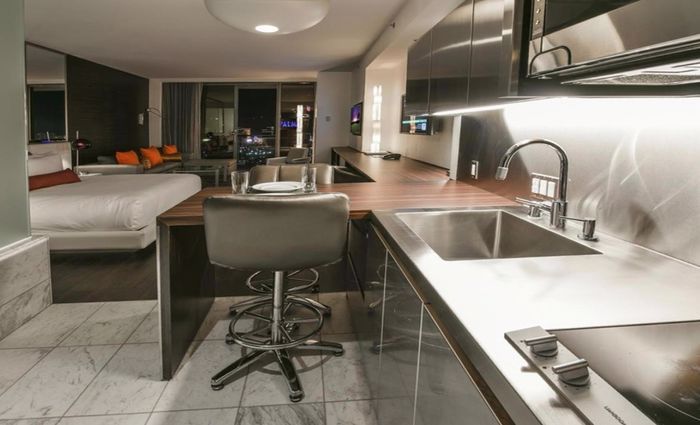 $$ | Sleek and Modern | Waterfall Shower | Outdoor Pool | Free Parking | Strip View
That's right, we said outdoor swimming pool and free parking! This apartment rental is located around a 7-minute drive from the Strip. Guests love the friendly customer service, as well as the amazing city views from the rooms.

In addition, this rental includes sleek, modern rooms. Their bathrooms feature a luxurious waterfall shower, which we're definitely a fan of! What's more, the rooms are decked out with a desk, a living room, and a kitchen. To make you feel even more at home, the kitchen is equipped with a dishwasher, microwave, and fridge.
Signature MGM 1 Bedroom Penthouse Suite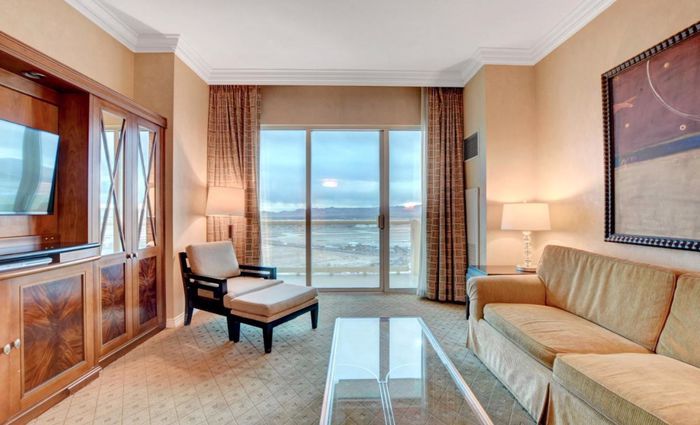 $$$ | Clean and Spacious | Great Staff | Garden With Outdoor Pool
Guests love the clean rooms, balcony views, and amazing staff here. Located around 7 minutes from the Strip by car, these units are equipped with a full kitchen and dining area. Most rooms also come with awesome views!

In addition, the staff at this apartment rental are very kind and helpful. Even better, this property features a nice garden with an outdoor pool. For an additional fee, this property will also arrange an airport shuttle for you and your group. Because of the amenities, location, and attentive staff, this is a great pick.
Luxury High Rize Palms Place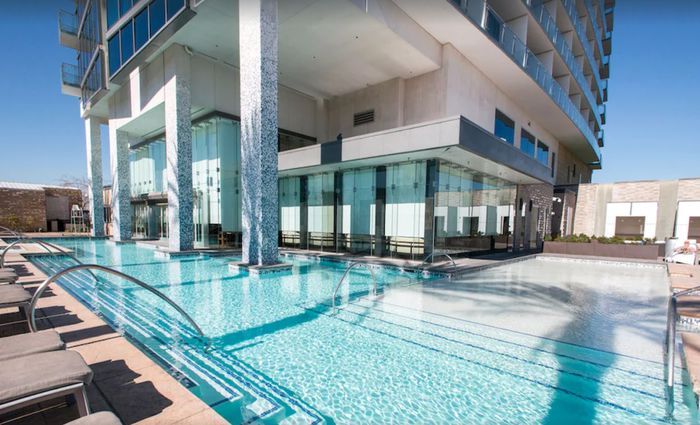 $$$$ | Free Parking | Incredible View | No Resort Fees
Not only does this property boast a great view, but it also doesn't charge resort fees! What's more, it's located just over a mile from the center of the Strip. This property has free parking available to its guests, so you can get to the Strip in no time. At the time of writing, the balcony was not accessible to guests.
However, guests do have access to the awesome pool and fitness center during their stay. Also, the bathroom is marble tiled with a walk-in shower. It includes a tub with jets for extra luxury after you're done exploring for the day. This property sleeps four and also has a modern kitchenette that's fully equipped.
My Vegas Sun Home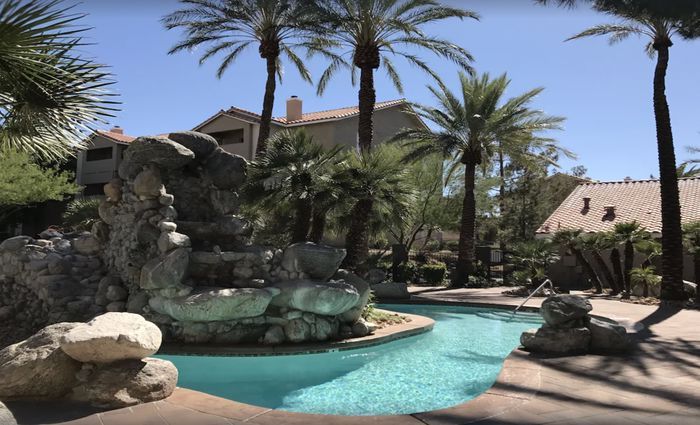 $$$$ | Free Parking | Swimming Pools and Hot Tub | Close To The Strip
This spacious one-bedroom unit enjoys the use of a stunning outdoor swimming pool and a hot tub. Everything you might need, including the Strip, is located within walking distance. Staying here is easy with amenities like a fully-equipped kitchen, a washer and dryer, air conditioning, and a TV with cable.
Guests also enjoy free parking and the security of a gated community. It's a very comfortable place to unwind after an exciting day of sightseeing or to relax by the pool in the hot Vegas summer.
A Tranquil Setting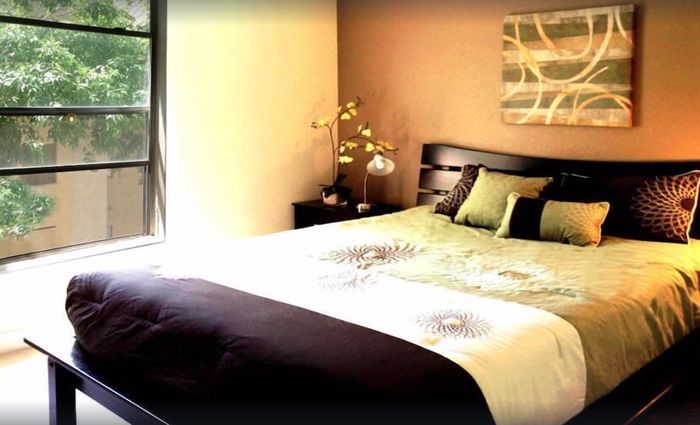 $$$ | Free Parking | Jacuzzi and Pool | Great Location
Located a 20-minute walk from the Strip (or a 5-minute drive), this property boasts a cozy Jacuzzi and great pool. There's a fitness center on the property, as well as a TV with cable, a well-stocked kitchen, and a laundry room. This is a great place to relax after a long day of exploring Sin City.

If you're in Vegas with your car, you'll enjoy the benefit of free parking. In addition, this property has a brand new exercise room you'll be able to use. Please note, however, that this property is on the third floor, and there's no elevator.
Stay Together On The Strip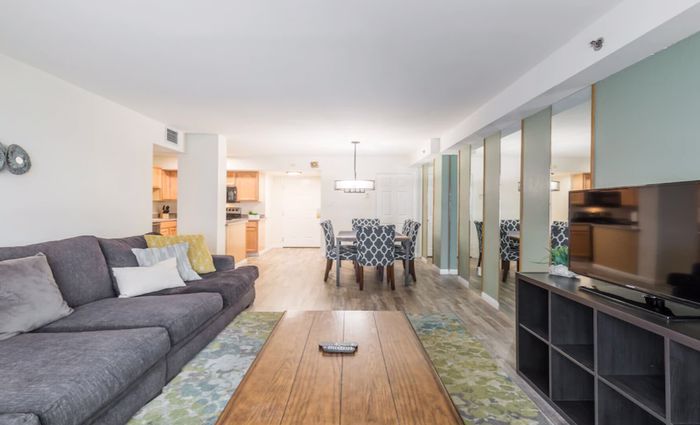 $$$ | Free Parking | No Resort Fees | Great For Large Groups
This epic vacation rental is attached to the amazing Cosmopolitan Hotel, which is in the middle of the Strip. However, unlike most of the hotels on the Strip in Las Vegas, this vacation rental doesn't have resort fees! It also has free parking so you and your group won't have to worry about where to leave the car. What's more, guests get access to the Chelsea pool inside the Cosmo.

This rental comes with three King beds, plus a double bed, an air mattress, and a couple of futons. Because of this, this is an ideal property if you have a large group. Please note there is a three-night minimum stay on some weekend nights.