The capital of Portugal has much to offer and one can easily get lost between touristy traps and actual gems when it comes to food. And trust me, we are oh-so-good at the latter. Our goal with this article is to avoid tourist spots and visit places where locals actually eat. Stick with me—your local foodie—to find out where the best restaurants in Lisbon are.
---
Pro Tip: Bookmark this article in your browser so you can circle back to it when you're hungry in Lisbon. It will come in handy when you're hungry after a long day of sight-seeing.
Top 10 Places to Eat in Lisbon
Welcome to Lisbon: Portugal's capital and Europe's doors of the sun! The considerable length of the Portuguese coastline justifies the presence of fresh seafood in its traditional food, heavily influenced by the Mediterranean diet. This is why we have no doubts when we say that the city of Lisbon lies in a strategic spot to combine delicious food, great weather and cool vibes. Let's find out more about the best restaurants in Lisbon!
Cervejaria Ramiro
€€ – €€€ | Seafood
Cervejaria Ramiro certainly would pass by unnoticed if it weren't for the long lines that are seen literally everyday outside the restaurant. If you are up for a late lunch, or do not mind waiting for the best seafood you can eat in Lisbon, this is definitely my recommendation.
Begin with some toasted bread with butter while engaging in the hardest task of choosing the main dish. If possible, go for some camarão espinho and percebes (don't feel awkward, there's actually no correct way to eat these!). As you reach the end of your meal, be sure to save space for a prego. You won't regret it.
Address: Avenida Almirante Reis, 1H
Hours: Tuesday to Sunday, 12 PM – 12 AM
Lezíria Casa de Petiscos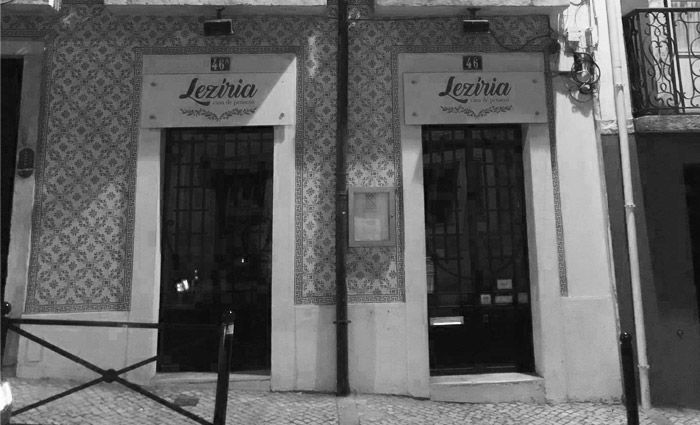 € | Tapas | Finger Food
Located near one of the most famous neighborhoods for its nightlife, Santos, this cozy restaurant will provide you with a calm and delicious dinner in the format of petiscos. As there aren't many seats available, I recommend you book a table beforehand.
Start with some salgados and enchidos and let yourself be taken away with the many options Lezíria has to offer. And definitely don't skip the desserts—especially Sweet Lezíria.
Address: Rua de São João da Mata, 46
Hours: Tuesday to Saturday, 12PM – 3PM; 7PM – 11PM
100 Maneiras
€€€€ | European Food | Contemporary | Michelin Star
Ljubomir Stanisic is a Bosnian-born Portuguese chef and is the owner of 100 Maneiras. Ljubomir is famous for his rudeness at his own cooking TV shows (allow me to translate the name of his restaurant for you: Mannerless), but when it comes to food, he won't let anyone down.
Stop by if you're looking to celebrate a special occasion (or if you just want to have a nice meal) and enjoy dinner at a recently awarded Michelin star in the heart of Lisbon.
Address: Rua do Teixeira, 39
Hours: Thursday to Monday, 7PM – 1AM
Restaurante Clube de Jornalistas
€€ | Portuguese Food | Outdoor Seating | Hidden Gem
A hidden gem—what else to say? Enjoy the calmness of this secret spot and let your mind drift away whilst sitting in a private garden at the very center of Lisbon. Trust the staff and let them choose the wine for you. I promise you it will be worth it.
At Clube de Jornalistas you'll find an alternative approach to Portuguese traditional dishes—I'm talking about an immersive experience provided by the fusion of fruity and salty flavors. If the whole menu sounds delicious to you, opt for the Petit Tour (or the Gran Tour, if you're willing to go for the extra mile) to get a taste of everything.
Address: Rua das Trinas, 139
Hours: Daily, Lunch 12:30PM – 2:30PM; Dinner 7PM – 10PM
Ground Burger
€ | Burgers | Family-friendly
Ground Burger is the safest choice when traveling with children or if you just want something more carefree. It's currently my favorite burger restaurant, and I couldn't just ignore it when making this list of the best restaurants in Lisbon.
Here you can find not only protein burgers but vegan burgers as well. Friendly advice: come hungry! From burgers to donuts, you choose and enjoy the tasty variety. Just don't skip the craft beers.
Address: Avenida António Augusto de Aguiar, 148A R/C
Hours: Daily, 12PM – 12AM
Han Table Barbecue
€€ | Korean Food
An oriental touch adds to this list of best restaurants in Lisbon. At Han Table, you cook your own meat much like what happens in South Korea. The only downside to this restaurant is that you'll be smelling meat for the rest of your day, but that's not necessarily a bad thing, right?
The menu has many options, but my advice is stick to the basics. It never goes wrong. It's also great that the service is fast here if you need a place to eat in Lisbon that's quick but tasty.
Address: Rua Gomes Freire, 11B
Hours: Tuesday to Sunday, Lunch 12PM – 3PM; Dinner 6:45 PM – 10PM
O Nobre
€€€ | Portuguese Food | Fine Dining
Don't let the outside fool you: the restaurant may not look very welcoming, but chef Justa Nobre does wonders when it comes to cooking. At O Nobre you will have the chance to try actual Portuguese dishes with a touch of the northern cuisine from Trás-os-Montes. It's the best of two worlds!
Follow the suggestions of Mr. Nobre, the chef's husband, and don't hesitate: even the most simple dishes will surprise you. If possible, accompany with a glass of wine as the good old northern food requires.
Address: Avenida Sacadura Cabral, 53B
Hours: Daily, Lunch 12:30PM – 3:30PM; Dinner 7:30PM – 10:30PM
Choupana Caffé
€ | Brunch | Outdoor Seating | Eat-In or Take-Away
Did you say brunch? Then I say Choupana. In here you can find two options for brunch: individual or for two (Brunch Lovers). And I have to say both are great and come with a large quantity of food.
If you're not in the mood for brunch, there are a lot of other options on the menu such as bagels or sandwiches. And of course the croissants. It will be hard not to fall for those incredibly looking croissants (which are just as tasty as they look).
Address: Avenida da República, 25A
Hours: Daily, 7:30AM – 7PM
A Casa do Bacalhau
€€ | Portuguese Food | Famous Bacalhau | Great Service
One cannot simply visit Portugal and not have a taste of the famous codfish. At A Casa do Bacalhau (literally means, the codfish's house) you will first be amazed by the palace where it is located, and then by the menu.
Cod is the main character here (if there were any doubts left) and it comes in all sorts of shapes. Your local foodie here personally recommends the "à Minhota" but all are safe choices. And don't worry, those who don't eat fish will find a whole list of other options, including meat and vegetarian.
Address: Rua do Grilo, 54
Hours: Daily, Lunch 12PM – 3PM; Dinner 7:30PM – 11PM
Alma
€€€€ | Fine Dining | Contemporary | Two Michelin Stars
In Lisbon, you can find a lot of fine dining restaurants, but not many have two Michelin stars as Alma. If you're looking for a real and exclusive gastronomic experience, this is the one.
Located at Chiado, Alma will take you on a ride through the Portuguese cuisine while surrounded by this sophisticated ambiance. Opt for the menu Costa a Costa for a visit (and tribute) to Portugal's coastline.
Address: Rua Anchieta, 15
Hours: Tuesday to Sunday, 12:30PM – 12AM