Despite being a peninsula containing the most UNESCO world heritage sites of any country on earth and possessing an unparalleled history. Italy as a state is a fairly recent invention. It was unified in the second half of the 19th century from a disparate group of city-states and kingdoms with their own identities. Snatches of the old world still exist, however, and nowhere more than in the independent Republic of San Marino. The Most Serene Republic of San Marino, as it is officially known, counts Abraham Lincoln as an honorary citizen and is the world's oldest republic. If Lincoln recognized its fascinating and ancient history, then there is no reason why modern travelers should not do the same, and you will know where to stay in San Marino after reading this guide!
---
Pro Tip: Planning what to do on your trip to Italy? Bookmark this post in your browser so you can easily find it when you need it. You can also check out our free Italy Guides.
---
---
The Best Hotels in San Marino, at a Glance
---
Why stay in San Marino?

---
The name Andy Selva may not mean much for most audiences, but for San Marino's population, he represents a proud and noble moment as the man who scored the only goal in their only-ever competitive win in international football. San Marino is known for only having ever won one match in their entire competitive history. 190 losses and 1 win later (over another of Europe's microstates, Liechtenstein), San Marino, just like Monte Titano, which overshadows it, doggedly stands strong.
San Marino's population of 33,000 has been welcoming fans from all over Europe and competing gamely with heavyweights like Germany, France, and the country that dominates and surrounds it, Italy. Those visitors who make it to San Marino find a charming and beautiful place with an impressive mountainous landscape, possessing a history that dates back to the early 4th century AD.
Founded by followers of Saint Marinus fleeing persecution, its landscape has kept it relatively isolated from the rest of Italy and kept its old-world charm. Garibaldi, the unifier of Italy, sought refuge here at one point, and if I could choose a place to get away from the tourist throngs and breathe some fresh mountain air, I can think of few places better to take refuge.
Stunning views over the mountains from the towers of Guaita and Cesta are particularly not to be missed. The Passo delle Streghe (creepily titled "Witches passage), in particular for me, was one of the most impressive views in all my many travels around Italy. It is not for those afraid of heights, but those willing to brave its towering drops (and presumably witches), will be in for a great experience.
---
Not ready to book a tour? Check out our Italy Guide for more info and inspiration.
---
The Central Stay in San Marino
---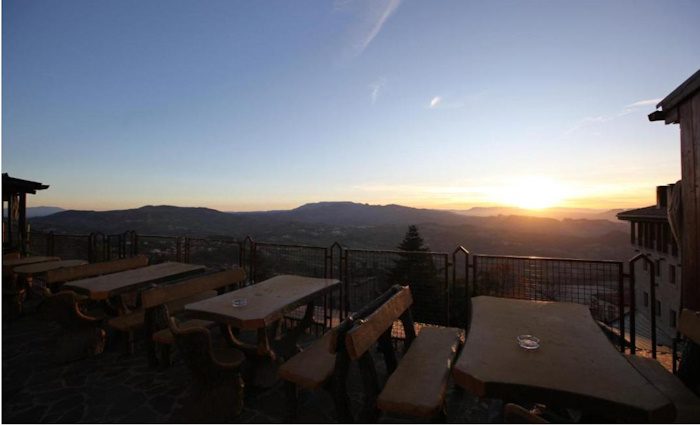 €€ | Super central | Parking | Great views
Hotel Rosa has a great location right in the heart of old San Marino town. Especially for anybody doing a little driving around Italy and stopping off in San Marino, this is a great option as it has parking. This doesn't sound like a massive boost at first glance, but many of the historical medieval towns of Italy do not have this, so it makes a big difference! As with many places in the old town, this Hotel possesses beautiful views from many of its rooms, so if you could request one of those, then it is hard to do much better than this clean and modern space.
---
Not sure if San Marino is for you? Check out our guide on Where to Stay in Italy instead
---
Peaceful Countryside Retreat in San Marino
---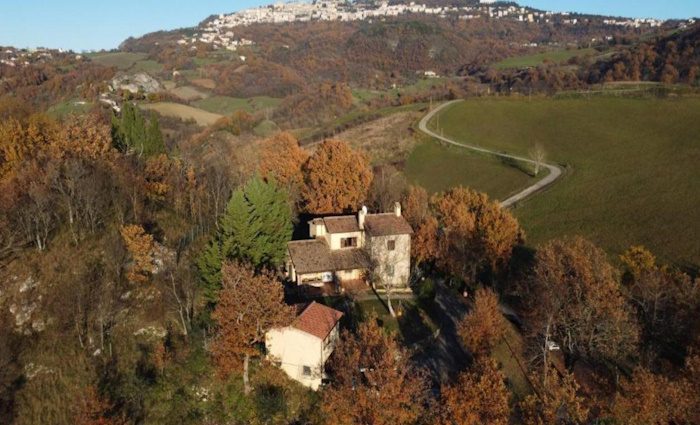 ---
€€€ | Great for Families | Countryside | Sustainable
This one is for those seeking to live like Italian landowners from the 19th century for a couple of nights, and who wouldn't enjoy that? A large villa in a rustic farmhouse setting, with exposed wood beams and lots of space. This one has great views of the mountains and a really peaceful and quiet atmosphere. Run by two brothers who are very attentive, I really loved this spot. They also have bikes to rent for a nice way to explore the countryside, and they also offer yoga classes. If you are looking for a quiet and healthy stay in an environmentally sustainable property, this one is for you.
---
Not ready to book a Hotel? Check out our Italy Guide for more info and inspiration.
---
A Room with a View in San Marino
---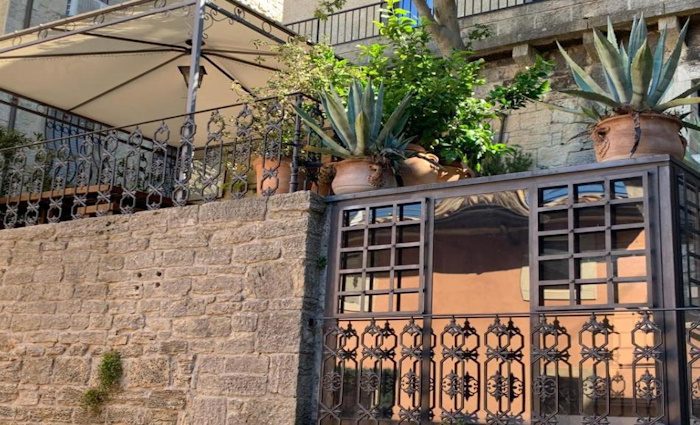 ---
€€€€ | Antique decor | Historic apartment | Central location
Borgoloto Suite 17 has a lot going for it. It is as central as you could want in San Marino, just a short hop to the Guaita Tower. It also has antique touches, including a beautiful fireplace that, for me, transports to a previous time. To go along with this, it also has all the modern conveniences that you need. I would say this one would very much suit a family of four or five coming for a couple of days. Ample space and a cozy atmosphere that boasts (like most places in San Marino) wonderful views over the mountains.
---
Not ready to book a tour? Check out our Italy Guide for more info and inspiration.
---
Best 3-Star hotel in San Marino
---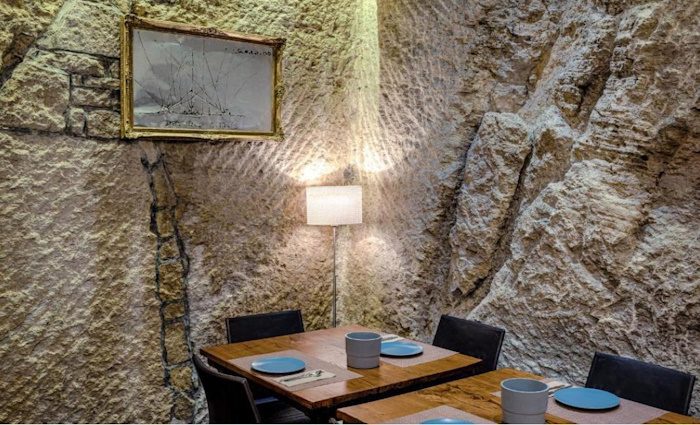 ---
€ | 3 – Star | Modern amenities | Great Value
La Grotta has all that you should expect from a 3-star hotel while being again in a very central location. This hotel offers good value for money and has over 2 and a half thousand top reviews on booking.com, so it definitely offers what it says, which is a modern and central location for exploring the old town. If I could offer some advice, it would be to make sure to request ahead of time a room with a view, as some of the rooms face into the street, which is not as pleasant. However, they have some beautiful rooms, and if there is one thing you should expect from a visit to San Marino, it is a decent view!
---
Want to see the best of Ravenna but not sure you want to stay the night? Stay in Venice and book one of our day-trips
---
A Couple's stay in San Marino
---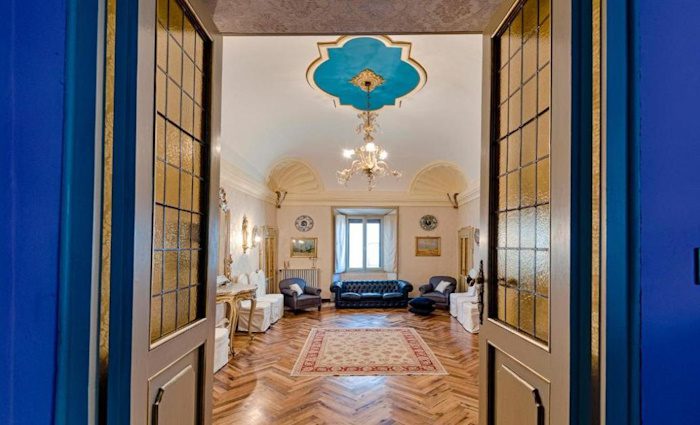 ---
€€ | Bed and Breakfast | Historic Palazzo | Something Special
This one is my top recommendation, especially if you are traveling as a couple. Not only is it exceptionally pretty throughout the apartment, but it is also one of the traditional homes of one of the oldest families in San Marino. It is literally right in the heart of San Marino. Its one drawback is that it doesn't have a view of the mountains. It has charming views onto the street, however, and the interior and history of the building make up for that, as with a walk of a minute or two, you are granted stunning views. History. Charm. Eccentricity. A fantastic B&B!
---
Not ready to book a tour? Check out our Italy Guide for more info and inspiration.
---
Where is San Marino, and How Do I Get There?
Arriving by Air: San Marino has no airport. The closest airport to San Marino is found in Rimini, which is just under 20 kilometers away. If you are planning on driving through Italy, then this is your best option. There are some buses that allow you to get from Rimini to San Marino in about 3 and a half hours. By taxi is perhaps the best option, will cost under 50 euro and can get you to San Marino in half an hour.
By Train: As in arriving by airplane, the trains will bring you to Rimini from larger cities like Bologna or Florence. From there, there are some train options to San Marino but can take a little time. If you are not in a rush, then it is a beautiful way to travel.
Coming in by Car: When renting a car, do remember to check with your hotel if they have parking facilities. This goes for most of the historic medieval towns in Italy where parking in the center is limited. San Marino is a mountainous place with some small roads, so that a smaller car may be advised. No Humvees in this part of the world! Still, the best way to get to San Marino is by car.
By Taxi: Always remember to use a registered taxi that runs on a meter. From Rimini train station, it is possible to get a taxi to San Marino, and your hotel in San Marino can arrange a taxi trip back. This should cost under 50 euro one way.
---
Top Attractions to Visit in San Marino
Best Restaurants in San Marino
---
---