One aspect of San Francisco that makes this iconic city so unique is its many different neighborhoods. For such a small city, San Francisco has a number of unique neighborhoods, each of which has a completely different vibe. Whether you'd rather stay somewhere in the middle of the action, or in a more quiet environment, check out our top picks for where to stay in San Francisco.
---
Where To Stay in San Francisco: Best Hotels and Neighborhoods
San Francisco is famous for its eclectic vibe, cool summers, steep hills, and, in more recent years, growing tech industry. Between its large collection of diverse restaurants, bountifully amazing views, and endless number of activities, there truly is something for everyone in San Francisco.
Since it has so many neighborhoods, it can be a bit tricky for visitors to decide where they should stay. In this article, we cover our favorite parts of town to stay in, based on their proximity to places to eat and things to do, as well as the hotels themselves. Read on to start planning where to stay in San Francisco for your upcoming trip!
Pro Tip: Bookmark this post so you can circle back to it while you decide on a hotel. We update it frequently so you have the best recommendations no matter when you travel.
Our Partnership with Booking.com. If you like our content, please book by clicking on our Booking.com links. The price is the same for you, and we get a small commission that helps support our helpful blog content. We've partnered with Booking.com because they have the most options, great prices, and a solid loyalty program.
Nob Hill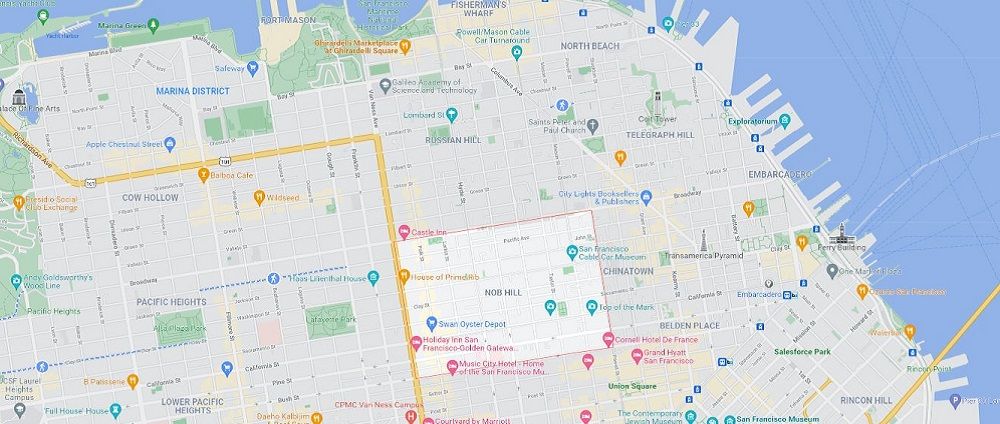 Nob Hill is home to some of the most luxurious hotels in the city. This is the place to stay for those who love dining out in style and admiring architecture. Keep in mind that, true to its name, the neighborhood is at the top of a steep hill. If you or anyone in your group might have difficulty walking up steep hills fairly often, this is likely not the neighborhood for you.
Otherwise, Nob Hill is an area full of restaurants and things to do, and is close to the bustle of downtown San Francisco. If you're looking to stay in a 5-star hotel with many attractions nearby, consider Nob Hill when you're deciding where to stay in San Francisco.
Why I Love Nob Hill
It has awesome views of the city—being on top of a steep hill will do that!
Easy access to SF's famous cable cars and the Cable Car Museum so you can learn about them!
It's centrally located to many SF attractions
Close to many highly-rated restaurants
Attractions Near Nob Hill
Grace Cathedral
SF Cable Car Museum
Chinatown (right next door)
The Financial District
Top of the Mark, a high-end cocktail bar with amazing views (Mark Hopkins Hotel)
Walking tours to better learn about the neighborhood
15 minute walk to Lombard Street, the "most crooked" street in the world!
Best Restaurants in Nob Hill
Tonga Room & Hurricane Bar—you'll feel like you're inside a rainforest!
House of Prime Rib—highly acclaimed steakhouse
Swan Oyster Depot—casual spot with highly-rated oysters
Rue Lepic French Restaurant—good for date night
Best Hotels in Nob Hill
Fairmont San Francisco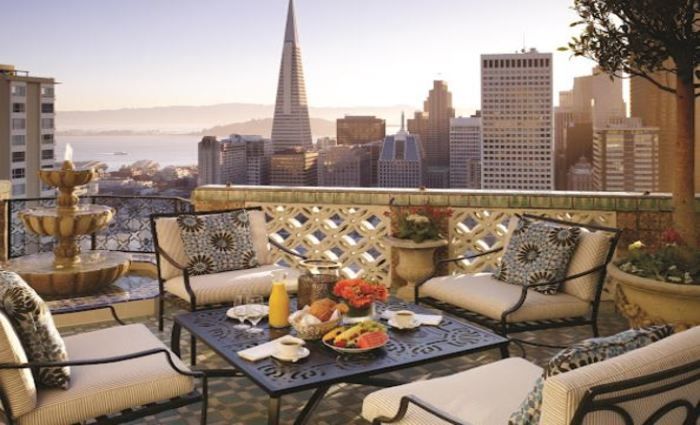 $$$ | 4 Star Hotel | Historic & Iconic
A truly classic San Francisco hotel, operating since 1907. This hotel features luxurious rooms and fantastic views from the top of the hotel and various rooms. They also have three dining options inside the hotel, including the famous tiki-inspired Tonga Room & Hurricane Bar.
The Ritz-Carlton, San Francisco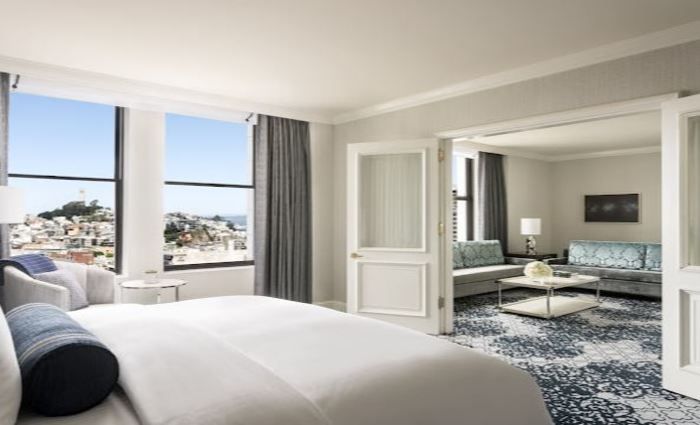 $$$$ | 5 Star Hotel | Excellent Service
The Ritz-Carlton has everything you would expect from a 5-star hotel. This hotel boasts very friendly service and is only a few minutes walking from Chinatown and Union Square. Some rooms also have incredible city views and oversized sitting areas.
Petite Auberge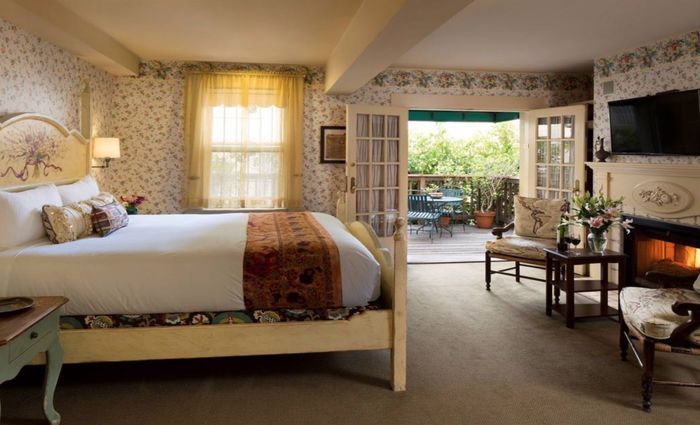 $$ | 4 Star | Bed and Breakfast | Evening Wine Tasting
This unique bed and breakfast includes a complimentary, wine happy hour every evening, as well as an adorable back patio, which is perfect for relaxing with a book after a long day. Each of its 26 rooms are quaint, clean, and spacious. Petite Auberge offers several booking packages, including the "get out and explore package," which includes a scavenger hunt and prizes!
Financial District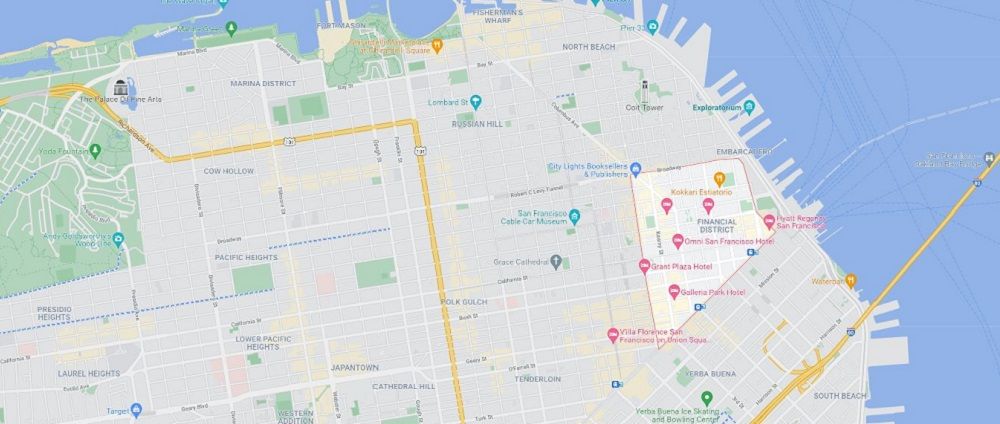 San Francisco's Financial District is home to several offices, banks, and business centers. If you want a truly bustling city feel while in San Francisco, this is the neighborhood to be in. Despite its classic city vibe, the Financial District (or "Fi-Di," as it's affectionately called by locals) is also located close to the Ferry Building and the Embarcadero Waterfront. You can stroll on a pathway overlooking the bay and briefly forget you're in a city, then be back at your hotel in only a few minutes.
Why I Love The Financial District
Tons of restaurants
Bustling city feel
After-work happy hour spot
Attractions Near The Financial District
The Embarcadero Waterfront
The Ferry Building
Wells Fargo Museum
Transamerica Pyramid
North Beach (Italian food!)
Best Restaurants in the Financial District
Tadich Grill—the oldest restaurant in San Francisco and well-known for its seafood!)
Perbacco—Italian cuisine
The Shota—Japanese fare
Leo's Oyster Bar
Best Hotels in the Financial District
Hyatt Regency San Francisco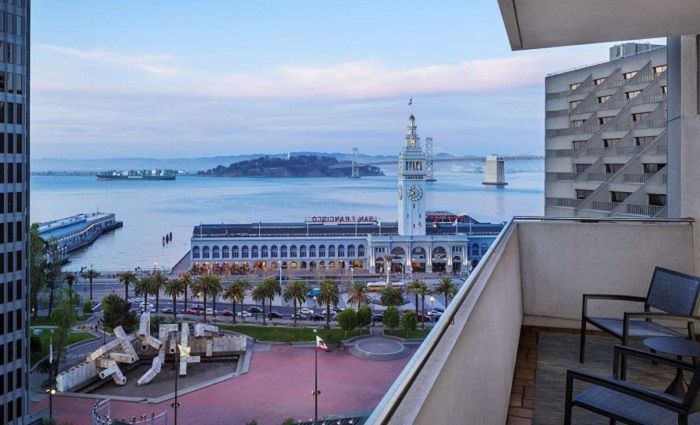 $$$ | 4 Star | Over-the-Bay Views
When you stay here, the Embarcadero Waterfront and the Ferry Building are literally outside your front door! You'll love the spacious and modern rooms here too. When you're not relaxing in the room or exploring the Embarcadero, you can enjoy the Eclipse Restaurant and Lounge if you prefer fine dining on-site.
Four Seasons Hotel San Francisco at Embarcadero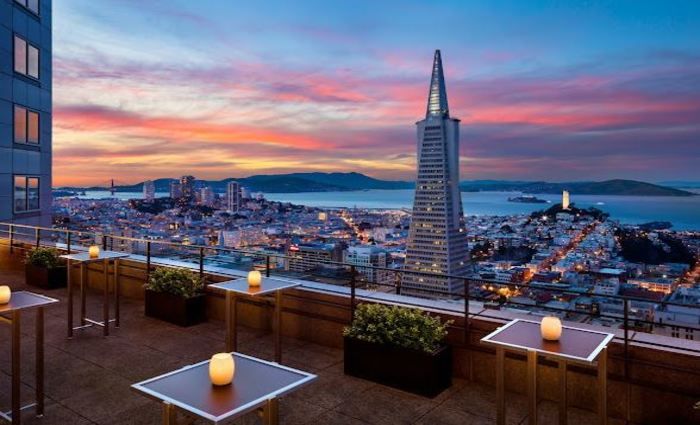 $$$$ | 5 Star | Fantastic Views
This hotel occupies the last 11 stories of a 48-story building, so every room has an amazing view overlooking the city. You'll even be able to see the famous Golden Gate Bridge from a distance—fog permitting, of course! Some other cool things about this hotel is the room service and in-room massages that bring relaxation to you.
Omni San Francisco Hotel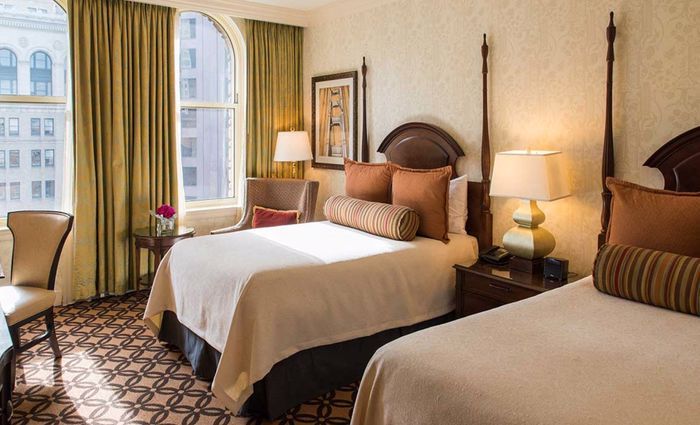 $$$ | 4 Star | Fantastic Service & Amenities
Located right in the middle of Financial District, Omni San Francisco has clean, spacious rooms. They even provide a cozy robe for guests! Omni is known for its great, friendly service. Guests are well taken care of during their stay here.

Hayes Valley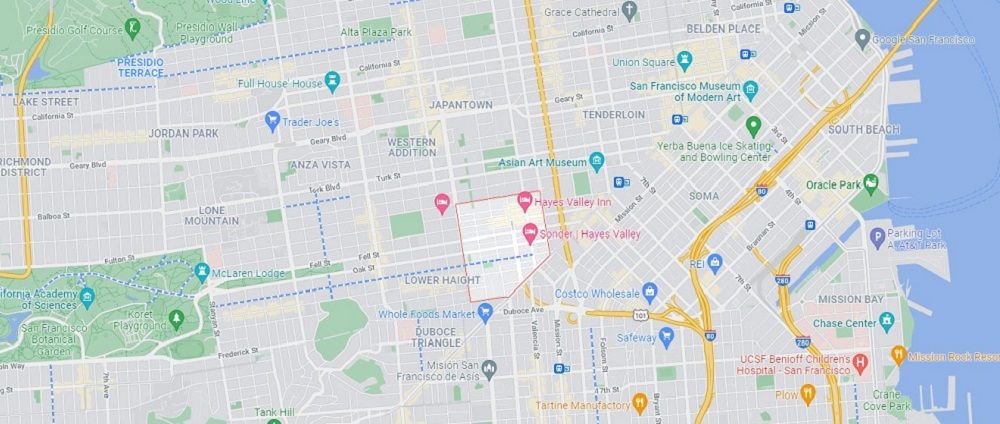 Hayes Valley is a great little neighborhood that's very centrally located in the city. In recent years, it transformed into one of the more hip areas of San Francisco. Head here for boutique shopping and lots of trendy restaurant and bar options. Check out where to stay in San Francisco's Hayes Valley neighborhood.
Why I Love Hayes Valley
Cute neighborhood
Tons of restaurants
Very central location
Attractions Near Hayes Valley
Alamo Square
The Painted Ladies (colorful houses)
San Francisco City Hall
Shopping
Best Restaurants In Hayes Valley
Chez Maman West—French bistro
Rich Table—local California cuisine
Souvla—trendy Greek cuisine
Nojo Ramen Tavern
Salt & Straw—handmade ice cream
Best Hotels in Hayes Valley
The Grove Inn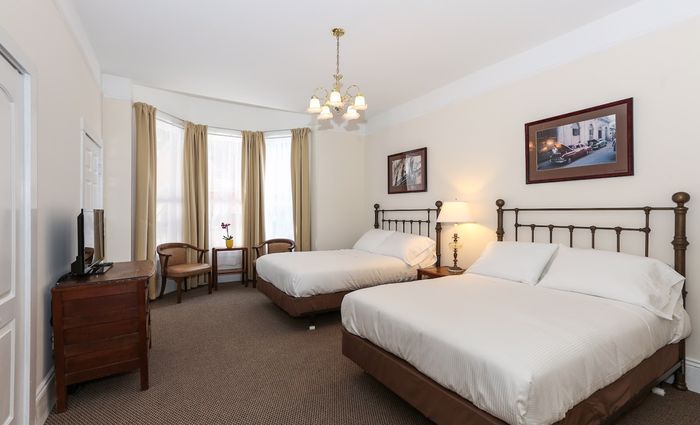 $$ | Bed & Breakfast | Quiet Location
Located a short walk from the famous Alamo Square, the Grove Inn is a charming bed and breakfast with helpful staff. The rooms are on the small side, but they are clean. Guests love the breakfast in the morning, and the location—close to the park and tasty restaurants but not overly busy or hectic.
Chateau Tivoli Bed and Breakfast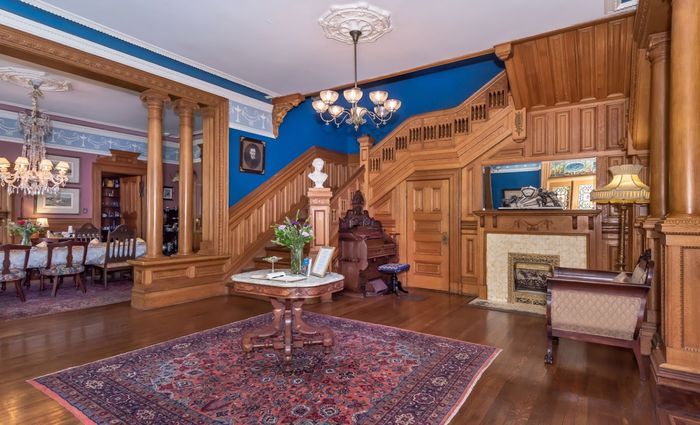 $$ | 4 Star | Ideal for Couples
This charming bed and breakfast is located in a Victorian mansion. Praised for their delicious breakfast offering and weekend champagne brunch, Chateau Tivoli boasts just nine cozy rooms. You might book a room with a four-poster bed, a claw-foot tub, or a private parlor with dining in the turret. It's so charming, you'll want to extend your stay.
Union Square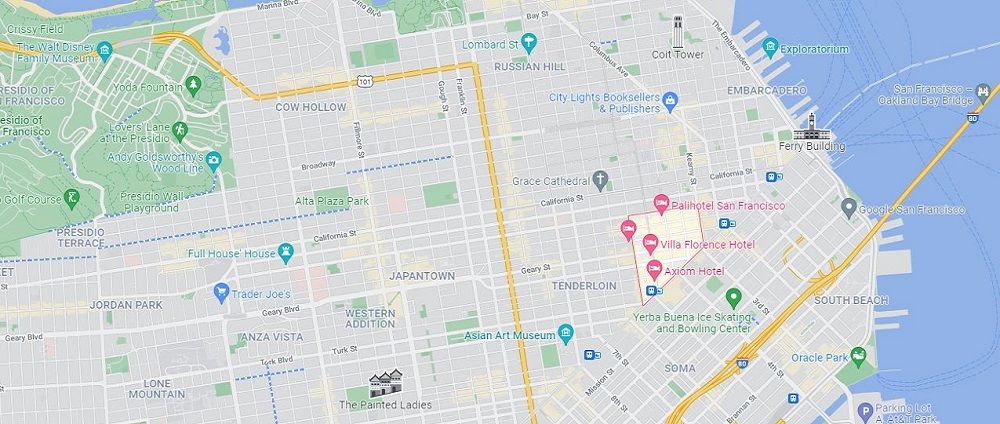 If you like to shop until you drop, Union Square is for you. This bustling area is where you'll find major department stores, bars, and restaurants. If the heart statues that surround the area are any indication, you'll fast realize that Union Square is the heart of San Francisco, so expect big buildings, crowds, and a real metropolitan feel.
Union Square is also where the city puts up an enormous Christmas tree and an equally enormous Hanukkah menorah every holiday season. Oh, and it's where the holiday ice rink is set up each season. It's also the starting point for many events and has an overwhelming number of hotels, so you'll have a lot of choices here. Let's narrow down where to stay in San Francisco's Union Square district.
Why I Love Union Square
Experience the hustle and bustle of the city
Great shopping
Major transportation hub (easy to get anywhere else in the city)
Attractions Near Union Square
Maiden Lane (high end shopping)
Westfield Mall
Cable cars
Close to many conventions
San Francisco Museum of Modern Art (11 minute walk)
Best Restaurants in Union Square
The Rotunda—inside Neiman Marcus
Cesario's—classic Italian
Mensho Tokyo SF
Best Hotels in Union Square
The Westin St. Francis San Francisco on Union Square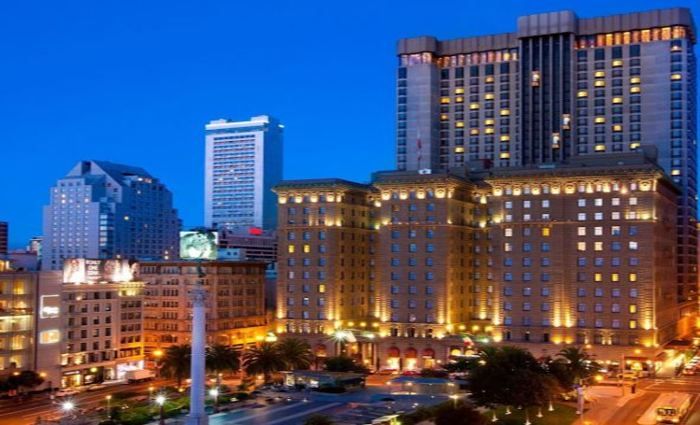 $$$ | Fantastic Location | Surprisingly Affordable
You can't miss The Westin! This massive, iconic hotel is located right on Union Square. If you splurge, you can grab a room with awesome views of all the activity going on below. This is a beautiful hotel and more affordable than many other big-name chains. Definitely worth looking into!
Orchard Garden Hotel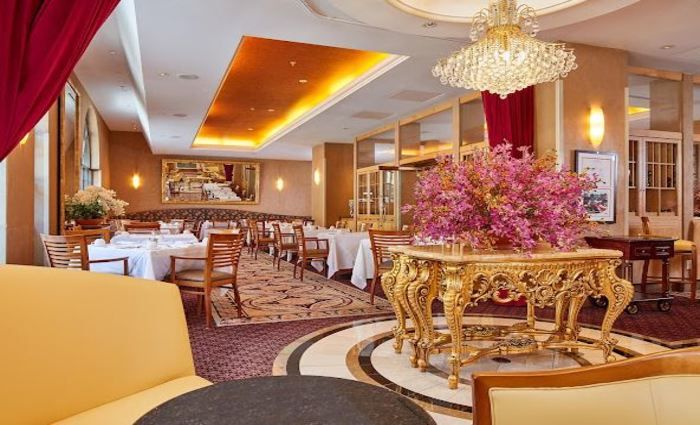 $$ | Amazing Customer Service | Quiet & Clean
A boutique hotel providing top-notch service and only a five-minute walk from Union Square, the Orchard Hotel provides clean, spacious rooms. Guests love how the room is furnished. If you are looking for middle-of-the-road pricing coupled with quality, this is it.
Hotel Nikko San Francisco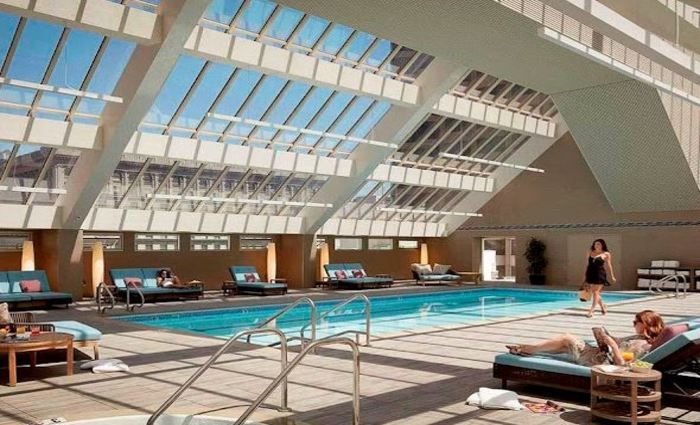 $$$ | 4 Star Hotel | Indoor Pool & Sauna
This is a beautiful, modern hotel with an upscale Japanese restaurant on site (Azu). Hotel Nikko's swimming pool, sauna and hot tub are also big plus. And there are bath robes and slippers provided in each room! You'll also find a fire pit on the fifth floor for maximum coziness.
Pacific Heights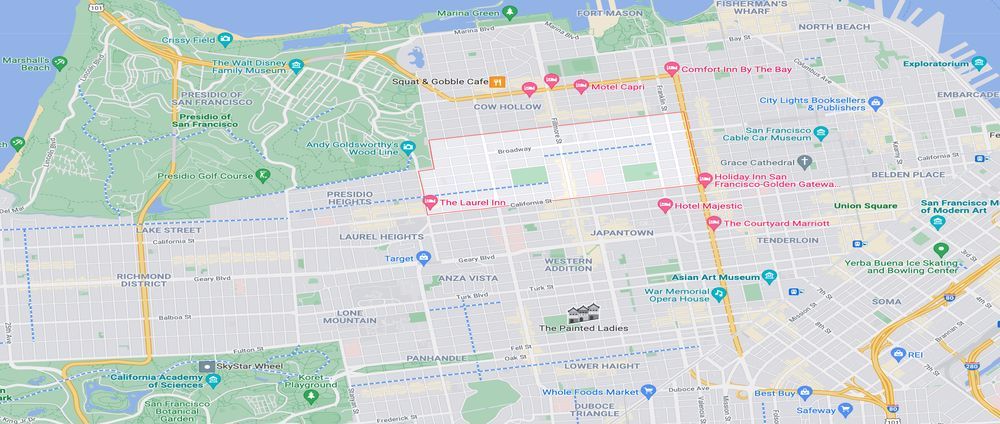 Pacific Heights is a largely residential area, but a short drive or bus ride away from most busier neighborhoods in the city. Despite being farther away from the action, Pacific Heights is a great location for couples who want some quiet or families or those who don't like staying in too much of a metropolitan environment. The quaint area is full of many restaurants and cafés.
Why I Love Pacific Heights
Quiet and calm
Live like a local
See a different side of the city
Attractions Near Pacific Heights
Alta Plaza Park
The Presidio for nature walks
Close to Fillmore Street for shops and restaurants
Close to Divisadero Street for cafés and bars
Best Restaurants in Pacific Heights
Sorrel – upscale Californian/Italian cuisine
Sweet Maple – popular brunch spot
B Patisserie – mouthwatering pastry bakery
State Bird Provisions – American small plates
Best Hotels in Pacific Heights
Hotel Drisco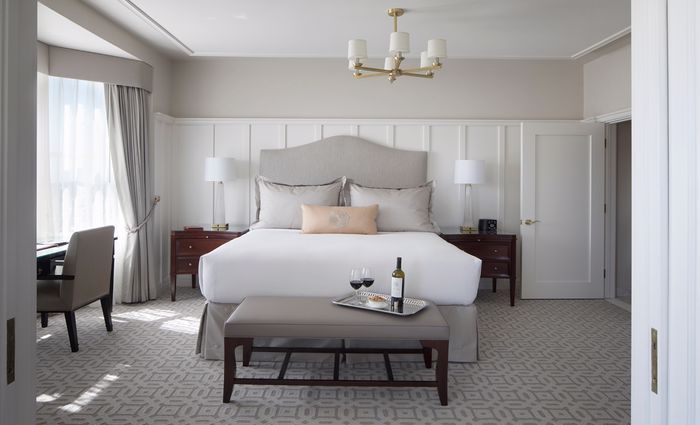 $$$ | 4 Star | Excellent Amenities | Two Blocks from the Presidio
Hotel Drisco is inside of an Edwardian building from the early 1900s. Well-known for its gourmet continental breakfast, afternoon wine and cheese tasting, this hotel also boasts highly attentive staff. And since it's close to the Presidio, they also offer bike rentals for your convenience. But you might love the ultra-comfy rooms the most: pillow selection, goose down comforters, and even a sleep machine if needed.
Laurel Inn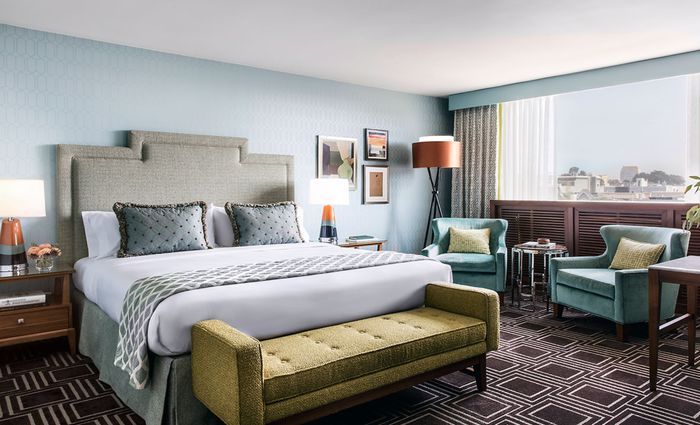 $$ | Quiet Neighborhood | Close to the Presidio
As part of Hyatt's JdV hotel collection, Laurel Inn is a cozy inn with good views and comfy beds. Guests love the friendly staff and nice rooms. The covered parking garage and free coffee in the lobby are also a big hit since parking is a known challenge in this city.
Monte Cristo Bed and Breakfast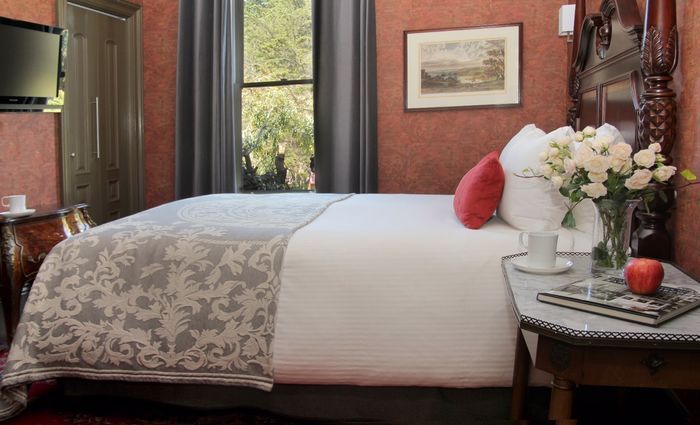 $$ | Made-to-Order Breakfast | Highly Attentive Staff
The building that houses the Monte Cristo has been in San Francisco since 1875! This European-style bed and breakfast offers superb hospitality and an amazing made-to-order breakfast for its guests. Although the building is old, the rooms are modern (and sound-proofed!).