León is a small town on the border between Castille and the north of Spain. The city and the area have always been important historic enclaves for the development of Spain and Spanish heritage. So León is the perfect getaway destination for those who want to dive into Spanish history without the bother of a big bustling city. With so much culture and history to discover, this list will help you find the best hotels as you plan where to stay in León, Spain.
---
Our Partnership with Booking.com. If you like our content, please book by clicking on our Booking.com links. The price is the same for you, and we get a small commission that helps support our blog. We've partnered with Booking.com because they have the most options, great prices, and a solid loyalty program.
Here's What You Need to Know:
León is the capital of the province of León in the region of Castilla y León (Castille). It used to be its own separate kingdom for a great part of the Middle Ages, so it is full of history, culture, and heritage. The history of León goes all the way to Roman times, and although it was very prolific during the Middle Ages, modern times also have left a deep impression in this community.
Leon has an interesting geographic location as it shares a border with the northern communities, so you can get to the coast in 2 hours by car. It is also not too far from Madrid—just over 2 hours with the AVE train services. Leon is also on the route for El Camino de Santiago and has one of the top 30 universities in Spain. With all of this variety, there is always something fun and interesting to do in this city.
Being a small city, the accommodation and hotels are all mostly around the city centre and old town, so keep that in mind when thinking about your holiday in León.
León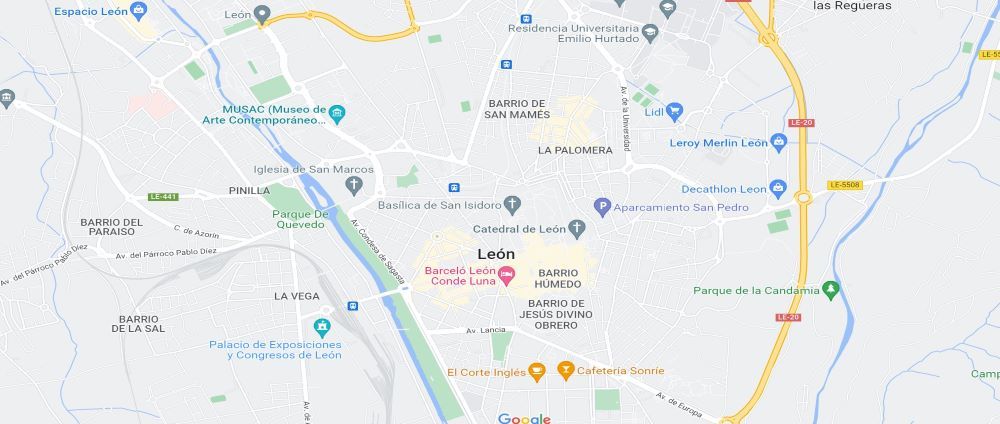 This is the heart of the city. It is located on a hill by the two rivers that create this landscape: the Bernesga and Torio. Because of these rivers, the Romans originally set their camp and planned the city. The layout is still very similar to that of a medieval city, with the narrow streets that widen as you reach the more modern parts. It is full of picturesque walks and lovely sites of the rivers and the gardens.
Why I love León
So much history to discover
For a small city it has many green areas, parks, and gardens to cool down in the warm Mediterranean climate
La Ronda, a special Easter display during the Spanish Semana Santa
Cecina de León, one of the tastiest cured meats ever and typical of this area
Attractions In León
León Cathedral
Basilica de San Isidoro
Convento de San Marcos
Palacio de los Guzmanes
The city walls
Plaza Mayor
Casa Botines
Best Restaurants in León
Restaurante Alfonso Valderas
Restaurante Pablo
Casa Mando
KAMIN
LAV
Best Hotels for León
Parador de Turismo de León
€€€ | 5 Star | Parador Hotel | Renaissance Monument
As a general rule of thumb, you can never go wrong with a parador-style hotel in Spain. These are hotels recognised by the Spanish tourism industry for their location near a historic place or in a historic building. You will be staying in one of the most characteristic buildings of the Spanish Renaissance in the old convent of San Marcos. Don't miss the café to see some beautiful paintings too.
Apartamentos MK77 León – Palomera
€€€ | 3 Star | Full Apartment | Modern Built
These newly built apartments are exactly what travelers want if they prefer an entire apartment with amenities. This is not a student-like hostel. These apartments are decorated in a nice modern style and have full kitchens and patios so you can enjoy a comfortable stay in León. They are also only a 7-minute walk from the Basilica de San Isidoro.
13 Suites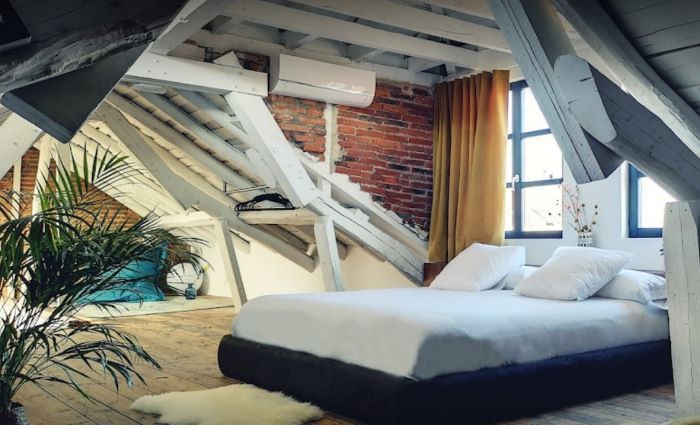 €–€€€ | 3 Star | Adults Only | Great Location
13 Suites has a variety of accommodations to suit your needs from rooms to suites or apartment. This property is adults only, so for the ever-growing market of adult-only holidays and those interested in this type of vacation, this is the place to go. Finally, it could not be in a better spot. It's halfway between Casa Botines and the cathedral, so it's right in the city centre.
Palacete Colonial
€€€ | 3 Star | Boutique Hotel | Indoor Pool
This hotel is inside a renovated colonial palace in the centre of León. As a boutique hotel, it only has 12 rooms that are elegantly designed for your comfort. The great thing about this hotel is that it has its own fancy indoor pool. You will be glad for this cool place to relax out of the hot Castillian summers.
Hotel Neru con Encanto
€€ | 2 Star | Minimalist | Best for El Camino
This brand new, modest hotel is near all the important monuments in León. It is designed with minimalism and simplicity in mind to promote the guests' comfort. Besides, for those interested in history, there is a piece of the original medieval city wall inside this hotel. Moreover, this is one of the best places to stay if you are doing el Camino, as they have several services and resources designed for this.
Slow León Apartamentos Turísticos
€€ | 3 Star | Aparthotel | Sustainable Property
For those interested in slow-paced tourism and sustainability, this is the place for you. Slow León is a modern building with four eco-friendly apartments that have received the Passivhaus rating for low carbon emissions and more. The modern, urban look of the apartments is charming, and the loft properties have a quaint feeling to them that almost makes time slow down.
Camarote Hotel
€€€ | 3 Star | Best Views | Gastronomic Experience Restaurant
This is by far a top hotel with the best views in León. Wake up every day to see the famous León Cathedral. In addition, the hotel is elegant and sophisticated, and it only has 16 rooms, so you won't be overwhelmed by other guests. Finally, I have to mention the restaurant where you will be delighted by local cuisine made with local produce.
Albergue San Pelayo
€ | Albergue | Perfect for Green Tourism and El Camino
Albergues, like paradores, are a specially recognised type of accommodation in Spain that are like hostels that are often found in the countryside. This hotel is only 20 minutes away from the city centre, but it's one of a chain of rural accommodations that cater to people doing El Camino. As a bonus, it's also fully accessible for people with limited mobility and pets are welcome—even horses!
Silken Luis de León
€€€ | 4 Star | Great for Shopping | Business Holiday Hub
The Silken in León is in the more modern part of the city just a short walk away from the old town. There are lots of shops here and businesses, so if you enjoy retail therapy or are coming to León for business, this is the best place to stay in. It is also a good place to stay for those who like to enjoy local food with a modern twist.
Hostal San Martin
€ | 3 Star | Cheap Hostel | Perfect for Solo Travelers
Every city worth visiting has a reliable, cheap hostel, and in León you'll find Hostal San Martin. It's also in the city centre, and it's an affordable option and the best location for solo travelers. The hostel is clean and simple, yet comfortable, and it is a few minutes' walk the cathedral.