Worked up an appetite exploring the museum or near Russel Square and getting hungry? Not to worry! Our local London foodie has compiled this list of the best restaurants near Russel Square and the British Museum.
---
Pro Tip: Planning where to eat near the British Museum? Bookmark this post in your browser so you can easily find it when you're there. Check out our guide to London for more planning resources, our top London tours for a memorable trip, and the top things to do in London.
Top Places To Eat Near Russel Square in London
The British Museum is the most visited museum in the city of London. If you're anything like me, you'll really work up an appetite with all that walking around and learning. In this list, you'll find our go-to restaurants near Russel Square and the British Museum.
The Shell
££ | Seafood | Big Portions
This is the perfect place to order a ton of food to share with your friends. The Shell offers a wide variety of fresh, locally-sourced seafood, along with beautifully cooked steak, and a fine selection of wine. Tucked away beneath a bright blue neon sign, The Shell's cozy interior doesn't have the stuffy, straitlaced atmosphere of other restaurants of its kind, but that's why we love it.
And talk about value. With platters titled "The Big" and "The Huge", piled high with shrimp, crab, oysters, whelks, winkles, and prawns, you're not leaving this place hungry. It's the best seafood near Russel Square, bar none.
Address: 124 Southampton Row, Holborn
Popular London Tours
Popular London Tours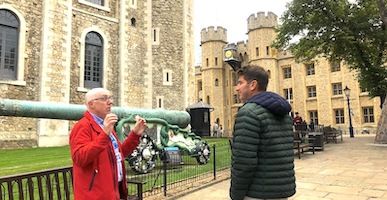 Best Selling Tour
Legends and Lore Tour of the Tower of London
How can you explore London's top attractions without getting overwhelmed? By joining this guided small group tour! With 1,000 years of history and acres of buildings, the Tower of London is easier to explore and understand with the help of your local guide. Best of all, you'll even see the famous crown jewels and have a boat ride down the River Thames.





See price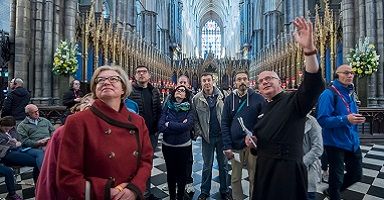 Top Selling Tour
London Walking Tour with Westminster Abbey and Changing of the Guard
This is the perfect tour for someone who wants to get to know the real Westminster Abbey. With skip-the-line entry, you get some quiet time in the nave of the abbey with your guide and small group before exploring the tombs of notable kings, queens, philosophers, and more. Depending on the day, you'll even get to see the Changing of the Guard ceremony at Buckingham Palace.





See price
Not ready to book a tour? Check out our article on the best London tours to take and why.
The English Garden Restaurant
£££ | Continental | Close to the Museum
If you're not looking to walk far from the museum, then head to the Grange White Hall Hotel on Montague street for this hidden gem of continental cuisine. To start, we recommend keeping it simple with warm goat's cheese melted over freshly baked French bread, before moving on to one of the varied entrée options.
On the menu, pork tenderloin medallions and tender lamb cutlets appear side-by-side with chicken curry and stir-fried egg noodles. All of it is delicious and presented beautifully.
In terms of atmosphere, the title says it all. There are windows on all sides of this elegant dining room looking out onto the hotel's lush garden overlooking the British Museum, which is a lovely place to stroll after lunch. It's definitely one of our favorite restaurants near Russel Square.
Address: 2-5 Montague St, Holborn
Leon
£ | American and Mediterranean | Quick and Easy
If you're looking for something quick and easy, then Leon is the perfect place. It's a great spot to grab an egg muffin or shakshuka in the morning before hitting the museum.
For lunch, you can keep it simple: cheesy loaded fries, sweet Carolina BBQ burgers, and hearty slaw. If you're not in too much of a rush, however, we'd recommend taking a long look at the menu. The grilled eggplant, paprika chicken, and sweetcorn ribs are fantastic.
Address: Unit 2, Brunswick Centre, Bloomsbury
Isolabella
££ | Italian | Authentic
A list of top restaurants near Russel Square would be incomplete without this gem of authentic Italian cuisine. Isolabella is just a 10-minute walk from the British Museum and offers an extensive menu of Mediterranean dishes in an intimate setting. To be honest, the menu is a bit overwhelming in terms of options, but we'll highlight a few.
The Bresaola Rucula e Parmigiano consists of cured beef sliced thinly, drizzled with parmesan, and is the perfect choice for a starter. The Suprema Di Pollo Crema e Funghi is a chicken filet covered in cream and mushroom sauce that pairs beautifully with the wide selection of white wines available (try the Verdicchio Classico).
If you're a vegetarian, then you might have a little trouble with this menu, but the cannelloni (baked in béchamel sauce and filled with spinach and ricotta) are a great choice.
Address: 45-46 Red Lion St, Holborn
Nostimo Mediterranean Gastronomy
££ | Greek | Affordable
Just a five-minute walk from Russel Square, Nostimo Gastronomy is Greek food done right. That means the freshest ingredients, impeccable service, and recipes that have been passed down for generations.
While you can certainly make reservations, Nostimo is also a great place to pick up a gyro or some moussaka to share. And with most mains hovering around £13, it's the perfect balance of quality food and reasonable prices (a rarity in London, I can assure you).
Address: 9 Brunswick Centre Unit 9
MEATliquor
££ | Burgers and Fries | Trendy
Like Leon, MEATliquor doesn't try to be fancy, but if you're looking for cheap, deep-fried deliciousness then it gets the job done. Five minutes from Russel Square and set inside a cozy interior plastered with Warholian pop art posters, MEATliquor offers cheeseburgers with fries and a drink for only £10. Paired with any of their beers or alcoholic milkshakes, the food here is a knockout (in many ways, literally).
All of their meat is halal and sourced from the Scottish Highlands. We'd recommend the Dead Hippie burger, which includes two patties fried in mustard and covered with onions, cheese, and pickles. They also make some great vegetarian burgers out of tempeh, roasted potato, white onion, and seitan, so there's something for everybody.
Address: 15-17 Brunswick Square, Bloomsbury
Not ready to book a tour? Check out our article on the best London tours to take and why.
Namaste Holborn
££ | Indian | Vegan
Speaking of vegetarian options, Namaste Holborn is the place to go if you're looking for one of the best vegan restaurants near Russel Square. Authentically Indian, Namaste Holborn offers several Meal Box options that include lentil Dal, paneer curry, and soft basmati jeera rice.
It's the kind of place that you'll want to order a bunch and share with friends, just because there's so much good stuff on the menu. The vegetable massaman curry and the eggplant-based Baingan Bharta are fantastic, and they pair perfectly with freshly baked tandoori roti.
With its rustic interior, walls paneled with aged wood, and yellow incandescent bulb lighting, Namaste Holborn is perfect for a quick lunch or a romantic dinner.
Address: 33 Boswell St, Holborn
Restaurant HE
£££ | Chinese | Intimate
Bringing authentic Jiangsu cuisine from eastern China to Red Lion Square, Restaurant HE is our top choice for Asian restaurants near Russel Square and the British Museum. Though HE doesn't have a huge menu, it makes up for it with the sheer quality of the options available.
Starters like the hot and spicy Jiang Nan Kou Shui Chicken and Plum Tomatoes Salad are a great place to start before moving on to your entrée. We'd recommend the Sweet and Sour Squirrel Fish special if you want something that you'll likely not find in other Chinese restaurants. It's a recipe that's been passed down for over a century, and it's easy to see why.
Keep in mind, you'll definitely want to make reservations. Restaurant HE is quite small and seats can fill up quickly, but it is definitely worth the extra effort.

Address: 27 Red Lion St, Holborn
Balthazar
£££ | French | Authentic
Named after a film by Robert Bresson, it doesn't get more French than this. A great spot to grab a coffee and some freshly-baked pastries, Balthazar on Russel Street is a great place to stop if you're on your way to the Museum from the South. The menu is graced by a number of breakfast options ranging from pancakes and croissants to eggs made however you like.
If you're looking for something light, you can't go wrong with the chocolate profiteroles or the apple tarte fine with salted caramel ice cream. That's not to say you can't head here for dinner. In fact, Balthazar's set menu includes classics like Duck Confit, Roasted Chicken with Truffle and Crème Fraiche, as well as oysters, lobsters, and caviar. It's like a little Paris in the heart of London.
Address: 4-6 Russell St, Covent Garden
Barrafina
£££ | Tapas | Seafood Specialty
We'll finish off this list with the perfect place if you're traveling in a group. Barrafina on Drury Lane is an intimate tapas bar that takes its offerings from an authentic Spanish culinary tradition. It's not a huge menu, but everything is great, and if you're with friends you'll be able to try a lot.
Barrafina's specialty is seafood, and there are some great options to choose from. We definitely recommend the king scallop or the mussels a la brasa. Paired with a side of roasted aubergine and padrón peppers and chips, along with a bottle of sherry to go around, these tapas really bring a group together.
Address: 43 Drury Ln, Covent Garden