One of the most interesting experiences while being in Barcelona is visiting its markets. The diversity within the city markets includes some of them with a classic style while others show some modern renewed aesthetics that have mixed the commercial foundations of the city with more contemporary and groundbreaking proposals. Offering from delicious tapas to the freshest products, flowers or antiques, these are the best markets in Barcelona.
---
La Boqueria Market, tasty and colorful in the city center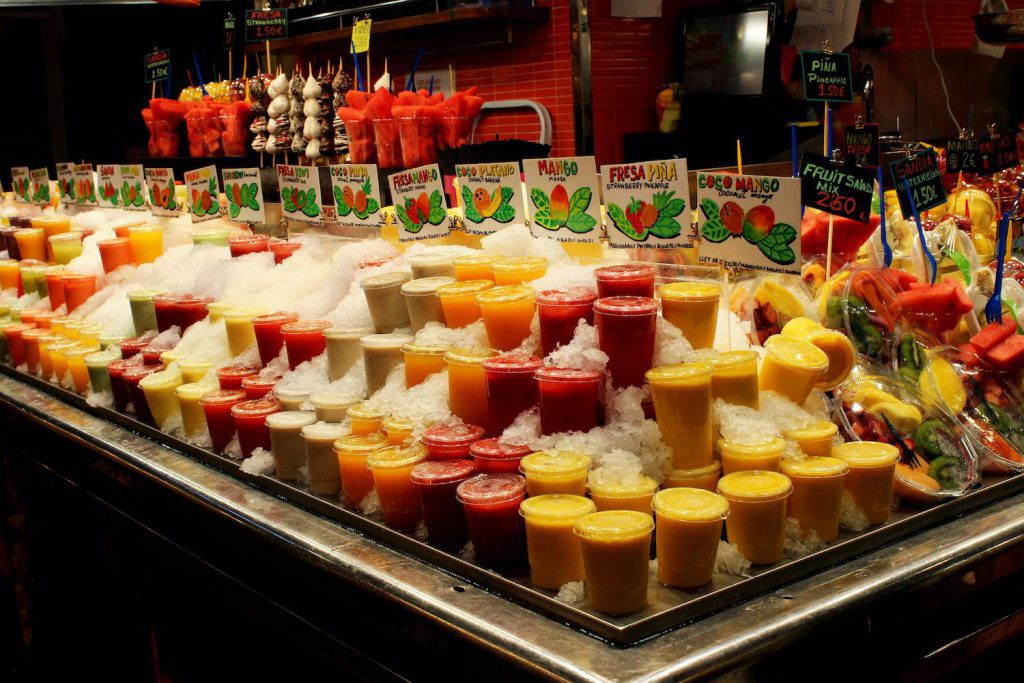 The most famous market in Barcelona is El Mercat de Sant Josep de la Boqueria, regularly called La Boqueria. Located right in the heart of the busy Las Ramblas avenue, the place is widely known because of its tapas restaurants and the fresh food and groceries sold in the stalls. From paella to mussels or fine wine, La Boqueria has something for every palate.
Probably one of its most eye-catching items, which is also one of the market's best-sellers, is its large variety of colorful and tasteful fruit juices. The diversity of colors and flavors, including national and tropical fruits, makes the display of the stalls a striking and appetizing rainbow. La Boqueria market is so well-known that they even sell their own merchandising; its unbeatable location has made this place especially attractive for tourists.
Address: La Rambla, 91, 08001 | Phone: +34 933 18 25 84| Hours: Mon-Sat, Sun Closed
Els Encants, Barcelona's largest flea market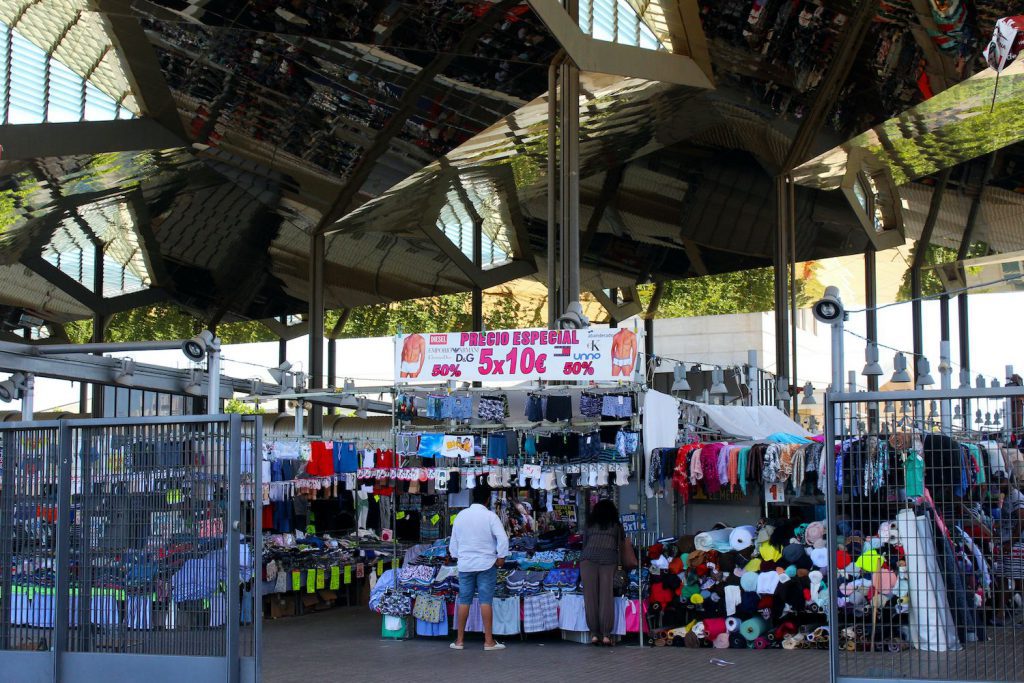 At the heart of the Glories neighborhood, the Mercat Fira de Bellcaire Els Encants is Barcelona's largest and oldest flea market. Els Encants has in it a bit of a garage sale, an antique fair, regular shops, and an old-school market. Almost everything that you can imagine can be found there, from ornaments to antiques, cameras, second-hand clothes, and books, but also, new clothes and furniture or electronics are available in their shops; the diversity of objects displayed is fascinating.
While walking through their large amount of shops and stands it is easy to get hungry, and the market also has a variety of restaurants. A remarkable example is La Palmera, a cozy bar at Els Encants that offers a very friendly environment where to enjoy their tasty tapas and nice cold beer; their 'ensaladilla' (potato salad) is a particularly safe bet for those who want to leave the place with a full belly and a smile on their faces.
Getting to this market is actually really easy by public transport as the metro and tram stop called Glories are just a few meters away from its entrance. As the icing on top of the cake, the market's emblematic mirror structure is located opposite to the magnificent skyscraper Glòries Tower, former known as Torre Agbar.
Address: Carrer de los Castillejos, 158, 08013 | Phone: +34 93 246 30 30 | Hours: Mon, Wed, Fri & Sat
Popular Barcelona Tours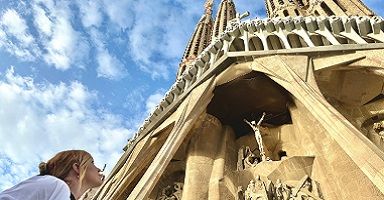 Best Selling Tour
Skip the Line Sagrada Familia Tour
Sagrada Familia is a three-sided gothic masterpiece designed by visionary Antonio Gaudí which has yet to be finished. The church is nearing completion and a wonderful display of color and architecture. Visit with a passionate local guide and skip the lines for admission!





See Prices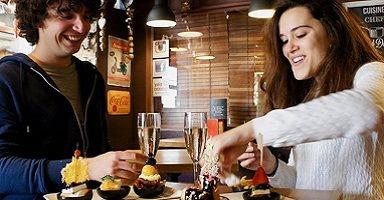 Customer Favorite
Barcelona Food & Wine Tour with Local Sommelier
We can't think of a better way to explore a city than to eat your way through it, and there will be enough tapas and wine to discover a lot of Barcelona! Join us on a delicious discovery of the Gothic quarter – one of Barcelona's most vibrant areas!





See Prices
Mercat de Sant Antoni, the largest market in Barcelona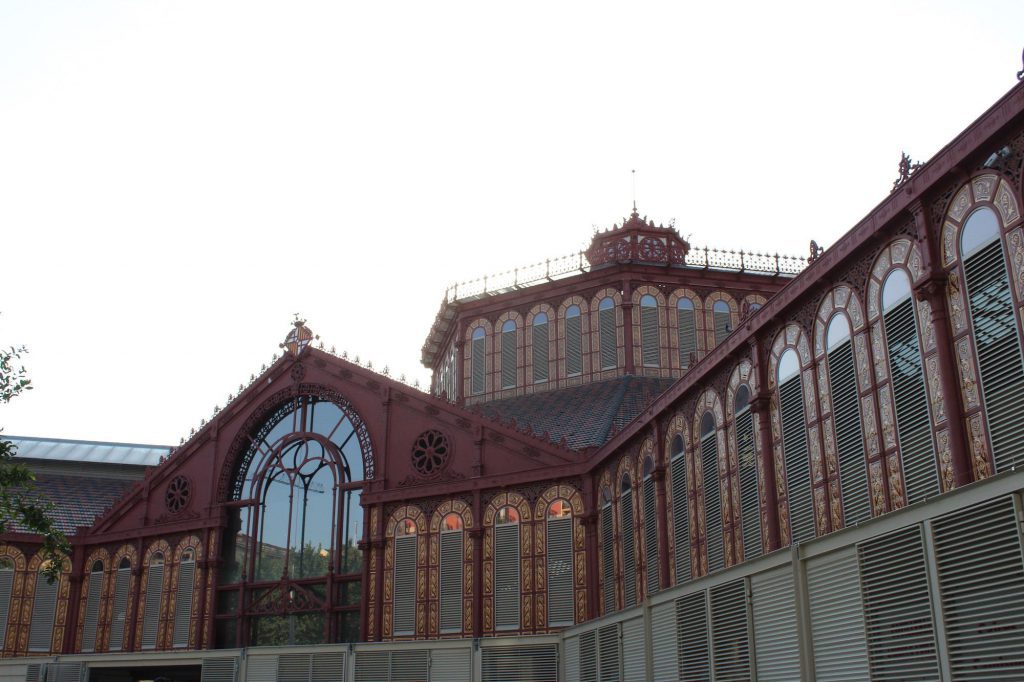 Sant Antoni is one of the most important markets in Barcelona, it is considered the largest one in the city and is the only one that offers commercial services 7 days a week. The market has one of the richest and most diverse fresh food offerings in the city.
The sale of food products in the inside of the building coexists and is complemented by the sale of textiles and other non-food products that are located around the market. Sundays are actually special at Sant Antoni, perfect to visit with the family, as they have their 'dominical' market where second-hand books, stamps collections, and antique comics are displayed.
This beautiful construction was designed by the architect Antoni Rovira i Trias, the building was finished in 1882. Sant Antoni is actually larger than La Boqueria and usually way less crowded; which makes it a great option for those looking to get away from Barcelona's downtown agitation while staying in the city center.
Address: Carrer del Comte d'Urgell, 1, 08011| Phone: +34 934 26 35 21| Hours: Mon-Sat and Dominical on Sundays
Mercat Santa Caterina, the most colorful market in the city.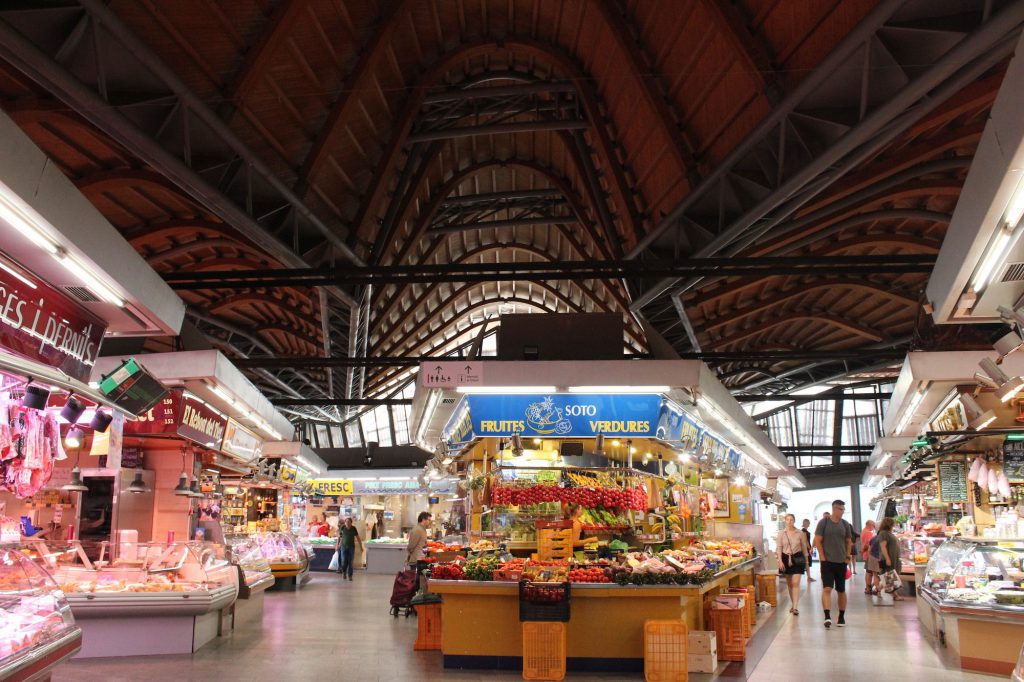 Colored slings are the hallmark of Santa Caterina, the food market's most striking feature is its characteristic brightly multicolored ceramic mosaic roof in the shape of a wave. While it is amazing from the streets, it was actually designed to be seen from the air. Its innovative design is not in line with the traditional look that can be seen in other markets in Barcelona.
Located at Ciutat Vella district and really close to Barcelona's Cathedral, this colorful food facility was renovated in 2005 but it has a long history around its walls; it was built in 1845 as the first roofed market in the city, and it was actually erected over a monastery with the same name as the current market.
Address: Av. de Francesc Cambó, 16, 08003| Phone: +34 933 19 57 40| Hours: Mon, Wed & Sat- Morning / Tues & Thur- full day / Sunday closed
Mercat la Concepciò food and flower market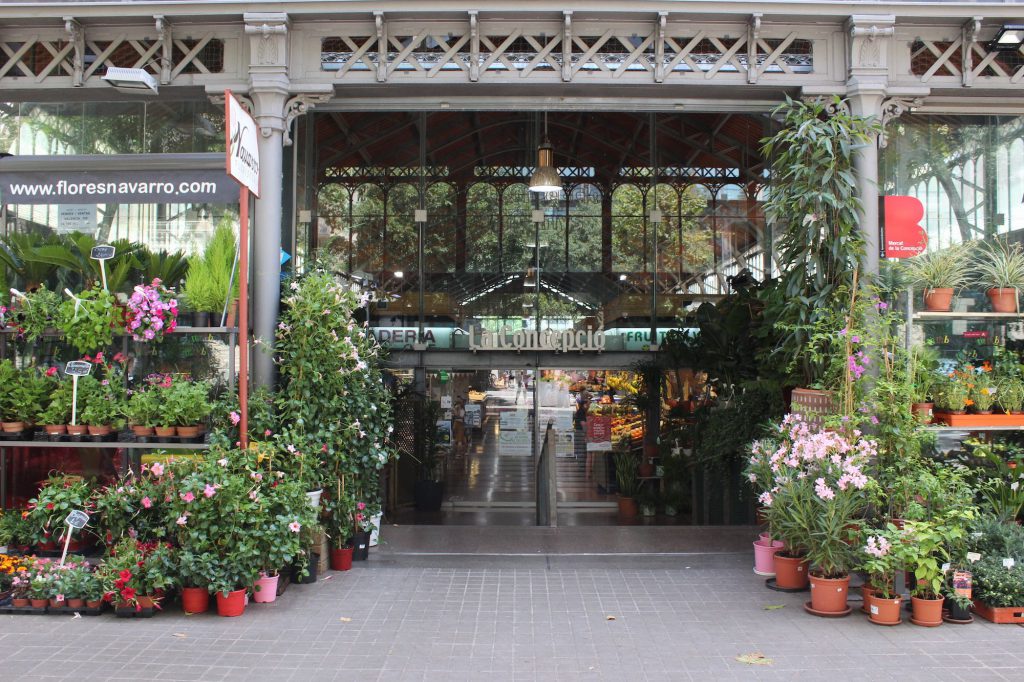 La Concepciò market offers a gastronomic and olfactory experience; in addition to the food bazaar and its fresh products, the freshness continues to the back of the place where they have their flower market. At this well-known flower market, located at the back entrance, all types of flowers and greenery are shown and available for garden lovers.
Placed in the attractive area of Eixample this centennial market has gone hand in hand with the rapid growth of the area, which is the most populated district of the city, and it has become key for this neighborhood as it holds social and sales live on its facility, on their website, there is a list of the workshop that they organize.
Address: Carrer d'Aragó, 313-317, 08009 | Phone: +34 934 764 870 | Hours: Sun Closed, also closed Mon and Sat afternoon
El Clot Market, merge yourself in the local roots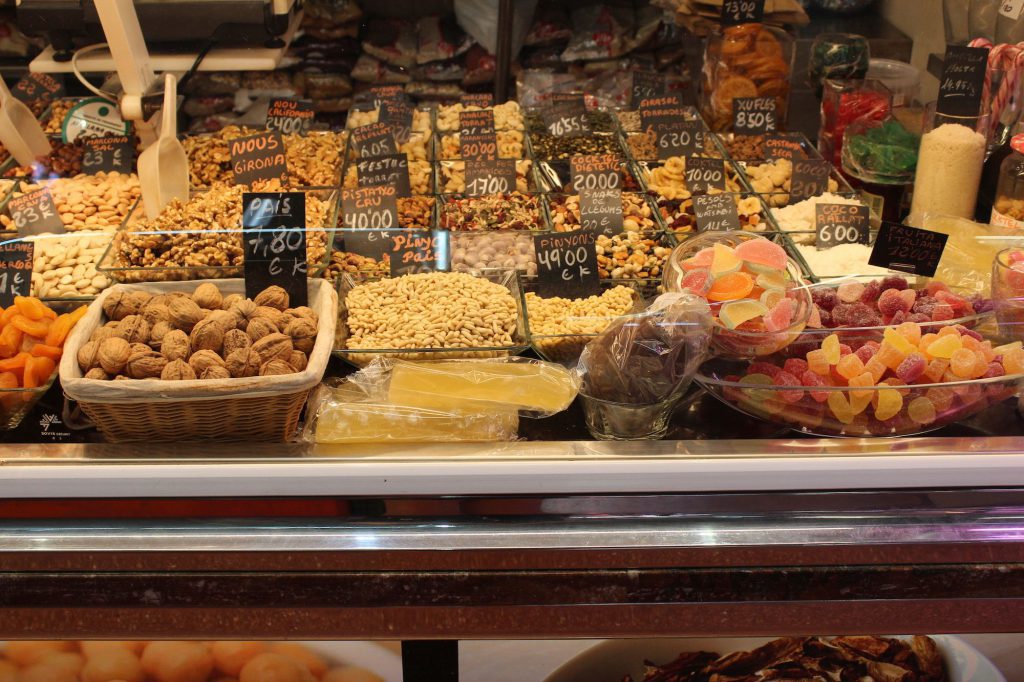 El Mercat del Clot is a local market, placed in the neighborhood of the same name, which maintains the area's classic atmosphere as it is done by and for the locals. Day to day conversations about friends, family, or the weather can be heard while buying fresh groceries, fish and meat, as el Clot has become a key commerce center and meeting point in the neighborhood. The market has been opened since 1889, reformed in 1995, and it is a great example of the modern style in Barcelona.
Address: Pl Mercat 26, 08018| Phone: +34 934 42 72 63| Hours: Sun Closed, also closed Mon and Sat afternoon
Popular Barcelona Tours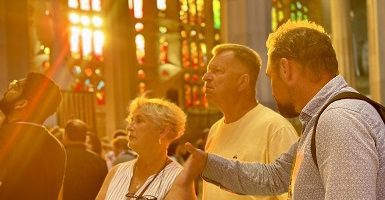 Best Selling Tour
Unbeatable Barcelona in a Day Tour

Our Barcelona in a Day tour covers all the major attractions plus hidden gems. This walking tour includes Sagrada Familia, Casa Batlló, Casa Mila, the Gothic quarter, Park Güell, and transportation to reach the more remote sites. You get skip the line entry and a passionate guide too!





See Prices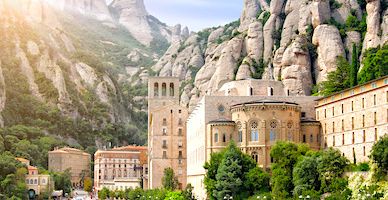 Day Trip
Full Day Trip to Montserrat from Barcelona with Winery & 3-Course Lunch
Enjoy a day away from Barcelona on this trip to a magical place nestled on a mountain top above the clouds. Experience Montserrat where the myth comes to life before visiting an amazing winery in the hills for lunch and wine tasting at an organic vineyard.





See Prices