Although Barcelona is not one of the largest cities in Europe, it is easy to get wrong directions or get lost in this beautiful place. Luckily, we are happy to help you through your first hours in Barcelona. Here, you can find the best Barcelona travel tips to make sure you're fully prepared to experience the city.
---
Getting from the Airport
The main airport in Barcelona is El Prat, which is located 20 km away from the city center, around 30 minutes by car. There are different ways to get to the city. The easiest and most comfortable one is taking a taxi, which will cost you around €40, depending on where you are staying in Barcelona, and it should take you around 30 minutes, depending on the traffic.
Another easy way to get to the city center is to take the Aerobus, a shuttle bus service that connects the Airport, both terminals, and the city center, stopping at Plaça Espanya and Plaça Catalunya, as well as in other two bus stops. This service is much cheaper than the taxi, and one-way ticket costs €5,90. The average time per journey is 35 minutes, and usually, the departure frequency is every 5 minutes.
A new and modern way to get to the city center is by using the underground system. The new metro line, L9, has recently connected the T1 of El Prat with the rest of the underground network of Barcelona. For using this service, you will need to get a special card, the Airport ticket, which costs €4,60 per journey.
Transportation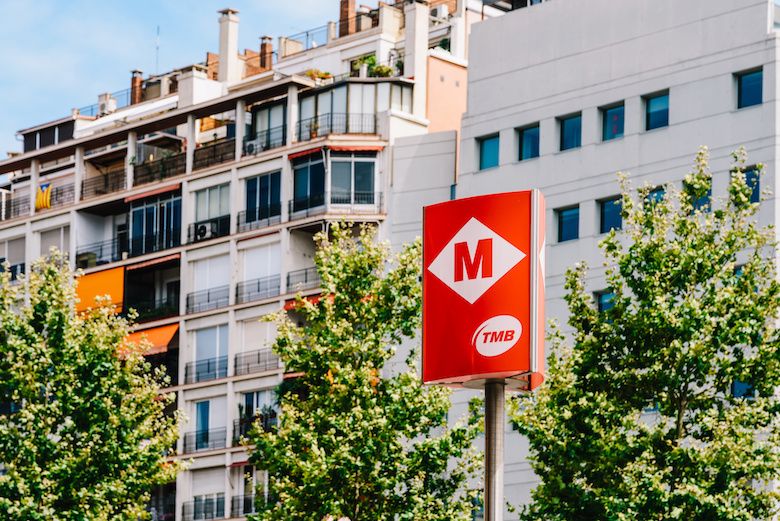 Once in the city, the Barcelona public transportation system is easy and comfortable to visit your preferred monuments.
There are as much as 10 metro lines in Barcelona, but still the metro underground map is not very complicated! All lines interconnect in several points, and generally, connections between metro lines are very well indicated.
For bus transportation, the city of Barcelona is progressively changing its system and it is making it more simple, dividing buses between vertical lines (indicated with a V on their number), horizontal lines (indicated with an H on their numbers), and diagonal lines (indicated with a D on their numbers). So for example, you will find buses that connect the upper parts of Barcelona with the beach, like the V17 bus. The directions like horizontal and diagonal are indicated like H12 or D20, for example.
Taxis can be expensive depending on the time and the journey you want to do, but for short distances they can be very helpful. Uber is not operating in Barcelona, and there is a private company offering similar services called Cabify, but you will have to wait at least 15 minutes to get on of their taxis.
Popular Barcelona Tours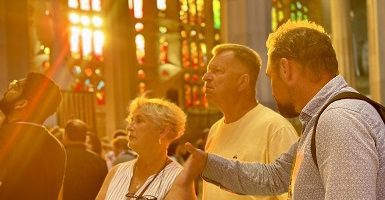 Best Selling Tour
Barcelona in a Day Tour with Sagrada Familia, Park Güell & Casa Batlló

Our Barcelona in a Day tour covers all the major attractions plus hidden gems. This walking tour includes Sagrada Familia, Casa Batlló, Casa Mila, the Gothic quarter, Park Güell, and a coach ride to reach the more remote sites.





See Prices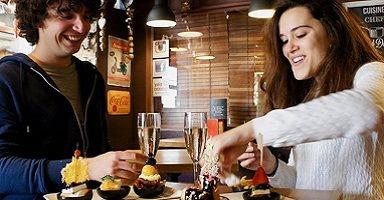 Customer Favorite
Barcelona Food & Wine Tour with a Local Sommelier
We can't think of a better way to explore a city than to eat your way through it, and there will be enough tapas and wine to discover a lot of Barcelona! Join us on a delicious discovery of Poble Sec and Sant Antoni—some of Barcelona's most vibrant foodie areas!





See Prices
Language
There are two official languages in Barcelona, Catalan and Spanish, so it can be a bit confusing when landing for the first time in this city. People in Barcelona will help you if get lost around the city, and most of the people in this city do also speak English. In case you get stuck in the middle of a situation where people does not understand English here are some survival phrases, first in Catalan and then in Spanish:
Parles anglés? Hablas inglés?
Do you speak English?
M'ho pots repetir si us plau? Me lo puedes repetir por favor?
Could you repeat it please?
Quant costa això? Cuánto cuesta esto?
How much does this cost?
Es pot pagar amb targeta? Se puede pagar con tarjeta?
Do you take credit cards?
A on és el lavabo? Dónde está el baño?
Where is the bathroom?
Tipping in Barcelona
Nowadays, in Barcelona, you can pay almost everything by credit card, although you might find a special situation where the shop either only accepts cash, or to pay by card you need to spend a minimum generally around 5-10 euros. But generally, and especially in touristic places, you are going to be able to pay by card.
Besides paying by card, tipping in Barcelona is not compulsory, although is very appreciated by the waiters and public services employees. For example, if you pay by card in a restaurant, nobody will ask you for an extra charge and pay a tip, but, generally, what people do in Barcelona, is pay the tip by cash once you have paid the total amount of the lunch, dinner or taxi ride, for example.
The amount of this tip is not fixed, so it will depend on how satisfied you have remained with the service or food offered.
Food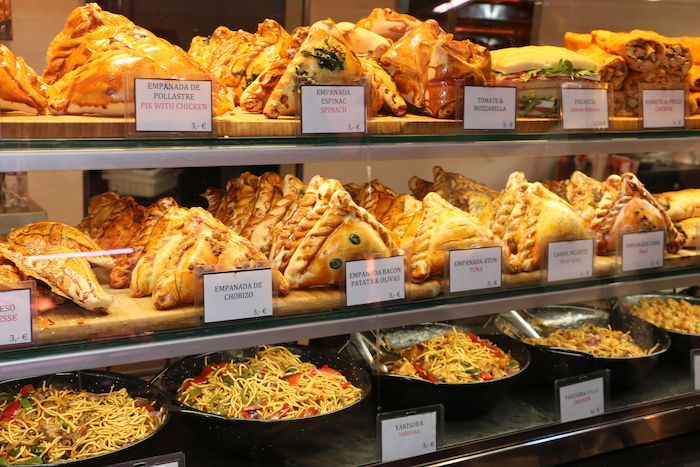 You can find all sorts of restaurants in Barcelona, and you will still find traditional and local restaurants that offer local cuisine for daily costumers. In Barcelona, it is typical to have the "menú del dia" in a restaurant for lunch, where they will offer you a three-dish menu, a starter, a main dish and a dessert for a very reasonable price, around 10 or 20 euros.
Barcelona's Local Restaurants
To find a good "menú del dia" you will have to escape for a while from the mainstream touristic areas of Barcelona. So try not sitting down in a restaurant next to Sagrada Familia or las Ramblas, since in these places the food quality is not the best one, but instead prices tend to be high.
For this reason, try to visit areas in between main touristic monuments, such as the neighborhood of the Eixample, where you will find typical "menú del dia" restaurants, where you will have a very good lunch for a very reasonable price. 
Popular Barcelona Tours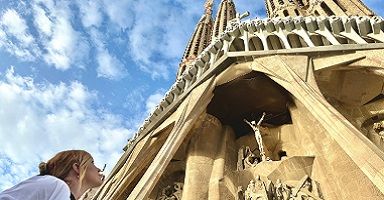 Best Selling Tour
Skip the Line Sagrada Familia Tour
Sagrada Familia is a three-sided gothic masterpiece designed by visionary Antonio Gaudí which has yet to be finished. The church is nearing completion and a wonderful display of color and architecture. Visit with a passionate local guide and skip the lines for admission!





See Prices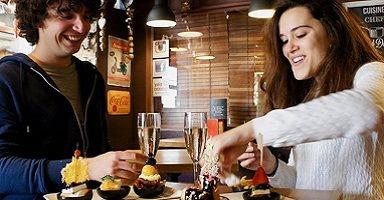 Customer Favorite
Barcelona Food & Wine Tour with Local Sommelier
We can't think of a better way to explore a city than to eat your way through it, and there will be enough tapas and wine to discover a lot of Barcelona! Join us on a delicious discovery of the Gothic quarter – one of Barcelona's most vibrant areas!





See Prices
Culture and Tips
Meal Times
As in other European cities, in Barcelona, you will find that people have lunch and dinner quite late. Usually people in Barcelona have lunch between 2 pm and 3 pm, extending lunchtime until 4 pm. For having dinner in Barcelona, the regular time is considered to be around 9 pm.
Despite these different meal times, restaurants in Barcelona have adapted to its visitors' eating times, so don't worry because you will find different offers at your preferred time.
Bicycles
Barcelona, despite having several hills, it is a very bicycle-friendly city. It has a lot of bike paths that will take you through the most beautiful monuments of Barcelona. A good way to visit this Barcelona would be by bike, and you will find a lot of business where you will be able to rent a bike and enjoy a nice ride in Barcelona!
Local Dynamics
Barcelona is a very dynamic city. When visiting this city, you will notice all sorts of banners and flags on the balconies of house blocks. Besides political vindications, there are different neighborhood movements that are working to protect Barcelona's heritage and don't want the city to be filled with souvenir shops and fast-food chain restaurants. For this reason, locals recommend dining in local restaurants and becoming aware of the city's changes.