Milan has been an important city since Roman times. Throughout history, it has been coveted by various kings and empires due to its strategic position and wealth. Today, it remains the center of business in Italy, a fashion capital, and full of great historic sites. This is the ultimate guide to plan how to see Milan in a day.
---
Pro Tip: Planning what to do on your trip to Milan? Bookmark this post in your browser so you can easily find it when you're in the city. See our guide to Milan for more resources to help you plan your trip. Also, don't miss our tours of the Last Supper and more around Milan!
Milan in a Day Itinerary
With this DIY itinerary, you can hit the streets on foot and see some of Milan's top attractions. You can follow our list stop-by-stop or use it as a suggestion to pick and choose the sights you want to see most. It's definitely possible to see Milan in a day!
Remember, even though Milan is a big Italian city, it's easy to get around via underground metro, trams, taxis, and Uber. The best news is most of these sites are within walking distances of one another. Some are even next door to each other! Keep reading to plan a day in Milan so you don't miss any of the most important places.
The Last Supper by Leonardo da Vinci
15-20 minutes by taxi from Duomo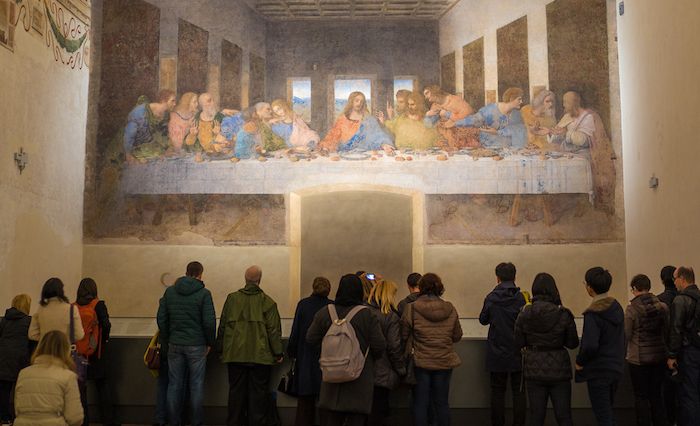 Leonardo da Vinci lived in Milan for 17 years. During this time, he painted the wall of the dining hall of the Dominican Church, Santa Maria dell Grazie. His experimental technique still survives this day and is one of the most recognizable artworks of the Renaissance. It's just part of why the Last Supper is completely worth visiting.
Tickets to the Last Supper are hard to come by and each visitor or group has a timed entry. Read more on what you need to know about how to visit the Last Supper or book a Last Supper tour to make sure you don't miss a thing.
Address: Santa Maria Della Grazie | Hours: Tuesday – Saturday: 8:15 am – 7:00 pm (last entry at 6:45 pm), Sunday: 2:00 pm – 7:00 pm (last entry at 6:45 pm)
Not ready to book a tour? Find out if a tour of the Last Supper is worth it.
Sforza Castle and Parco Sempiene
15-min walk from the Last Supper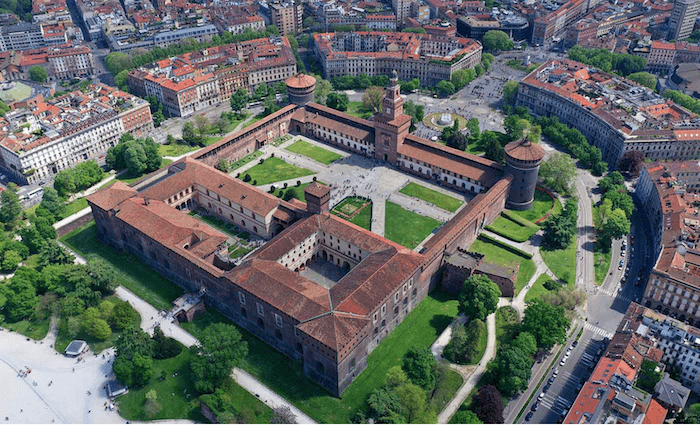 The enormous Sforza Castle was built in the 13th century to defend the city. It eventually became the home of the Sforza family who had a famous house guest named Leonardo Da Vinci. He designed some of the defenses. Over the centuries, the castle has been a seat of foreign domination with the invasion of the Spanish, French, and Austrians.
Visiting the castle grounds and courtyard is free and it's worth checking out the museums and the various rooms. The adjacent Parco Sempiene is a beautiful park that houses the metal Branca Tower and the Arco dell Pace.
Address: Sforza Castle | Hours: Castle museums, Tuesday Sunday 10:00 am – 5:30 pm (last admission 5:00 pm).
Not ready to book a tour? Read up on how to visit the Milan Duomo.
Pincacoteca di Brera
10-minute walk from the Sforza Castle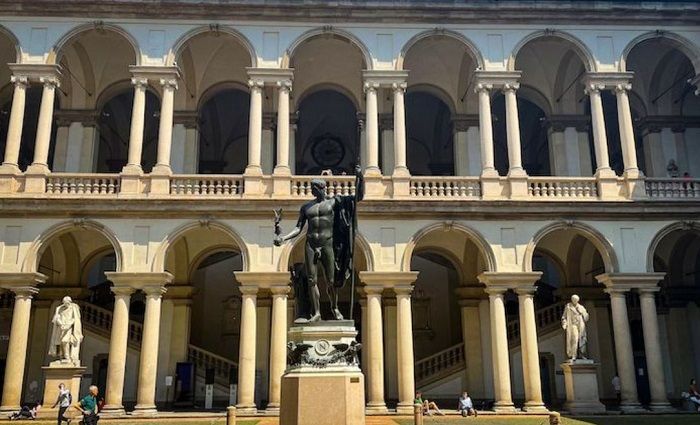 If you love art as much as I do, you don't want to miss this art gallery that contains the works of many old world masters. The small gallery is located in a former palace that once held Napoleon's looted art.
Today, it's a prestigious art school. Don't miss Titian, Tintoretto, the Bellini Brothers, and the moving Lamentation of the Dead Christ by Mantegna. If you want to learn more, check out our Tour of the Brera Gallery that includes a walking tour of this cool neighborhood too.
Address: Pinacoteca di Brera | Hours: Tuesday – Sunday, 8:30 am – 7:15 pm (last entrance at 6 pm). Closed Mondays.
Milan Duomo
12-minute walk from Pinacoteca di Brera Gallery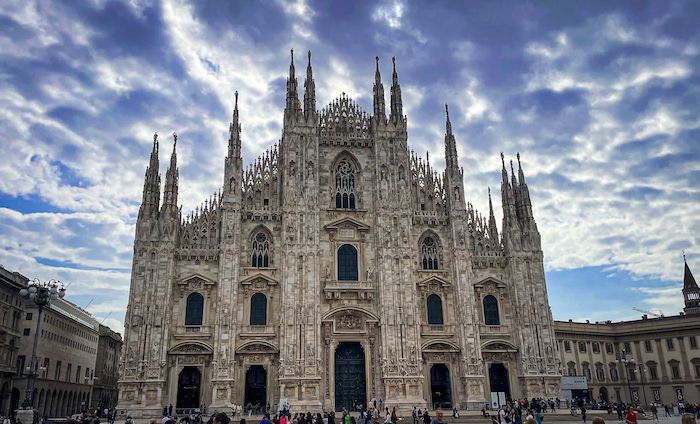 When Gian Galeazzo di Visconti commissioned this church in 1386, I'm sure he had no idea it would take 600 years to finish. The Cathedral of Milan is bigger than St. Peter's Basilica in Rome and is the largest church in Italy (which means among the largest in the world too).
The stunning gothic architecture inside is a whopping 12,000 square feet of marble and a rebellion against the Renaissance movement that was sweeping Italy. There are 3,400 statues and 135 spires that make up this architectural marvel.
The Milan Duomo is one of the few churches where you can easily visit the roof and walk around for a while to enjoy beautiful views of the Milan skyline. Tickets can be booked online, but it's confusing and there are so many options. Our Milan Duomo tours make it super easy to skip the line and are more memorable thanks to a passionate guide. Find out how to visit the Milan Duomo.
Address: Milan Duomo | Hours: Cathedral: Monday – Sunday, 8:00 am – 7:00 pm; Rooftop Terraces: Monday – Sunday, 9 am – 7 pm
Not ready to book a tour? Check out our Milan Guide for more resources.
Galleria Vittorio Emanuele II
1-minute walk from Milan Duomo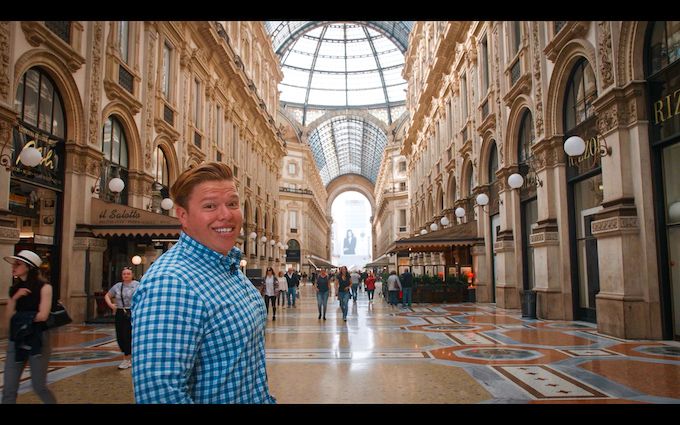 I'm not much of a shopper, but this is a cool shopping mall that houses some of the most prestigious brands in fashion in the world. And chances are, you're coming to Milan to do a little shopping anyway, right? So, let's see why you should add it to your list for seeing Milan in a day.
The historic Galleria was inaugurated in 1877 as a celebration to a newly unified Italy. And if you love the ambiance as much as I do, take time to relax at a historic café. Savini Café has been serving Milan luminaries like Verdi, Puccini, and even Hemingway since 1867.
I like to go there for coffee or gelato. Comparino Bar inside of the Galleria is where the famous Campari Spritz was born. Check out the full experience in our Milan in a Day video.
Address: Galleria Vittorio Emanuele II | Hours: Open 24 hrs
Teatro La Scala
2-minute walk from Galleria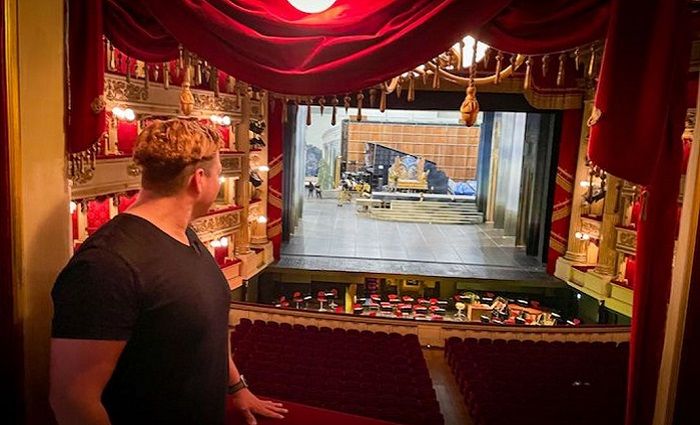 La Scala Opera House is the most prestigious opera house in the world. To perform an opera here is the pinnacle of success, and every major opera star has graced the stage here. Verdi, Rossini, and Puccini all debuted operas here.
A tour or tickets will get you a sneak peak into the beautiful theater and stage. It also includes a small but luxurious museum that makes you feel like you are in a palace.
Address: Teatro La Scala | Hours: Museum: Monday – Sunday, 9:30 am – 5:30 pm (last admission at 5:00 pm). Performance times vary.
Not ready to book a tour? Check out our Milan Guide for more resources.
Navigli Neighborhood
20 minutes by taxi or Uber from Duomo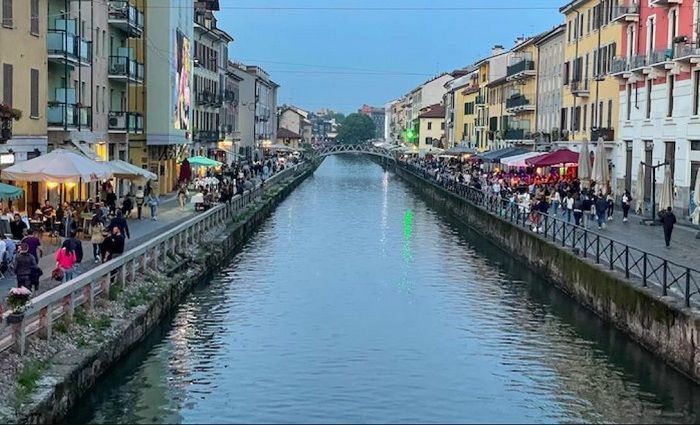 Canals have existed in Milan since the 12th century. And Leonardo da Vinci devised a complex system of city-wide canals in the 15th century. Today this area is considered one of the most beautiful residential areas of the city. Many bars, cafes, restaurants and art gallery line the canals, making this a popular area and a perfect place to end our DAY in MILAN.
Address: Navigli | Hours: Check times of various cafes, restaurants, bars.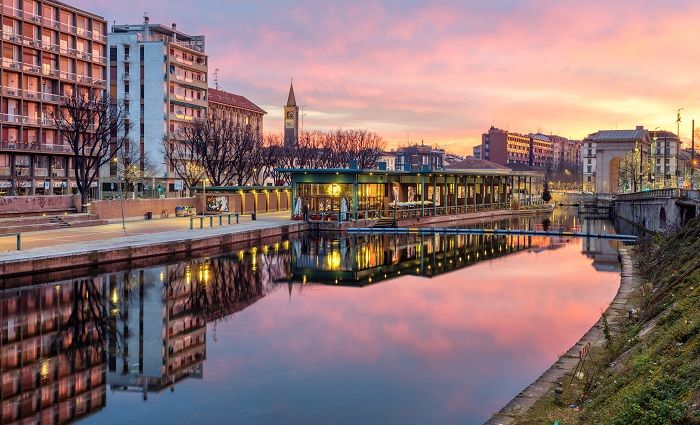 Find the best places to stay
Where To Stay in Milan
Milan is a small city with plenty to explore from iconic landmarks to a vibrant art and design scene and old-world charm. Plan where to stay in the best neighborhoods in this beautiful city.