If you are planning your trip to Milan, you might discover something different from other cities in Italy. Here, eating is not just eating, but being surrounded by local tastes while listening to jazz music after visiting a contemporary art museum or the famous Last Supper painting. As a local, I'm here to help you discover the best restaurants in Milan, Italy for a spectacular dining experience.
---
Pro Tip: Planning what to do on your trip to Milan? Bookmark this post in your browser so you can easily find it when you're in the city. See our guide to Milan for more resources to help you plan your trip. Also, don't miss our tours of the Last Supper and more around Milan!
The Top Places to Eat in Milan
There is a reason why Milan is one of the most loved cities in Italy. The secret is in its vital and energetic mood combined with the flavors and the attitude of the Italian tradition—done Milanese style. Fashion, art, music, and nightlife are definitely the milestones of a city in which it is impossible to get bored.
And Milan also has some moments of true romance. This list of local places to eat will reveal some "secret" spots and classic stops through a selection of the best restaurants in Milan. From the Cotoletta alla Milanese to a good osso buco, all of these places are unique in providing a taste of Italian cuisines, alongside an amazing atmosphere.
Cavoli a Merenda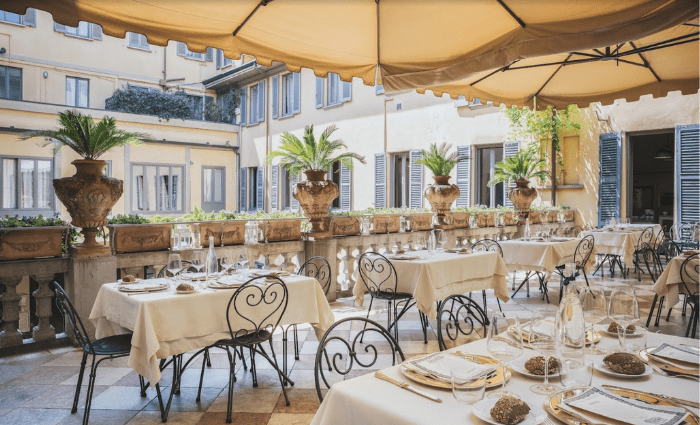 €€€ | Fancy Atmosphere | Healthy Options | Near the Last Supper
I was introduced to Cavoli a Merenda within weeks of moving to Milan many years ago—that's how good it is. Hidden inside an 18th-century building near Corso Magenta (here you find typical Milanese architecture!), this restaurant is perfect for those who love fancy, vintage vibes. If you can, grab a seat on the terrace overlooking the courtyard.
The menu varies every month following the seasonality of the raw ingredients. All the dishes are designed to be, obviously, pleasant to the palate but also properly balanced in terms of calories and nutrients. If you are looking for a more elegant lunch or dinner and a table outside, this is the right place.
Address: Corso Magenta 66
Meucci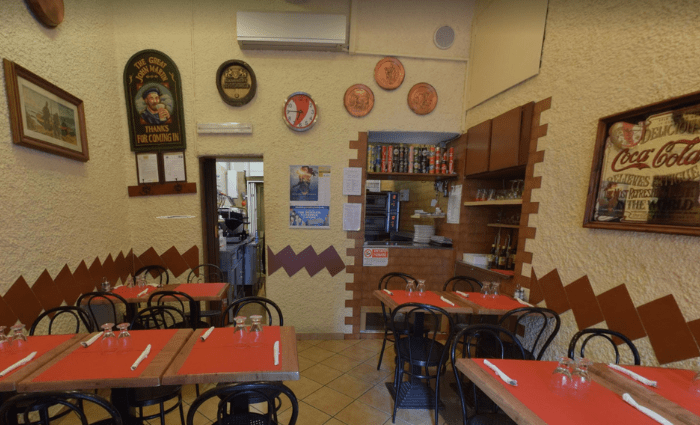 €€ | Pizza | Friendly Atmosphere | Authentic Taste | 5 Minutes from Sforza Castle
If you want to taste an excellent pizza in one of Milan's historical spots, Meucci is absolutely a secret place that deserves to be revealed. You can find Meucci near Corso Magenta in the city center. Is a really small place—they have something like 15 seats, so plan ahead and call them if you want to stop in.
You know what else is cool about this restaurant in Milan? The history of Meucci dates back to the sixties. In those years, the original owners asked the next ones to never change the recipe of their pizza. Why? Come to Meucci and you will find out!
Address: Via S. Giovanni sul Muro, 18
Trattoria la Cantinetta
€ | Italian and Mediterranean Food | Friendly Atmosphere | Informal
Not far from Milan's Porta Garibaldi train station, you'll find a hearty, casual restaurant to enjoy. La Cantinetta is a family-run restaurant in Milan, founded in the seventies, that has that special timeless romantic atmosphere.
Indeed, the sensation of feeling at home is what makes this place unique! It's not super fancy or expensive, which makes this a great budget option that doesn't skimp on flavor. Here, I suggest you try their lasagna—a real libidine!
Address: Piazzale Carlo Archinto
BELÈ
€€€€ | Romantic Atmosphere | Outdoor Seating | Near Porta Genova Train Station
With genuine flavors and a lot of cooking expertise, the menu at BELÈ changes often and with interesting variations on classic foods. Additionally, the dishes are artistic, modern, and delicious. I tried Belé because I was so curious about the combinations of ingredients between Italian gastronomic traditions and more eccentric options (think: grapefruit, herring, raisins, prunes, Chinese mandarins, and even licorice).
Guess what? Despite my doubts, I had a great experience. The atmosphere is elegant with a touch of romance, and you will love the magnificent cocktail balcony at the entrance. Glazed octopus with fermented red cabbage, cauliflowers and candied lemon is simply unforgettable and believe me, it is not the only menu item worth trying!
Address: Via Angelo Fumagalli 3
Not ready to book a tour? Check out our Milan Guide for more resources.
DeRos Restaurant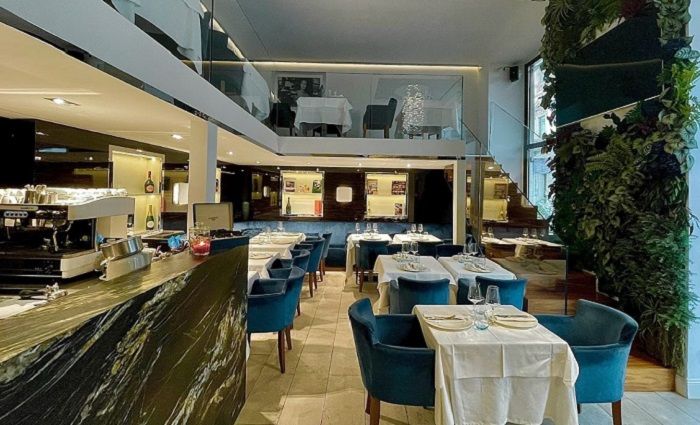 €€€ | Impeccable Seafood | Fine Dining | Near La Scala Theater
How about a delicious dinner before a night at the theatre? This little gem is just a few steps away from La Scala Theater (Teatro alla Scala), a famous 18th-century opera house, and it absolutely has really great seafood. The menu is small, but you can expect everything from the octopus and ceviche to the scorpion fish or catch of the day to be impeccably prepared.
Those appealing dishes match the refined atmosphere here at DeRos too. While there are primarily dishes with seafood, they can cater to several dietary needs, just be sure to call ahead. Reservations are recommended, which is ideal if you're heading to the theatre right after you eat.
Address: Via Romagnosi, 4
Trattoria Aurora
€€€ | Summer Vibes | Pot Roast and Cotoletta | Porta Ticinese Neighborhood
Here, there are two dishes that we absolutely recommend: Risotto con osso buco and Bollito (boiled meat). Now take these dishes and put them in a wonderful art nouveau room with a beautiful summer terrace and you'll fall in love with Trattoria Aurora. It's a place of romance, summer, and hearty food.
Very professional and polite service and excellent cuisine are also what make this venue above the average of a classic Milanese trattoria! We firstly suggest trying the pot roast (brasato) and the breaded veal (cotoletta). You can find Trattoria Aurora in Via Savona, next to the cool Porta Ticinese neighborhood. It's just a 10-15 minute drive from the Duomo.
Address: Via Savona, 23
Locatelli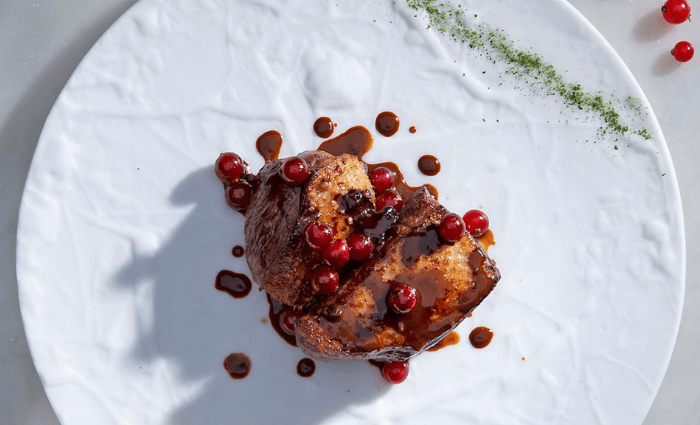 €€€€ | Relaxing Atmosphere | Vegetarian Options | Upscale Dining
I discovered Locatelli during the summer months, but I love it in every season. Located near the Cairoli metro stop and Sforza Castle, Locatelli's chef offers traditional dishes—comforting but never boring, especially in plating. If you and your group want to taste Italian cuisine with no frills, here you can invite the most skeptical people.
Probably my favorite dish is the gazpacho and fregola (a tasty Sardinian pasta made from hard durum wheat flour) with potatoes, mussels, and basil. Without a doubt, if you are looking for a classy night out for a very special occasion, then you are in the right place. Dress nice, open that wallet, and enjoy!
Address: Via Manfredo Camperio
Sugo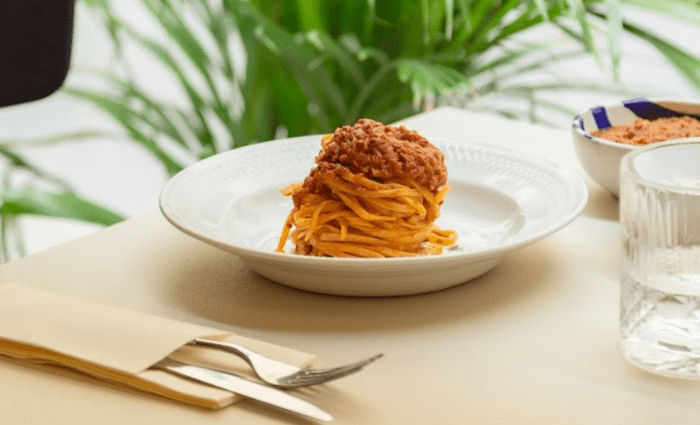 €€€ | Contemporary Milanese Cuisine | Intimate Vibes | Close to the Duomo
In Italian, the word "sugo" means "sauce". It's the perfect name for this place that winks at tradition (do you know "fettine panate"?) as well as at haute cuisine. Sugo recently opened as inspired by Anna and Matteo, firstly life partners and then colleagues.
The first time I read their menu, I immediately felt love with their passion for food that's prepared with high-quality raw materials. I recommend a great vitello tonnato along with two other extraordinary dishes: ravioli del plin burro and pollo Alla cacciatora. Last but not least, Sugo has a nice playlist and a pleasant atmosphere. It's absolutely one of my favorite places to eat in Milan near the Duomo.
Address: Via dell'Unione, 11
Not ready to book a tour? Find out if a tour of the Last Supper is worth it.
Antica Trattoria della Pesa
€€ | Traditional Cuisine | Vintage Vibes | Near Porta Garibaldi Train Station
Unquestionably, all the Milanese trattorias have an interesting story, but the story of this restaurant could be told in a film. Rumor has it that Ho Chi Minh himself worked here as a cook in the 1930s.
So what should you try? I recommend a crisp and tasty rice and a bone broth that melts in your mouth, all enjoyed in a pleasantly retro atmosphere. Plus, the excellent cuisine is also accompanied by a wide selection of wines. What more could you ask for?
Address: Viale Pasubio, 10
Spirit de Milan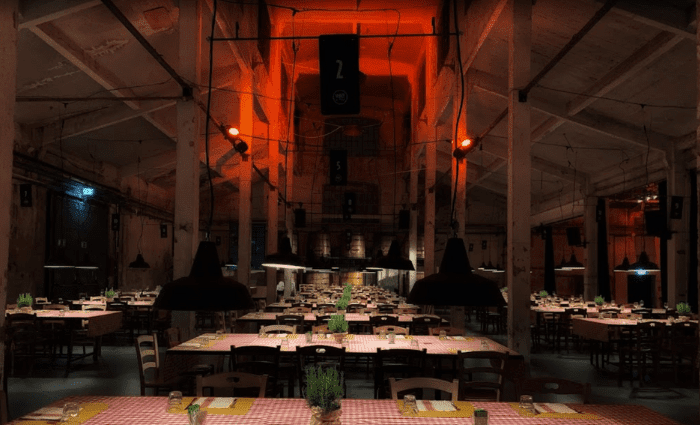 €€€ | Live Music | Retro Vibes | Food and Dance | Outside the City
If you're looking for food and fun that's a little ways outside the city, then Spirit de Milan is the place to be. I discovered this place on the advice of some friends who love dancing and it has become one of my favorites.
Built from a former crystal factory in the Bovisa area (we are far away from the center, peeps, explore the suburbs!), this place is also an opportunity to dive deep into a 1950s jazzy atmosphere that without a doubt animates the night with swing or tango music! Enough about the mood, how about the food? Here you can try some traditional Milanese dishes, and I highly recommend the risotto (Milanese-style risotto with saffron).
Address: Via Bovisasca 57/59
Trattoria Masuelli San Marco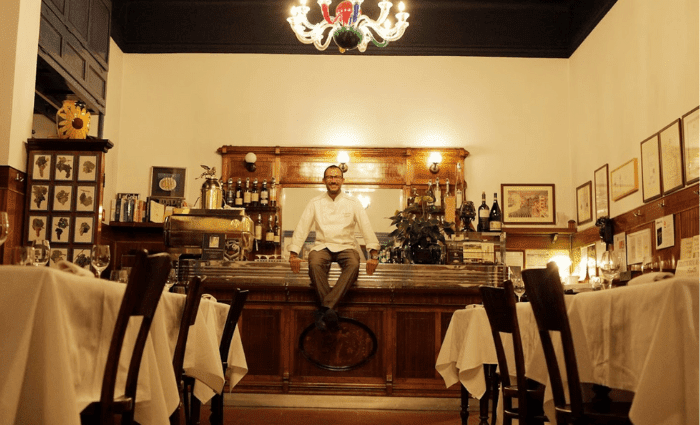 €€ | Great wine selection | Vintage-style place
Last but not least on our list of great restaurants to try in Milan! Furnished with some classic Italian designs, Masuelli's family has managed this magic place since 1920. The Piedmont family's love of Milanese cuisine is their reason for opening this restaurant that also has a great selection of Italian wines.
On their menu, you can find special dishes such as cotoletta, pasta and beans (healthy and tasty), or double-cooked pork belly. What do I love most? The sauces. Absolutely unmissable!
Address: Viale Umbria, 80
Not ready to book a tour? Read up on how to visit the Milan Duomo.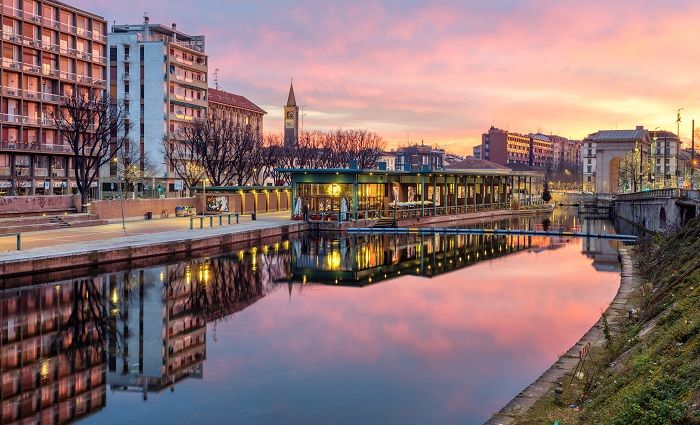 Find the best places to stay
Where To Stay in Milan
Milan is a small city with plenty to explore from iconic landmarks to a vibrant art and design scene and old-world charm. Plan where to stay in the best neighborhoods in this beautiful city.