Madrid is even more special at Christmas. Warm coffee shops and sparkling lights create a magical atmosphere. But you've got to know how to make the most of the holiday season to have a great time in the city. As a long-time resident, I have listed all you need to know about Christmas in Madrid in this guide, from traditions to the best food and the top activities for adults and kids.
---
Pro Tip: Planning what to do on your trip to Madrid at Christmas? Bookmark this post in your browser so you can easily find it when you're in the city. Check out our Madrid guide for more planning resources, our curated list of tours in Madrid at Christmas, and how to see Madrid in a day.
How To Celebrate Christmas In Madrid: Things To See and Do
Snow rarely covers Madrid's roofs, but the city never fails to create a magical Christmas atmosphere. Every year, thousands of tourists head to the capital to enjoy the Christmas lights and markets. And if you've never been, you might be surprised to learn that many celebrations happen after December 25th.
Although it is a religious festivity and many activities are related, these holiday weeks have events of all kinds. You can participate in parades, sports events, and shows. To help you enjoy your holidays, here is an easy guide to spending Christmas in Madrid. Bookmark it so you don't miss out on the best during your stay!
Not ready to book a tour yet? Check out our Madrid Guide for more info.
A Magical Christmas In Madrid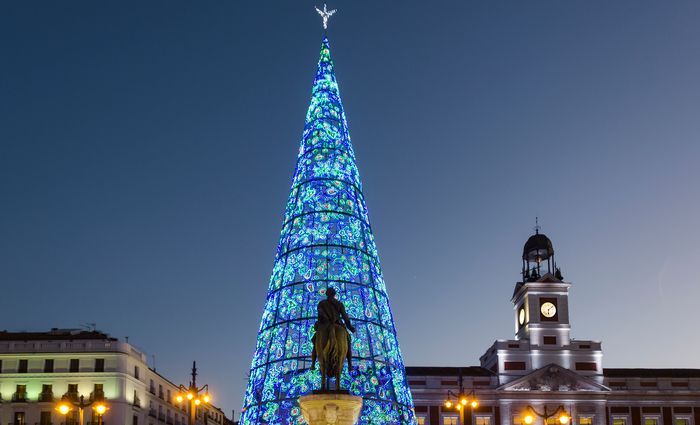 Christmas is a family celebration in Spain, but it is also a great time to hang out with friends. Streets and bars fill with people having a great time, and shopping gets frenetic. There are traditional celebrations you can't miss out on and it's important to know that gift-giving is a bit different in Spain.
Traditional Celebrations
Socializing is everything. Big dinner parties (and Secret Santas) with work colleagues are a must in the week before Christmas. Also, as most offices close at noon on the 24th and 31st of December, another fun tradition comes alive: the cañas de Navidad—meeting up with friends for a beer before the traditional family dinner.
Christmas Gifts
Gifts exchange is usually on January 6th. The magi bring presents here in Spain, and children prepare food for the three wise men and water for their camels the night before. But it is also common to receive gifts from Santa on Christmas morning, so we have twice the magic here!
See The Christmas Lights Embellish The City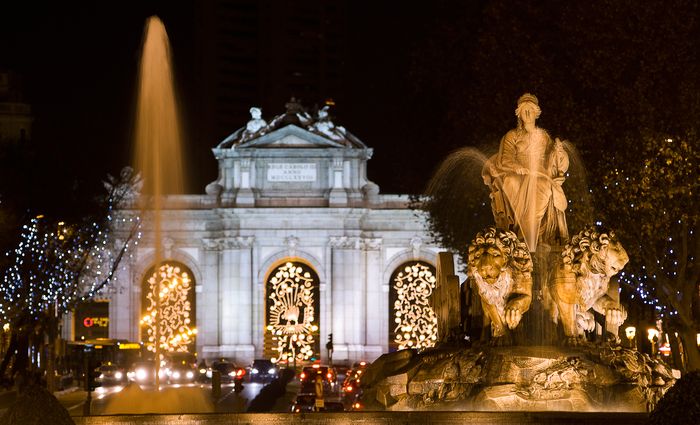 Over 100 streets and squares are dressed in lights starting at the end of November. And as of 2021, you can also have this magical experience in Retiro Park to celebrate its inclusion in the UNESCO World Heritage list.
Take the Naviluz tourist bus if you love Christmas lights. It is a unique 50-minute route through the decorated streets. And to keep warm on your walks, take a break with a cup of broth or hot chocolate. The top places to get them are:
Visit a Nativity Scene
The Spanish Nativity scene—belén—is an artisanal piece exhibited in almost every church and square during Christmas. There is even one in the Royal Palace.
My favorites are the ones in the Cibeles Palace and the Real Casa de Correos: both are massive! But you can also visit the one in Plaza de la Villa and Plaza Mayor.
Not ready to book a tour yet? Check out our Madrid Guide for more info.
Hang Your Wishes In The Enchanted Pine Wood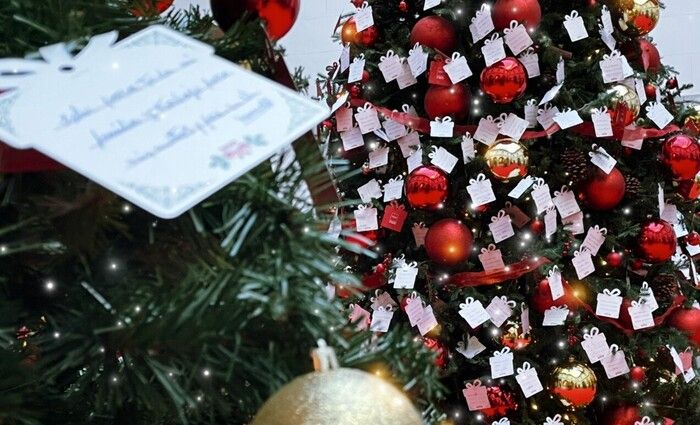 Did you write letters to Santa as a kid? You can relive the magic and mystery of those years by writing down your wishes, dreams, and New Year's resolutions and sharing them in the Wood of Wishes.
Every Christmas, pine trees decorate the patio of the Real Casa de Correos. Here, people from every nationality leave their wishes on pieces of cardboard hung on the trees. It is a great way to feel the Christmas spirit, and all those messages in different languages are heartwarming.
Pro Tip: On the opposite sidewalk, at Plaza de Pontejos, there are villancicos shows (traditional Christmas songs) almost every afternoon.
Bring Your Kids To Cortylandia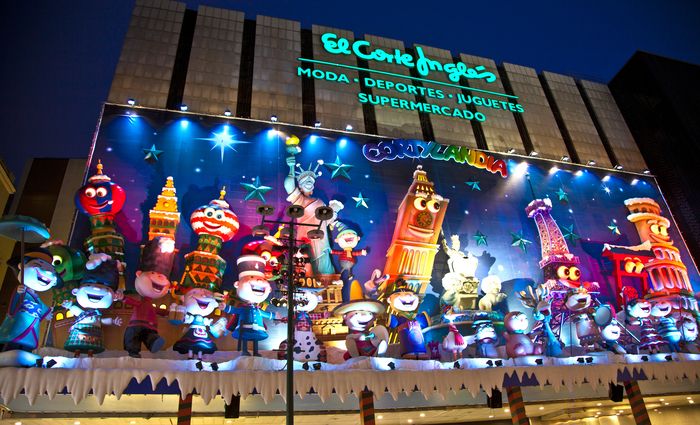 If you are traveling with kids, take them to one of the most anticipated events in Madrid. Cortylandia is an animatronics show on a facade in Calle Maestro Victoria. The 15-minute show plays every afternoon, with the animated characters dancing and singing Christmas songs.
It is a little cheesy, but kids love it very much. It is also free, so every session has thousands of spectators (expect a long queue).
Ice Skating Under The Stars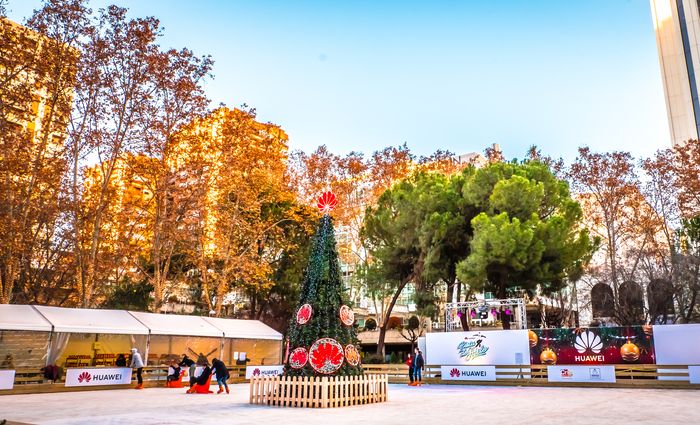 From the middle of December to the first week of January, many ice rinks open around the city. The most magical one is in the Palacio de Cibeles' Glass Gallery.
And if you have time for a detour, go ice skating at the Matadero in Plaza de Legazpi. The building complex, once a slaughterhouse, now hosts immersive art exhibitions and concerts. It is lovely at Christmas, and the Legazpi quarter is the new gastronomic hot spot in the city.
Run The San Silvestre Vallecana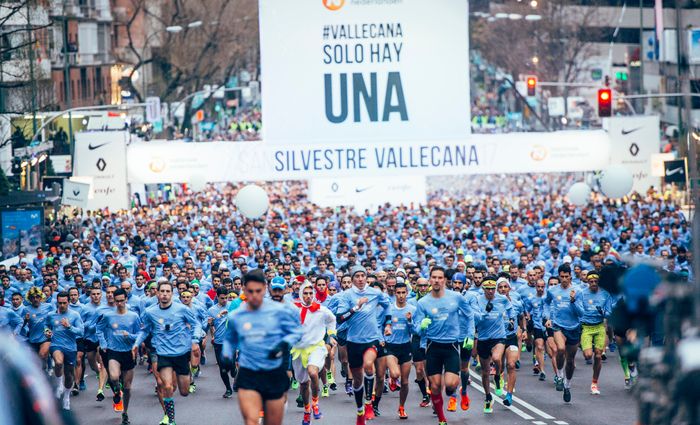 If you love running, this is your opportunity to make your Christmas trip to Madrid unforgettable. Sign up for one of the most popular New Year's Eve races in Spain. The 10 kilometer race includes two sessions on December 31st: a popular late-afternoon competition, which is very festive and open to amateurs, and a night run for professionals.
It is a massive event with around 40,000 participants every year. So put a pair of running shoes in your luggage and prepare for the big challenge.
Not ready to book a tour yet? Check out our Madrid Guide for more info.
Go All Sweet At Christmas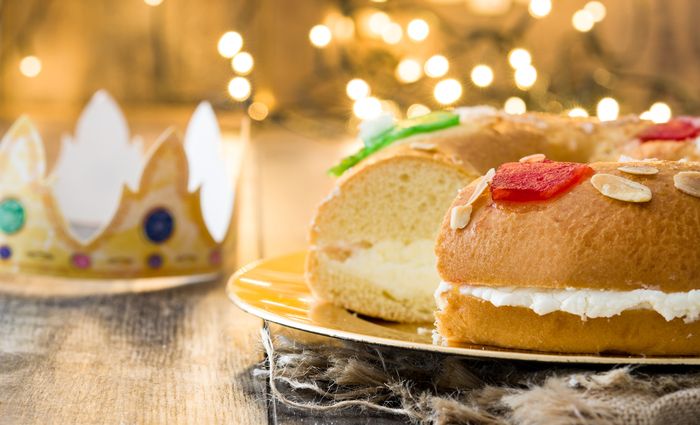 Christmas is a time of indulgence, and if you are in Madrid, tasting the traditional Spanish sweets is part of the cultural activities.
Nougats, Marzipan and Polvorones
Nougats and marzipan are a must-have during the holiday season. You will find them everywhere: Christmas markets, sweet shops, and food stands. Polvorones are another typical Spanish sweet, similar to shortbread. The name refers to the consistency, which is weightless like dust. To get the right texture, press them lightly before eating.
Roscón de Reyes
The star of the holidays is the Roscón de Reyes. A massive doughnut-shaped pie with candied fruits on top—don't worry, you can remove the fruit, everyone does! You can get a slice of it in every bar, filled with cream or chocolate, and paired with coffee or hot chocolate.
But take care: the dough can hide a surprise! If you find a small figurine in your slice, it will bring you luck. But if you get the bean, you must pay a roscón the following year.
Try the traditional Christmas sweets in Madrid's centennial bakeries to make it even more memorable.
Visit A Christmas Market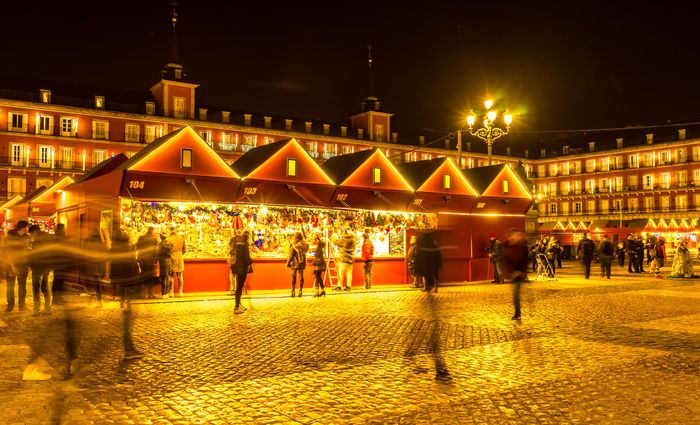 As crazy as it sounds, you will notice many people walking on the street with wigs or silly caps during Christmas in Madrid. It's like the Spanish version of the Ugly Sweater Day, but it extends to the entire holiday season. These accessories are easily the big sellers of Christmas markets, so no one will judge you here if you are up for a bit of craziness.
Of course, Madrid's Christmas markets are also an excellent opportunity to buy artisanal decorations, toys, and independent creators' artworks. My favorite classic Christmas markets are the ones in Plaza Mayor and Plaza de España. I also like the Mercadillo del Gato very much. It promotes young and independent creators and changes location depending on the date. And the coolest one, the Beefeater Xmas Market, is the place to enjoy DJs, hot gins (yes), and food trucks.
Meet The Three Wise Men
The biggest Christmas event in Madrid is the Cabalgata de Reyes. It is a massive event that attracts thousands of children and families. On January 5th, a long line of floats parades through Paseo de la Castellana with music, confetti, and performances.
The last floats are the most anticipated, as they carry the three wise men to the Plaza de Cibeles. Here, they speak to the kids, and the event ends with a spectacular fireworks show.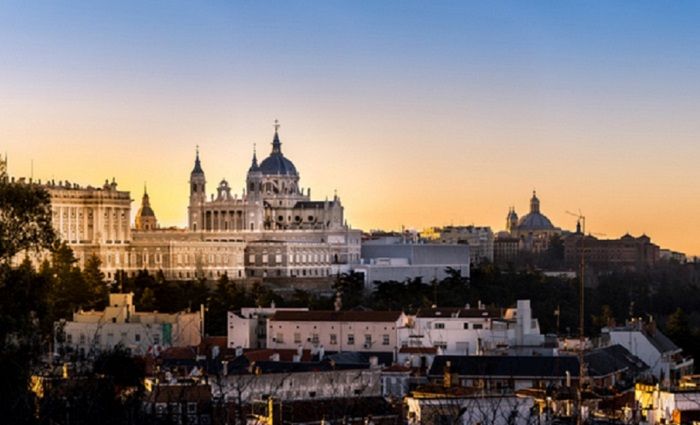 Find the best places to stay
Where to Stay in Madrid
Madrid is a vast city with many areas to stay in, including beyond the downtown area. Choose a hotel near the top things you want to see in this beautiful old city.