The city of Edinburgh is truly the ideal place for Potterheads and J.K. Rowling fans to experience the world of Harry Potter. Edinburgh is a magical hub to uncover and explore in the mysterious foots of the author's journey too. You'll also find marvellous and spooky spots to treat yourself and great places to stay. From delicious food and creepy cemeteries to colourful streets, this article includes all the best Harry Potter stops in Edinburgh.
---
Our Partnership with Booking.com. If you like our content, please book by clicking on our Booking.com links. The price is the same for you, and we get a small commission that helps support our blog. We've partnered with Booking.com because they have the most options, great prices, and a solid loyalty program. Just about every hotel is on Booking so our recommendations are not incentivized.
Here's What You Need To Know:
Edinburgh is without doubt one of the best and key locations for Harry Potter fans—or should I say Potterheads—and J.K. Rowling lovers. To explore the magical world of Harry Potter, it's a must to visit mystical Edinburgh where J.K. Rowling spent most of her years when she wrote these beloved books. Edinburgh should be on every Potterhead's bucket list, even if they're just looking to buy their own Harry Potter wand or some butterbeer or take a photo of Thomas Riddle's tombstone.
You'll find a number of recognizable locations here from the films, though J.K. Rowling recently shared that she wrote about Hogwarts and many other locations before she ever saw some of the similar buildings in Edinburgh. Still, Edinburgh has such a rich architectural and mysterious history that just happens to align with the world J.K. Rowling created that it's become the unofficial best place to visit for Harry Potter fans. Of course, there are many spots in England you can see, but this list is for your trip to Edinburgh.
Edinburgh's cool streets, architecture, shops, and landmarks have been cornerstones to the Harry Potter universe. This city has many amazing and interesting places to unravel for Gryffindor lovers to step closer to the full magical experience. As a Potterhead myself, I love exploring the Greyfriars Kirkyard to explore the Harry Potter cemetery vibes.
However, this cemetery is not the only Harry Potter stop to see here in Edinburgh. You can hop on many other journeys from the Elephant House to Victoria Street. Let's dive into the most important and best Harry Potter stop in Edinburgh!
The Best Harry Potter Things to See In Edinburgh: Where to Visit and Explore
Edinburgh holds a special place for Potterheads and J.K. Rowling followers, because it's where it all started for Harry Potter! This list will put forth the magical and must-see stops for anyone looking to explore where Harry Potter came to life. Let's set one thing straight though: J.K. Rowling has clarified that she started writing the first book in her flat in London, but most books were written while she lived in Scotland.
Each location will explore the wizarding world of Harry Potter by letting Potterheads feel like they're stepping into the books themselves. From famous cafes to lovely landmarks, you'll never forget the memories you make while exploring the best Harry Potter stops in Edinburgh.
Stops for Harry Potter Fans in Edinburgh
Compare Victoria Street to Diagon Alley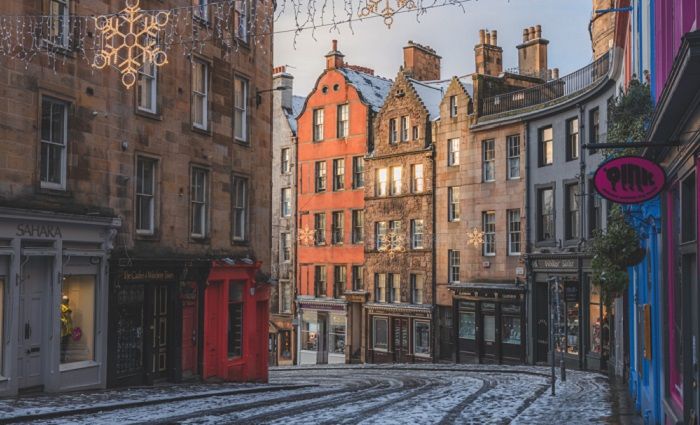 Rumour has it that Victoria Street inspired one of the Harry Potter favourites: Diagon Alley! This street is located in the centre of Old Town and is also acknowledged as a World Heritage Site. Victoria Street is colourful, fun, and filled with shops. As a result, it's no wonder how Diagon Alley might have been influenced by this beautiful street.
This is the street where you can explore boutiques, sit in a tavern for the evening, get souvenirs for whichever house the Sorting Hat put you in, or sit in a cafe and imagine Harry Potter walking up the street with Ron Weasley. You'll find this street not too far from Greyfriars Kirkyard which is also on our list.
Address: Victoria Street, Edinburgh
See The Elephant House Cafe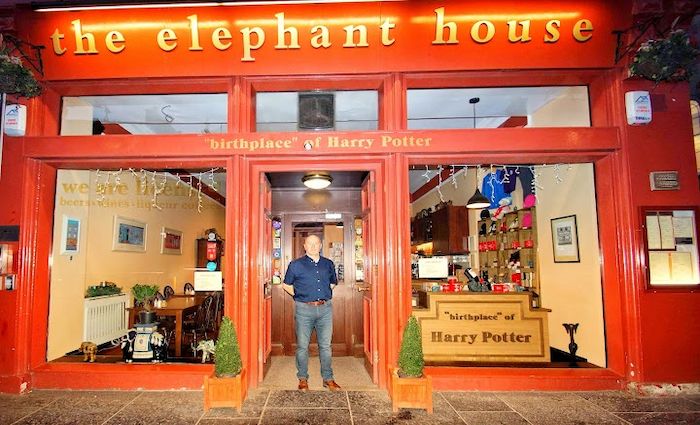 The Elephant House has long maintained that it's the cafe "where it all began" for the Harry Potter series. However, this was recently clarified by J.K. Rowling not to be the case, but it hasn't stopped Potterheads from coming to this iconic little spot since she did frequent it as she wrote! It's an otherwise famous gourmet and reader-friendly café that's located on George IV Bridge and is just a minute walk to Greyfriars Kirkyard.
While you're here, you can pull out your favorite Harry Potter book and eat breakfast or lunch with a cup of tea while imagining how Rowling did that too. Try a traditional Scottish roll or the whiskey coffee and Victoria sponge cake. You can also purchase a memorabilia from their shop. If you happen to use the bathroom, you'll probably find Harry Potter fan messages all over the bathroom walls too!
Be advised, there was a recent fire here so the shop is actually closed temporarily, but you can still stop by the cafe to see the exterior, or shop on their online store to support them.
Address: 21 George IV Bridge, Edinburgh
Deck Yourself In Full Harry Potter Gear at Museum Context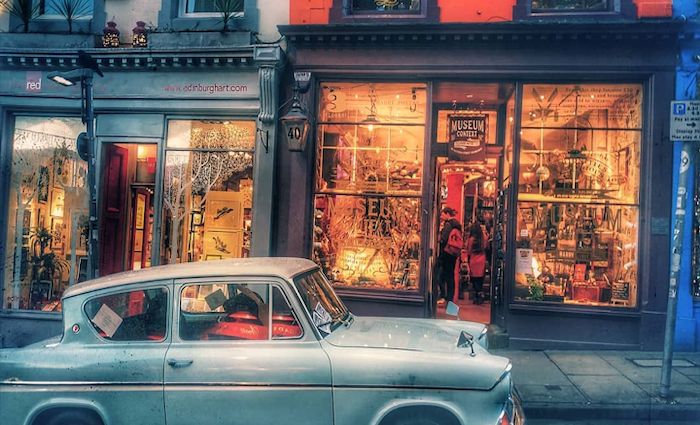 Located on the mystical Victoria Street, Museum Context (affectionately known as Diagon Shop) is an amazing way to spoil yourself in the magical universe of Harry Potter. This shop is like a Harry Potter museum with almost every Harry-Potter themed product you can think of. Most importantly, the products are officially Harry Potter licensed, so you're sure to have legitimate apparel and accessories when you leave this store.
This shop is called a magnet for Potter Pilgrims. Want to try a chocolate frog? No problem. Looking for your own Sorting Hat? They've got you covered. Grab a Hogwarts journal, a Gryffindor wax seal, a Hufflepuff scarf, a Hedwig sculpture, or the ultimate collection of wands from all those who fought on the side of Dumbledore and Harry Potter. The Museum Context is a busy and fun Harry Potter destination that easily makes our list of the best Harry Potter stops in Edinburgh.
Address: 40 Victoria St, Edinburgh
How To Get To J.K. Rowling's Handprints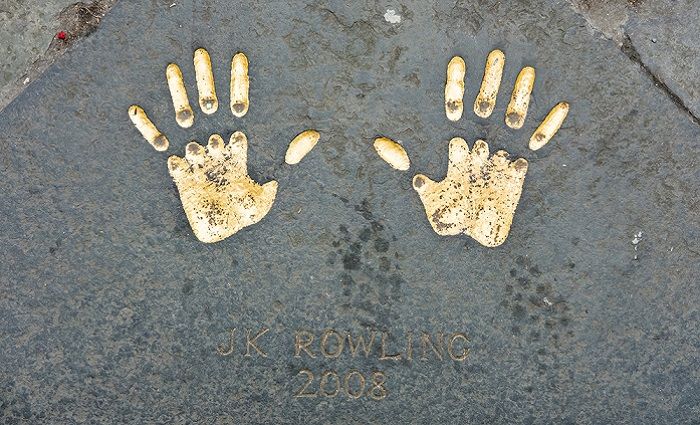 J.K. Rowling was awarded the Edinburgh Prize in 2008 for her fantastic and magical world of Harry Potter just after she finished the final book. In honor of her contributions to the literary world, she was given the honor of imprinting her handprints in stone in front of the Edinburgh City Chambers. This little area has numerous famous handprints, so it's a little like the Hollywood Walk of Fame done Edinburgh style. You'll find this spot not far from the Royal Mile.
Address: City Chambers, 253 High St, Edinburgh
Keep Watch for Voldemort in Greyfriars Kirkyard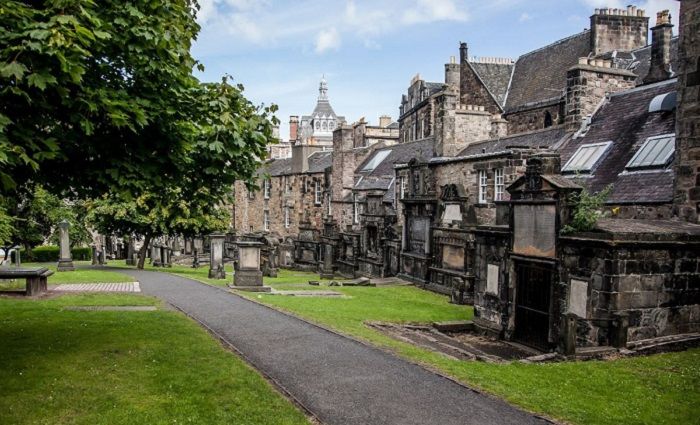 Located in the south part of Old Town named Candlemaker Row, this cemetery is full of mysterious tombstones. Potterheads need no introduction as to why they should visit Greyfriars Kirkyard, but for anyone else, it's for the tombstones.
First, Thomas Riddle's tombstone is found here! Thomas Riddle is also known as the primary villain in Harry Potter: Lord Voldemort. We can't think of a spookier cemetery than Greyfriars Kirkyard to visit a key location that's central to the Harry Potter books.
However, I haven't forgotten the other crucial tombstones such as Moodie, McGonagall, and Scrymgeour. These names should be easily recognizable to Harry Potter fans. We can only assume that Rowling would walk in Greyfriars Kirkyard after writing in the cafes in Edinburgh. Once you're here, you'll find most of the graves related to Harry Potter behind and to the right of the church near the Flodden Wall.
This graveyard also happens to be right next to George Heriot's School which is another must-see Harry Potter stop in Edinburgh.
Address: 26A Candlemaker Row, Edinburgh
See the Modern-Day Hogwarts at George Heriot's School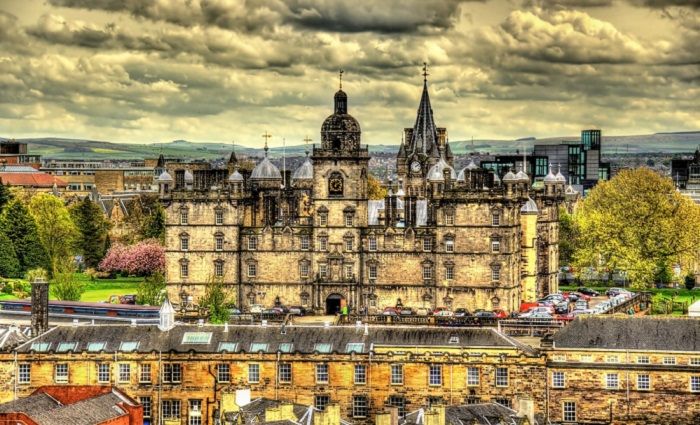 George Heriot's School is a glorious stop for Harry Potter nostalgia and will blow your mind! Located in Old Town on Lauriston Place, this George Heriot's School (founded in 1628!) functions as both a primary and secondary school in Edinburgh, and it's an old stone building with gothic architecture and towers.
However, what makes this school stand out from other schools in the world is how it's completely embraced the world of Harry Potter. Students are sorted into four houses and have on-going house competitions annually. Sound familiar? Yep! It's basically a modern-day Hogwarts!
Legend has it that Rowling was inspired by this or other old buildings, but she has clarified that she had envisioned her own Hogwarts without inspiration. Still, Potterheads appreciate that there's an actual school that looks and acts as though it's a real Hogwarts School of Witchcraft and Wizarding.
Although, George Heriot's School is a working school, sometimes it opens to public for the Open Doors Day. Also, while you're in this location I suggest you visit other close Harry Potter stops. For example, George IV Bridge is very close where the Elephant House is and Greyfriars Kirkyard is a minute a walk away.
Address: Lauriston Pl, Edinburgh
Chug Butterbeer At The Dog House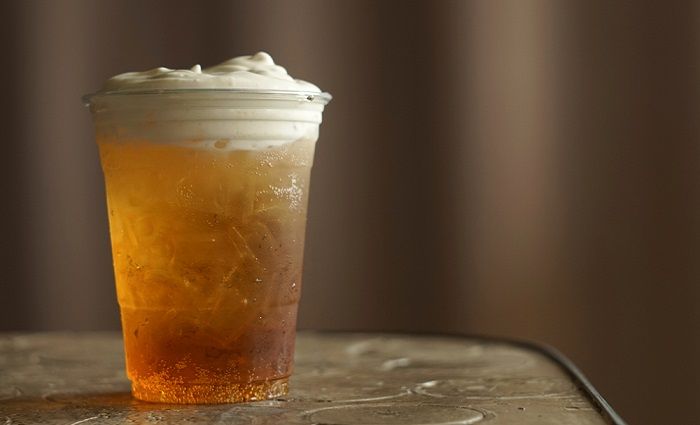 After exploring some of the best Harry Potter stops in Edinburgh, it's time for a refreshing drink of butterbeer. So head on over to The Dog House. It's an off-beat and fun place to grab this iconic drink plus other hearty Edinburgh foods. This delicious drink is famous and beloved for its taste that's similar to butterscotch. Chugging this butterbeer will quickly get you on a magical, wizardly journey.
This beloved pub is located on Clerk Street and is easy to locate. I would say The Dog House is like a modern-day Three Broomsticks with its enchanting and funky ambiance! There are also other magical cocktails to try if you're not a beer person.
Please note that butterbeer in Edinburgh is alcoholic, though you can ask for non-alcoholic versions if you're traveling with kids.
Address: 18-24 Clerk St, Newington, Edinburgh
Get Lost Shopping At The Enchanted Galaxy
The Enchanted Galaxy is found on the beautiful and colourful Victoria Street which is central and easy to find. This Enchanted Galaxy is a major stop for Potterheads, mainly because of the unique selections of Harry Potter merchandise. I love shopping here and exploring the mystical products to select from.
There are Harry Potter goblets, a Gringotts checker set and other toys, plus the apparel you'd expect to find, and several backpacks, plus much more. This store is great to get lost in and uncover hidden Harry Potter gifts. They also carry other merchandise from other famous shows like Marvel movies, DC comics, and more, so if you're into movies of all kinds, then this is a must-stop location.
Address: 1 Victoria St, Edinburgh
Become A Wizard At The Cauldron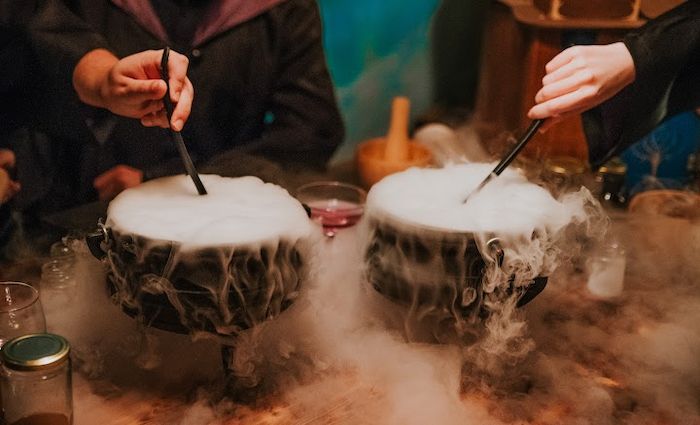 The Cauldron is indeed a favourite Harry Potter stop in Edinburgh to feel the wizardly power and magical vibes. Here at the Cauldron, you can make potions with a cocktail class, wield a magical wand, and use molecular mixology to brew elixirs. All of the elixirs you make are drinkable with a magical touch!
However, that's not all. There is another fun and interactive way you can become a wizard master. The Cauldron also offers a Wizard Afternoon Tea where you can use working magic wands and brew interactive teas. Now that's what I call a wizardly Harry Potter experience!
This extraordinary experience is located on Frederick Street just a 3-minute walk from Queens Street. The Cauldron is really central since it's right next to New Town. I also advise you to book your wizard experiences for potion making or afternoon tea ahead of time to make sure you can get in. The Cauldron is one of the best Harry Potter stops in Edinburgh, which means it's busy and reservations can book fast.
Address: 57a Frederick St, Edinburgh
Best Edinburgh Hotels For Harry Potter Fans
Check out these cool hotels that have ties to Harry Potter. You'll find places to stay where J.K. Rowling stayed, themed apartments, witchy buildings, and places that are located close to all the best Harry Potter stops in Edinburgh.
The Balmoral Hotel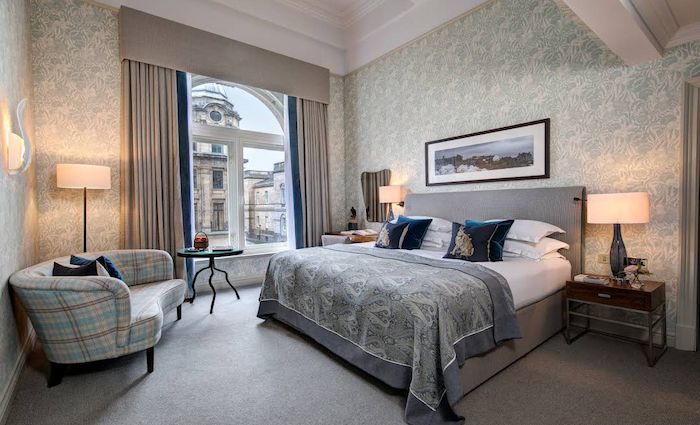 £££ I 5 Star I Rowling Suite I Fantastic Views
The Balmoral Hotel is a Potterhead dearest destination for many. Rowling wrote some of her famous Harry Potter books here, including where she finished the Deathly Hallows book! You'll find The JK Rowling Suite in room 552. In this suite the hotel has Rowling's writing desk, which makes it a great memento of the author. This Balmoral Hotel has is filled with Rowling's memories and vibes that can inspire someone to write the next magical series.
The Witchery By The Castle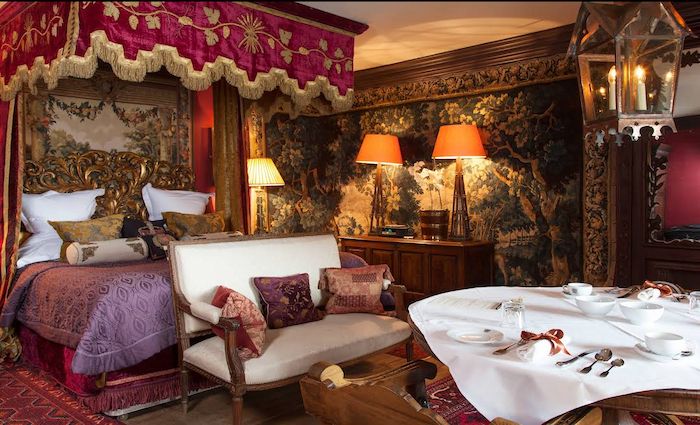 ££££ I 5 Star I Luxurious and Elegant I Gothic Design
The Witchery By The Castle, like its name suggests, is a bewitching hotel with its design and atmosphere. Due to the hotel's dark and dramatic ambiance, you'll truly feel enchanting Harry Potter vibes and energy. The location of this hotel also makes it a great stay for nearby Harry Potter destinations. The Witchery is really close to Victoria Street, Greyfriars Kirkyard, and more.
Canongate Luxury Homestay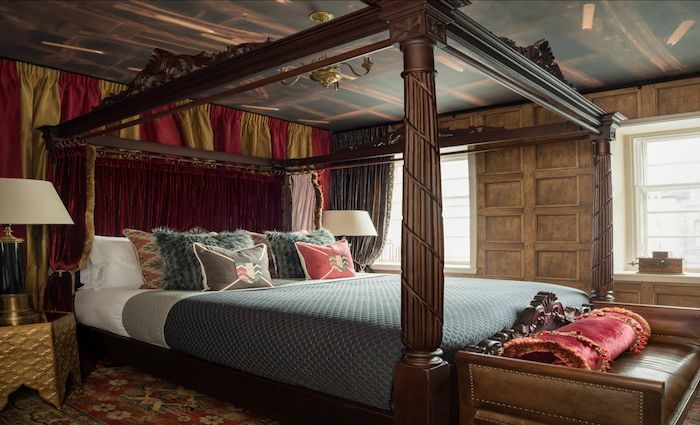 ££ I 3 Star I Comfy I Harry Potter Theme
This is a popular apartment where you can feel the magical touch on your Harry Potter journey. Canongate is a fully Harry Potter-themed apartment and filled with luxurious Potterhead vibes. For instance, you'll feel like you're in Gryffindor when you're in the rooms and common room found here. You'll find Hedwig on the mantel here too!
The Grassmarket Hotel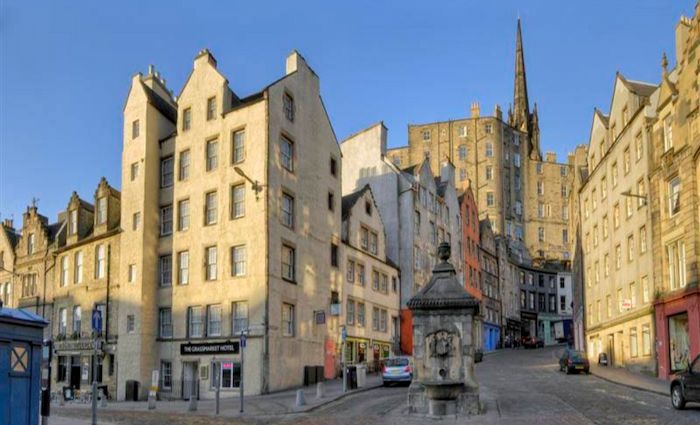 ££ I 4 Star I Fun I Harry Potter Friendly
The Grassmarket Hotel is a Harry Potter-friendly place and the owners are big fans of Harry Potter themselves. What makes this hotel a Potterhead local stop to stay is its proximity to Harry Potter destinations from George Heriot's School to The Elephant Café and more. The rooms are minimalist and have fun decor of comics or maps of Edinburgh.
Best Harry Potter Tours To Take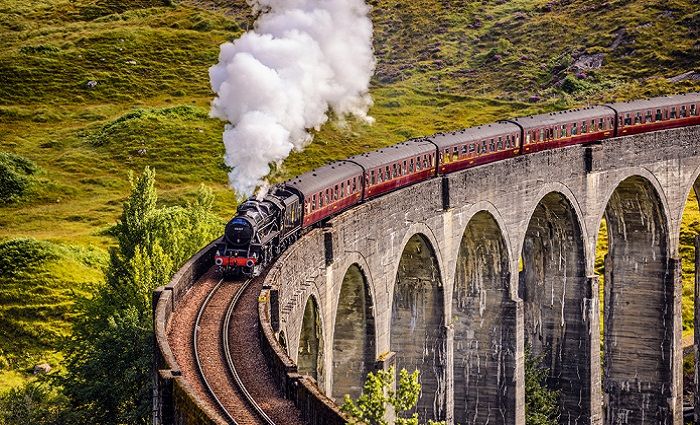 Booking a Harry Potter tour is one of the best ways to see every important location in Edinburgh for Harry Potter fans. Here are some of the best Harry Potter tours you can go on.
The Potter Trail Tour
The Potter Trail Tour is filled with Potterhead energy as it covers all the essential stops in Edinburgh. This tour is award-winning and you'll feel that while listening to your guide. This tour starts with the famous statue of Greyfriars Bobby and ends with Victoria Terrace. The tour lasts between 75 to 90 minutes, so enjoy this activity!
The Ghost Bus Tour
Do you want to experience the spooky adventures of Harry Potter? Then, The Ghost Bus Tours is your best choice! This unique tour provides approximately 1 hour and 15 minutes of fun and mystery. Since this tour runs on a first-come first-served basis, I strongly recommend coming here early for this tour. The Ghost Bus visits main stops in the Old Town, Grassmarket, and so on. To sum up, this Ghost Bus Tour is totally Harry Potter-themed and a ghostly adventure.
Hogwarts Express To The Highlands – The Jacobite
The Jacobite, also known as the Hogwarts Express, is certainly a fantastic and unique experience for Potterheads to try. We might be biased as Harry Potter fans, but this might be the greatest railway journey in the world. This Hogwarts Express tour is an 84-mile round trip journey starting from Ben Nevis and finishing at Loch Nevis. However, what makes this tour extremely fun is that it passes through stops where the scenes from the eight movies were filmed! It's an absolute must for anyone obsessed with Harry Potter.
Red Bus Bistro – Harry Potter Tour
Do you want to feast and drink while touring the best Harry Potter locations? Then the Red Bus Bistro tour is indeed the best choice for you! This tour is filled with Harry Potter themes and vibes. For example, the tour takes you to Harry Potter stops like George Heriot's School, Greyfriars Kirkyard, and more. But, what makes this tour standout is its food and drinks like pizza, gin, and even butterbeer.
Harry Potter Events
Certainly, Edinburgh is a cultural hub for many things, especially for Harry Potter fans and followers. As a result, this city holds major events related to all things Harry Potter from trips to festivals and more.
One past event that grabbed many Potterheads' attention in the city was the Spontaneous Potter. This was a Harry Potter-themed comedy show with fan fiction topics included. Local fans enjoyed the variety of topics that inspired everyone with the world of Harry Potter.
New shows and events are merging related to Harry Potter. For instance, "The Magical Music Of Harry Potter" will start this April in Edinburgh. This show includes the best music of all Harry Potter films and is not one to miss if you're planning a trip here in April! Otherwise, make sure to do a quick Google search to see if any other local activities have popped up so you can time your trip to join in the fun. Happy wizarding!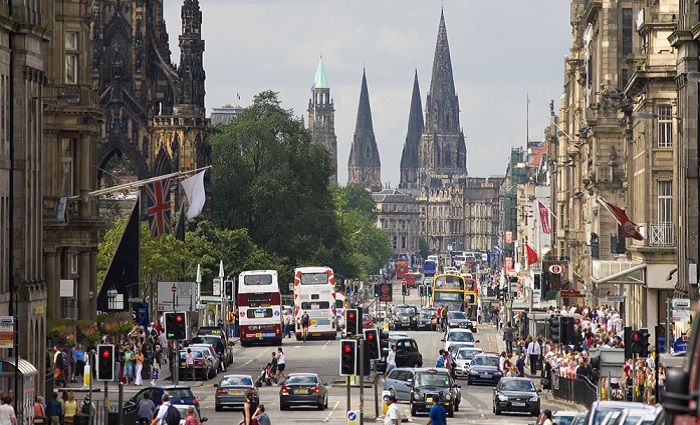 Find the best places to stay
Where to Stay in Edinburgh
Get to know the best areas to stay in Edinburgh. We've recommended our favorite hotels for those who love to stay in the busy city or out along the coast for more peaceful views of the sea.