Whether you are on a cruise or enjoying a bit of culture and shopping, the one thing you never need to worry about in Southampton is food! Our local foodie has put together a list of the best restaurants in Southampton to help you choose.
---
Top Places to Eat in Southampton City Centre
This list contains a wide variety of restaurants. It reflects the incredible range of taste and culture that Southampton offers to its residents and travellers alike. Make sure to bookmark this page for your next trip to the south of England, as we've got you covered no matter your budget or culinary preferences. In this guide, discover the best restaurants in Southampton.
Soleto Bistro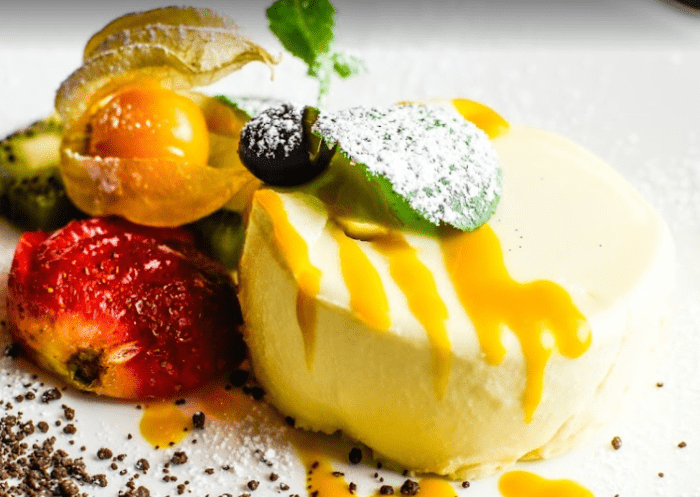 $$ | Italian Bistro | Intimate Atmosphere
Soleto is a quaint and quintessential Italian restaurant that invites you into a very intimate and classy atmosphere from the moment you cross the doorway. However, do not let its classic feel fool you.
Soleto's bistro setting gives a modern twist to old classics and brings new flavours into your meal. This is not your average traditional Italian. In other words, you got plenty of pasta and pizza to choose from as well as salads and meat and fish dishes. My personal favourite dish is the wild mushroom ravioli, in a creamy leek and pine nut sauce.
Address: 11 Commercial Road
BayLeaf Kitchen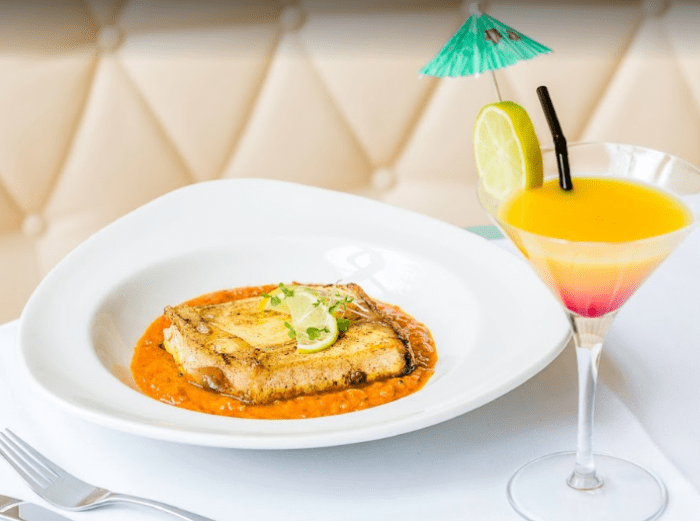 $$ | Contemporary Indian | Fine Dining
BayLeaf Kitchen is the best Indian restaurant in the city. Many people in Southampton come from the Indian subcontinent, and we have many restaurants and takeaways that could contest this title. But BayLeaf Kitchen brings traditional Indian cuisine to the 21st century and always with the freshest ingredients.
Although its interior may seem plain, I guarantee you the food experience is far from this simple aesthetic. Moreover, it is a great place to eat if you are vegetarian or vegan. And if you want to understand the quality of their food, please order a korma. This traditional curry dish will change your mind and make you realise what Indian food should actually taste like.
Address: 56 High Street
La Regata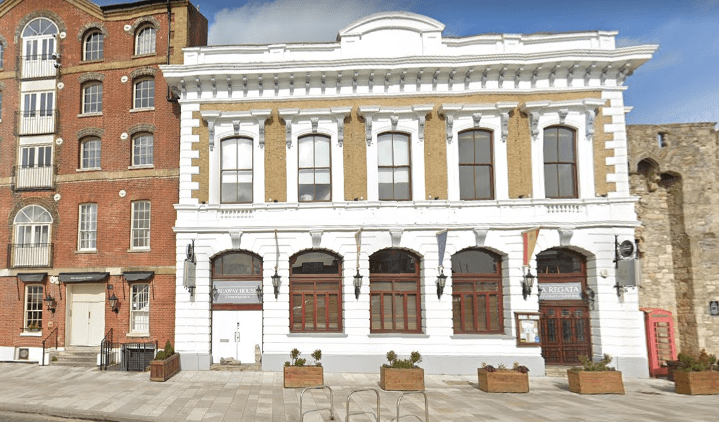 $$ | Spanish Tapas | Group Parties
As a Spaniard, I take Spanish food very seriously. And La Regata is one of the few Spanish restaurants outside of London that claim to be authentic and 100% deliver on that promise.
The interior of this restaurant looks exactly like what the restaurants by the marina do in my hometown, and the setting is really good for what Spanish food does best: bringing larger groups of people together.
The menu consists of Spanish tapas from different parts of Spain. As a northerner, I always ask for the pulpo a la gallega (octopus Galician style with paprika) and fabada (beans stew), and it always tastes like home.
Address: Town Quay
Smugglers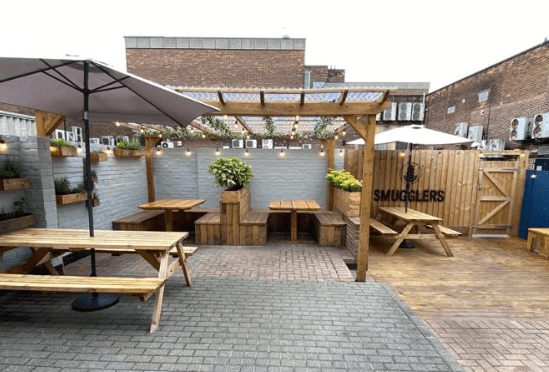 $$ | Gastropub | Beer Garden
Smugglers Bar and Restaurant encapsulates what the current gastropub aesthetic is in the UK: modern sleek furniture and decor mixed with a classic pub setting. It brings forward the fresh, young vibe of the independent and locally-owned businesses in Bedford Place, which is the lesser-known foodie heaven of Southampton.
One of the best features of Smugglers is their beer garden, which is a favourite for families and groups. Moreover, it is really good for enjoying the outdoors when it rains. If you stop at Smugglers, I recommend that you try their cocktails and bottomless brunch.
Address: 16 Carlton Place
Yuri Cottage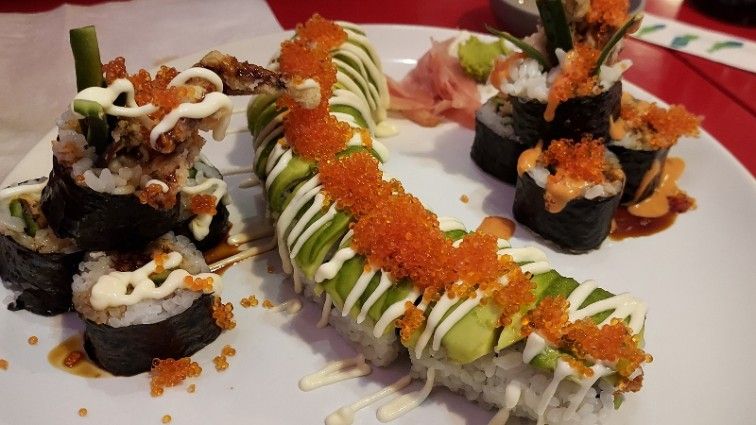 $-$$$ | Sushi | Minimalist
Yuri Cottage is the type of restaurant that you would miss if you didn't know it was there. It is very small with only four tables of two to four people. The business model and the vibe are very minimalistic.
This is a perfect spot to eat good sushi on whatever budget. Moreover, the location is perfect if you are going to the theatre, as it is just a couple of doors up from the Mayflower.
The best thing to do when ordering at Yuri Cottage is to tell the owner how much you want to spend. Following this, he will create your meal based on any allergies or preferences. Let him give you the best value for money!
Address: 21-23 Commercial Rd
The Oxford Brasserie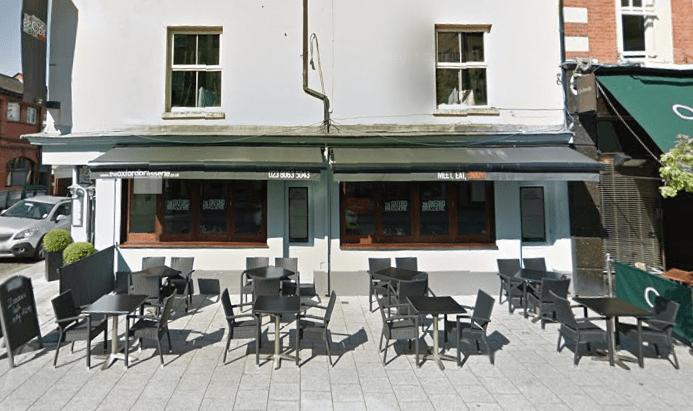 $$$ | Traditional Brasserie | European Food
The Oxford Brasserie is one of the oldest restaurants in Southampton. It is located in Oxford Street, which is the other food hub of the city centre. Unfortunately, many tourists often miss it, but the spot is well known by the locals.
This is a traditional brasserie. The decoration and furniture are more classic, creating a formal atmosphere, perfect for business meetings and special occasions. In addition, the chefs here pride themselves on using the best fresh produce, as well as locally sourced ingredients.
The menu is a traditional brasserie, with European recipes that cater to everyone: their vegan and kids menus are always a safe bet.
Address: 33-34 Oxford St
Ottoman Kitchen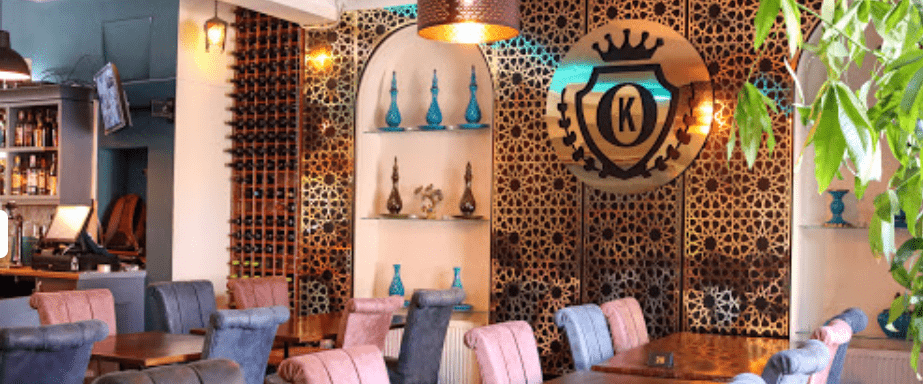 $$ | Turkish Dining | Cool and Casual
Ottoman Kitchen won the prize for the Best Middle Eastern Restaurant in the UK (2019). The interior is gorgeous and modern, and it has a very classy feeling. But the vibe is very casual: you can turn up in jeans and you won't be out of place! Moreover, the restaurant has a great outdoor dining area, and they often hold live music in the venue, which makes it a very cool and friendly place to eat.
The menu is simply delicious: I am yet to order something and not have the most tender meat grilled in their charcoal kitchen. I recommend that you order their sarma beyti or mixed shish. Don't worry, this is not like what you see on your ordinary kebab takeaway, but it will make you wish it was. Keep in mind that the portions are very generous so go with an empty stomach!
Address: 36-37 High Street
Lakaz Maman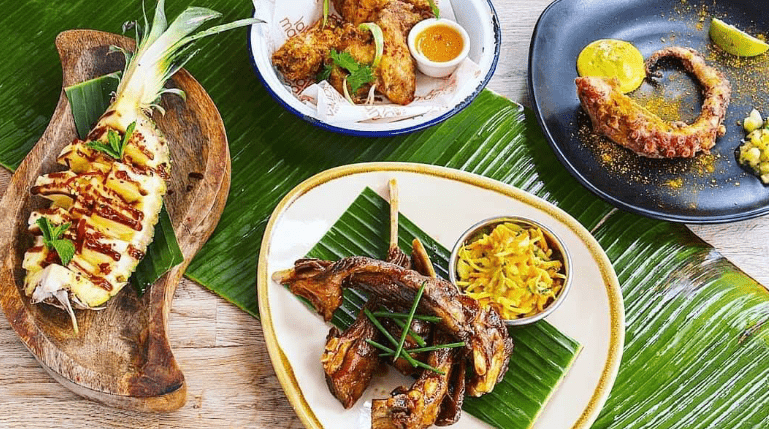 $$ | Mauritian Street Food | Flavoursome and Fresh
Lakaz Maman is another star and classic restaurant of Bedford Place. This small restaurant is owned and run by Shelina Permalloo, one of the winners of MasterChef (2012), and definitely had to be on this list of best restaurants in Southampton. They specialise in Mauritian street food, and you can eat in or takeaway.
The whole idea behind Lakaz Maman is to enjoy delicious, carefree, flavoursome food in a very relaxed and chilled environment, just as if you were vacationing in Mauritius itself.
The menu is one of the most accommodating of the whole city, with clearly labelled vegetarian, vegan, gluten, and dairy-free options. And it is all halal too. As I am a regular there, I know how hard it is to choose from such a versatile menu. However, the braised mutton and grilled octopus dishes are incredible, as well as the anana confit (tamarind pineapple) is something to wake up all senses!
Address: 22 Bedford Pl
Sakura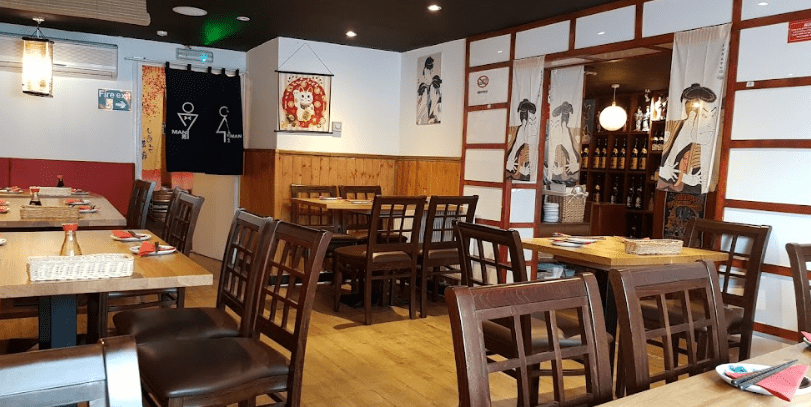 $-$$ | Japanese Dining | Family Friendly
Sakura is a Japanese restaurant that wants to bring Japan to everyone. The atmosphere evokes a classic, low-key Japanese diner, but in a relaxed environment, making it perfect for having a drink and food with friends and family.
The menu goes far beyond sushi: they serve ramen, yakisoba, and many rice dishes (gohan). My favourite, by far, is the Donburi, usually chicken or ebi (king prawn). This rice bowl dish with all the juices of the meat, vegetables and miso will revitalise on those British weather days that are often unavoidable when you visit Southampton.
Address: 20 Bedford Pl
Beity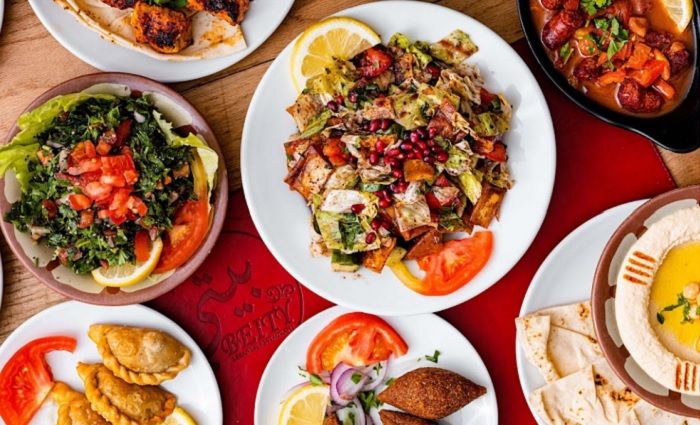 $$ | Lebanese | Cosy and Homely
Beity means "my home" in Arabic, which is the exact feeling that it transmits. The restaurant is very spacious inside. The music is always on point, and the service is always fantastic. One of the reasons I keep coming back to Beity, is not just because of the food, but because I always feel so welcomed and cared for.
In addition, the menu is excellent. The restaurant is a family business that serves traditional Lebanese food with authentic recipes and fresh ingredients. Above all, I recommend coming here for lunch to enjoy the great variety of meze (starters), particularly the falafel and the humus beiruty. Their flavours will make you have a whole new appreciation for these two Mediterranean basics!
Address: 123 – 124 High St