San Francisco has amazing clam chowder and burritos, but have you heard about the amazing desserts as well? Whether you're in the mood for ice cream or a unique pastry, San Francisco has it all. We've compiled a list of the 9 best desserts for a little indulgence while visiting one of California's best food cities. You can't go wrong with this list of the top desserts to try in San Francisco.
---
Pro Tip: It's easier to organize your trip when you have all your resources in one place. Bookmark this post along with our San Francisco Guide for more planning resources, our best San Francisco tours for a memorable trip, and the top things to do in San Fran.
The Best Desserts to Try in San Francisco
One of the reasons San Francisco is so famous for food is that it combines many different influences to serve up the best cuisine. You can readily find Chinese, Russian, and Italian cuisine in San Francisco, to name a few. The same goes for its desserts.

Of course, you'll find your classic ice cream and cakes here, but you'll also find desserts from all over the world that are made popular in this City by the Bay. Even the classic ice cream shops on this list have a little twist such as one store that serves up made-to-order ice cream from scratch! You are sure to find something on this list that satisfies your sweet tooth. Savory food more your vibe? Check out the top foods to try in SF.
If you love food and travel, you'll love going on a food tour! Check out our local food tours in San Fran—they're a great way to explore a new city and eat good authentic food.
Not ready to book a tour? Find out if San Francisco tours are worth it.
9. Banana Cream Tart from Tartine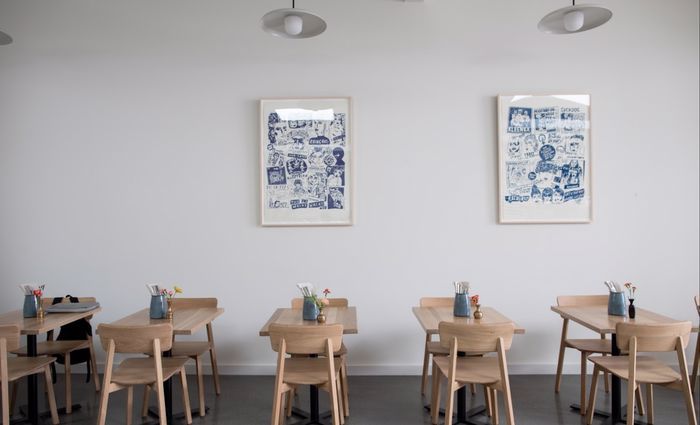 Tartine is a classic bakery in San Francisco. People love to grab a dessert to go and bring it to the nearby Dolores Park. All the pastries here are delicious, but the banana cream tart is the most coveted item. If you're in a hurry, please note that this bakery is extremely popular, so you may see a long line. However, we think the delicious desserts and top notch customer service are worth a bit of a wait.
Tartine has two locations, one on 9th Avenue and one in the Mission District near Dolores Park, but the banana cream tarts are currently only offered at the Mission District location. Head over there to experience one of the top desserts to try in San Francisco.

Where to get it: Tartine Bakery (Mission District) or Tartine Inner Sunset
8. Vegan Ice Cream Scoop from Salt & Straw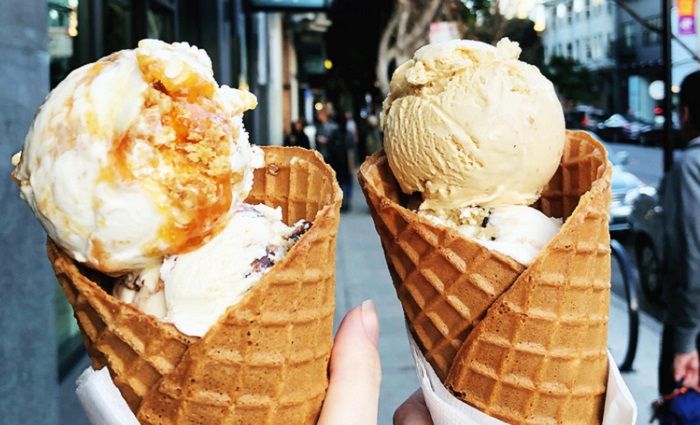 Salt & Straw carries ice cream in many inventive flavors, both with dairy and without. However, this famous ice cream spot is one of the only places in San Francisco that carries vegan ice cream! If you're after a dairy-free treat, you may want to call ahead to make sure they have vegan options that day.
Salt & Straw's creative flavors include Olive Oil (yes, we said olive oil!), Pear and Blue Cheese, and Honey Lavender. This is definitely not your typical ice cream! Sometimes they have seasonal flavors as well, so stop on in any time of the year.
Where to get it: Salt & Straw
Popular San Francisco Tours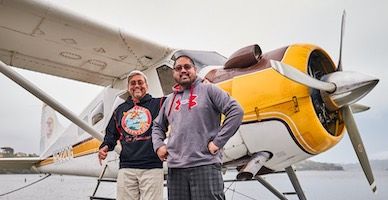 Best Selling Tour
Morning in Marin: Muir Woods, Seaplane, and Sausalito Ferry Tour
A VIP experience with a local storytelling guide. With hotel pickup included from San Francisco, begin your day in style. Head to the Muir Woods before the crowds and spend an hour amongst thousand-year-old Giant Sequoia trees. Next, hop onto a seaplane, take in the beauty of the bay, and see the top sights from above. Once landed, enjoy a locally-sourced lunch in Marin. The day ends in Sausalito for free time to explore before ferrying back to San Francisco.





Starting at $449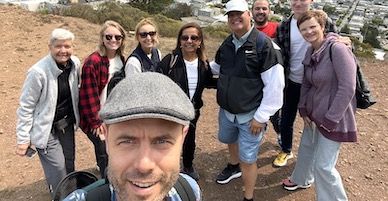 Likely to Sell Out
San Francisco in a Day Tour with Golden Gate Bridge and Alcatraz
In a small group, hop on board and see San Francisco with a local expert. Visit the Golden Gate Bridge, the Twin Peaks, and countless hidden gems on this full-day exploration. The last stop of the day is Alcatraz. Embark the ferry and see the stunning surroundings of San Francisco Bay before reaching the infamous prison. Once you disembark, enjoy the famous Cellhouse Audio Tour where you can explore the entire prison and island. Hotel Pickup Included.





Starting at $179
Not ready to book a tour? Find out if San Francisco tours are worth it.
7. Pineapple Bun from Pineapple King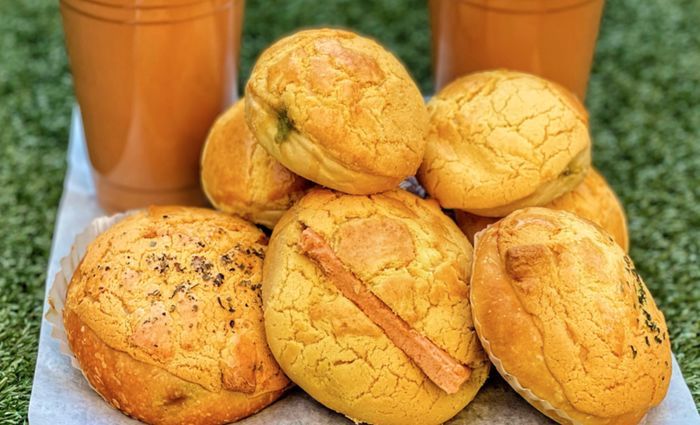 A pineapple bun is a soft bun with a yellow, crumbly crust on the outside, and it was made popular in Hong Kong. Contrary to what the name suggests, these desserts aren't always pineapple-flavored. Instead, they get their name from their yellow flaky crust!
The Sunset District bakery called Pineapple King has a large variety of pineapple buns. Some are made with pineapple, while others are made with ube, taro, guava butter, or matcha. Please note that this Inner Sunset hot spot is cash only if you order inside the store. You can order online to save time!
Where to get it: Pineapple King Bakery
6. Ice Cream Scoop From Bi-Rite Creamery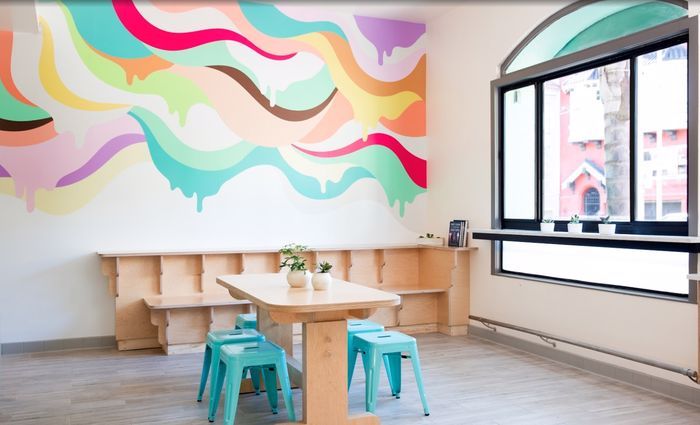 Another iconic dessert place near Dolores Park, Bi-Rite Creamery is easily one of the most famous dessert spots in San Francisco. It is usually pretty hard to find parking, and there will likely be a line, but we promise you'll be happy with what you order since you'll find unexpected flavors here!
People love to get a scoop and take it down to Dolores Park to people-watch. One of the most popular flavors is Honey Lavender. However, with creative flavors such as Balsamic Strawberry and Black Sesame, we won't blame you if you end up getting two scoops (or three!). Enjoy the flavor explosion with one of the best desserts to try in San Francisco.
Where to get it: Bi-Rite Creamery
5. Vatrushka from Cinderella Bakery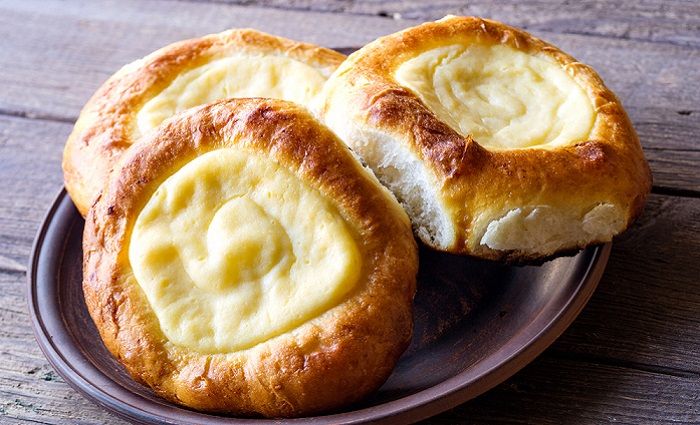 This Russian bakery in the Richmond district is loved for its affordable desserts, and the vatrushka is no exception! Baked with sweet yeast dough, these are basically dessert pierogis. Similar to a danish pastry, these are fluffy buns with a sweet cream filling in the center. Yum!
However, it's hard to go wrong with basically anything from this bakery. Their eclairs and their Napolean cake are popular as well. Keep in mind that just like with most places in San Francisco, it is hard to find parking here! We recommend taking a leisurely walk down to the Golden Gate Park, vatrushka in hand.

Where to get it: Cinderella Bakery & Cafe
4. Boozy Milkshake from Ice Cream Bar
What's better than milkshakes? Boozy milkshakes, of course! San Francisco boasts many wonderful places to get this adults-only sweet treat, but one of our favorites is the Ice Cream Bar. Located in San Francisco's Cole Valley neighborhood, Ice Cream Bar serves many yummy desserts, but few beat the boozy milkshakes. One of our favorite flavors is the Dublin Honey. It's made from Guinness stout and includes caramelized honey ice cream. Cheers!
Where to get it: The Ice Cream Bar
Not ready to book a tour? Find out if San Francisco tours are worth it.
3. Ice Cream Cone from Smitten Ice Cream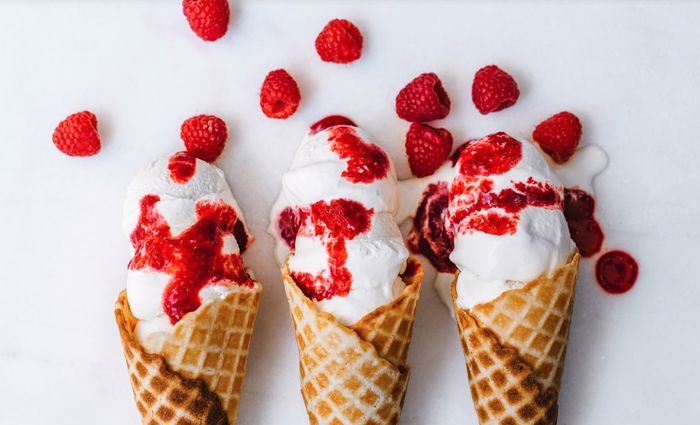 OK, we know there's a lot of ice cream places on here, but Smitten is amazing because every single scoop is made to order! Here's what that means. They have a liquid nitrogen machine which makes this possible, so literally every single order is made from scratch! Not only that, you can watch it being made right in front of you, which we think is worth the trip alone.
Smitten has the classic ice cream flavors like cookie dough and vanilla, but sometimes this iconic store offers San Francisco-inspired flavors as well. No matter which scoop you select, we pretty much guarantee you'll be "smitten" over these flavors.
Where to get it: Smitten Ice Cream
2. Kouginn-Aman From b. Patisserie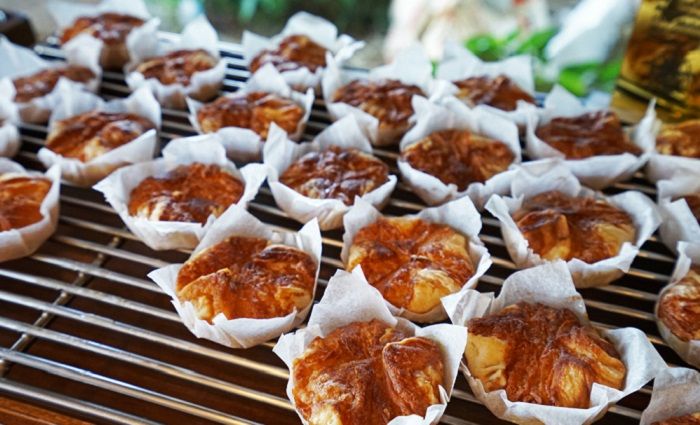 If you've never heard of kouign-amann (pronounced "queen-a-mahn"), it's a multi-layered round cake made from laminated dough. And it's incredible. The name means "butter cake" in Breton, which is a Celtic language. The Pacific Heights pastry shop b. Patisserie makes pastries that are so delicious you can smell them from a block away. Their kouign-amann is no exception, which is why it's on our list of the top desserts to eat in San Francisco.

They have chocolate kouign-amann year-round, but they are especially well-known for their black sesame kouign-amann. You'll find this flavor exclusively in February for Chinese New Year. There's usually a line down the block for this pastry shop, so make sure you order online to save some time!
Where to get it: b. Patisserie
1. Ice Cream Sundae from Ghirardelli Chocolate Company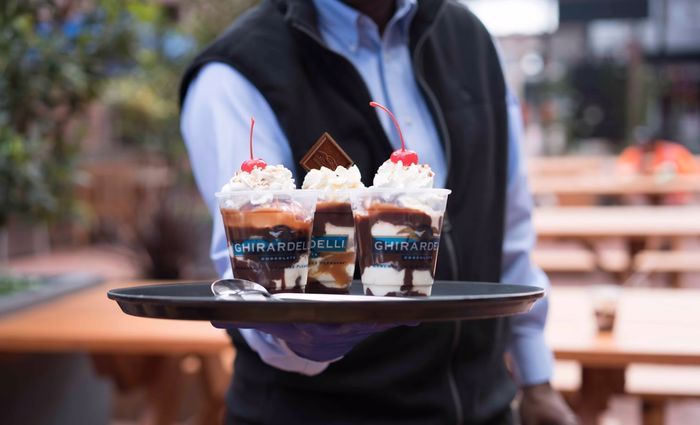 Founded in San Francisco in 1852, the Ghirardelli Chocolate Company is the oldest chocolate maker in the U.S.! That's why they have their own San Francisco landmark named after them (Ghirardelli Square, of course). All of the chocolate made by Ghirardelli is iconic. From chocolate squares to homemade hot fudge, everything they make is a chocolate lover's dream!

They are especially well-known for their ice cream sundaes. The portions are pretty large, and the sundaes might cost more than you're used to. However, when in Rome—I mean, San Francisco— it's worth the price to try some of the most famous chocolate in the world. Great for date night or a family activity!
Where to get it: The Original Ghirardelli Ice Cream and Chocolate Shop
Not ready to book a tour? Find out if San Francisco tours are worth it.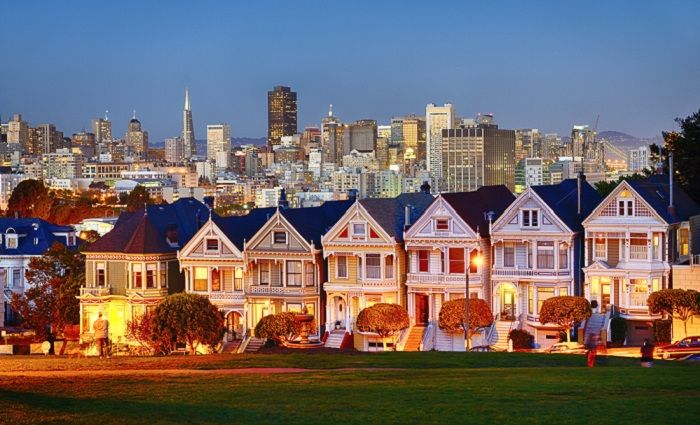 Find the best places to stay
Where To Stay in San Francisco
Make the most of your visit to San Francisco by choosing to stay in the best neighborhoods for seeing all this iconic city has to offer. You'll love our hotel recommendations.