Looking for a hotel with a great pool for your vacation in Venice? It might not be the first thing you think of, but don't let the destination fool you. There are some epic pools in Venice! Here are our favorite Venice hotels with pools. The JW Marriott (featured image) really takes the cake!
---
Pro Tip: Planning your trip to Venice? It's easier to organize your trip when you have all your resources in one place. Bookmark this post along with our dedicated Venice Guide for more planning resources, our top Venice tours for a memorable trip, and how to see Venice in a day.
Top Places To Stay in Venice with Pools
The Floating City is full of great hotels with pools. Whether you're looking to keep up with your laps or want a nice place to lay in the sun while the kids play, there's a hotel pool in Venice for you.
Our Partnership with Booking.com. If you like our content, please book by clicking on our Booking.com links. The price is the same for you and we get a small commission that helps support our blog. We've partnered with Booking.com because they have the most options, great prices, and a solid loyalty program.
JW Marriott Venice Resort & Spa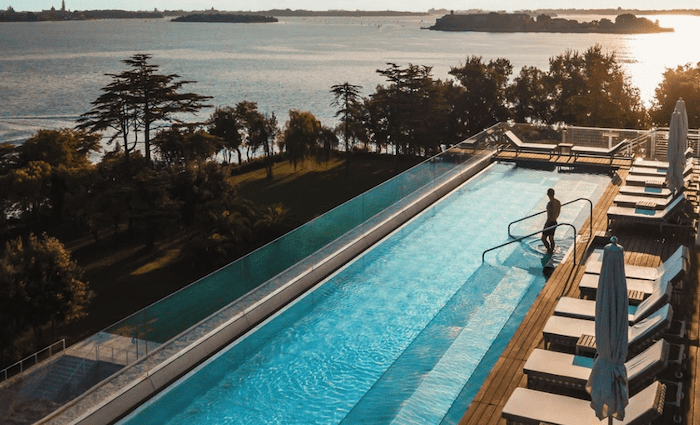 €€€€ | 5 Star | EPIC | Pool
The JW Marriott in Venice is honestly one of the most amazing destinations for romance. They have about a million pools on the premises and all of them are incredible. They even have a garage for water taxis inside the hotel! Basically, you just take the boat into the hotel and get off inside. It's so cool!
If James Bond were going on a holiday in Venice, he would probably stay here. That definitely makes it good enough for me. Not to mention, the hotel is basically the entire Island, which is another cool feature.
Cipriani, a Belmond Hotel, Venice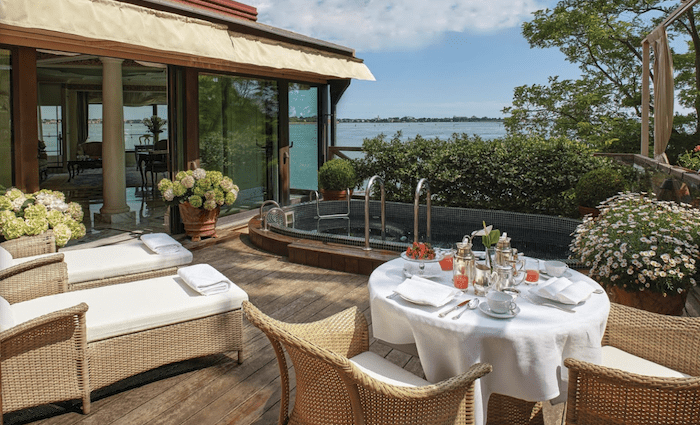 €€€€+ | 5 Star | Giudecca | Resort Luxury | Pool
A customer asked me to book them the Cipriani Hotel in Venice over a decade ago and I hadn't heard about it before then. This was back when we first opened the company and I remember thinking, "Wow, I can't believe places like this exist."
The Cipriani is arguably the nicest hotel in Venice, which is reflected in its price per night. You can spend over a thousand dollars for a standard room and use the hotel pool or pay a few thousand per night and have your own private soaking hot tub.
Stop a moment and think about what you'd do if you won the lottery, got an epic promotion, or sold your company. There's actually a good chance that what you envisioned was the Cipriani Hotel in Venice.
Popular Venice Tours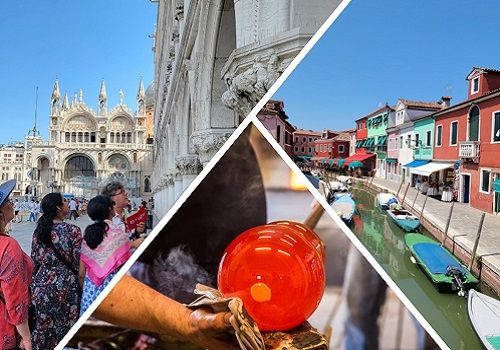 Best Selling Tour
Ultimate Venice in a Day with Murano and Burano
The ultimate tour of Venice. You'll get skip-the-line access to the most important buildings in Venice, plus a gondola ride, and private transportation to the islands of Murano and Burano. It's a full day of touring that will make for the best memories in Venice ever.





See Prices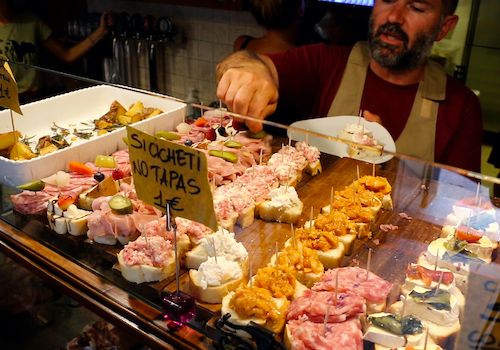 Authentic Experience
Venice Evening Food Tour in Cannaregio District
People who say Venice is too touristy have not done enough research. Cannaregio is an amazing break from the crowds, and our food tour is the most authentic way to experience it. Taste cicchetti and other Venetian specialties including wine. You'll leave with a full stomach and a love for Venetian food!





See Prices
Not ready to book a tour? Check out our best Venice tours to take and why.
Hilton Molino Stucky Venice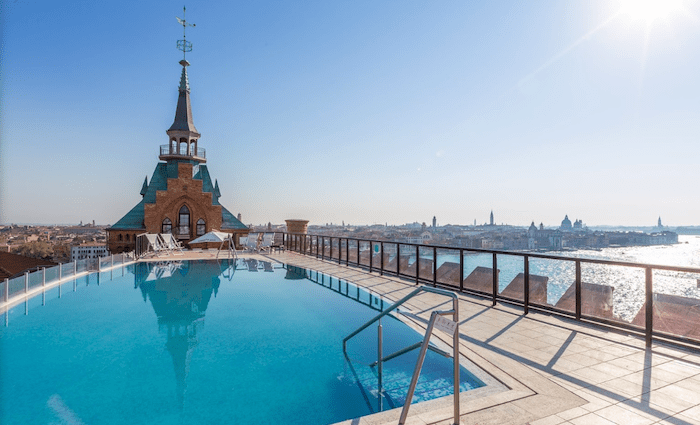 €€€ | Giudecca | Rooftop Pool | Family Friendly | Pool
The Hilton Molino Stucky is right up my alley because I'm not looking to spend $400+ per night on a hotel room. It just isn't my thing. I love a good rooftop pool and the Molino Stucky gives you a baller luxury experience for less than you'd pay at other comparable hotels.
I also love that this hotel is in Giudecca, which isn't part of the main island cluster of Venice. The hotel has a private taxi to and from St. Mark's Square that's free for hotel guests, which makes staying here a solid option.
This is a super tempting option when visiting Venice with a romantic partner or with the family. Basically, it's great for any type of traveler willing to spend a few hundred dollars per night on a room.
Hotel Giorgione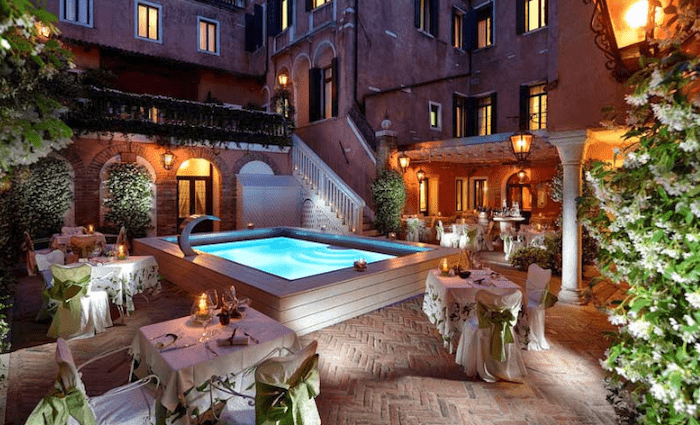 €€ | 4 Star | Pool | Cannaregio | Family Friendly | Pool
This boutique-style hotel has comfortable amenities and a small pool in the courtyard. It's a particularly great place for families with kids. The rooms are reasonably priced, so you could upgrade for a bit more space.
Located in Cannaregio, the top attractions are about a 15-minute walk away, but you'll get to enjoy the neighborhood's fantastic food scene with plenty of authentic local restaurants all around.
San Clemente Palace Kempinski Venice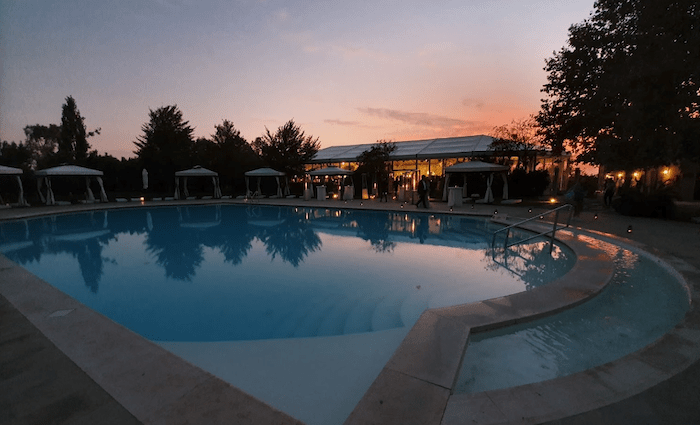 €€€€ | 5 Star | San Clemente Island | Family Friendly | Pool
Kempinski, like the JW Marriott, is its own island, which has some advantages and disadvantages. Hotels like this exist for people who have likely been to Venice many times and want to enjoy this surreal destination without the commotion of being on the main island cluster.
It's a beautiful property with multiple pools, an extra-large putting green, and all the spa essentials you could possibly want. It would be the most epic and expensive location for a destination wedding!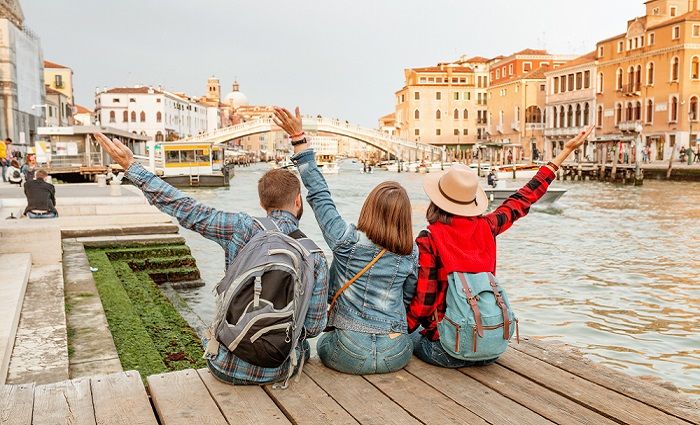 Find the best places to stay
Where To Stay in Venice
Despite the size of this little island, there are endless hotel options to choose from. We've picked the best neighborhoods and hotels to stay in whether you prefer Italian luxury or quiet serenity—or both!