Ahh, Capri. The most enchanting, exclusive island in Italy. If you've made it all the way out here to this little island, you might as well stay for at least a night (or two!) and bask in the warm embrace of a Capri sunrise. But where should you stay? Keep reading to discover what we think are the best hotels in Capri.
---
Pro Tip: Planning to visit Capri off the Amalfi Coast? Bookmark this post in your browser so you can easily find it when you're on the island and hunger strikes. See our guide to Capri for more planning resources, our best Capri tours for an exciting trip, and the top things to do on the Amalfi Coast.
The Top Hotels in Anacapri and Capri, Italy
The island of Capri (pronounced CAH-pree) has long been known as a luxury destination in southern Italy. If you're heading to the Amalfi Coast, Naples, or Sorrento, you're as close as you can get, so hop on a boat and spend a couple of days in Capri! It's barely 4 square miles of rugged terrain, yet there are two areas here: Capri and Anacapri.
You'll still find the picturesque, classic Italian villas perched on the hillsides and adorned with bougainvillea. And the food? Top-notch. It's a luxury life here, replete with famous citrus orchards, tiny beaches, and Michelin-starred restaurants. Keep an eye out for celebrities who are known to arrive here on their yachts.
Now that you're even more excited to spend a weekend here, you still need to find a place to stay. We have you covered! Keep reading to choose from one of our favorite hotels in Capri. We've included options with several price ranges (though you'll find more expensive hotels here) in both Capri and Anacapri.
Our Partnership with Booking.com. If you like our content, please book by clicking on our Booking.com links. The price is the same for you, and we get a small commission that helps support our helpful blog content. We've partnered with Booking.com because they have the most options, great prices, and a solid loyalty program.
Hotel Giardino Dell'Arte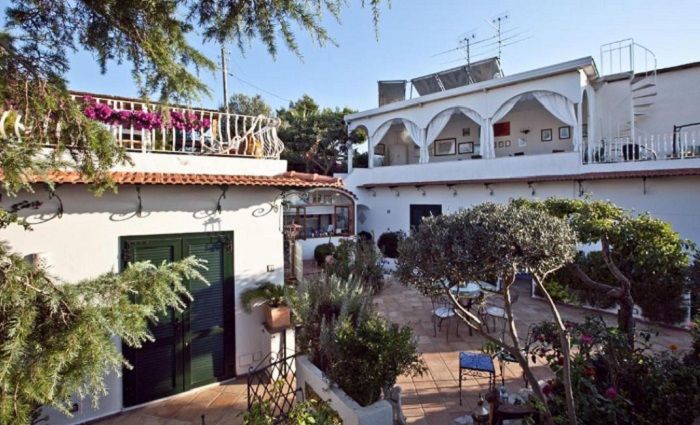 €€ | 4 Star | Boutique B&B | Family Friendly | Fresh Fruit at Breakfast
This beautiful Anacapri hotel has tons of green space and fresh air to breathe in. It's great for families with children who need a safe area in which to run around. Best of all, this bed-and-breakfast has its own fresh fruit that's served in the morning along with freshly baked croissants and pastries. Italian hospitality at its finest!
For travelers who love smaller properties, note that this hotel has just nine rooms to choose from. That means you'll have a chance to get to know fellow guests and your hosts. And when you're ready to relax after exploring this little island, enjoy the hydromassage pool and garden.
Capri Palace Jumeirah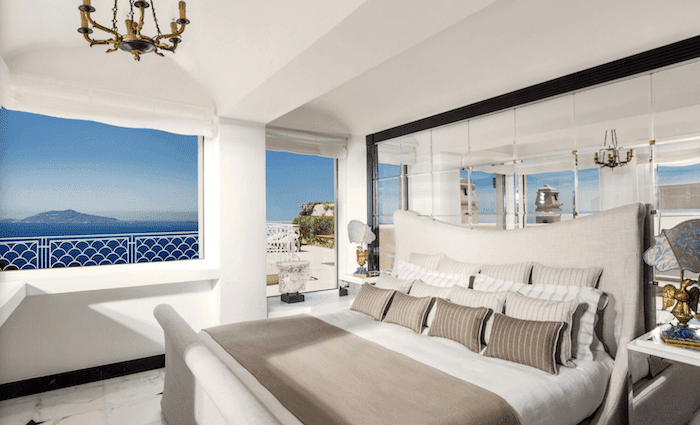 €€€€ | 5 Star | Ultra Exclusive | Pool and Spa | Contemporary
Situated on what feels like the top of the world in Anacapri, Jumeirah Palace is likely the most luxurious, stylish, and exclusive hotel in Capri, which just might make it one of the best on Earth. Here you'll have access to a medical and relaxation spa whose goal is to you feel your best.
After a night in your luxe room with sweeping views of the Mediterranean, stop in at L'Olivo, the only 2-star Michelin restaurant on the island. And as an added luxury here (as if there isn't enough), enjoy exclusive access to the coveted Il Riccio beach club with its cliffside terrace restaurant. If you're ready to splurge on a hotel in Capri, the Jumeirah Palace is the place to do it.
Villa Mariuccia Capri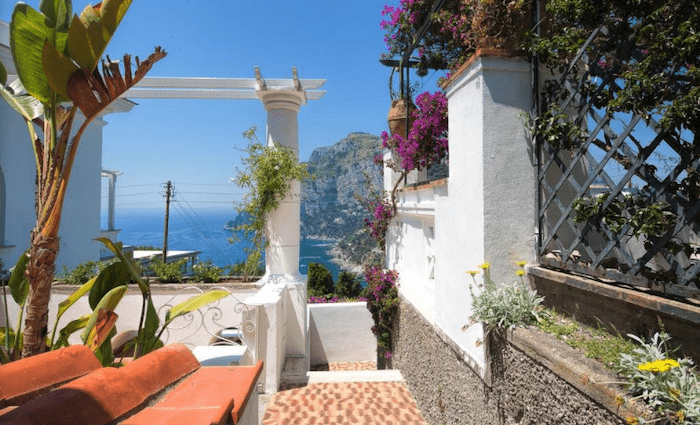 €€€ | 4 Star | Close to Exclusive Beaches | Apartments
This little apartment hotel is located in a quiet neighborhood in Capri. There are a few sizes of apartments to choose from, and they all have kitchenettes for convenience. If you're here off-season, the prices are amazing for all the space and amenities in the room.
We also love that this hotel is situated near some of the exclusive beaches. There aren't many in Capri, so it's nice to have close proximity here.
Grand Hotel Quisisana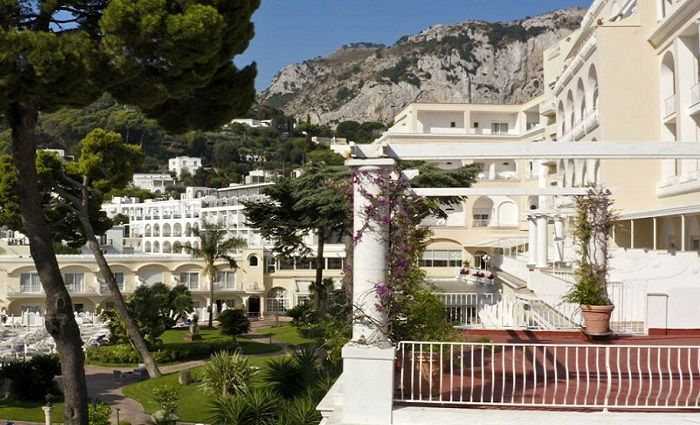 €€€€€ | 5 Star | Piazzetta Location | Capri Luxury
If you want to stay in a luxury hotel right in the popular piazzetta (main plaza) of Capri, the Grand Hotel Quisisana is second to none. Even though it's not right on the beach, it still has fantastic views of the Mediterranean. Every item of decor is tastefully chosen to blend and not overwhelm, so expect white and calming pastels everywhere.
As you'd expect, there's a spa on-site here, complete with Turkish baths and saunas, and the Quisi Bar is one of the best places in town for an aperitivo. Even though you're not right on the edge of a cliff or near a beach, you'll feel perfectly central and close to everything you need here.
La Reginella Capri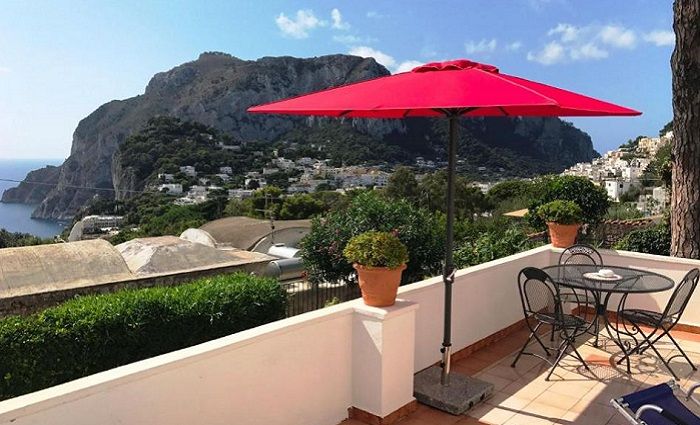 €€ | 2 Star | Affordable Value | Unique Views | Charming
The owners here at La Reginella are on a mission. They know Capri is an expensive destination, but they are determined to share this beautiful location with anyone on any budget. That's why you'll find some of the best rates at this beautiful hotel. Here you're not far from the piazzetta or the edge of the island.
The rooms aren't overly fancy, but they are clean and inviting—and some have that luxe view with a private terrace, too! There are only nine rooms here, so if this is perfect for your budget, don't hesitate to book a room.
And if you're coming with your baby or only child, they can bring a crib or rollaway bed to most rooms for a small fee. That's an offer you can't get in some of the other best hotels in Capri!
Hotel Weber Ambassador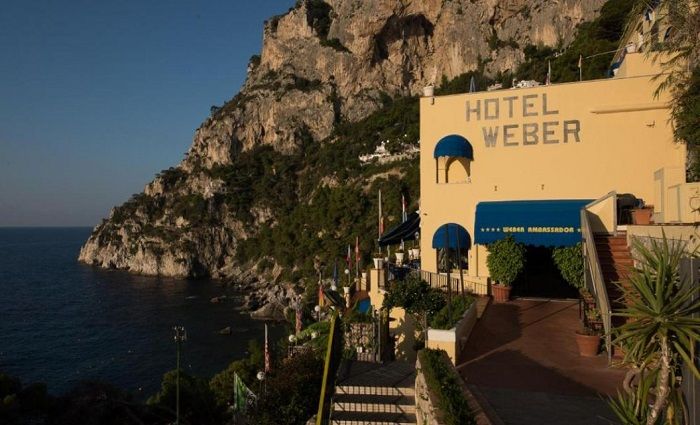 €€€ | 4 Star | Shuttles to Capri City Center | Beachfront | Rooms With Private Balconies
The Hotel Weber Ambassador boasts the best spot on the Marina Piccoli Beach, and many of the rooms have private balconies with loungers and a small table with chairs. But if you prefer a swim, then make sure to lounge in the Ambassador's pool with views of that magnificent sea.
One helpful thing about this hotel is the free shuttle that runs between the hotel and the piazzetta in Capri throughout the day (and night!). This is so helpful since you probably took a boat to get here and don't have your own car.
Hotel Caesar Augustus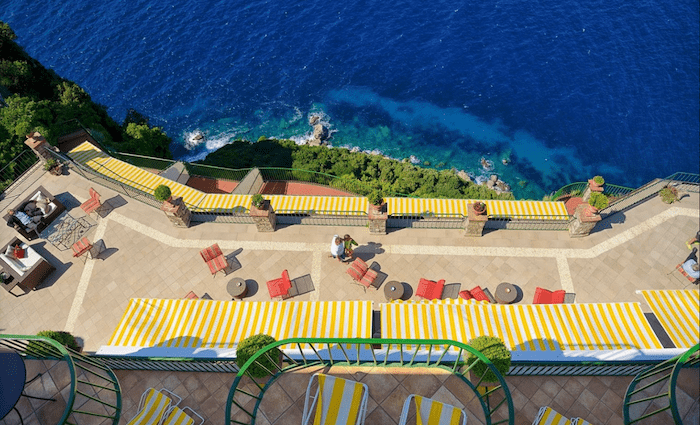 €€€€ | 5 Star | Amazing Pool With Best View Ever | Cliffside
Looking for another exclusive hotel with unbelievable amenities and luxe vibes? Hotel Caesar Augustus fits the bill. Perched on the edge of the Anacapri cliffs, this hotel has breathtaking views from the terrace and outdoor pool. Many of the rooms also have this view!
Just before your taxi brings you to the hotel, you'll probably make a stop at an ancient Roman statue of Caesar Augustus, since the hotel is named after him. But once on the property, you'll also appreciate the individually decorated rooms. Some have mountain views, cliffside views, or sea views. All are worth it. And to top it off, there's an on-site spa to add to your relaxation.
Hotel San Michele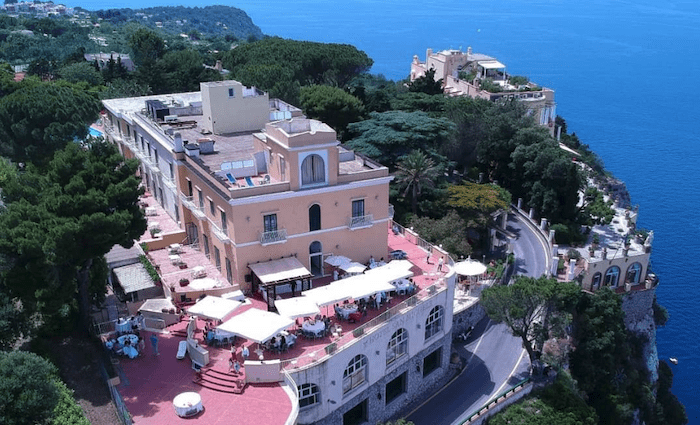 €€ | 4 Star | Comfortable and Great Views | Pool | Family Friendly
Considering how small this island is, Hotel San Michele has a lot of garden space to enjoy the serenity of nature. This hotel is located just inside the Anacapri area and offers shuttles to both the piazzetta in Capri and the Marina Grande.
For those who love doing laps, this hotel provides a modest lap pool for you to maintain your daily routine. It's also large enough for the kids to splash around. And we can't skip the restaurant, which serves true Caprese cuisine. Finally, the San Michele recently renovated its rooms, so you can relax in modest Capri style here.
Suite Belvedere Capri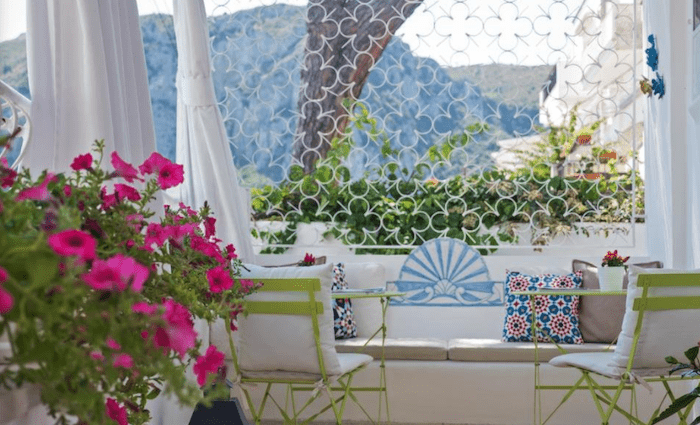 €€€ | Tiny B&B | Central Capri | Great for Couples
Stay in the heart of Capri at this tiny B&B that's perfect for couples. The breakfast won't necessarily wow you, but it's still nice to have it included in the price. Besides, the boutique B&B vibes make this a cozy spot that's just outside the piazzetta in Capri.
The rooms here are suites, and some have sea views and kitchenettes. What's really fun about this B&B are the vibrant pops of color throughout the rooms, even out to the garden terrace that's a perfect site for your morning cappuccino. You're also just steps from restaurants and cafés.
Capri Tiberio Palace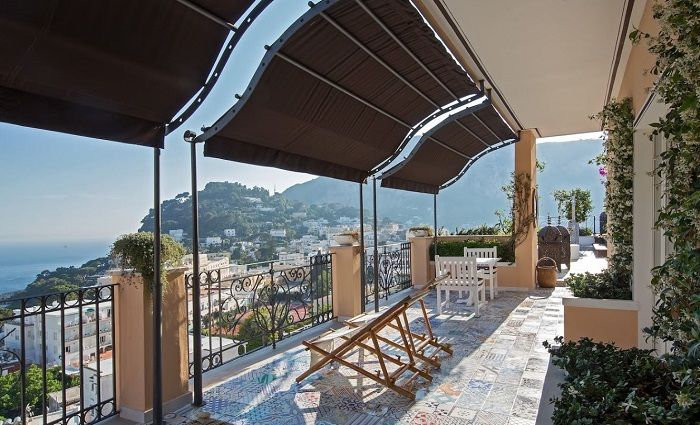 €€€€€ | 5 Star | Central Capri | Epic View | Luxury Spa
The Capri Tiberio Palace is a top luxury hotel in Capri where guests are close to the boutique shops on Via Camerelle and all that the piazzetta has to offer. You'll love the totally Mediterranean vibes, from the color palette to the mosaics in the pool.
Fine dining is a given, and one of the most popular spas in Capri, SPA Tiberio, is located here. The staff is extremely attentive, and no request is too great. It's a true 5-star experience.
Capri Bougainville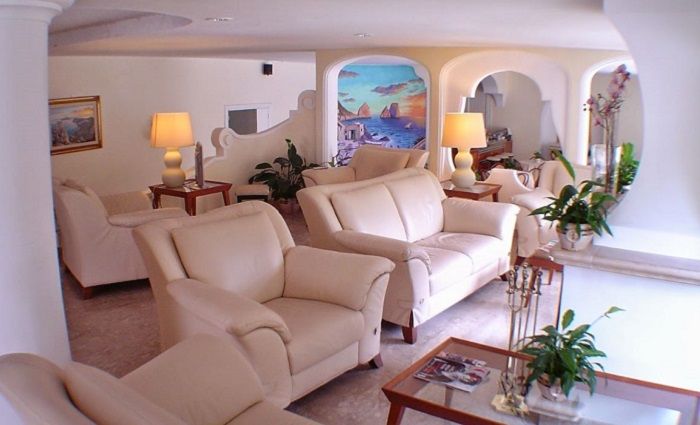 €€ | 4 Star | Great for Families | Small Pool | Playground
This hotel is another fine option for families who are looking for a great price. There's a small pool and playground for children to enjoy while adults sun on the loungers. You'll also enjoy the rooftop restaurant and terrace here.
Thanks to its location in the heart of the Anacapri neighborhood, you get amazing views from the terrace and most rooms. And you have options, from standard rooms to executive suites with private balconies.