The island of Capri is one of the most beautiful islands in the Mediterranean. However many people don't know that there are actually two towns on the island, Capri Town and Anacapri. In this article, we will explain the differences between the two.
---
The Island of Two Towns
In my opinion, Capri is the most beautiful island in the Mediterranean. But don't take my word for it- an Ancient Roman Emperor gave up luxurious Rome to live as a recluse here. If that isn't enough, then it also happens to be a coveted island for poets due to its beauty. Still not convinced, keep reading and I will do my best to change your mind.
Since the name of the island is Capri, many people don't realize that there are two towns here- Capri Town and Anacapri. When you arrive by ferry, you arrive into Capri Town, and many people who visit just for the day only see Capri Town. That is because Anacapri is located on the other side of the island and takes a bit more effort. So let's talk about the differences.
Popular Tours of Pompeii and Capri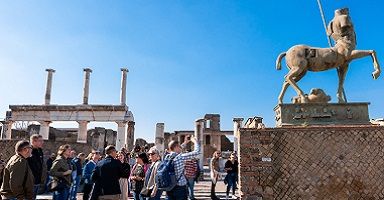 Best Selling Tour
Unforgettable Rome Day Trip to Pompeii and Sorrento
Join us on an adventure from Rome to Pompeii and stunning Sorrento with comfortable, round-trip transportation. Skip the line access with an expert guide and make the most of your time in Italy and leave all the details to us. All you have to do is enjoy yourself!





See Prices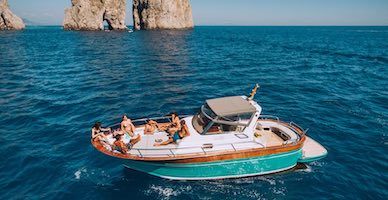 Amazing Experience
Capri Full Day Tour from Sorrento by Luxury Boat
A day in Capri can't be missed, so we make it easy! You'll sail in to azure blue waters for a swim before seeing the famous grottos of Capri. Then enjoy an afternoon eating, shopping, and exploring the island of Capri before returning to Sorrento.





See Prices
Capri Town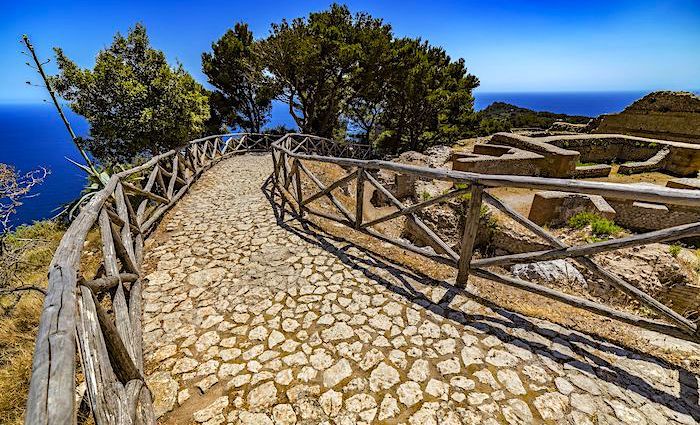 You just arrived off the Ferry and find yourself in Marina Grande ( your port of entry) and now you'll want to go and explore. What most people will do is take the funicular ( this little train) up to the main square of the island called the Piazzetta ( little square). You now find yourself in the heart of the island and you are in Capri Town which is great for people-watching.
How to Get There
Completely effortless! When you arrive by ferry to Capri from the mainland you are already in Capri Town!
Main Things to Do and See
The Piazzetta– Literally " the small square", this is the main hub of action in Capri Town. There are many restaurants and cafes here. To access the Piazzetta from the port below take the Funicular which is a small train that takes you up the mountain.
People Watch– Capri town can get very crowded in the summertime. That's why if you like to people watch, then this is the place for you. Grab a seat at one of the tables at the outdoor cafes, order a cool glass of white wine and people watch away!
Shopping– In Capri Town, you will find all the high end brands. This is the luxurious part of town so if you want to splurge, then you are in the right place.
Villa Jovis- The Roman Emperor Tiberius decided he had had enough of Rome and moved to Capri in 27 AD. He liked it so much, he stayed here for 10 years! During that time, he built many villas. Villa Jovis was the biggest and is the best-preserved to visit today. So much of it is actually still intact that it gives you a really good idea of how massive these villas were 2,000 years ago.
Beaches- Yes, Capri is an island, so of course you have numerous beaches to go to. Forget about long stretches of sandy beaches here, however. The beaches are pebbles or on rocky edges. The sheer beauty of the water will make you forget about no sand. Read this article about the best beaches in Capri.
Anacapri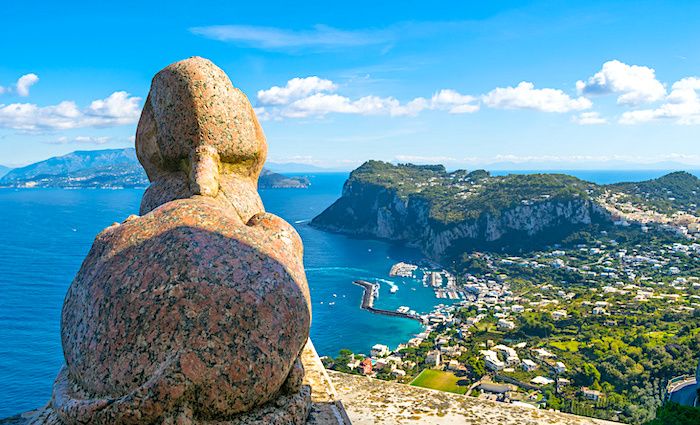 As the name suggests ( Ana in Greek is prefix meaning up) Anacapri is situated higher up on the island. It just so happens that in Anacapri you have Monte Solaro which is the highest point on the island and a great place for panoramic views.
As for the town itself, it is much more laid back with far fewer tourists. You will find quiet, little alleyways here where you can enjoy the beauty without the crowds. The restaurants are cheaper and the boutiques are more artisan than high end.
How to Get Here?
Once you are in the piazzetta, with your back to the funicular, just turn right and start walking up the street and in two minutes you will come to a bus station. The bus ride is around 15 minutes and will get you to the main square of Anacapri.
Main Things to Do and See
Monte Solaro– This is definitely the highlight in my opinion of Anacapri. I recommend you jump on the chairlift ( very similar to a ski lift) and have it shuttle you all the way to the top. This also allows you to see the entire island as you ascend the island.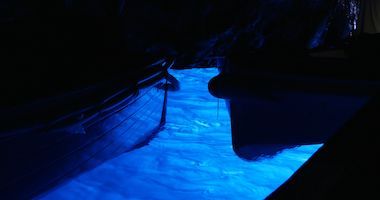 Villa San Michele– At the end of the 19th century a Swedish physician, Axel Munthe came to Capri and fell in love with it, The result is him building a beautiful villa along with the ruins of a chapel of San Michele. What is left is an amazing villa with ancient ruins and breathtaking views. Besides the Blue Grotto, it is the most visited site on the island.
Shopping- Here in Anacapri the shopping you will encounter will be more low-key. You will find more artisan style shops and you will definitely be shopping with less crowds!
Beaches– Same as above, you won't be finding any sandy beaches in this neck of the woods either. But like above, the sheer beauty of the water will take your breath away. Here in Anacapri, you also have some great beach bars for enjoying the sunset with a cocktail.
The Blue Grotto– By far the most famous and recognized site in all of Capri. The best way to visit this is by boat. If there is no boat, you can access it by land, and then wait in a line to be taken inside the grotto by boat on site. As you enter the dark cave, the most electric and beautiful blue color will appear in the water. Hard to describe with words so I added a little photo here of when I was there.
Tours of Pompeii & Amalfi Coast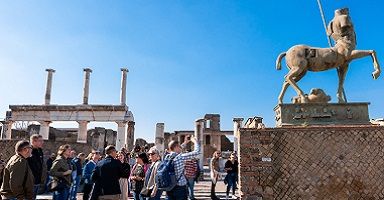 Best Selling Tour
Unforgettable Rome Day Trip to Pompeii and Sorrento
Join us on an adventure from Rome to Pompeii and stunning Sorrento with comfortable, round-trip transportation. Skip the line access with an expert guide and make the most of your time in Italy and leave all the details to us. All you have to do is enjoy yourself!





See Prices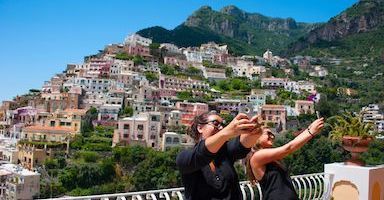 Amazing Experiences
Pompeii and Amalfi Coast Tours
There are many options for your trip to the Amalfi Coast, whether you're taking a full trip or just a day trip from Rome. You can even explore the most famous archaeological site in the world: Pompeii. The combination of plunging cliffs, history, and charm make the Amalfi Coast one of our favorite places in Italy.





See Prices
The End Verdict?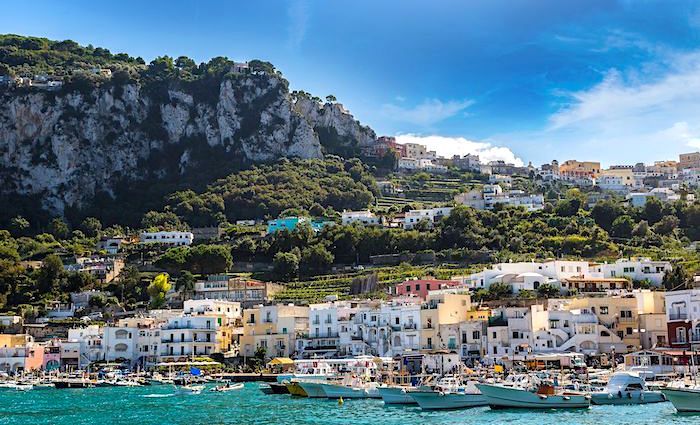 So after reading this article a few things should start to become clear to you. If you have the time, I highly recommend that you visit both Capri Town and Anacapri, since each of them have something special about them. Below summarizes the main differences between them:
Crowds vs Non-crowds- Capri Town will be much more crowded overall. So if you want to people watch or be in the thick of things then chill in Capri Town. If you are looking for the less travelled path, than head to Anacapri
Restaurants- You will find more glamorous and higher end restaurants in Capri Town. As a result, the price will be higher than if you eat in Anacapri.
Beaches– I would say that here either option is great since you have great beaches in both towns.
Views of the island– While you can definitely get great views in Capri Town, nothing can beat the views from Monte Solaro in Anacapri.