Capri is one of the world's most exclusive and beautiful destinations and part of the reason is that it is difficult to reach. There is no bridge, tunnel, or airport on the small but beautiful island. Don't worry, we'll explain 3 great ways to get to Capri from the Amalfi Coast & Naples.
---
The Amalfi Coast and Capri are amazing places. Don't be intimidated by how to get around. It is all easier than you think. Don't forget to also check out our articles on Where to Stay in Capri and the Amalfi Coast.
1) The Cheapest Way to Get to Capri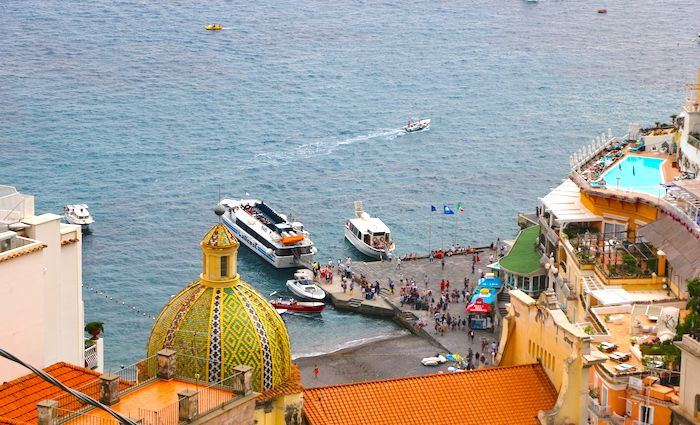 Taking a Ferry to Capri is by far the cheapest way to go and there is an abundance of options and pick-up points along the coast. Where can you catch a ferry?
Year-round:
April through October:
There are also other ports you can use to get to Capri, but these are the main ones.
How can I purchase tickets? You can purchase your tickets in person or over the web using one of the many ferry websites. Omio appeared to have the best e-commerce capabilities. In the summer ferries definitely sell out so consider booking a few days or weeks ahead.
How long does it take? From Naples is 50m to 1hr15m and from Sorrento is 20m to 30m. From Positano and other Amalfi Coast destinations it could take as much as an hour as well depending on how many stops they make.
How much does it cost? Prices are also seasonal. In the off-season, you could pay as little as 15€ and during the high season, prices go up as tickets run out. Another good reason to book ahead. On average, expect to pay 20€ each way.
Heading to the Amalfi Coast? It's full of fun stuff to do and we've sourced passionate local suppliers to bring you access to the coolest activities & experiences!
2) The Most Memorable Way to Get to Capri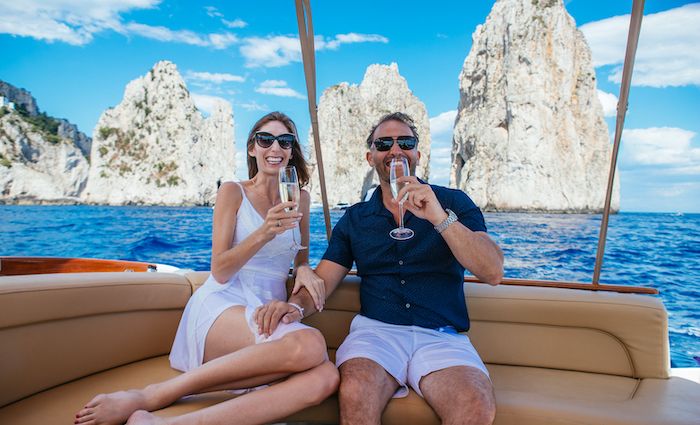 You can go to Capri by private or small group boat charter which is by far the most memorable and best way to go. If the weather is warm, you could arrange a captain and boat to take you from Naples, Sorrento, or the Amalfi Coast for the day (round trip) or you could use it as a transfer.
How can I reserve a private boat to Capri? We offer a full-day private excursion to Capri or a small group Capri full-day tour from Sorrento. It is a private boat tour so it will cost you $1000+ but it is a really cool experience that you'll never forget. I try to rent boats whenever I afford it and the memories always stay top of mind.
How long does it take? Our private boat tour around the Amalfi Coast to Capri is 8 hours long and the small group runs 8 hours with a 4 hour stop in Capri or 4 hours without getting off the boat.
Many wish it were longer as it is a very relaxing day. You can either get off at Capri and stay there or come back with the boat to your hotel or accommodation along the Amalfi Coast. Most people do visit Capri for the day and others use it as a really amazing transfer over to Capri.
How much does it cost? The private version isn't a cheap option since you have a captain and really nice boat for the full day. Expect to pay at least $1000 (900€+/-) and north depending on group size/boat size.
The small group option ranges in price but will run less than $200 per person and includes a lot.
Where does it leave from? If you are staying along the Amalfi Coast you can be picked up at really any port. You can communicate with us before or after booking to organize it and see if there are any additional costs. [email protected].
3) The Coolest & Most Expensive Way to Get to Capri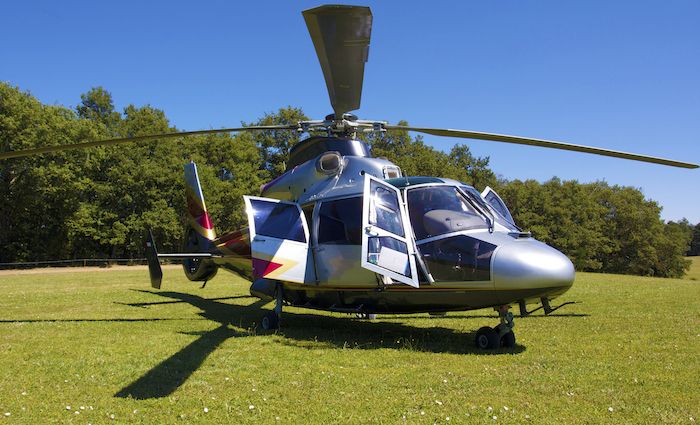 You could say that boarding a private jet is cooler, but I personally believe nothing is cooler than jumping on a helicopter. They are by far the most agile way to get around Italy's rough terrain. No need for an airport — you just need flat ground and permission from the landowner.
Some high-end trip planning customers booking through our Finelli & Shaw brand will fly into Naples International Airport and jump in a Helicopter right from there. It takes a lot of stress away from navigating through Naples and the surrounding regions. You land and 30 minutes later you are in Capri.
Other customers will charter a helicopter directly from Rome to avoid the 3-hour drive to Naples. It takes approximately 40 minutes by helicopter.
You can also book a helicopter from the Amalfi Coast. All are great options and very doable.
How can I reserve a helicopter? Prices depend on availability, but we can normally provide a quote and book with two email exchanges. Email us at [email protected].
How long does it take? Depends on where you come from, but as little as 10 minutes from Naples.
How much does it cost? Expect to pay at least 1600€ each way.
Where does it leave from? There are helipads and pickup areas all over. Let us know where you want to be picked up and we'll make it happen.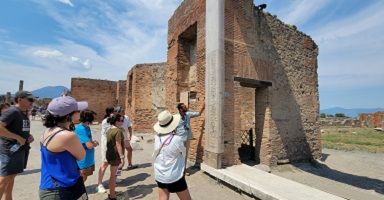 Best Selling Tour
Skip the Line Pompeii Ruins Tour with Villa of Mysteries

Imagine what it would be like to visit an ancient city that has almost completely been preserved 2,000 years later due to a volcanic eruption that destroyed and ironically preserved the city. Join The Tour Guy for this amazing adventure back in time.





See price