Tuscany is hardly Italy's best-kept secret. This corner of Italy has been a favorite since the days of the Grand Tour. Today, Florence and many neighboring towns become overwhelmed during the summer months. However, I want to introduce you to the real 'Land Under the Tuscan Sun,' one which flies under the mass-tourism radar even today. Follow my lead and let me guide you to where to stay in Arezzo this year.
---
Pro Tip: If you're planning a trip to Arezzo, bookmark this page in your browser to easily find it later. Check out our Tuscany and Florence pages for more planning tips.
---
Our Partnership with Booking.com If you like our content, please book by clicking on our Booking.com links. The price is the same for you. We get a small commission that helps support our blog. We've partnered with Booking.com because they have great options and prices with a solid loyalty program. Most hotels are on Booking, so our recommendations are genuine.
The Best Hotels in Arezzo at a Glance
---
Why Stay in Arezzo?

---
Arezzo is both a province and the capital of a small region in eastern Tuscany. A mere hour's drive from Florence, this modest but lively town boasts quite a few celebrated sons. This is the birthplace of the esteemed poet Petrarch. It's the home of the distinguished artist and more infamous art historian (gossip columnist) Vasari. Even the Renaissance's most famous melancholy genius, Michelangelo, was born in a small village in the region.
Despite its size, Arezzo punches above its weight in terms of history and culture. Its history stretches back to the 4th century BC, with the Etruscans who founded the city. Arezzo was also important for the Romans, and this importance continued through the Middle Ages. Alas, the city was heavily damaged during the War, but much of the Medieval center survived.
You could pass through Arezzo in a day; however, the town has much to offer, and it provides a great base for exploring the area. There are charming museums and beautiful Medieval churches with exquisite frescos to explore. Time your visit right, and you can enjoy Medieval jousting tournaments and Italy's most famous antique market. If you have a car, you can visit charming neighboring villages, like Cortona, and sample rich Tuscan wines in local vineyards. And the food? Let's just say with so few tourists, you'll be hard-pressed to fall into a tourist trap. The locals will simply not tolerate sub-par food.
So really, the only question is, what's stopping you? Follow my lead, and I'll show you some of the best places to stay in Arezzo and its surroundings so you can enjoy the perfect Tuscan escape.
Where to Stay in Arezzo
In deciding where to stay in and around Arezzo, whether or not you have a car will be the defining factor. Arezzo has a train station, so if you want to visit from Florence without a car, you can. However, accessing the rest of the region will be very difficult without private transport. So, I've divided accommodation options between central or 'Historic Arezzo' and the surrounding 'countryside' to make it easier to decide.
---
Want to see the best of Arezzo but not sure you want to stay the night? Stay in Florence and book one of our day-trips
---
Historic Arezzo

---
Ideal for history buffs and culture lovers who want to stay for a couple of nights. Reachable by train from Rome or Florence. Perfect for those exploring on foot without the need for a car.
---
The Tuscan Townhouse in Arezzo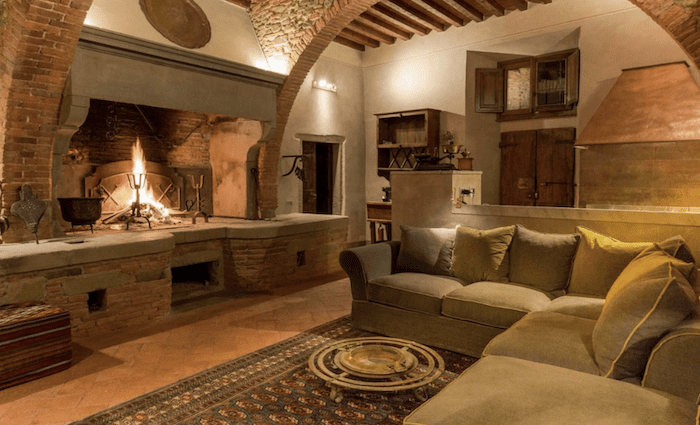 €€ |Townhouse | Family-Friendly|Historic|Traditional
---
In the centro storico, next to the Casa Vasari museum, you'll find the impossibly charming 'Locanda Bellavita.' This townhouse occupies the former kitchen wing of a grand 16th-century palazzo.
Stone walls, wood-beamed ceilings, a roaring open fire, and a fabulous kitchen make this an ideal base for that authentic Tuscan village experience. With three bedrooms, it's perfect for families and friends. Enjoy your sightseeing during the day before kicking back in the evening and cooking up a Tuscan feast. Even better, sit on the sofa fire-side, reading a book, a glass of wine in hand!
---
Not sure if Arezzo is for you? Check out our guide on where to stay in Florence
A Sleek Pied-à-Terre in Arezzo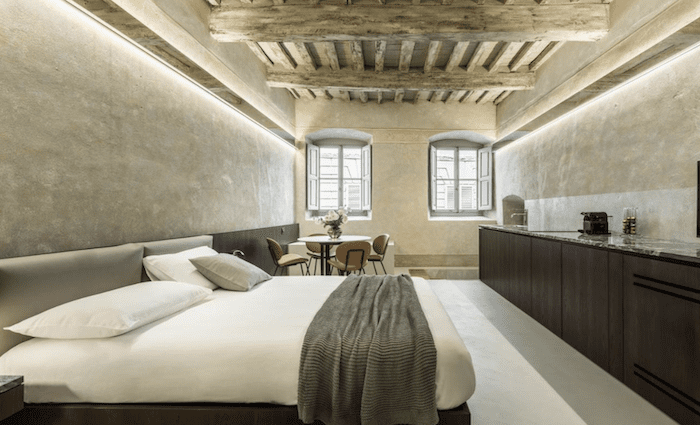 €€ |Central| Historic | Modern
Nestled right at the heart of Medieval Arezzo, you'll find the surprisingly modern and minimalist 'Chiaromanni Suites.' The two suites are in a noble palace on a tiny street where Petrarch was born. So no shortage of fancy neighbors then. Recently renovated, the suites retain their faded frescoed walls in parts, but everything else is tastefully modern. A bonus is the possibility of connecting the suites. Ideal for larger groups looking for a short stay.
---
Want to make your trip perfect? Check out our free Tuscany Travel Blog
---
For Lovers of Interior Design in Arezzo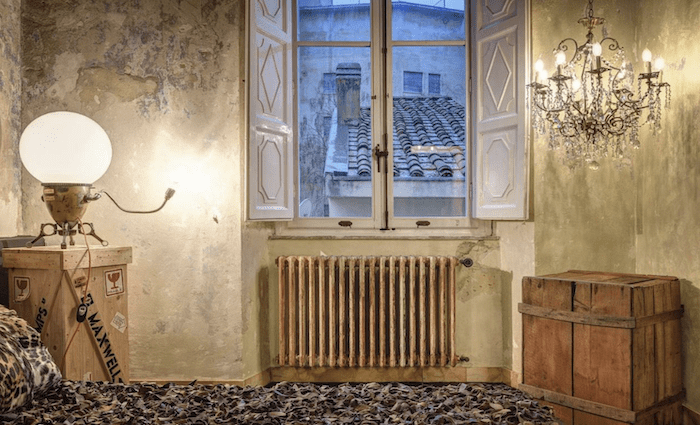 €€€ | Apartment | Groups | Unique|
If you've ever wanted to stay in an apartment that doubles up as a fashion shoot location, then check yourself into 'Zona Pedonale.' This place is all raw-luxury and quirky chic. It's finished to a very high standard, with a modern kitchen, bathrooms, and air-conditioning. There's also a great little roof terrace. However, if you find leopard print, faux furs, and oddly placed chandeliers off-putting, then move on. Me? I love it. Vive la différence!

---
Want to make your trip perfect? Check out our free Tuscany Travel Blog
---
Arezzo Countryside

Perfect for slow travelers who like extended stays. This is an excellent option for couples and families who want a slower pace to explore the region. Personal transport is essential. However, the freedom to explore Arezzo's hidden beauty is priceless. Be sure to visit the charming neighboring towns of Cortona and Castiglion Fibocchi.
---
The Best for Couples in Arezzo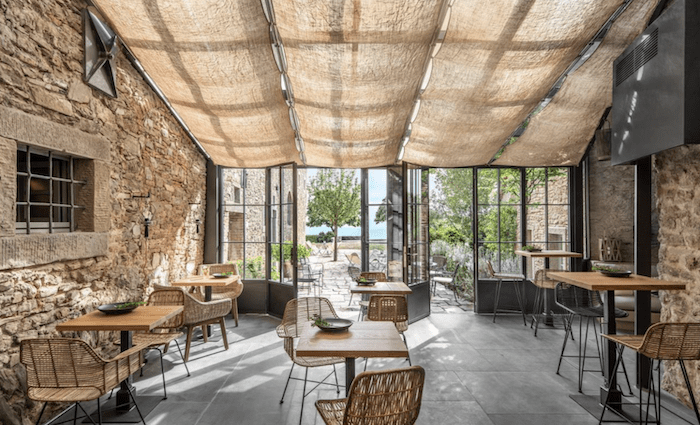 ---
€€€€+ | Boutique | Pool | Couples
Nestled in the bucolic hills above Arezzo lies this classy, understated estate. Once a 17th-century monastery, in 2019, it was brought back to life by architect Ilaria Miani. With just seventeen rooms, this is an intimate retreat.
The interiors are rustic but refined, and the extensive grounds include a pool, organic vegetable garden, goats, chickens, and bee hives. Everything produced at the Badia goes straight to the restaurant's kitchen. The chef uses this produce to create delicious modern Italian cuisine, which you can savor on the terrace under the Tuscan sun—the perfect romantic getaway.
Not exactly what you're looking for? Check out these dreamy vineyards with accommodation.
---
The Private Medieval Hamlet in Arezzo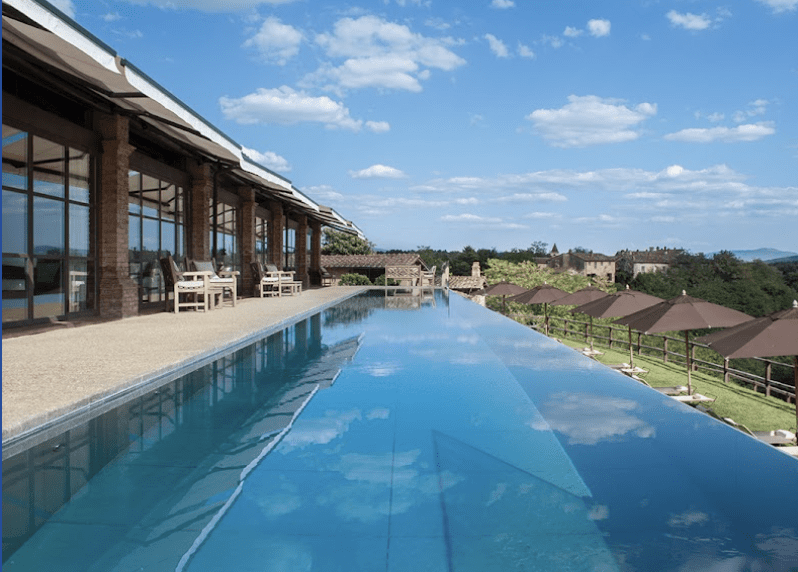 ---
€€€€+ | Historic | Pool |Family-Friendly|Vineyards
Il Borro is a destination in and of itself. Thirty minutes north of Arezzo and an hour from Florence, you can enter a timeless Tuscan wonderland. Il Borro is a restored private Medieval hamlet set amongst almost 2,000 acres of vineyards and organic farmland.
There's a genuine village feel here – accommodation is spread around the hamlet. You get around on foot or using electric vehicles, so the quiet magic is never broken.
The three restaurants use organic produce and wine from the land. For those who like to relax, there are several pools with views and a small spa. Foodies can indulge in cooking classes and wine tastings. Or, for the more energetic, there's horseback riding, sports, and yoga.
Although, my favorite is the opportunity to do a workshop with local artisans who have craft studios in the village. Kids are well-cared for, too, with activities and warm Italian sympathy. In short, at Il Borro, you'll check in, but you may never want to leave.
Not exactly what you're looking for? Check out these dreamy vineyards with accommodation.
---
For Romantics & Fine Dining Lovers In Arezzo
---
€€€| Couples | Michelin Star Restaurant | Pool |Views
This sumptuous 17th-century manor house is set in a valley beneath Cortona. The whole estate is unapologetically romantic – from the bedrooms decorated with whimsically traditional and feminine style to the terraces dripping with wisteria and the grand glass-domed dining room. Everything here whisks you away to a perfect Tuscan Eden.
There's real substance here, though, too. The facilities and hospitality on offer are second to none. There are two pools to choose from, a spa, and a range of activities from wine and olive oil tastings to cooking classes.
Apart from the views, the highlight at Il Falconiere must be its Michelin-starred restaurant, housed in the manor's former orangery. Even if you don't stay here, just to dine here is worth the pilgrimage.
Not sure where to stay yet? Check out our free guide on where to stay in Italy.
---
For Families with a Pool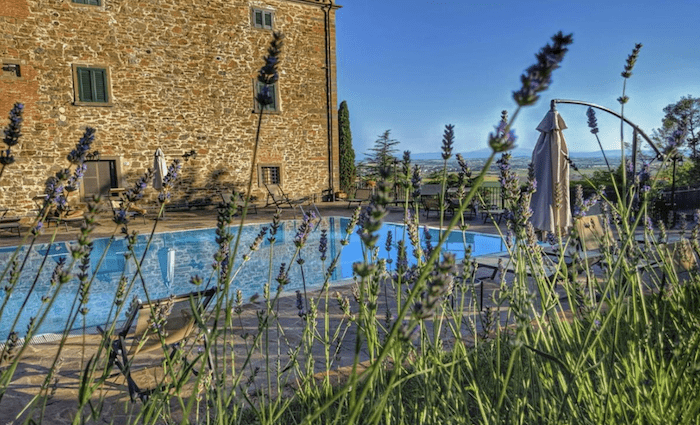 €€| Families| Pool |Views
South of Arezzo and a 12-minute drive from picturesque Cortona, you'll find the impressive 19th-century stone villa of Villa Schiatti. This offers a great flexible option for families especially. Accommodation ranges from classic rooms to family suites and even self-catering apartments. All are decorated in a traditional rustic style.
The villa has its own restaurant, and they offer various activities, from wine tastings to horse riding. However, the hard part will be tearing yourself away from the pool and its views. The Italian art of 'dolce far niente' (the sweetness of doing nothing) looms large here.
---
Not sure where to stay yet? Check out our free guide on where to stay in Italy.
---
Where is Arezzo, and How Do I Get There?

---
By Car: The easiest way to get to Arezzo is by car. This gives you the most freedom to explore the surrounding area. You can reach Arezzo from either Florence or Rome on the Autostrada del Sole (A1 Milan-Naples). You exit at the tollgate of Arezzo, and the city is about 10 km from there.
A word of warning on driving in the city. Much of Arezzo is pedestrianized, and other areas are designated ZTL (Zona Traffico Limitato), which you receive fines for driving within. I highly advise you to park on the edge of town and navigate on foot. The best spot to leave the car is at 'Via Pietri Parking.' As an added bonus, there's an escalator that will take you right up the hill into the Medieval Center.
By train: Arezzo is served by the main Rome-Florence train line. Some of the faster Intercity trains stop here. So you can reach Arezzo in about 45 minutes from Florence. Otherwise, you'll need to use the slower regional train service, which takes about 1-1.5 hours. These trains are more frequent. From Rome, the journey time is longer, 2-3 hours, depending on the service.
The main station, AREZZO, is about 1km from the historic center. It's about a 10-minute walk, but uphill. There is a bus, LFSC32, from Piazza Guido Monaco that will leave you at the cathedral. Alternatively, grab a taxi from outside the station.
---
---
---
Recently on The Blog