Over the last few years, locals in Athens and all over Greece have started enjoying brunch, especially on the weekends. Try a local favorite to-go or take your time admiring the city views, there's something for every style of brunch. With a wide range of both sweet and savoury options, these are the best places to eat brunch in Athens.
---
Pro tip: Planning a trip to Athens? Bookmark this article in your browser in an "Athens" folder so you can always easily circle back to it when you're looking for a great brunch spot!
Top Places To Eat Brunch In Athens
Spending your holidays in Athens means that you will certainly have an amazing time. There are so many museums and archaeological sites to visit, places to go for a walk and relax, and also many stylish cafes and restaurants with incredible views to enjoy a meal.
In particular, if you love having brunch, you are going to discover many places that serve delicious dishes, both sweet and savoury. All of the places on this list also have beautiful decor, most have indoor and outdoor areas, and there is something for every budget and preference. Let's discover some of the best places to eat brunch in Athens.
The Makers Athens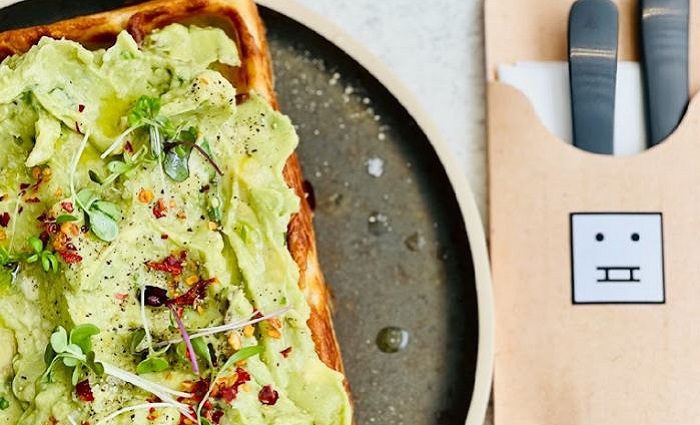 €€ | Concept Store | Waffle Specialty
Have you ever been to a cafe that is also a store? The Makers Athens is certainly the most innovative place for brunch and coffee. This place is also a store that mainly sells professional clothing such as aprons, all sewn in the store's basement.
The Makers Athens serves the most delicious waffles in the city. Do you feel like having a savoury waffle with avocado, salmon, fried eggs, and cheddar, or a sweet waffle with cinnamon, cocoa, and espresso? Choose your favorite and enjoy it while people-watching in the heart of Athens.
Address: Praxitelous, 37, Athens
Six d.o.g.s.
€€ | Garden | Cultural and Live Events At Night
One of my favorite places for brunch and coffee is Six d.o.g.s. What's amazing about this place is that, although it is in the heart of the city, it has a beautiful garden with trees and simple wooden seats and tables. If you are lucky enough, you might get to sit on the swing and enjoy your meal.
So, what to choose for brunch? A great idea is crispy oatmeal croquettes, lahmajun, rice and lentil pudding, shakshuka with simmered tomato sauce, and soft-boiled eggs. The chef is Greek-Lebanese, so it is an amazing opportunity to try these dishes.
Address: Avramiotou, 6-8, Athens
Queen Bee Athens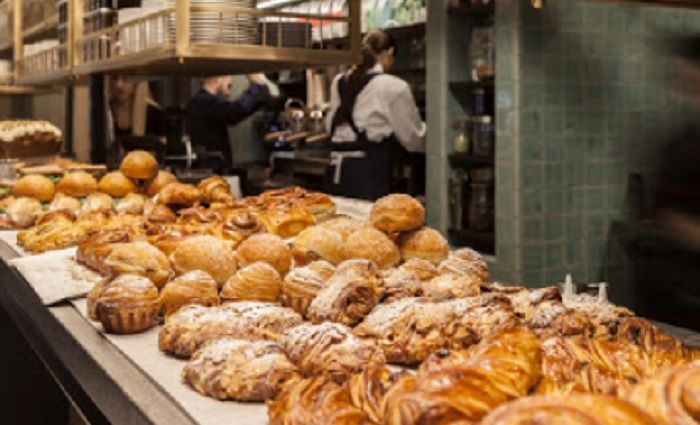 €€€ | A Place To Start Your Day | Fresh Bread
In one of the most beautiful neighborhoods in Athens, Kolonaki, you will discover Queen Bee Athens. It is the ideal place to start your day with a hearty brunch before going sightseeing. But if you're not very hungry, you can just ask for mini croissants or donuts.
A great idea is to enjoy your morning coffee there and ask for your brunch to-go. That way, you don't have to worry about the time. Instead, you can take your brunch with you and eat it whenever you find a nice spot to stop and take in the Athens vibe.
Address: Patriarhou Ioakim, 45, Kolonaki
Minu
€€ | Concept Store | Practicality and Design
Minu is a new store in the city and we already love it. It is a place with amazing decor. Here, you will find many interior plants and furniture with Scandinavian aesthetics. This is not simply a cafe—it is a cafe combined with a store. Here, you'll be able to buy your favorite interior plants and decor pieces.
Of course, having brunch here is a must. A well-known Greek chef suggests that you try a katsu sandwich with Iberian pork, poached eggs with sumac, and pre-baked bread with avocado. So, get ready to be amazed both by the place and the menu.
Address: Sarri, 50, Psyrri
Beauty Killed The Beast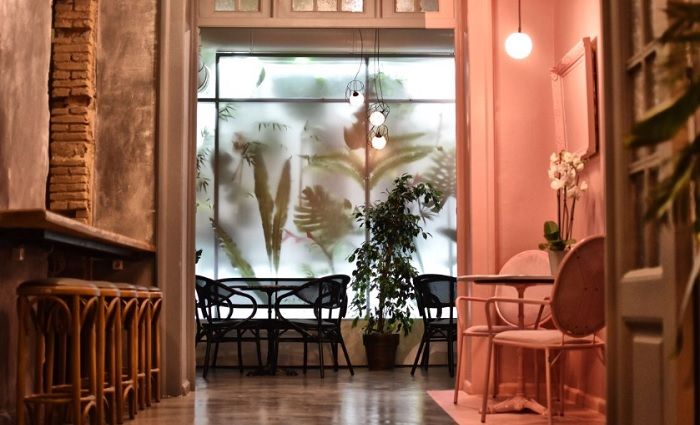 €€ | Indoor and Outdoor Seating | Signature Cocktails
Beauty Killed The Beast is a great brunch spot. Although it may sound a bit scary, this place is lovely with beautiful interior decor. Of course, if you visit Athens in the summer, you will also have the opportunity to get a table outdoors.
The brunch dishes on offer are exceptional. You can choose between savoury or sweet dishes. If you don't feel like trying something new, you can always ask for pancakes. But if you are ready for delicious flavors, you should ask for the tacos with candied short ribs or bao buns with candied pork and onion. Be sure to try some of their signature cocktails too.
Address: Paramythias, 14, Metaxourgio
Peek A Bloom
€€ | Industrial Design | Vegan Dishes
Peek A Bloom is a super option to start your morning. You can ask for a hot or a cold coffee to accompany your brunch. As for the brunch dishes, there are so many options that you may find it difficult to choose. My favorite is the omelet with sweet potato. If you are a vegan, there are also a lot of sweet and savoury brunch options for you.
As for the location, this place is in the very center of Athens. If you visit it in the winter, you will love the industrial interior design. But if you visit in the summer months, relax in the outdoor seating area and watch the people go by.
Address: Lekka, 14, Athens
New Hotel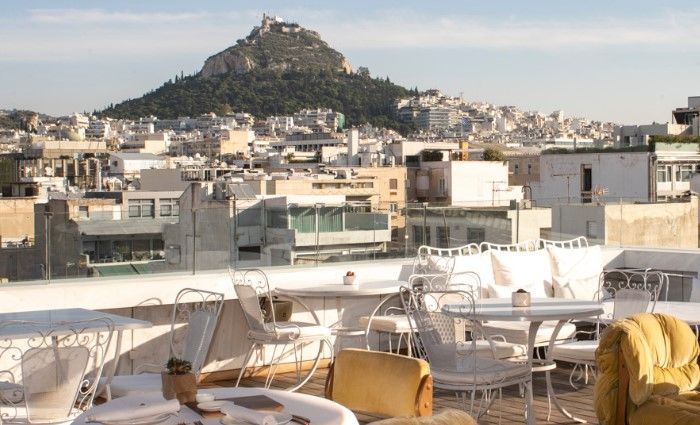 €€€ | View Of Lycabettus | Reservation Only
Although it is a hotel, New Hotel is the ideal place to have your brunch. Its roof garden has a unique and breathtaking view of Lycabettus. So, enjoy a delicious brunch and coffee while admiring the view. However, note that you need to make a reservation before visiting the cafe.
The New Hotel's cafe has a variety of tasty brunch options. Especially on the weekends, the executive chef, Mr. Kountouris, suggests you try the eggs, fluffy pancakes, and croque madame.
Address: Filellinon, 16, Athens
Cycladic Cafe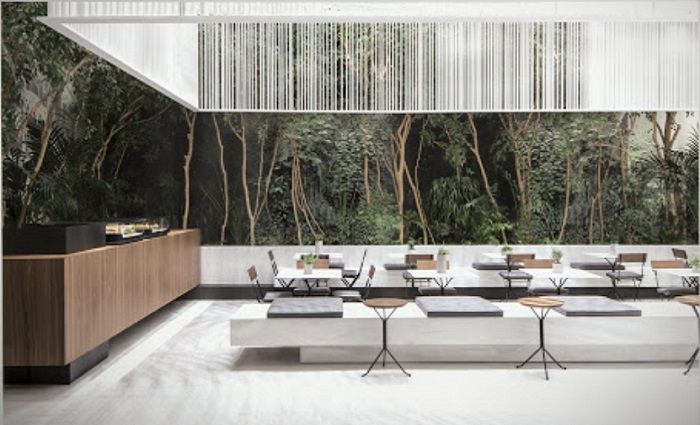 €€€ | Brunch In A Museum | Center Of Athens
Cycladic Cafe is a beautiful cafe in the Museum of Cycladic Art. It is an amazing opportunity to combine your brunch with a visit to one of the most popular museums in Athens. Here, you will discover exceptional exhibits on Cycladic history.
Before or even after your visit to the museum, have brunch at the museum's cafe. A good idea is to try baked eggs with parmesan cream, crispy prosciutto, baked cherry tomatoes and toast, well-made scrambled eggs, or poached eggs on potato foam with hazelnut praline and croutons from slow-ripening bread.
Address: Neofytou Douka, 4
Morning Bar
€€ | Take Away | Near City Center
Morning Bar is a great option if you are running late and want to take something to eat with you while sightseeing. Of course, there are some small tables if you need to rest for a while.
The staff at the Morning Bar will be able to help you decide what to try. I really love the cinnamon rolls. But if you prefer something savoury, you can try brioche with a baked egg and cheese. Don't forget to accompany your brunch with a cup of hot or cold coffee.
Address: Odyssea Androutsou, 36, Athens
Chocolat Royal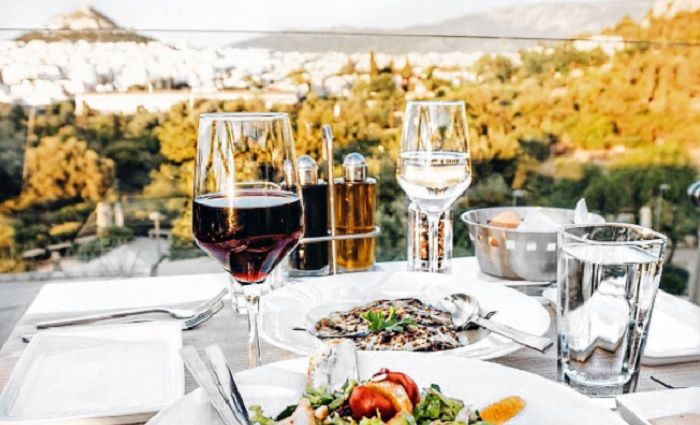 €€€ | Timeless Decoration | Acropolis View
Chocolat Royal is a really popular cafe in the very center of Athens, Thiseio. It is a cozy place where you will certainly enjoy delicious brunch dishes such as sweet or savoury crepes and pancakes. Traditional recipes and ingredients from small Greek producers are used in all the dishes.
You can enjoy a table either inside or on the balconies where the view is incredible! You can admire views of the Parthenon monument and Lycabettus hill. If you visit Chocolat Royal with your kids, you can also get a table on the wide sidewalk where they can play safely.
Address: Apostolou Pavlou, 27, Thiseio
GB Roof Garden Restaurant and Bar
€€€€ | Roof Garden | Acropolis View
If you are looking for a touch of elegance and luxury, the restaurant of Hotel Grande Bretagne in the center of Athens is certainly for you. Best of all, you can enjoy your brunch with a breathtaking view of the Parthenon. So before a long day of sightseeing, this is the ideal place to spend some time in the morning and enjoy a bite to eat.
Here, special dishes based on greek produce are prepared daily by the award-winning chefs. Don't hesitate to accompany your brunch with a cup of cold or hot coffee. This is the place to take your time and enjoy your brunch under the clear and sunny Athenian sky.
Address: Vasileos Georgiou, A1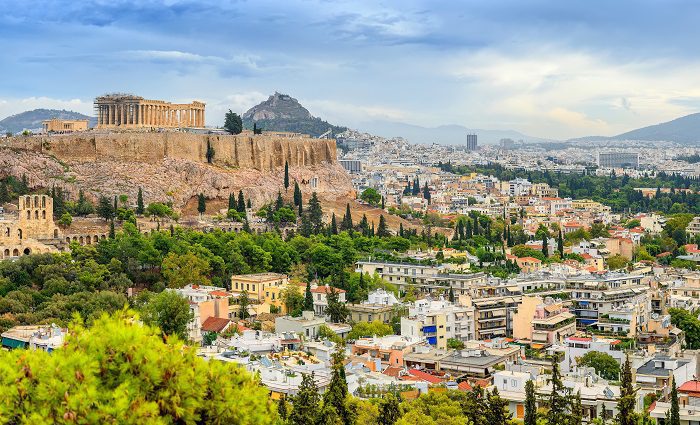 Find the best places to stay
Where To Stay in Athens
A great hotel at a great price has become the norm in this internet era. Our article explains what areas are the best in Athens, so you can get a great deal in the perfect location!