Are you looking for vegan restaurants in the Greek capital? Well, you don't have to worry. This vegan guide to Athens restaurants will help you discover the best places to eat with a great selection of dishes.
---
Pro tip: Planning a trip to Athens? Bookmark this article in your browser in an "Athens" folder so you can always easily circle back to it when you're looking for a special vegan restaurant in the city!
A Vegan Guide To Athens Restaurants
Nowadays, more and more people are choosing to become vegan. There are millions of people who choose vegan dishes and most restaurants have included vegan options on their menus, so it has become much easier to discover restaurants that offer vegan-only meals.
In Athens, there are many vegan restaurants that offer a variety of dishes. So, you can enjoy tasty meals in beautiful restaurants in the heart of Athens. In the guide below, we've selected the best ones.
Veganaki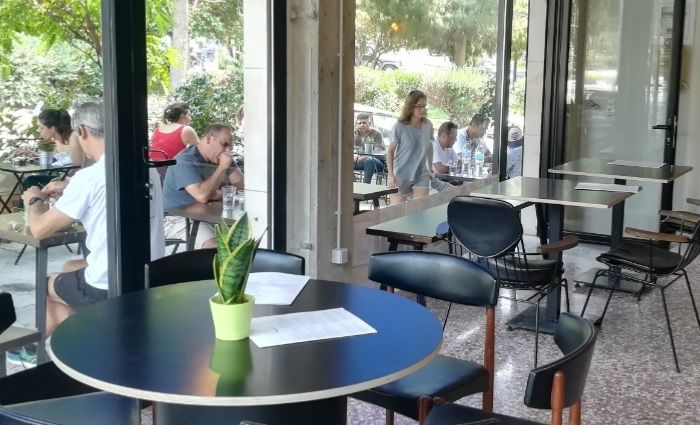 €€ | Next To Athens Center | Take Away
Veganaki is a good vegan option really close to the center of Athens. You can either have a table and dine-in or have a takeaway. As it is located in a very central spot, it may be a bit crowdy. So, if you don't feel like sitting in a noisy place, you can get your lunch to go and start your walk in Athens.
The menu of the restaurant certainly offers many delicious options. So, you can choose this place either for brunch, lunch, or even dinner. The friendly staff will present you with the daily dishes and help you to choose the best for you.
Address: Athanasiou Diakou, 38, Athens
Bamboo Vegan
€€ | Pet-Friendly | Vegan Store
In the very center of Athens, you will discover Bamboo Vegan. Here you can take a quick break to enjoy your lunch or even an afternoon sweet dish. What I like the most about this restaurant is that you can also buy different vegan products as it is also a vegan store.
Again, you have the option either to enjoy a vegan dish in the restaurant or get a takeaway. Every time I visit this place, smoked tofu is my favorite option. If you are a sweet lover, try their vegan cakes.
Address: Solonos, 102, Athens
Avocado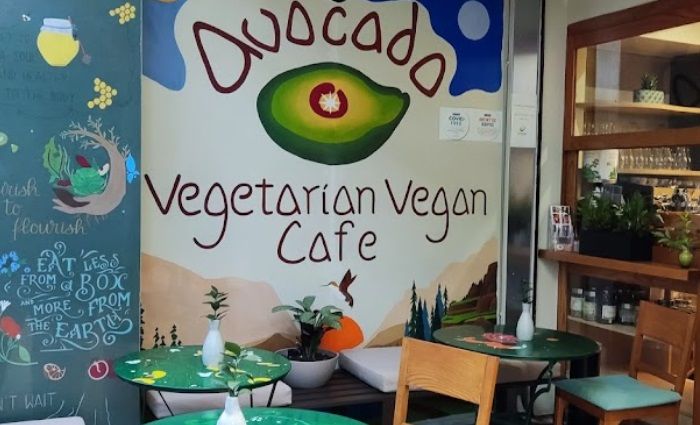 €€ | Close To Metro Station | Colorful Place
What I love about Avocado is that it is really colorful and bright—it makes me feel happy every time I visit! The restaurant is located next to Syntagma metro station, so the spot is really convenient even if you're not staying in a hotel in the center of Athens.
Here, you will certainly find many lunch or dinner options. What you need to keep in mind is that at the weekends it may be closed in the evening. Don't hesitate to visit and have a really filling, tasty vegan meal.
Address: Nikis, 30, Athens
Mama Tierra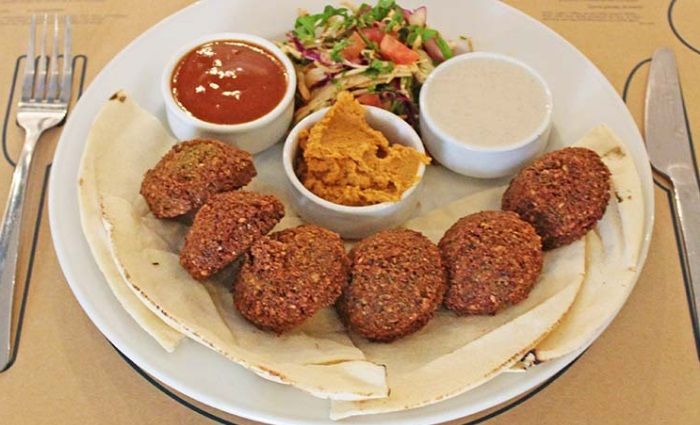 €€ | Indoors and Outdoors | Center Of Athens
Mama Tierra is one of the most popular vegan restaurants in the center of Athens. Firstly, it is located in a very convenient spot close to the Omonoia metro station. It has indoor and outdoor dining options. Personally, I prefer to have a table indoors as I love its colorful decoration.
In this vegan restaurant, you will discover many delicious dishes. You can try burritos as a snack or even traditional yet vegan moussaka as a main dish. I'm sure you'll really enjoy trying these dishes.
Address: Akadimias, 84, Athens
'AV IT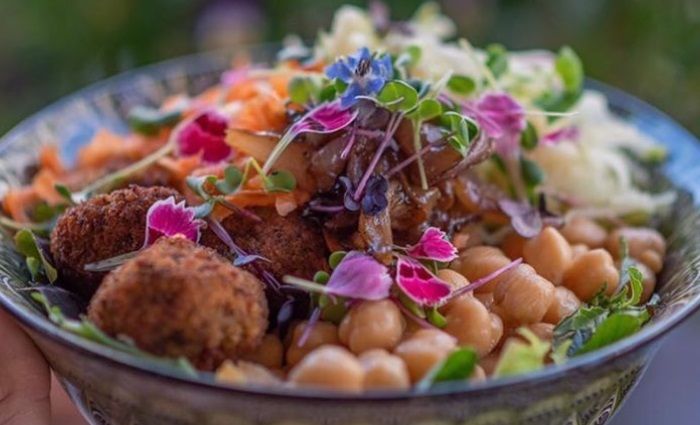 €€ | Close To Athens Riviera | Take Away
'AV IT is an amazing vegan restaurant which is located in Glyfada—a region next to Athens Riviera. It is a great opportunity to combine your meal with a walk by the sea. Glyfada is also a really lively place where you will meet happy people having coffee or going shopping.
When it comes to lunch at 'AV IT, you will be spoilt for choice with all their delicious vegan dishes. The staff is always available to help you make the best choice. Burgers are the ideal option if you are really hungry. This is definitely a must for any vegan guide to Athens restaurants.
Address: Maragkou, 19, Glyfada
Happy Blender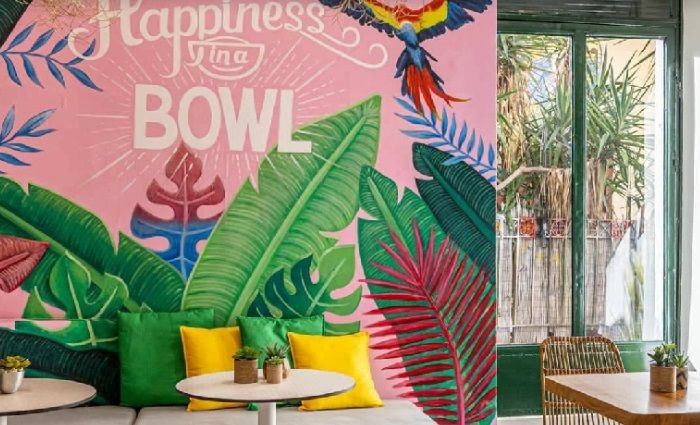 €€ | In Athens Flea Market | Juice Bar
Happy Blender is on the popular Ifestou Street where the flea market is located, in the very heart of Athens. A bright and colorful restaurant with playful decor, it is an amazing place to spend your morning.
With the motto Happiness in a bowl, you can start your day with a tonic and delicious breakfast accompanied by a fresh juice made of seasonal fruits. In Happy Blenders, you can count on tasty breakfast dishes and fresh juices.
Address: Ifestou, 39, Athens
Mother Vegan Café Bistro
€€ | Warm Atmosphere | Indoors and Outdoors
Mother Vegan Café Bistro is the ideal option if you want to spend your time in a calmer place. This bistro is located next to the center of Athens, in a very popular neighborhood, Koukaki—but in a very peaceful spot.
You can choose to sit either indoors or outdoors. The interior design is cozy while the outdoors gives you the chance to watch people passing by. The menu of Mother Vegan Café Bistro is more than delicious: you can enjoy tasty salty pies or sweet cakes.
Address: Dimitrakopoulou, 95, Koukaki
Winners Vegan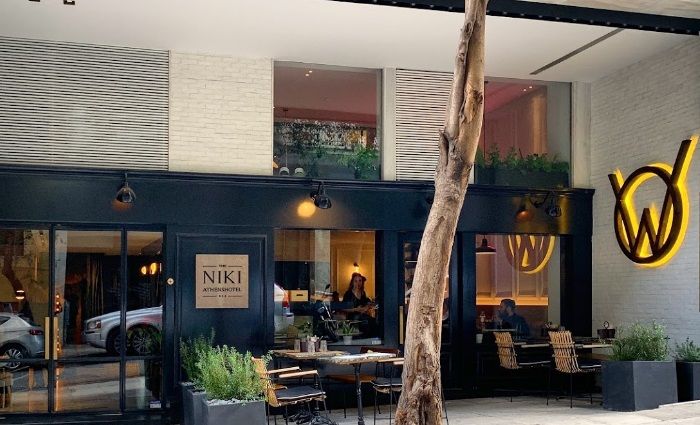 €€ | Center Of Athens | Modern Decoration
This is a really beautiful place to enjoy a vegan meal. Winners Vegan is such a modern and cozy place—ideal for spending an afternoon. It is located in the heart of Athens, Syntagma, so it is a great choice if you want to go for a walk around after.
At Winners Vegan, the special vegan dishes are cooked with fresh and seasonal products. Whatever you decide to choose as your main meal, don't forget to try the LA salad!
Address: Nikis, 27, Athens
The Vegan Vandal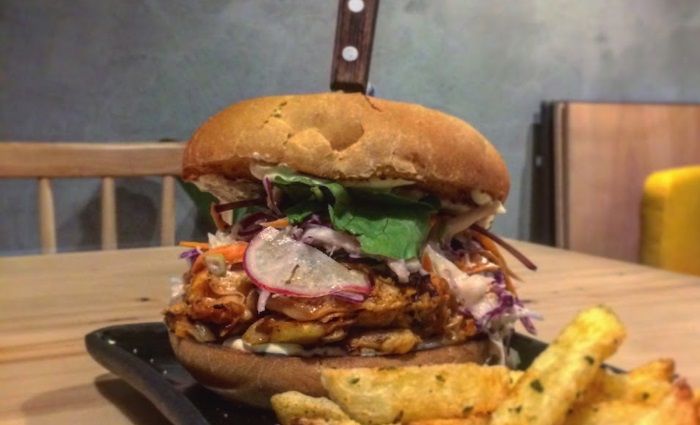 €€ | Cozy Atmosphere | Close To City Center
The Vegan Vandal is a great option for a quick meal before or after your walk in the center of Athens. It is a beautiful and cozy place, with either indoor or outdoor seating. Keep in mind that the location of the restaurant is right next to the National Garden—the perfect place for a walk.
This vegan restaurant offers amazing options for burgers and traditional yet vegan souvlaki. So, if you're looking for a quick but delicious meal or even a takeaway, The Vegan Vandal may be the spot for you.
Address: Aminta, 15, Athens
LYFE in a bowl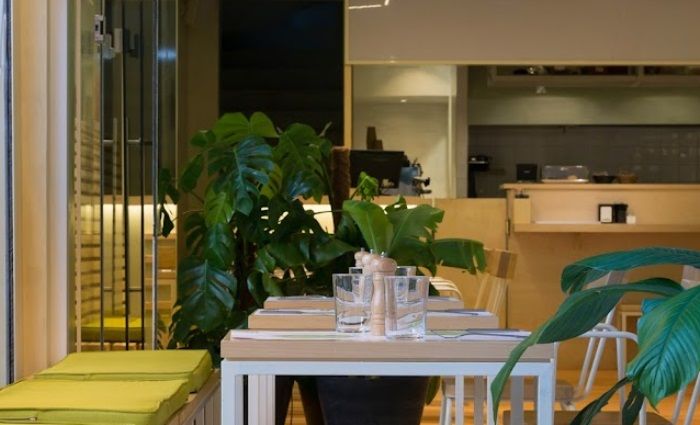 €€ | Meals In Bowls | Next To Athens Riviera
LYFE in a bowl is a cozy, modern restaurant and the ideal place to start your day in a calm and peaceful yet popular spot. It is located in Glyfada, close to the Athens riviera. So, remember to enjoy a walk by the sea after enjoying your meal.
At this restaurant, you will discover unique vegan dishes made of fresh products. What's amazing about this place is that even if you don't feel like eating, you can always enjoy a tasty smoothie. Don't hesitate to ask the staff about the daily flavors and combinations.
Address: Markou Botsari, 1-3, Glyfada
Yi
€€ | Vegan | Outdoor Seating
Yi restaurant has taken its name from the way we pronounce the Greek word "Γη" meaning Earth. That's because it is inspired by our natural environment and by the significant role Earth plays in our existence. In this restaurant, you can enjoy the cozy environment either on your own or with your companions.
This is a plant-based restaurant where you can have an amazing vegan and raw vegan experience trying dishes cooked with fresh Greek products. After having your main meal, you can also try incredible desserts made with seasonal fruits. Don't forget to finish this experience with a vegan smoothie or a coffee!
Address: Gr. Labraki, 69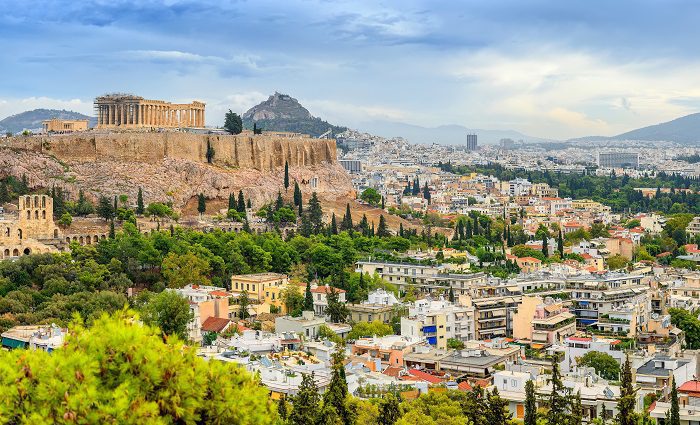 Find the best places to stay
Where To Stay in Athens
A great hotel at a great price has become the norm in this internet era. Our article explains what areas are the best in Athens, so you can get a great deal in the perfect location!