If there is one word to describe Miami, it would be vibrant. From its founding to the present, Miami has been a city for all, filled with community, colorful flavors and experiences, and a rich heritage. Explore all that Miami has to offer with our top things to do in Miami.
---
Top 14 Things To Do and Try In and Around Miami
Miami is famous for a number of things: its beautiful beaches, stunning weather, diverse culture, and culinary prowess. It is an iconic and lively city with plenty to explore. With a rich cultural tapestry of different countries Miami has become a mecca for tourists worldwide. You'll find plenty of art, tasty food, and cool experiences on our list of the coolest things to do in Miami.
14. Dine On Fresh Fish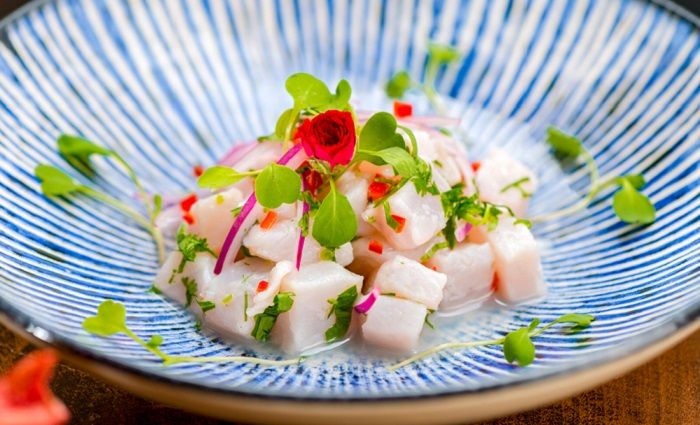 Given that Miami is right next to the Atlantic Ocean, its no surprise that fresh seafood is a culinary staple down here. Many restaurants offer some delicious seafood dish, ranging from homestyle to 5-star cuisine.
A popular seafood dish in Miami is ceviche. Ceviche is a dish originating in Peru that is made with raw fish marinated with citrus juices. It is a tantalizing and tasty dish that will be a meal to remember. Another common seafood dish we recommend is mahi-mahi sandwiches. Mahi-mahi, or the dolphinfish, is a brightly colored fish that can be found worldwide.
Its a common sport fish you'll find down in the Keys and even Miami. Its a mild tasting white fish that is often grilled. We recommend trying it blackened, which just means its cooked with a variety of herbs and spices that give it a refreshing kick.
Where to find it: La Camaronera Seafood Joint or OLA Restaurant (South Beach)
13. Immersive Yourself At Superblue Miami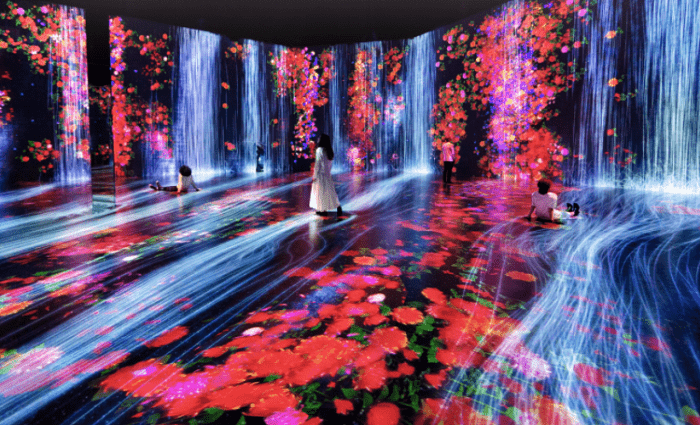 Want to see something truly unique? Thanks to advancements in technology, the way art can be enjoyed has been taken to new heights. A great example of this is the new interactive and immersive art museum, Superblue located in Allapattah. They have new installations frequently as well as some remarkable permanent installations.
Walk through a mirrored maze and experience the Ganzfeld effect through art. After experiencing some fantastic art, stop and get a bite to eat at the Blue Rider Café. The dining area is bright and colorful, as well as the food. Superblue prides itself on bringing top-notch South Florida cuisine, often featuring local food trucks.
Address: 1101 NW 23rd St, Miami, FL
12. Dine And Shop At Brickell City Centre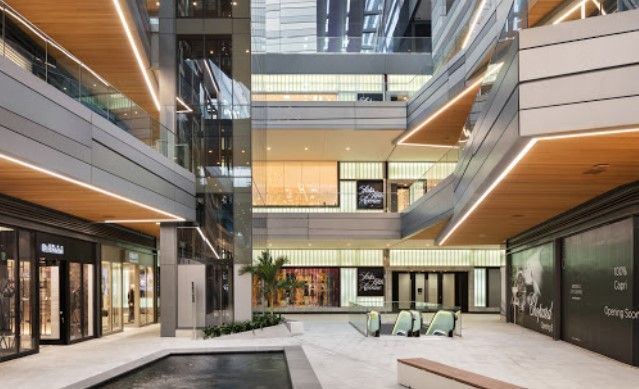 This upscale three-city-block shopping and dining center located in Brickell (just a few blocks from downtown Miami) is a great place to get your shop on! It features plenty of high-end shops and eateries that will make your stay luxurious.
They boast a 107,000 square foot Saks Fifth Avenue and a VIP experience at their CMX theater. Some of their high-end shops offer services like spa treatments and others offers luxury goods like their Rolex store.
Don't just limit yourself to this small area though, as Brickell has plenty of other fantastic restaurants and shops to offer. You can also take a short detour to Coconut Grove, which is another great Miami area for shopping and entertainment.
Address: 701 S Miami Ave, Miami, FL
11. Trek Through Fairchild Tropical Botanical Garden
Step into a tropical wonderland of rare and exotic plants, flowers, trees, and other flora at the Fairchild Tropical Botanical Gardens. Many people come here for a scenic wedding as well as just enjoying the sprawling 82-acre landscape.
Fairchild is also host to other events and classes to help educate and connect with the South Florida community. Some of their noteworthy features are the butterfly exhibit, vast collection of orchids, and their two-acre outdoor tropical rainforest.
Address: 10901 Old Cutler Rd, Coral Gables, FL
10. Kayak At Oleta River State Park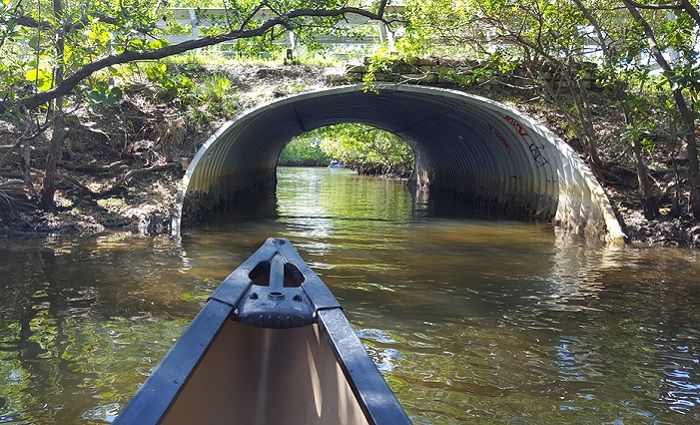 Located in North Miami, this urban state park offers all sorts of outdoor activities for adults and kids alike. Go swimming on its beaches or kayak with manatees. Maybe go bike its stunning trails or fish the day away. Any way you spend it, Oleta River State Park is perfect for a nature adventure for all.
The park offers services for kayaks and bikes. From November to March you may get lucky and see some manatees who come down for warmer waters. Be aware—touching them is illegal in Miami due to their endangered status! Although, that doesn't mean you can't enjoy watching them and other critters like iguanas and water birds.
We suggest getting there early in the day because this park frequently reaches max capacity. We also suggest this as it tends to be much cooler earlier in the day than in the afternoon. And when you consider how hot Miami can really get, it makes a big difference.
Address: 3400 NE 163rd St, North Miami Beach, FL
9. Stay At The Historic Biltmore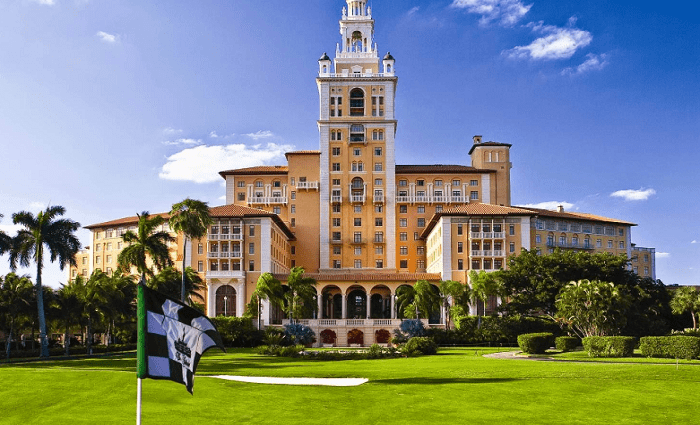 The Biltmore hotel is more than an upscale hotel and resort, it is a historic Miami landmark! Originally built during the early 20th century, this stunning hotel has played host to famous events and people. One of the outstanding features of this hotel is its 18-hole championship golf course, so if you're at home on the green, don't miss a chance to stay here.
If you want to relax by the water, you're sure to enjoy one of the largest pools in the continental US (yep!) with full pool-side service. The Biltmore is also conveniently located close to other popular Miami locations like Downtown Miami and Miami Beach. This hotel is on the pricier side, but if a sophisticated hotel is a must, then this is one of the best Miami has to offer.
8. Get Curious At The Frost Museum Of Science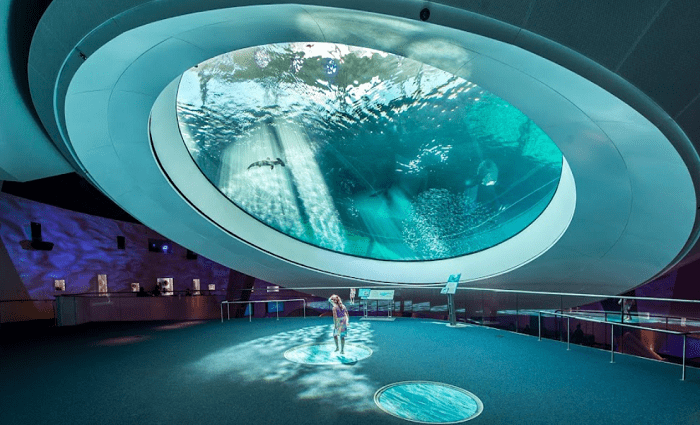 One of the best science museums in Miami, the Phillip and Patricia Frost Museum of Science offers all sorts of hands-on activities for all ages. With exhibits ranging from health sciences to space, this museum curates curiosity at every turn. Some of their most popular exhibits are the planetarium and the aquarium.
We especially recommend the aquarium as their multi-level shark tank is absolutely beautiful. You can look above and below at sharks and schools of fish swimming around you. They also offer multiple touch tanks with sea creatures like sea urchins and sting rays.
We also can't forget to mention their state-of-the-art planetarium where you can view educational and breath-taking videos that take you to the far reaches of space as well as a bird's eye view of earth. They also have new and exciting exhibitions constantly, so make sure you look in advance to see what is showing.
This is a great way to spend the day, especially if you're traveling with kids, or you can split between here and the Pérez Art Museum, which is only a three-minute walk away.
Address: 1101 Biscayne Blvd, Miami, FL
7. See the Exquisite Vizcaya Museum And Gardens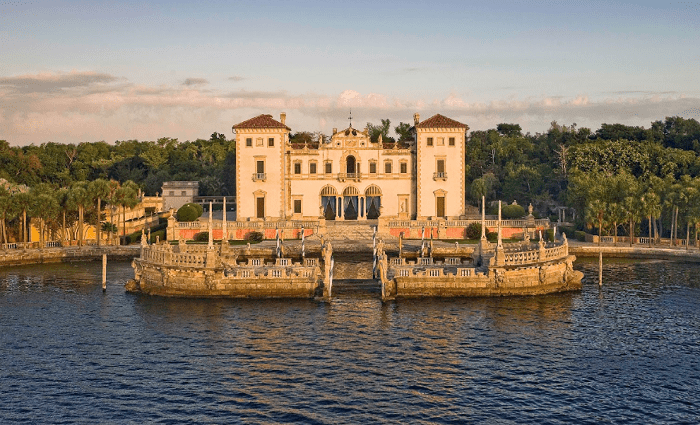 Located in the historic Coconut Grove, this grand estate inspired by Mediterranean architecture and design was home to industrialist James Deering starting in 1916, according to the Vizcaya Museum website. Built during the Gilded Age, this estate home has long been a historic part of Miami's history.
Explore the estate from its exquisite interior rooms to its stunning garden. With almost 50 acres, this estate also faces Biscayne Bay which makes for a great view. You can take guided tours or just look around the elegant estate. We recommend getting a guided tour as they aren't expensive and give a more enriched experience.
Pro tip: Come here on a Sunday and visit the farmers market that's held in the villa. You can explore shops from local artisans and farmers of all kinds. Stop by and get some fresh produce and hand-crafted jewelry to enjoy.
Address: 3251 S Miami Ave, Miami, FL
6. Get Wild on an Everglades Tour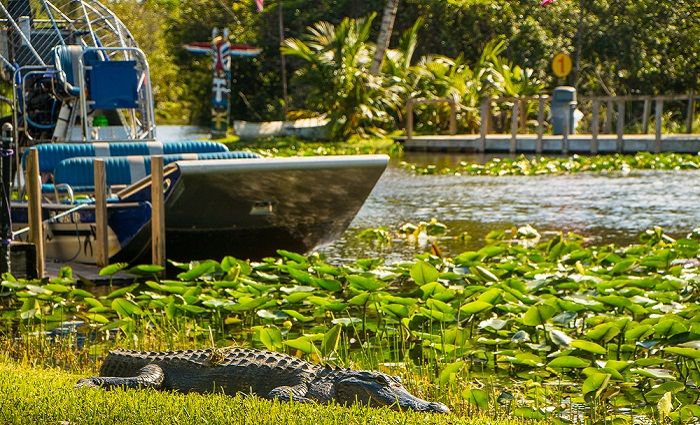 A trip to South Florida isn't complete without heading over to the famous Everglades, which is the only national park in the state of Florida. The Everglades is home to a vast array of flora and fauna to explore through hiking or boating. Anhinga Trail is one of the popular tourist trails as its a short hike that lets you see some of the best parts of the Everglades.
The trail is named after a native south Florida bird, the Anhinga, and you'll see these birds perched on trees and in the water year-round. Another popular trail is Shark Valley. It's a long trail that's great for biking. If exercise isn't ideal, then take a guided tram tour.
Shark Valley is especially popular for dare devils as you can get close to the alligators. On really hot days, which is most days in Miami, you can see alligators basking right on the path! (Remember that no Insta photo is worth losing a limb, so keep your distance.) You can also see plenty of other animals like blue herons and alligator gar.
If you want to explore the Everglades without hiking, the safest option is with a tour guide. There are several tour agencies that depart from Miami if you don't have a rental car, and many of them have USCG-certified boat captains so you'll feel safe on your trip through the swamps.
How to get there: Miami Airboat Tours or Miami Alligator Tour if you're in Miami without a car, but also try Everglades Airboat Expeditions or Everglades Nature Tours
5. Explore Cuban Cuisine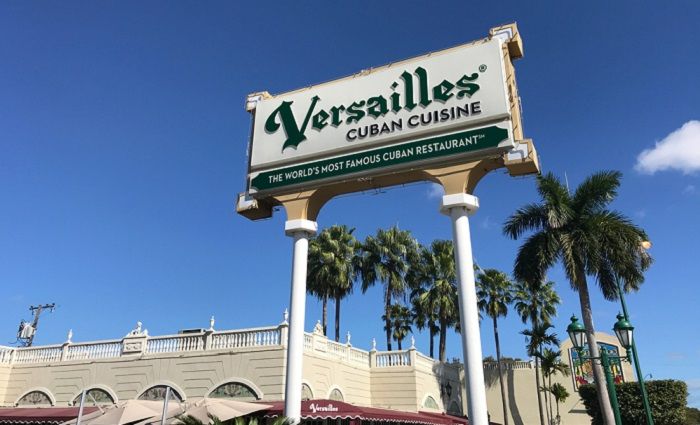 Miami is home to many people from Latin America, especially Cuba, and it definitely reflects in the mainstay eateries. Versailles has been serving the Miami community traditional Cuban and American favorites since 1971. This restaurant and bakery, have been at the center of the Cuban immigrant community and their descendants. Come here later in the evening to mingle with local Cubans.
Their dining room is spacious and has chandeliers galore, reminiscent of its namesake palace. Versailles also has some of the best Cuban sandwiches around, as well as some of the best coffee. You can also stop by La Ventanita, a side window where you can get some Cuban eats and coffee quick and easy.
We recommend getting a cortadito. It is a small cup of straight Cuban coffee—with some sugar if you prefer—that is meant to be shared. You'll often get small plastic cups to share with other people.
We recommend doing that as Cuban coffee packs a very (and we mean very) caffeinated punch. Its a common practice in Miami amongst locals, as well as dipping your tostada into some café con leche (coffee with milk). Find more recommendations on our favorite foods to eat here.
Address: 3555 SW 8th St, Miami, FL
4. Walk Calle Ocho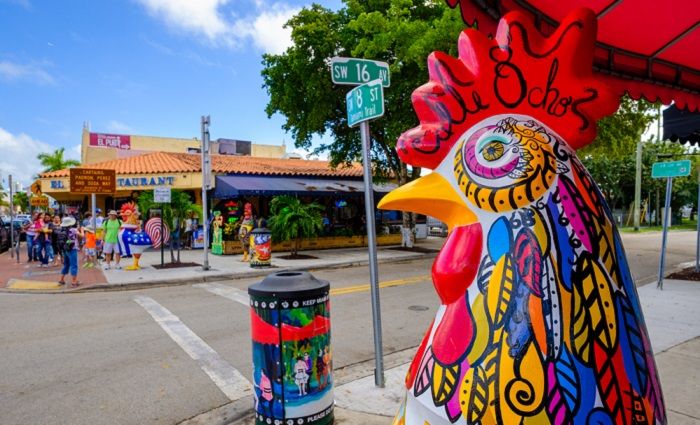 Miami is all about vibrancy, and you'll get a great taste of that in one particular place. As one of Miami's most famous streets, Calle Ocho (Eighth Street) is the epicenter for Cuban history and culture. Many Cuban immigrants have made this street their home away from home with home-style eateries, live music, and even their famous cigars.
Ball and Chain is one of the popular night club spots in town and is located right on Calle Ocho. If clubs aren't your scene, try playing a game of dominoes at Domino Park, as the locals call it. You'll find an older crowd here on Sundays sipping on cafecitos and playing dominoes.
There's also plenty of great photo ops to be had. Many restaurants have colorful murals and rooster statues that are one-of-a-kind.
Address: Calle Ocho Walk of Fame
3. Explore Your Wild Side At Zoo Miami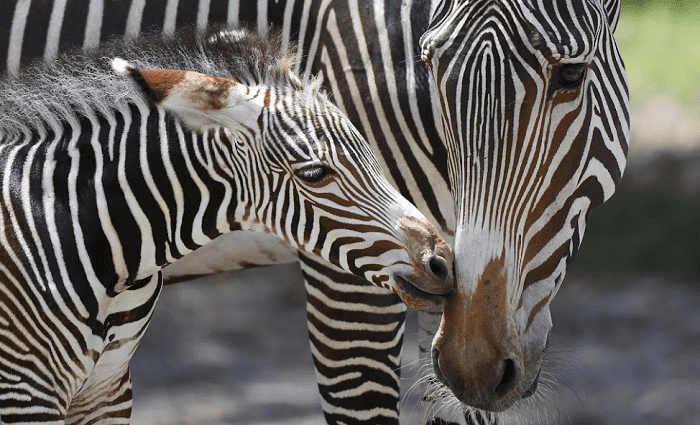 Boasting the largest zoo in the state of Florida, Zoo Miami is a thrilling and interactive experience for all ages. Learn about the Everglades here, which is one of Florida's most important and bio-diverse landscapes. Zoo Miami offers plenty of feeding and interactive experiences that will bring you closer to nature.
Some animals you can get close and personal with include giraffes, tropical birds, and African tortoises. Learn about and watch animals from all around the world, including the rarely known okapi. There are only about 100 okapis in the United States that are accredited by the Association of Zoos and Aquariums (AZA)!
If walking in the heat isn't ideal, you can also take one of the zoo's guided tram tours of the Asia and Africa exhibits.
Address: 12400 SW 152nd St, Miami, FL
2. Snap Pictures At The Wynwood Walls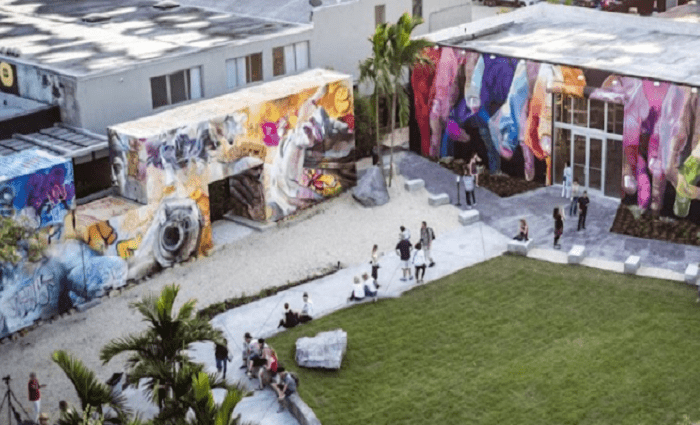 Love to fill your Insta page with photos? Well, the Wynwood Arts District is an up-and-coming center for art and culture in the Miami area. One of the most iconic things to do in Wynwood is to visit the art walls. With over 80,000 square feet and featuring all kinds of art from world renowned artists, these walls are a great spot to take plenty of photos.
You will also see plenty of murals and art installations all over the area on restaurants and shops. After strolling through galleries and boutiques, grab a bite at one of the many fantastic restaurants in the area. Try the Taco Stand, Coyo Toco, or Crudos Fusion Art.
If you want a more high-class art experience, you can go to the Miami Arts district which is right next this small artsy area. There you'll find some of the more established museums and galleries as well as upscale restaurants.
Address: 266 NW 26th St, Miami, FL
1. Explore the Iconic Miami Beach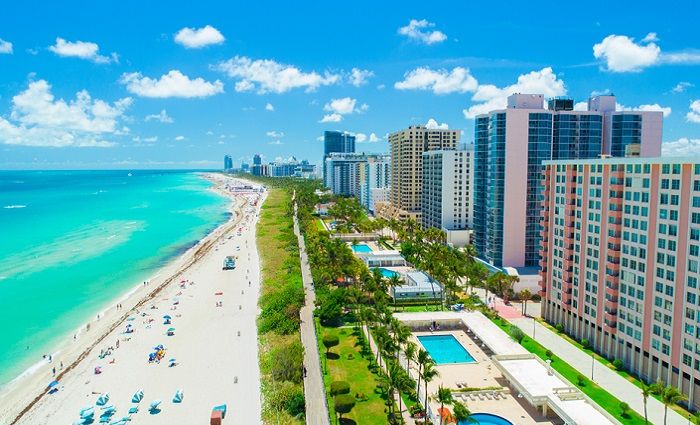 One of Miami's most well known iconographies is its scenic beaches. The most well known is South Beach and for good reason! Not only does it boast some of the most scenic beaches in Miami, it is situated next to Ocean Drive—one of the main thoroughfares in Miami Beach. There's also no shortage of delicious eateries and lively nightclubs, ranging from the low-key to extravagant.
But if you want a more relaxed beach vacation, we've got you covered. A local favorite is Crandon Park, which is technically south of Miami Beach. As one of Key Biscayne's most popular beaches, many locals come here to enjoy a nice beach day away from the crowd. You'll see plenty of families having a barbeque or enjoying the refreshing ocean. Crandon Park also has plenty of nature activities for the more adventurous.
Whether you're planning a beach vacation on some of the most iconic sand in Florida, or you're here to get to know Miami's vibrancy and nightlife that we're famous for, you'll find everything you need here at Miami Beach.