Are you planning on to visit Istanbul and wondering where to eat? Don't worry, because your Istanbul foodie has produced a delicious list of the best restaurants in Istanbul. From top luxurious dishes to local Turkish favourites, this list will be your ultimate guide to eating local food at great restaurants.
---
The 11 Best Places To Eat In Istanbul
If you're looking for new and appetizing places to eat in Istanbul, you're in the right place. Istanbul is a city that synthesizes many flavors, cultures, and ideas, and this is evident with the food you can find here.
This list covers mouth-watering cuisines from Ottoman to Japanese to German and more. Also incorporating every price range from cheap to pricey, this list fits every occasion and pocket. We've tasted these leading places in Istanbul and guarantee you'll be asking for more to eat at the best restaurants in Istanbul!
Karaköy Lokantası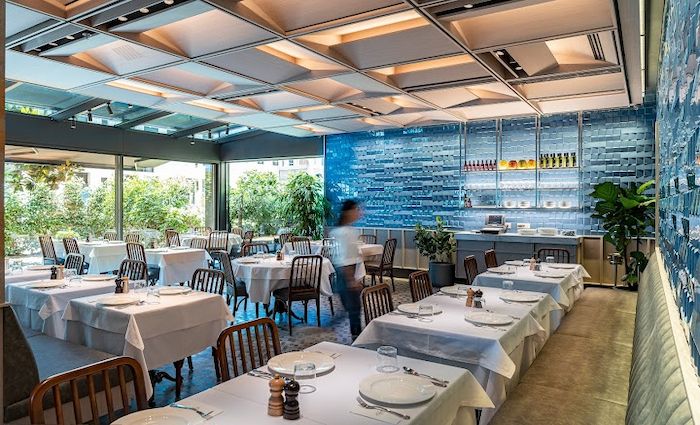 $$$ I Ottoman-Turkish I Family Run I Elegant
Open seven days a week, this restaurant is family-run and is known for locals to come often. In other words, the food and drinks are so good that you will also frequently visit Karaköy Lokantası. However, it is important to point out that this restaurant has specific lunch and dinner times.
Firstly, lunch is served between 12 pm – 4 pm with a theme of esnaf lokantısı (tradesman restaurant). Also, during lunch you'll feel the family-run atmosphere with the food they serve whether it's traditional Turkish food or hearty casserole dishes.
However, during dinner time (served between 5 pm – 12 am), you'll feel a more elegant vibe here. The menu during this service is filled with delicious meze (appetisers), fish, seafood, and alcohol options. Within this tavern atmosphere, you should also try Turkish alcohol classics. For example, I highly recommend trying the Raki or Turkish Beer with meze.
Address: Kemankeş Karamustafa Paşa, Kemankeş St, Karaköy, Beyoğlu, Istanbul
Hours: Monday – Saturday, 12 PM – 4 PM and 5 PM – 12 AM; Sunday 4 PM – 12 AM
Bayramoğlu Döner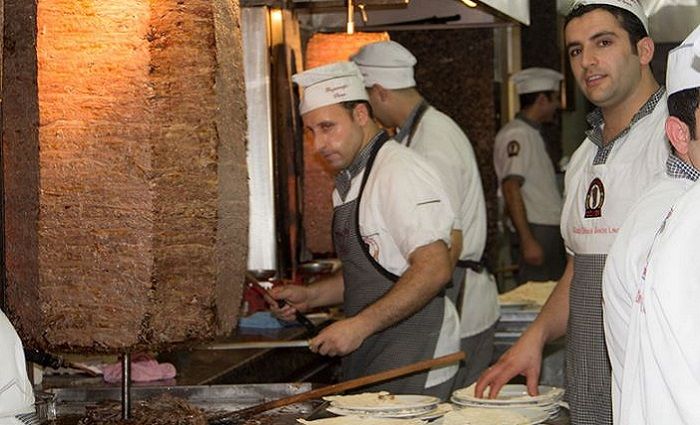 $$ I Turkish I Casual I Family Friendly
Döner is treasured and loved throughout Turkey and even into Europe. However, you shouldn't eat döner at any old place in Istanbul. The best place to eat döner here is at Bayramoğlu Döner, because it's breathtakingly flavorful and delicious. Also, the döner here is served with its special lavaş (tandoori-baked bread), delicious salads, and appetisers.
Additionally, Bayramoğlu Döner presents Turkish hospitality to the fullest by being friendly, talkative, and family-friendly. This restaurant is located in the European side of Istanbul and is actually about 30 minutes from the city center. However, I promise that the döner is truly worth your time, especially if you're venturing beyond the city center.
Also, the döner from this restaurant has been approved and shared by one of a famous food critique: Vedat Milor.
Address: Rüzgarlıbahçe, Cumhuriyet St, Beykoz, Istanbul
Hours: Daily from 11:30 AM – 11 PM
Borsam Taşfırın Bahariye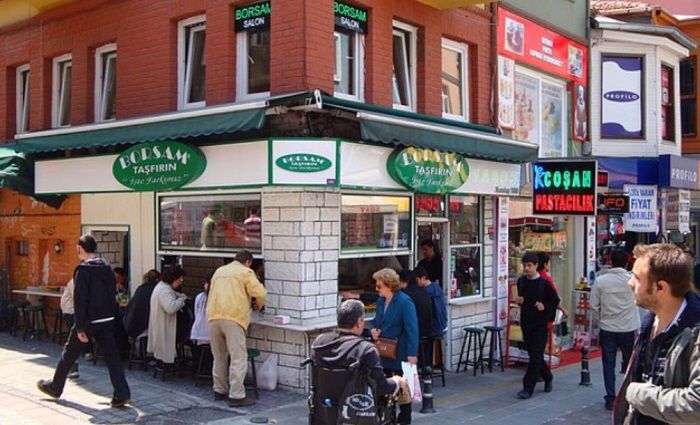 $ I Casual I Turkish I Comfort Food I Cosy
Located in the heart of Kadıköy (the centre of the Asian side of Istanbul), this restaurant is easy to find. Borsam Taşfırın is so popular, if you ask anyone for directions in Kadıköy, they'll know where to send you.
Borsam Taşfırın is the best place to have lahmacun (Turkish pizza), and it's spectacular. One reason is because they cook it in a wood oven, and it's prepared by an authentic lahmacun master. Additionally, being served with ayran (yogurt drink), lemon wedges, garden rocket, and fresh onion makes it even tastier.
Borsam Taşfırın menu is fresh and delicious, but don't expect anything too fancy. What makes this restaurant so nice is its casual atmosphere where you can show up in any style. This is one of the best restaurants in Istanbul for a casual bite to eat.
Address: Osmanağa, Serasker St, Bahariye, Kadıköy, Istanbul
Hours: Daily from 10 AM – 10 PM
Çömlek Kuru Fasulye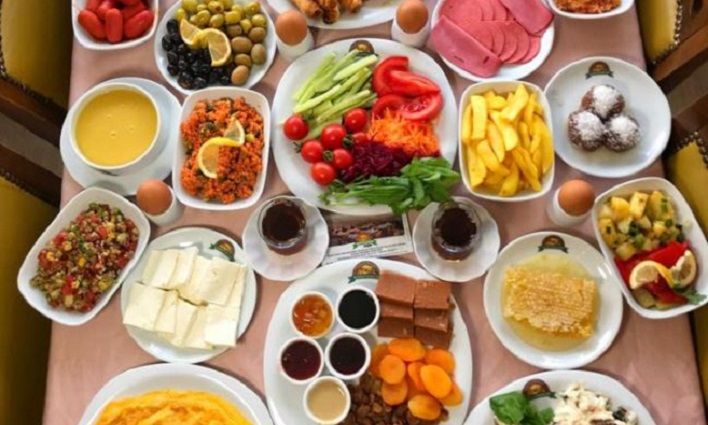 $$ I Traditional Turkish I Homey I Amazing View
Çömlek Kuru Fasulye is one of the top restaurants in Istanbul, due to its traditional Turkish dishes. However, its homey atmosphere and location right next to Çamlıca Tepesi makes it even more special. In fact, this restaurant has a rotating platform on which you can have dinner and view the fantastic panorama of the city.
Also, this flavourful restaurant has a wide range of food selections from open breakfast buffet to dinner to homemade desserts and more. But Çömlek Kuru Fasulye, as its name suggests, is most famous for its mouth-watering kuru fasulye (white bean stew). Coming here and not having this dish would be a miss!
I also advise having pilav (Turkish rice) and ayran (yogurt drink) with this lovely homey dish.
Address: Kısıklı, Turistik Çamllıca St, Üsküdar, Istanbul
Hours: Daily from 8 AM –10:30 PM
Konoha Acıbadem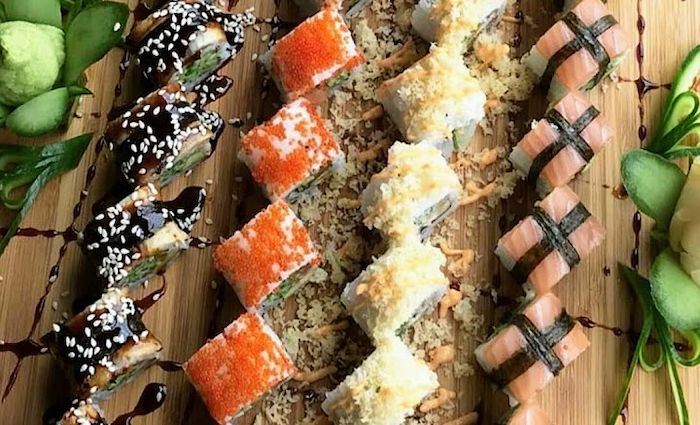 $$ I Great Atmosphere I Sushi And Seafood I Adventurous
This restaurant is both Istanbul's andTurkey's first and best Far East-themed restaurant. By intertwining a unique blend of Chinese, Japanese, and Thai cuisine, Konoha Acıbadem takes you on a mystical food journey. It offers various types of dishes from colourful sushi to appetising noodles to fresh seafood and more.
Above all, Konoha is doubtlessly one of the best restaurants in Istanbul, and you won't feel you've wasted your money! That is to say, you get more than you pay for both in service and in food. With its motto, "That's my shinobi way," Konoha believes in the roots of anime culture, if that's your thing. Either way, it's a great place to grab a bite of Asian fusion.
Address: Acıbadem, Köftüncü St, Kadıköy, Istanbul
Hours: Daily from 11:30 AM – 11:45 PM
Craft Beer Lab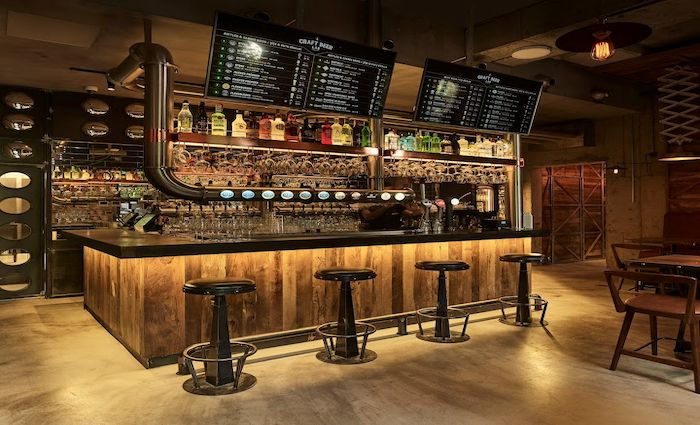 $$$ I International I Modern and Chic I Bar
Craft Beer Lab is a perfect example of the synthesis present within the city of Istanbul by combining Turkish taste with the international scene. For example, this chic restaurant serves delicious Turkish beer, American beer, German beer, and more. You might also love the modern and chill ambiance with its painted, dramatic, and modern walls and furniture.
If you really love beer, try the Beer Flight Set where you can customise your own beer! You will be flying over the moon with your taste buds happy as can be. Similarly, the food at Craft Beer Lab is delicious, too, with a wide range of options to try from. Some tasty options include their burgers, french fries, and mussels.
Address: Sinanpaşa, Şair Nedim St, Beşiktaş, Istanbul
Hours: Sunday – Thursday, 12 PM – 1:30 AM; Friday – Saturday, 12 PM – 3 AM
Reks Kokoreç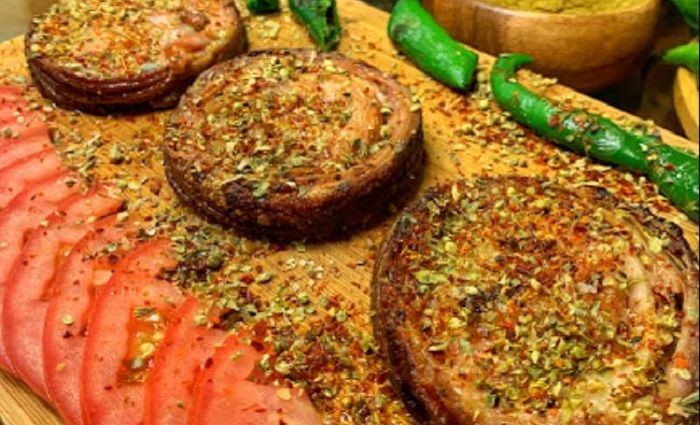 $$ I Turkish I Outdoor Seating I Street Food I Fun
This restaurant is in the centre of Kadıköy and right in the middle of Kadıköy Barlar Street. So, whether you're having a drink or just craving delicious food, Reks is the right place to be! Reks' atmosphere is fun, relaxed, and casual with friendly service and attention.
Reks Kokoreç, as its name suggests is most well-known for its kokoreç. This fragrant dish is made from sheep or lamb's intestines and seasoned with onion juice, salt, and pepper, then, wrapped around skewers and baked in hot fire.
However, that is not all. Reks features a variety of food items and all are a flavour ride. Don't skip the mussels and sausage, and I also suggest having either ayran (yogurt drink) or salgam (Turkish turnip juice) with your meaty dish. It's a delicious flavor juxtaposition.
Address: Caferağa, Kadife St, Kadıköy, Istanbul
Hours: Monday – Friday, 9 AM – 4 AM; Saturday – Sunday, 9 AM – 6 AM
Alancha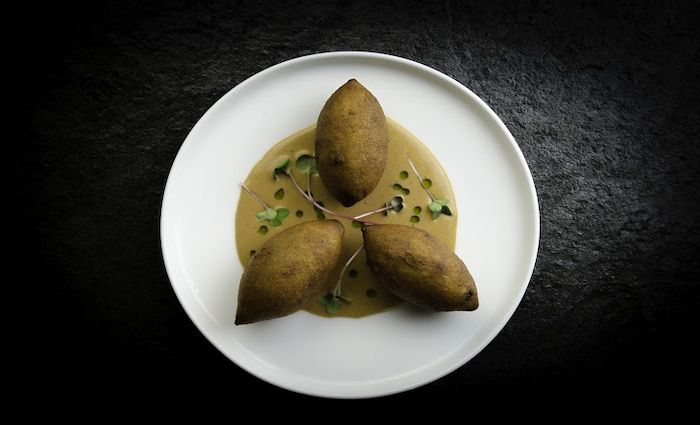 $$$-$$$$ I Upscale I Fine Dining I Turkish and European
Alancha is one of the finest and best restaurants in Istanbul, and one crucial reason why is that Alancha is inspired by Aegean culture and heritage, which is easily seen with the food available here. There are a wide range of food selections from Mackerel fish to tarator (carrot and nut sauce), and more.
Above all, the fine dining experience is perfect with Turkish gastronomy. I also recommend Alancha restaurant for its ambiance that has an upscale and luxurious touch. To sum up, you'll be dazzled with the fine dining and Anatolian-inspired cuisine here. I advise you to make a reservation beforehand, because Alancha fills up very fast.
Address: Vişnezade, Şht. Mehmet St, Beşiktaş, Istanbul
Hours: Tuesday – Saturday, 12 PM – 7 PM I Closed Sunday and Monday
Hanzade Terrace Restaurant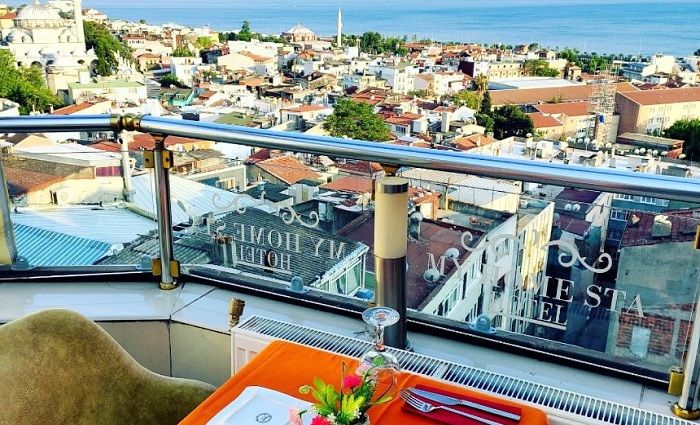 $$-$$$ I Authentic I Rooftop Terrace I Historical Atmosphere
Located in the beautiful European side of Istanbul, this restaurant exemplifies the historical atmosphere present in the city. You'll love that Hanzade's has a wide rooftop terrace which is furnished with a vintage theme. The rooftop terrace view is marvellous, because you can view the city and the sea to get a glimpse of life here.
I highly recommend you eat at the terrace. It's truly worth your time and money! The service here is genuine, fun, and friendly, and the servers always have a big smile on their faces.
The food here is also delicious and worth every penny you spend. One reason is because the food authentic and served in huge, tasty portions. I suggest you try the kebabs here, and there is a variety to pick from depending on your taste.
Address: Emin Sinan, Piyer Loti St, Fatih, Istanbul
Hours: Daily from 12 PM – 11:30 PM
Neolokal Restaurant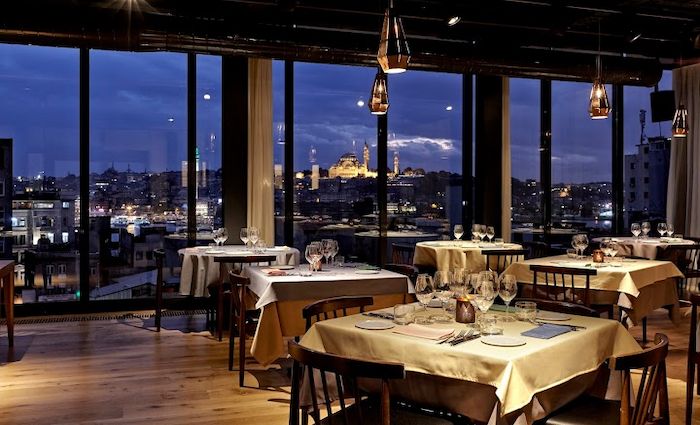 $$$$ I Fine Dining I Luxurious Feel I Bar
Certainly, Neolokal is one of the best restaurants in Istanbul with its fresh, creative, and mystical food and service. As a result, this restaurant follows the motto of "from the earth," which portrays its creativity and devotion to tradition. It's easily one of the best restaurants in Istanbul.
Neolokal strives to preserve tradition and reminds us that food can become extinct. This mission is visually and tastefully present with the food served here. For example, each dish is set forth with colourful and natural vibes, bringing old world recipes into modern dishes.
Although the price range is on the higher side, the food is truly worth it. The food is made delicately and with fresh and specially picked ingredients. I strongly suggest creating your own a la carte menu and having the Neolokal sourdough bread too. Don't miss out on the great alcohol options from delicious wine to tasty cocktails.
Address: Arapcamii Mahı, Bankalar St, Beyoğlu, Istanbul
Hours: Tuesday – Saturday, 6 PM – 12 AM I Closed Sunday and Monday
Ceviz Ağacı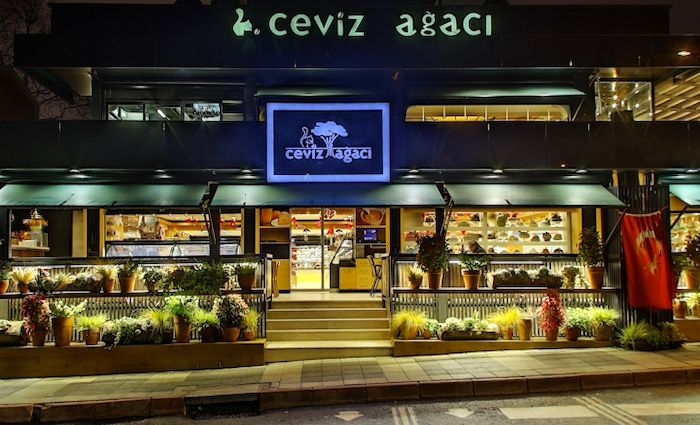 $$$ I Modern and Chic I International I Fancy
Loved by both locals and tourists, Ceviz Ağacı has established an outstanding reputation as a rich and tasty restaurant. The menu is mouth-watering with many selections to pick from. The menu is filled with different cuisines from Italian to Turkish to American. For example, you can have an American cheeseburger or Turkish köfte (Turkish meatball).
However, Ceviz Ağacı is best known for its pastries and desserts which are taste explosions. My favourite is their cake named white malaga. It's made up of cake, white cream, hazelnut, and banana and is perfectly sweet and moist.
This restaurant's atmosphere is also modern and chic where you'll feel fancy and relaxed. Moreover, Ceviz Ağacı is located in the center of the Asian side of Istanbul, close to Kadıköy which makes it really easy to find. Definitely treat yourself to desserts here, and you'll thank me later!
Address: Koşuyolu, Muhittin Üstündağ St, Kadıköy, Istanbul
Hours: Daily from 7 AM –12 AM