So, you are planning a trip to Madrid with a group of friends or relatives. We all know that sharing an apartment is way more fun. But finding the best accommodation can be difficult if you don't know the area. As a long-time resident in the city, I have selected the top vacation rentals in Madrid to have fun and live your best life in the Spanish capital.
---
Pro Tip: Discover more about Madrid's neighborhoods and where to stay. Also, make sure you know about all the best things to do in Madrid this year and get ready to have the time of your life.
The Coolest Apartment Rentals For Your Stay In Madrid
There are plenty of reasons to book an apartment instead of a hotel room. Maybe you are planning a romantic vacation and want some extra privacy during your stay. Or you are traveling with a baby and need the convenience of a kitchen. Sometimes, it may also be challenging to find accommodation for big groups of friends or a large family—and we all know that the point of a group trip is to make memories together.
Whatever your reasons, I have selected the top vacation rentals in Madrid for your stay this year. You will find apartments and studios for two to ten guests, all in the best areas of the city center. Some of them have outstanding facilities and services to enhance your stay, and I have added some pro tips that will make your trip unforgettable.
Our Partnership with Booking.com. If you like our content, please book by clicking on our Booking.com links. The price is the same for you, and we get a small commission that helps support our helpful blog content. We've partnered with Booking.com because they have the most options, great prices, and a solid loyalty program.
Oriente Palace Apartments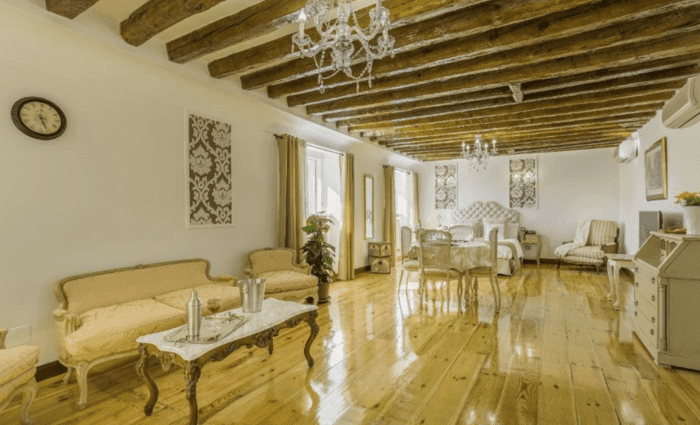 €€ | Close To The Royal Palace | Best for Couples | Breakfast Included
Are you planning a romantic stay in Madrid? The Oriente Palace is opposite the Royal Palace, and it has fantastic apartments for two guests. The building is warm, so it is an excellent choice if you are visiting Madrid in the winter.
I suggest going for the deluxe double room with a balcony or one of the apartments if you're looking for a top-notch experience. They have better views and a kitchen, so you can be independent during your stay. Also, the 24-hour reception is very convenient if you want to reach out for tips during your stay.
Not only do you have a complimentary breakfast at the beautiful Café de Oriente, but also, the Oriente square has plenty of charming cafes with outdoor seating. Here you can savor Tinto de Verano: a mix of red wine, ice, and soda or lemonade. And if you want to try the artisanal vermouth, El Anciano Rey De Los Vinos is a tavern founded in 1909 and one of my favorite places to drink it.
Apartosuites Jardines De Sabatini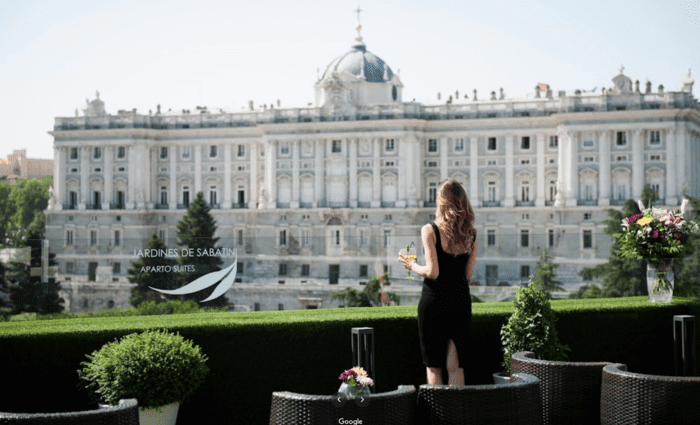 € | Outstanding Views | Family Friendly | Lounge Rooftop | Classic Cars Museum
Fully furnished studios and suites for up to four guests plus hotel-like services such as buffet breakfast, dining, and a 24/7 reception are the comforts you need when traveling with kids. Also, believe me when I tell you that a room with a view is worth it. The building is opposite the Sabatini Gardens, and it has the most outstanding view of the Royal Palace of all the apartment rentals in Madrid.
Guests have exclusive access to the rooftop lounge to enjoy music and drinks. And if you love cars, there is a 20th-century classic cars museum in the same building! In the area, kids will love the playground in Plaza de España. Take time to visit the Egyptian Debod Temple at sunset; it is unique.
Plaza Mayor Suites and Apartments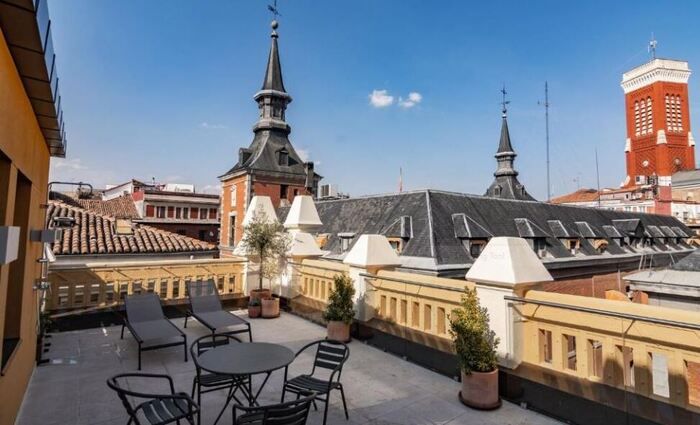 €+ | Studios for One or Two People | Historical Area | Beautiful Terrace With Views of Plaza Mayor
I cannot skip apartment rentals near Plaza Mayor, one of my favorite areas of the city center. The two apartments are very tiny and can accommodate one or two people, so if you are planning a romantic escape or you love solo trips, the place is a perfect fit.
I strongly suggest booking the apartment with the terrace. Not only because it will give you more space but also because it is very enjoyable. It has sunbeds, a tiny coffee table, and a charming view over Plaza Mayor's roofs. Believe me, your morning coffee will taste a lot better up there!
The studios are in the Medieval part of the city, which is the best for tasting traditional comida. Don't miss out on the squid sandwich, a typical Madrilenian street food. You can find the best ones in Calle de Botoneras. Also, head to the Mercado de San Miguel (Saint Michael Market) for delicious tapas and fresh oysters. Finally, to get a feel for the real Spanish weekend mood, sit outside in the La Latina quarter and enjoy the vibe.
Gran View Apartments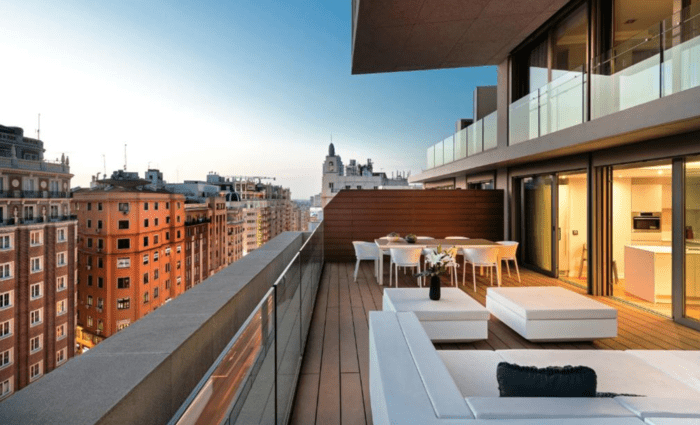 €€€ | Central Location | Perfect for Groups of Friends | Sauna | Rooftop and Outdoor Pool
Here is my top candidate for a fun holiday with your friends. The apartments are spacious, bright, and fully furnished. They all have one or more private bathrooms, a kitchen with a dishwasher, and can host from four to ten people.
Besides the quality and the great location on the central street of Gran Vía, there are lots of additional services that you will love. Enjoy the fresh air, a drink, and the incredible Madrid skyline on the roof terrace bar. And to feel on top of the world, cool down in the outdoor pool with Jacuzzi.
The nearby streets Corredera Baja de San Pablo and Calle del Pez are great for indie and small restaurants. And the real pro tip: look for the Next Level Bar in Plaza de La Luna. It is a "secret bar" with arcade games that plays music from the 80s and 90s.
B&B Apartamentos Madrid Centro Fuencarral 46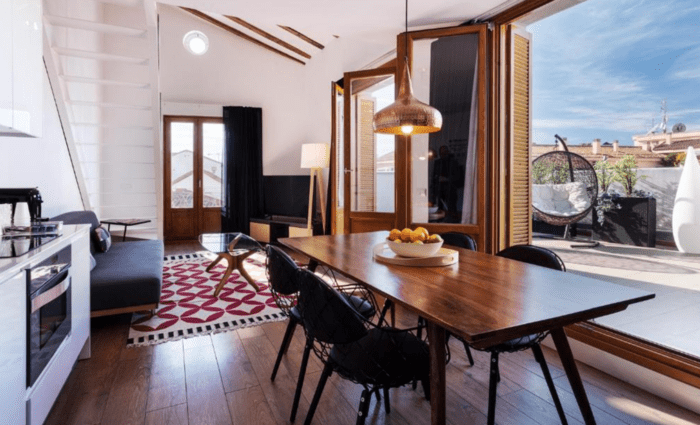 € | Elegant and Fully Furnished Interiors | Studios With Terrace | Trendy Neighborhood
You can choose from twenty beautiful apartments with one or two bedrooms, studios, and even apartments with a terrace, which would surely be my top choice. The accommodation can host up to six people, and they are beautifully decorated.
You will be in one of the trendiest and youngest areas of the city center. Fuencarral Street is a shopping boulevard between the Malasaña and Chueca quarters, with plenty of restaurants, nice cafes, and dazzling clubs to enjoy Madrid's nightlife. It is also an excellent starting point to visit the principal attractions.
The nearby Mercado de San Ildefonso (Saint Ildephonsus Market) is the best for casual dining and international tapas. And if you are craving a fancy al fresco lunch or dinner, try the restaurant on the third floor of the Mercado de San Antón (San Antón Market). Their steak tartare is the best!
Sonder Malasaña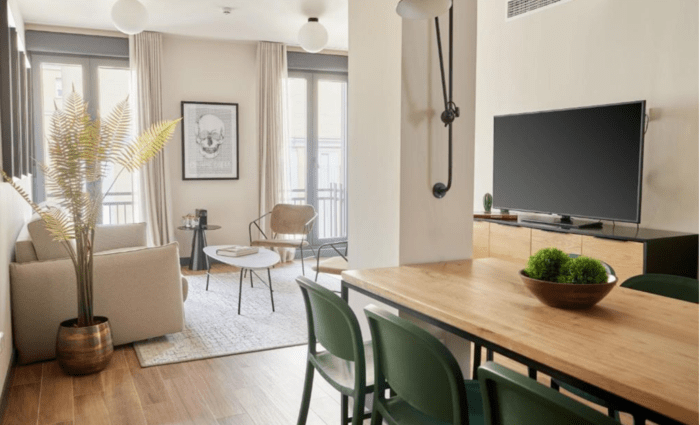 €€ | Modern Interiors | Wheelchair Accessible Studios | Trendy Neighborhood
In the young Malasaña quarter, Sonder has fantastic studios and suites for up to five guests. Apartments vary in size and characteristics, some have terraces while others meet accessibility standards. The location is also perfect, a few steps away from the metro station and the commercial street of Fuencarral.
The area is excellent if you are looking for a mix of culture and fun—plenty of charming cafes and indie vintage shops. You can quickly get to unique museums like the Museo del Romanticismo and visit all kinds of beautiful squares. At night, the area is the best for clubbing.
Eric Vökel Boutique Apartments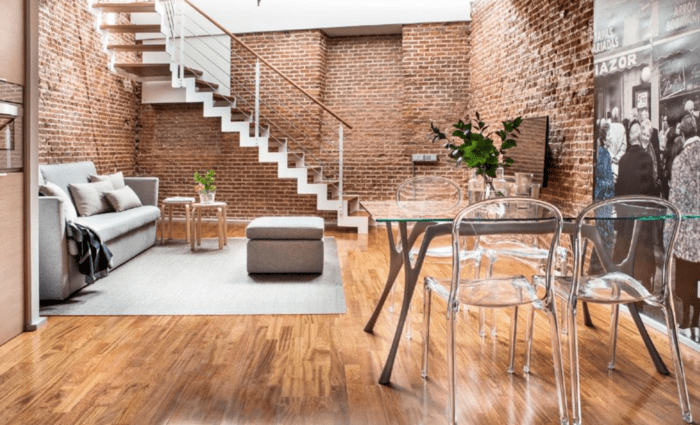 €€€+ | Elegant NY Vibe Interiors | Perfect for Groups and Big Families | Quiet Central Area
If you can't stand dull interiors, these apartments are full of character. They evoke a relaxed NY vibe, with beautiful wooden floors and brick walls, and can accommodate eight people. So if your family or group is big, go for the attic. It will steal your heart with its two large terraces and bright living room. The apartment also has two bathrooms, which is great if you are traveling with six or more people.
Malasaña is a trendy and young quarter, and the building is beside the famous street of the Movida Madrileña, Calle La Palma. Head to the nearby area of Conde Duque if you are looking for a more stylish night out. Also, the Conde Duque Cultural Center is just a few streets away if you love contemporary art.
Romantic Central Terrace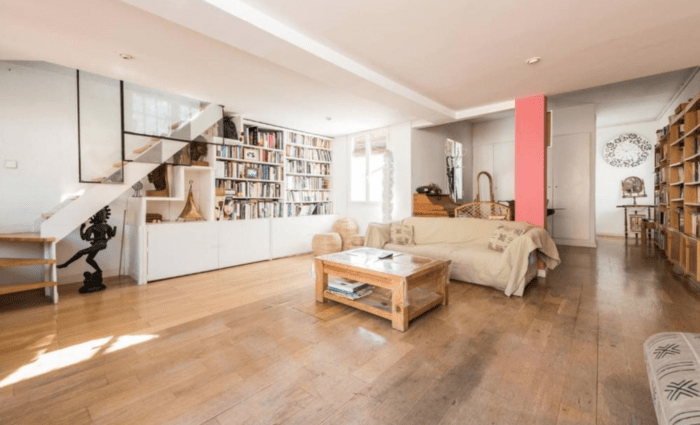 €€€€ | Spacious Living Room | Private Sunny Terrace | Spa Bathtub | Central Location
If it has a terrace, it speaks to me. Close to the Tribunal metro station, this apartment is the perfect accommodation for a week abroad for a family of four to five people, but it also fits the bill for a couple. It has two bedrooms, a big kitchen, and two bathrooms with a spa bath.
The best parts are the common areas. The bright and spacious living room is perfect for relaxing, and the fantastic sunny terrace seems built for delicious breakfasts and romantic dinners. And if you want to spice up your nightlife a bit, clubs and restaurants in the Malasaña quarter are just around the corner.
BNBHolder Majestic Atocha Station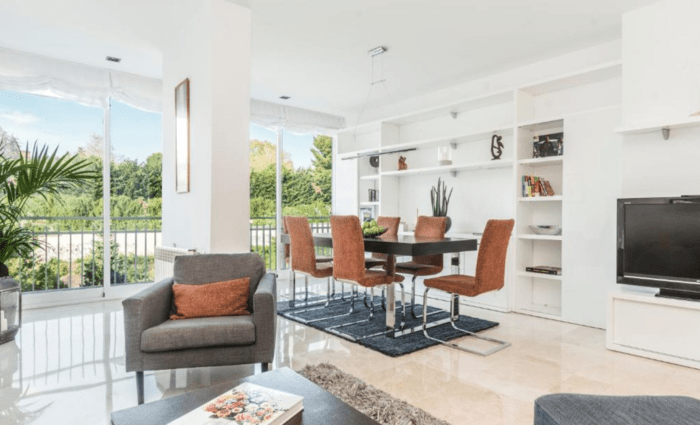 €€€€ | Elegant and Modern Interiors | Fantastic Views | Residential Area Close To Retiro Park and Prado Museum
Imagine waking up in a bright apartment surrounded by nature. This modern 3-bedroom accommodation is the closest feeling to having a luxury apartment in Madrid. It is ideal if you want a quiet stay as it sits on a private residential road. But don't think it is isolated. The building is within the most iconic quarter in Madrid, just a few steps away from Retiro Park and the Prado Museum.
Besides the chic interiors, the views of the Royal Observatory of Madrid are fantastic. Also, the proximity to the Atocha train station is a significant advantage if you plan an escapade to some nearby cities, like Toledo.
The kitchen is spacious if you want to show off your cooking skills, but try to think ahead because supermarkets are not exactly around the corner.
Feelathome Goya Apartments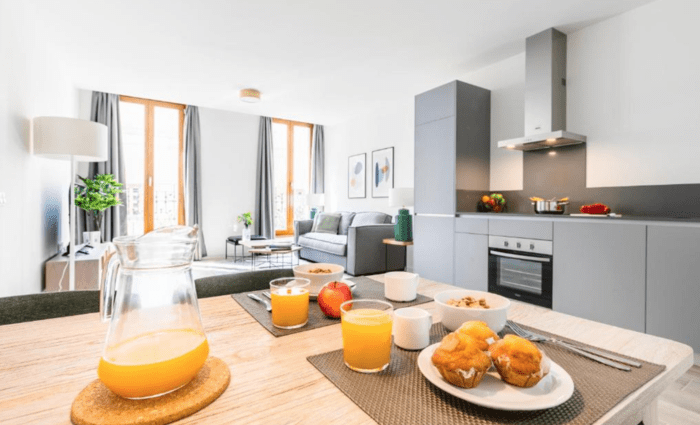 €€€ | Apartments With Terrace | Rooftop Swimming Pool | Best During Summer | Posh Area
The posh area of Calle Goya and Calle Serrano is one of the most valued in Madrid. You can enjoy a stroll between the most famous fashion designers' shops and try the best Michelin-starred restaurants—Ramón Freixa (two Michelin stars), Kabuki, Saddle, and Ricardo Sanz Wellington (all one Michelin star restaurants) are in the area.
Book the romantic apartments for two with a terrace or one of the bigger ones for four people. All flats have air conditioning and access to the rooftop pool, making them one of the best apartment rentals in Madrid to enjoy the spring or summer.
Genteel Home Plaza de España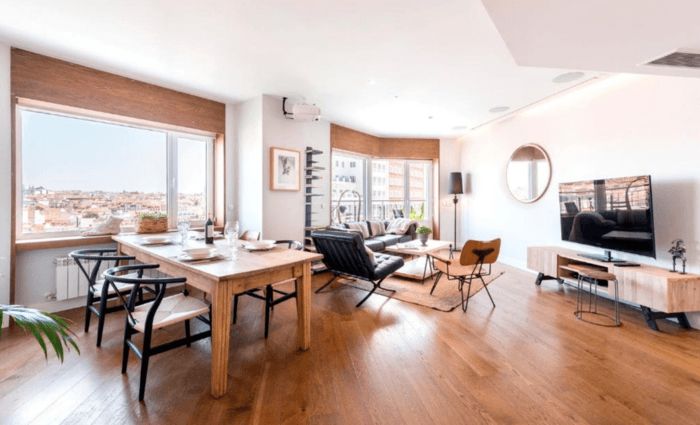 €€€ | Beautiful Decor | Great Choice for Two Travelers | Stunning Skyline Views
Do you want to see Madrid from up high? The stunning apartment in Plaza de España may have the best views on this list. It is a newly renovated apartment with one bedroom and a studio with an additional bed. The place is so finely decorated and luminous that you will enjoy every second here. There is also a small terrace with a cute coffee table for two.
You can access the gym in the same building and train looking out over a fantastic view. It is a 10/10 for me.
Gran Via I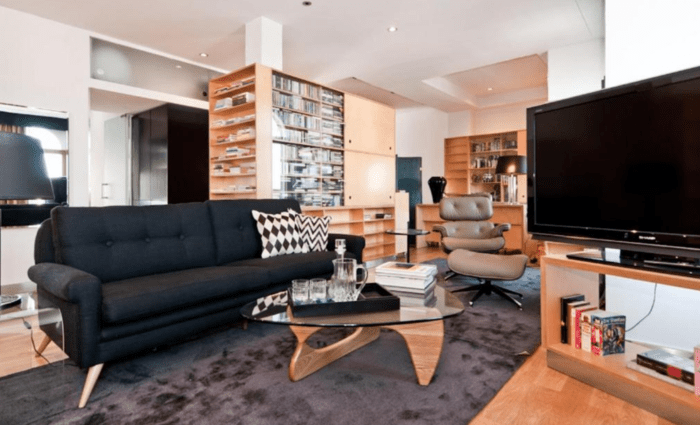 €€€ | Cool Decor | Great Views of Gran Vía | Perfect for Tourists and Digital Nomads
You will sleep like a log in the big double bed of this Gran Vía apartment. The decor is super cool, with a cozy sitting room and a small office—perfect if you need to send that last email. It can easily accommodate two to four people, and the big table on the terrace will be great for chatting over dinner and enjoying Gran Vía's lights.
The location is excellent for reaching every hot spot in the city. For fancy cocktails or a night out, try one of the fantastic rooftops in Gran Vía, such as the nearby Indigo, Santo Domingo, or Riu hotels.