Reykjavík is having a moment. While the capital city is small and home to less than 200,000 people, it's bursting with energy, rivaling much larger cities. If you're planning a trip to the Icelandic capital, get ready for great food, unique experiences, and breathtaking landscapes! To make sure you hit all the best spots, we've rounded up a list of the top things to do in Reykjavík.
---
Pro Tip: Planning your trip to Reykjavík, Iceland? Bookmark this post in your browser so you can easily find it when you're in the city. Also, check out the best restaurants in Reykjavík.
16 Unique Things You Must Do in Reykjavík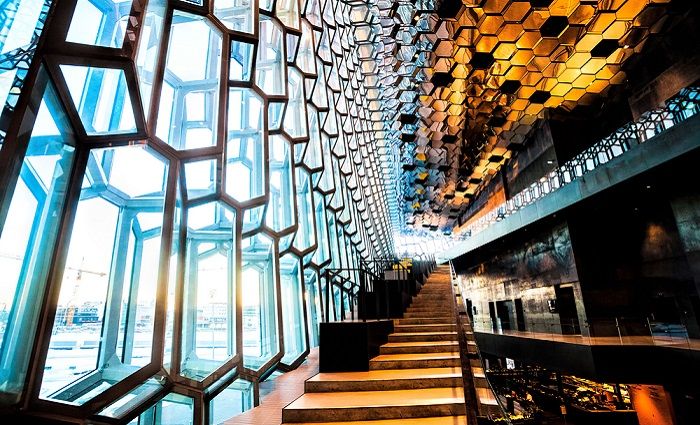 Reykjavík is divided into several postal codes, but the one tourists should plan to spend time in is 101 Reykjavík. It's the heart of downtown Reykjavík and where you'll find most restaurants, museums, and attractions. It's a very walkable city, and you can cover a lot of ground even during a quick trip to Reykjavík.
The great thing about Reykjavík is there's something here for just about everyone. From visiting indoor ice caves to seeing a lava show, whale watching, and hanging out at locals' favorite shops and cafés, you can expect to do a variety of activities. Get ready to have a great time as you check off the top things to do in Reykjavík!
Our Partnership with Booking.com. If you like our content, please book by clicking on our Booking.com links. The price is the same for you and we get a small commission that helps support our helpful blog content. We've partnered with Booking.com because they have the most options, great prices, and a solid loyalty program.
16. Sample Turkish-Peppered Ice Cream at Valdís

Icelanders eat ice cream in any kind of weather. It could be 10 degrees below zero, but it doesn't deter the locals from indulging. It's one of the most common things to do in Reykjvaík. There are many places to grab a cone, but our favorite is Valdís. It's located near Reykjavík's harbor area, close to the Whales of Iceland museum.
If the weather is pleasant, you'll find locals in the seating area outside the shop, catching up with friends, or spending time with family members while enjoying a scoop. They have classic flavors like vanilla, chocolate, and strawberry, but the adventurous can try black licorice or Turkish pepper-flavored ice cream that Icelanders love! We also can't get enough of their caramel ice cream.
Address: Grandagarður 21
15. Feel the Burning Heat of Lava—Indoors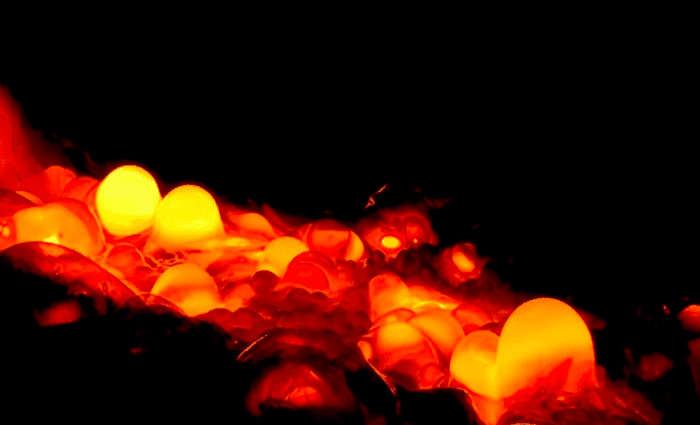 The Icelandic Lava Show allows you to feel the heat, hear the crackling, and see the blazing orange flow of magma even when there isn't a volcano erupting in Iceland. Located in Grandi near Reykjvaík's harbor, the Lava Show opened in Reykjavík at the end of 2022.
The first location opened in the town of Vík in south Iceland several years ago. The Reykjavík location is a hit with locals and it's quickly becoming a must-see attraction here.
So, how does it work? The Lava Show recreates an erupting volcano by superheating real lava. It's pretty special to feel the heat, take in the scent, and see the hypnotizing lava ooze out in a stream. The Lava Show is close to Valdís and Omnom Chocolate—perfect places to enjoy a cool treat after experiencing the heat of lava.
Address: Fiskislóð 73
14. Jam Live with Locals at Mengi After Dinner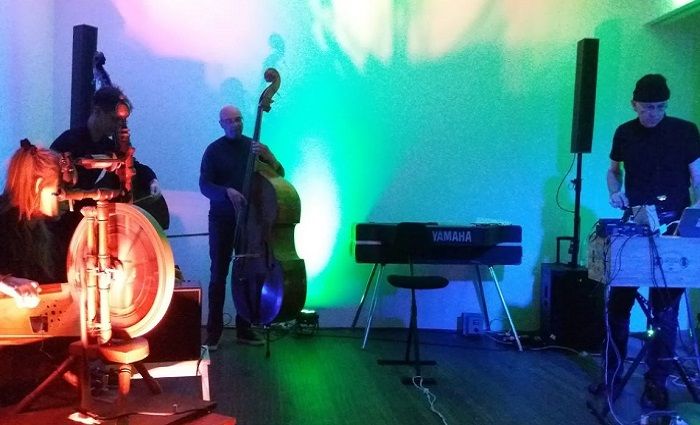 Reykjavík is a very musical city. Well-known artists like Björk, Sigur Rós, and Of Monsters and Men all started out here. But the talent doesn't end there. There's such a vibrant music scene in Iceland with genres ranging from rock to jazz to ambient.
We highly recommend catching a show at one of the many music venues in Reykjavík. Our favorite is Mengi, which has hosted an eclectic range of Icelandic musicians including Amiina, Megas, and Ólöf Arnalds.
The venue is very small (its capacity is 60 people) and guests hobnob with artists, musicians, and the who's who of Iceland. There are also small art exhibitions held in the venue, and it even hosted a specialty tea shop for some months. It's an exciting space and worth a visit during your trip.
Address: Óðinsgata 2
13. Wear an Icelandic Costume at the National Museum of Iceland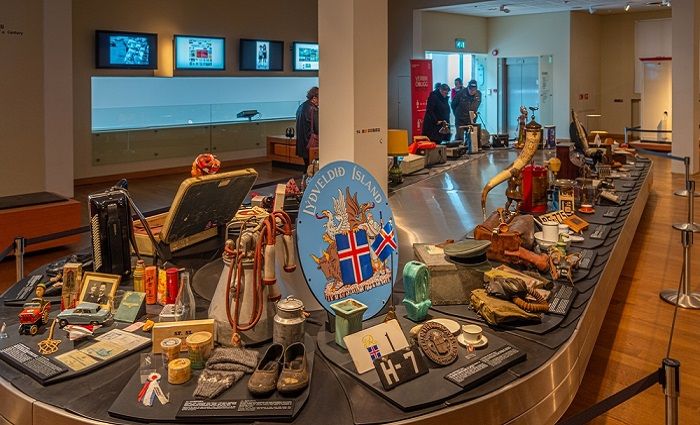 Reykjavík's main history museum houses everything from clothing and tools from the settlement era to grand models of Viking-era ships. The permanent exhibition is split into sections, the first being the settlement of Iceland, followed by the time of Norwegian rule, then Danish rule to the present day. History buffs won't want to miss it!
Adjacent to the University of Iceland, this is the best museum in Reykjavík to learn about the history of the Icelandic nation and its people. The artifacts and exhibitions are well presented with clear information in English. Plan to spend a couple of hours here diving into Iceland's rich history. It's lovely to walk from Tjörnin (the pond featured below) to the museum on a pleasant day.
Address: Suðurgata 41
12. Go Whale Watching to Meet Iceland's Gentle Giants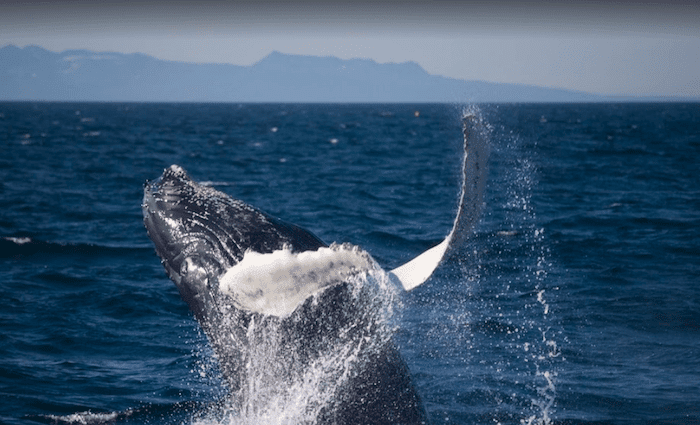 While Reykjavík is a bustling city, nature is never very far. Just minutes from shore, you can get a glimpse of Iceland's gentle giants on a whale-watching tour. Boats depart from Reykjavík's harbor and tours are available year-round. Some companies boast that tourists have a 95% chance of seeing whales during the summer months and an 80% chance in winter.
There's nothing quite like seeing minke and humpback whales, along with dolphins and porpoises, up close and personal. In the summer, you can do a combo tour to see not just whales, but puffins, the unofficial mascot of Iceland.
Address: Reykjavík harbor
11. Eat Licorice + Sea Salt Chocolate at Omnom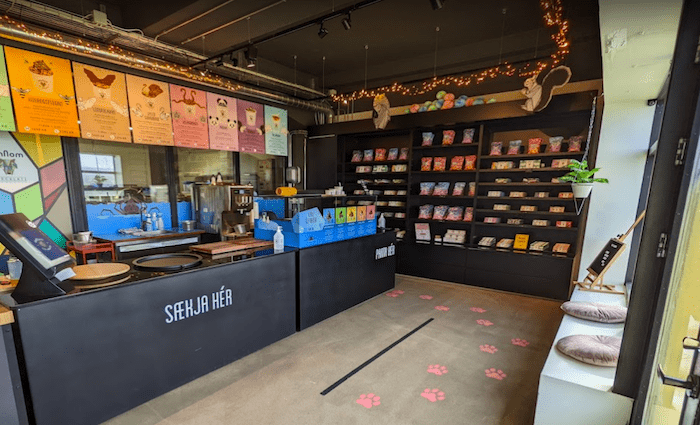 Calling all chocolate lovers! Omnom Chocolate is an actual chocolate factory with an ice cream shop. Located in Grandi, they import cocoa beans, process their delicious chocolate flavors on-site, and even offer tours.
You can purchase chocolate bars in their shop. Our favorites are Coffee + Milk, Milk of Nicaragua 50%, and Caramel. For Iceland-inspired flavors, try Licorice + Sea Salt or Black N'Burnt Barley. Mmmmm.
The chocolate brand is a favorite in Iceland and can be found in shops around the island. We recommend booking a tour of the tiny chocolate-making facilities and grabbing a couple of chocolate bars to bring home.
Address: Hólmaslóð 4
10. Stay at the Ultra-Contemporary Hotel in 101 Reykjavík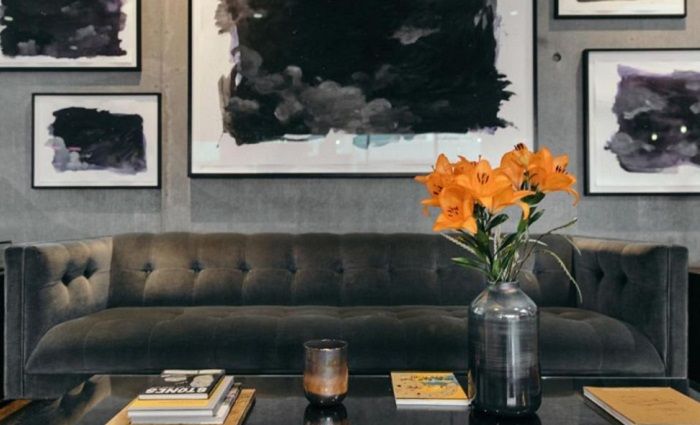 Sand Hotel is a calm, chic Scandinavian oasis in the heart of bustling 101 Reykjavík. Located on Laugavegur, the location can't be beaten and the hotel itself is as elegant as it is convenient. The rooms offer muted tones and lush fabrics with high-end furniture. The friendly staff makes for a wonderful stay.
Another bonus is that the hotel is located above one of the best bakeries in Reykjavík. Sandholt's baked goods are divine and we highly recommend their waffles with fresh cream and jam. If you feel like you overindulged, no worries! There's a fitness center in Sand Hotel.
9. Pick Up a Local Bands' Vinyl Record at 12 Tónar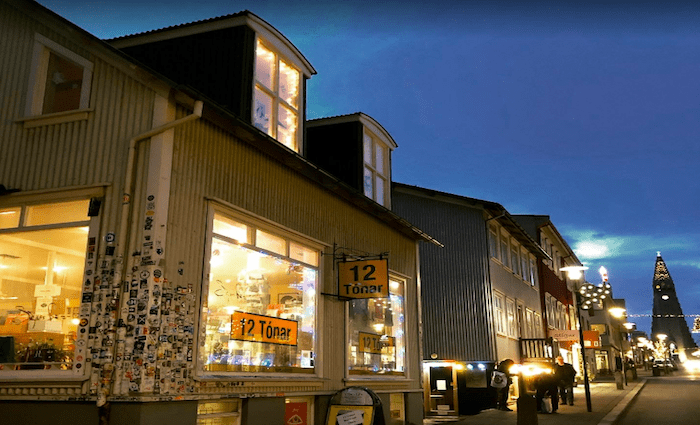 Are you a musicophile, melomaniac, or all-around lover of musical mashups? Then have we got a place for you to explore in Reykjavik! Located on Skólavörðustígur, just down the street from Hallgrímskirkja, 12 Tónar is a cultural institution. It's where people go to mingle with other music lovers and shop for all kinds of Icelandic music.
The shop was founded in 1998 and is a core part of Reykjavík's music culture. It's often used as a music venue during Reykjavík's annual music festival, Iceland Airwaves, and hosts DJs and local bands year-round.
The knowledgeable, friendly shopkeepers are always eager to recommend Icelandic music for all tastes, ranging from indie and rock to hip-hop and electronica. The shop also serves coffee, snacks, and alcoholic beverages, making it a great spot to spend an hour in between shopping and sightseeing.
Address: Skólavörðustígur 15
8. Stroll Around Reykjavik's "Pond" to See Local Wildlife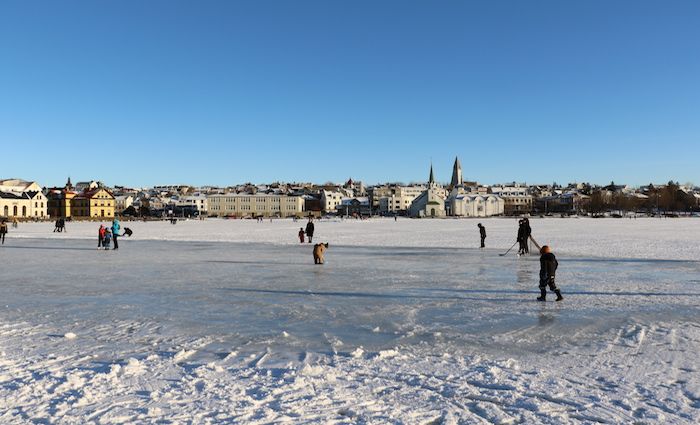 Want a free activity in Reykjavik that gets you in touch with nature and the locals (humans and birds)? Then head to our favorite pond. Tjörnin, which means "the pond" in English, is a small manmade body of water situated next to Reykjavík's city hall. It's a lovely spot to walk and the perimeter is just one mile around.
Take photos and enjoy the picturesque houses that line the pond. Iceland's parliament "Althing" is just a short walk from the pond, as are numerous restaurants and bars.
Depending on the time of year, several species of birds visit Tjörnin, including ducks, swans, gulls, geese, and Arctic terns. It's common to see locals feeding the birds, and in the winter, the pond freezes, becoming a popular place for ice skating and walking on the ice.
Address: Tjörnin
7. Explore the World's Only Phallus Museum—If You Dare
The Icelandic Phallological Museum is one of those places you just have to visit when you're in Reykjavík. It's weird but oddly fascinating as visitors can view the preserved male organs of 200 animals, including arctic fox and polar bear specimens. Its most recent acquisition is a cast of Jimi Hendrix's organ gifted by the Cynthia "Plaster Caster" estate in 2022.
The museum has members on display in glass cases, and the highlight is a huge whale specimen on display. Some people find the museum humorous, while others are a bit grossed out. If you're looking for unique souvenirs, this is the place.
Address: Kalkofnsvegur 2
6. Get Your Inner Eskimo On at Perlan's Indoor Ice Caves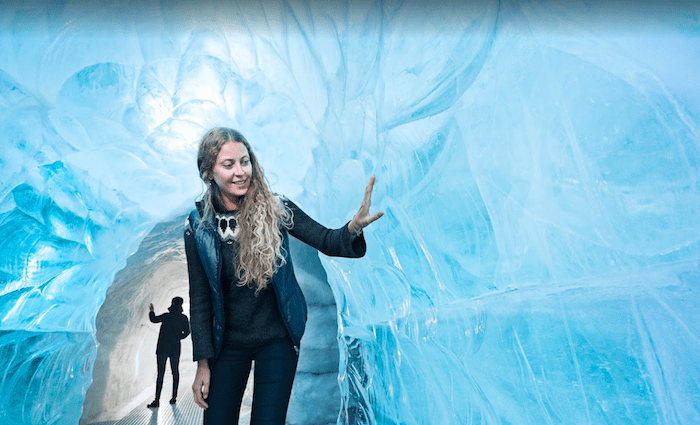 Perlan, or "the pearl" in English, has one of the best views of Reykjavík's skyline from its outdoor viewing platform, where you can get a perfect panorama shot. However, the interior underwent a significant renovation a few years ago and is now home to fascinating exhibitions, including an installation on glaciers and ice caves.
Here, you can explore the world's first indoor ice cave. At 100 meters long and created with more than 350 tons of snow, guests can have a glacier experience in the heart of Reykjavík, without delving deep into the countryside.
A northern lights exhibition in the building means you can also see auroras any time of year, and there's a café that serves coffee and light meals. It makes for the perfect thing to do in Iceland that's true to the chilly nature of our region.
Address: Öskjuhlíð
5. Sample a Double Cappuccino and Almond Croissant at Kaffi-Ó-le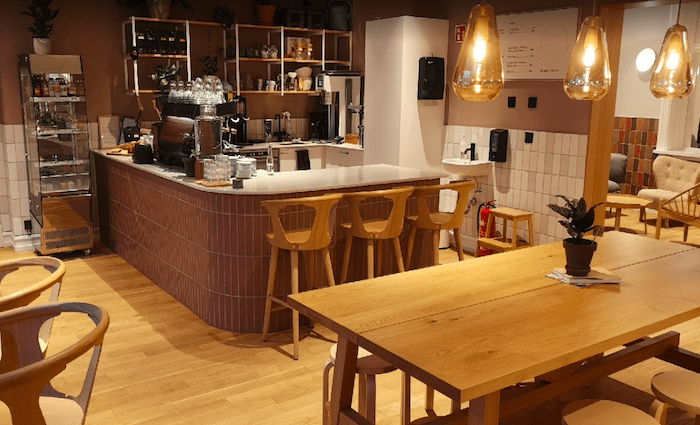 Iceland is a nation of coffee drinkers, and Reykjavík boasts many cool spots to enjoy your favorite coffee beverage. We always get a double cappuccino with oat milk and an almond croissant. Kaffi Ó-le opened in 2021 and is one of the hippest places in town for a coffee.
The café is a favorite among artists and musicians who are drawn to the chic and minimalistic Scandinavian atmosphere. It's quiet, calm, and a great spot to read a book or catch up with friends.
Coffee-loving tourists shouldn't skip this spot. The friendly staff and trained baristas using high-quality beans provided by local roastery Kaffibrugghúsið makes it a must. The café is near Kolaportið, Iceland's largest indoor flea market, which is a great place to shop for those famous Icelandic knit sweaters. They might come in handy as you explore the windy landscapes here!
Address: Hafnastraeti 11
4. Lose Track of Time at the Blue Lagoon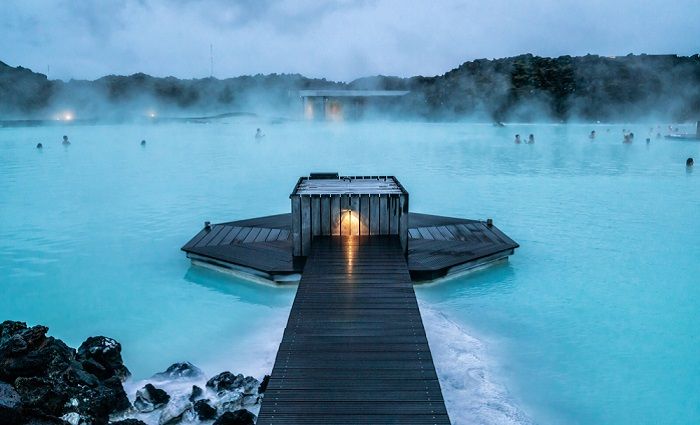 Let's be honest. Most of the reason you're in Iceland is to see the incredible landscapes and natural beauties of this unusual country. That's why we have to include taking a day trip to the Blue Lagoon as something to do when you're in Reykjavik.
Spending the afternoon or evening soaking in the stunningly relaxing pools here will be an unforgettable experience. Soak away that jet lag, the tired legs from your hike, and the worries of work. You'll probably even forget to use your phone for selfies with the obsidian rocks against the steaming blue waters. And that's ok.
Nothing else will matter as you rejuvenate yourself in 100-degree Fahrenheit temperatures, soak in those mineral-rich muds, or book a full-body massage. You might even decide to stay the night and enjoy another day (or two) at this incredible lagoon.
3. Be Stunned by the Beauty of Reykjavík's Largest Concert Hall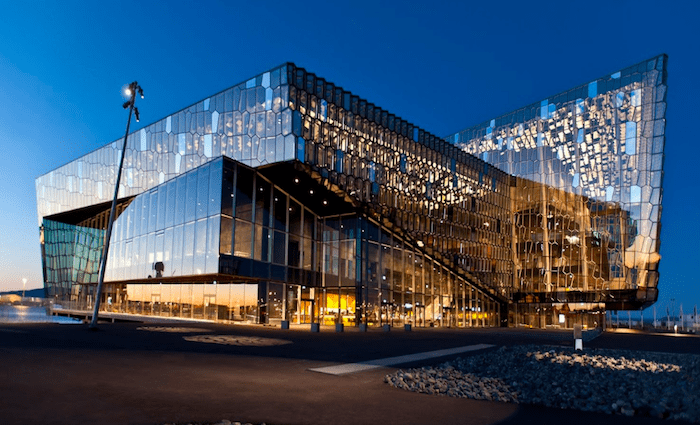 Doesn't that image just wow you with how perfectly it portrays the land of fire and ice? The Harpa Concert Hall is a striking glass structure that hosts concerts, operas, the Icelandic Symphony, festivals, and international conferences. It was designed by Icelandic-Danish artist Ólafur Elíasson and is one of the most architecturally significant buildings in Reykjavík.
Harpa's exterior features individual glass panels that light up, sometimes blinking in a pattern or simply changing colors. For instance, during Iceland's National Day in June, the panels light up with the colors of the flag, blue, red, and white.
Even if you're not going to an event at Harpa, it's a fun place to explore and take pictures. Hnoss Restaurant, a café on the bottom floor, serves coffee, soft drinks, light meals, and cakes, and there's a formal restaurant on the fourth floor with gorgeous views of the harbor.
Address: Austurbakki 2
2. Soak Yourself at a Geothermal Pool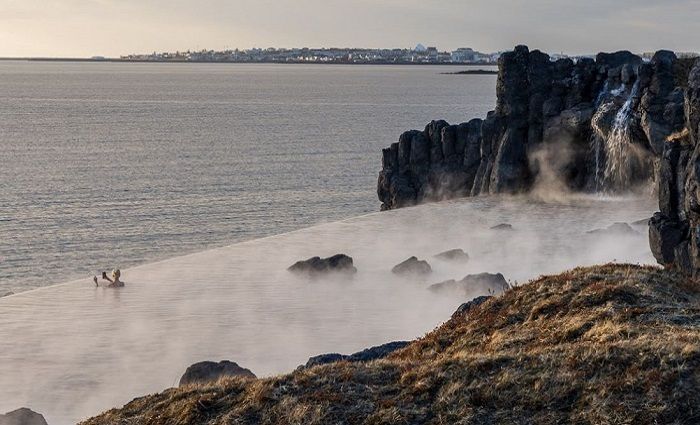 You're probably thinking, why is a pool the #2 thing to do in Reykjavik? It's easy: pools are an absolutely central part of Icelandic culture. If you don't visit a pool during your stay in Iceland, you're missing out. Icelanders tend to treat the pools as places not only to relax but to catch up with friends and family while chatting in the hot tubs that are geothermally heated.
There are several pools in Reykjavík, each with its own local flavor. For instance, some pools are more child-friendly, with slides and large areas designated for children. If you're traveling with kids, we highly recommend Laugardalslaug, which has the biggest pool facility in Reykjavík. Here you'll find a heated 50-meter outdoor pool, giant waterslide, hot tubs, a steam bath, and a sauna.
You can also head to one of Iceland's many geothermal pools that we're also famous for. In fact, we have a beach near the airport that has a manmade lagoon of heated water and hot tubs to enjoy. It's a little ways from downtown Reykjavik but worth the drive if you're here in summer.
But if you're up for going a little further away, then head to Sky Lagoon. It's a luxurious, peaceful thermal spa right on the coast and within view of Reykjavik. There's no better place near Reykjavik to soak in a geothermal pool if you prefer a little peace and quiet.
Address: Sundlaugavegur 30 or the Nauthólsvík Geothermal Beach or Sky Lagoon
1. Tower Over Reykjavík by Climbing Hallgrímskirkja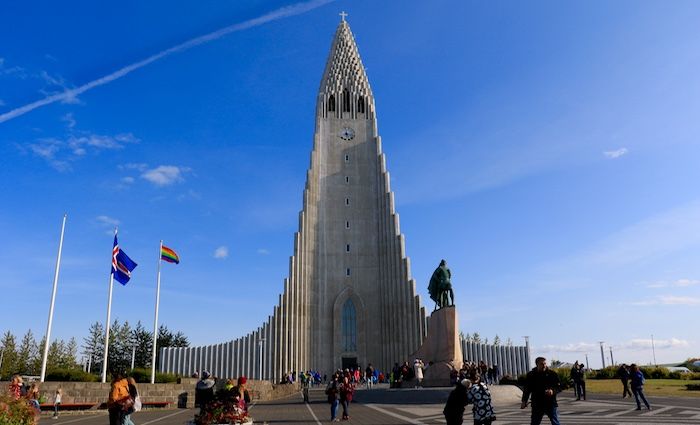 When you live in the land of fire and ice, you can expect the architecture to compete. Case in point: Hallgrímskirkja is one of the most photographed and visited sites in Reykjavík for excellent reasons.
Its architecture is utterly striking. The Lutheran church is a modern structure made out of concrete, with basalt-style columns at the bottom coming to a point at the top. It stands 73 meters high and was designed by state architect Guðjón Samúelsson.
After admiring the exterior, head inside to see the gorgeous organ constructed in Germany, as well as beautiful stained glass windows. There are frequently held concerts ranging from choirs to organ performances, as well as mass. For many, the highlight of a trip to Hallgrímskirkja is a visit to the top of the tower, which has spectacular views of the city.
Address: Hallgrímstorg 1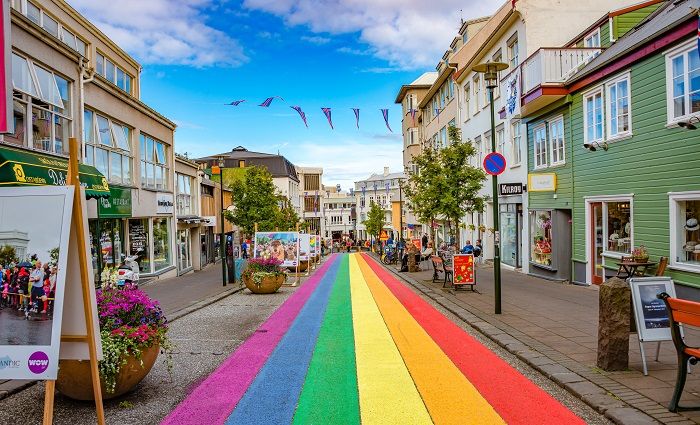 Find the best places to stay
Where To Stay in Reykjavík
Iceland's capital city may be small but it has plenty to offer visitors. Discover Reykjavík's best hotels and neighborhoods for a memorable trip.