Let's face it, Italian cuisine is one of the most delicious on the planet. However many travelers are surprised when they arrive in Italy that the food is not the same as what they eat back home. No Chicken Parmesan! Below I will outline the top Italian foods that Italians eat.
---
The Top 17 Italian Foods & Drinks in Italy
Personally, I highly recommend when visiting a new city to take a food tour. Nobody knows the local food better than a local and you will also visit local establishments where you, as a tourist, couldn't possibly know about.
It would be easy to write an entire book about the top foods to eat in Italy. The number is infinite almost and once you add in regional dishes, desserts, drinks it's like counting stars- infinite! Therefore, let's get right to it.
Since Italian meals are almost always multi-course meals, I have added a small key of the Italian terms for different courses:
Aperitivo- This is the classic before-dinner drink and is always accompanied by some kind of snack
Antipasto– Appetizer before the main courses
Primo– Literally " 1st" as in the first course- usually soup or pasta
Secondo– Literally " 2nd" as in the second course- usually meat or fish
Dolce– Dessert
Digestivo– After dinner drink. Something to help aid digestion
17. Spritz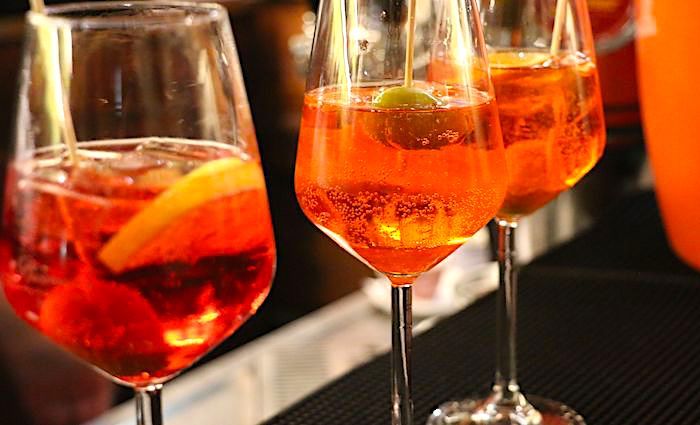 Aperol or Campari mixed drink | Aperitivo | Anywhere in Italy, but try in Venice!
Today in Italy you can order a spritz anywhere in the country. Many are not aware however that the origins of this light aperitivo actually comes from this region.
In the 1800s during the Hapsburg reign over the Veneto region, the Austrian soldiers were not used to such a selection of wine as there was in Italy nor were they used to the wines being so strong. Therefore they would ask the bartenders to spray ( spritzen in German) some water into the wine to weaken it a bit. They added some sparkling water to a glass of sparkling white wine or a glass of red wine.
In the 1950's it became quite popular to add either Aperol ( an orange, sweet mixture) or Campari ( dark red and bitter) into the mix instead of the classic wine mixed with soda. Therefore today when you go to a bar in Venice and ask for a spritz they will ask if you want Campari or Aperol.
16. Risotto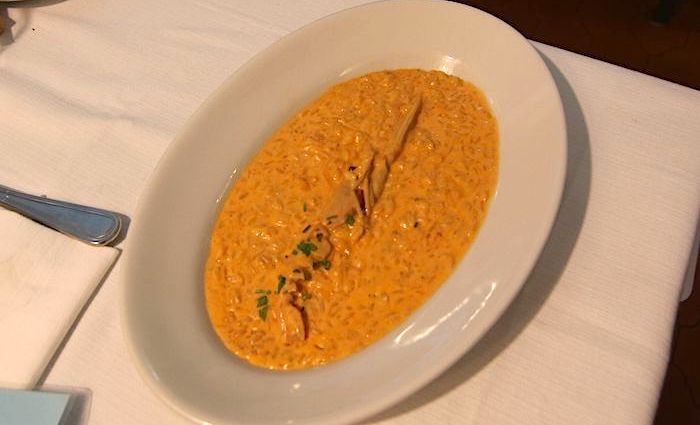 Rice Dish |Primo | All of Italy
Let's start the list with a favorite throughout the entire country. Risotto is a rice dish. Nothing special right? The key, as with anything, are the other ingredients that you add. There is an unlimited amount of variants to this beloved dish that pervades Italy.
For example in the photo above you have risotto with scampi cream. You have the famous risotto alla Milanese which is with Saffron. It is possible to add anything in there as long as you follow the correct base.
The base begins with the broth. Any true risotto will have a broth made from scratch. Depending on the ingredients inside will also depend on the type of broth you use. For example if your base is vegetables then it will be a vegetable broth. If it's meat then meat etc.
The key here is to toast the rice a bit first in the pan, then add some wine. Once the alcohol evaporates, then you start with the broth. At this point, you throw in everything you want to eat and keep adding broth once it evaporates. Once you've had a true risotto, you never go back.
15. Pasta Carbonara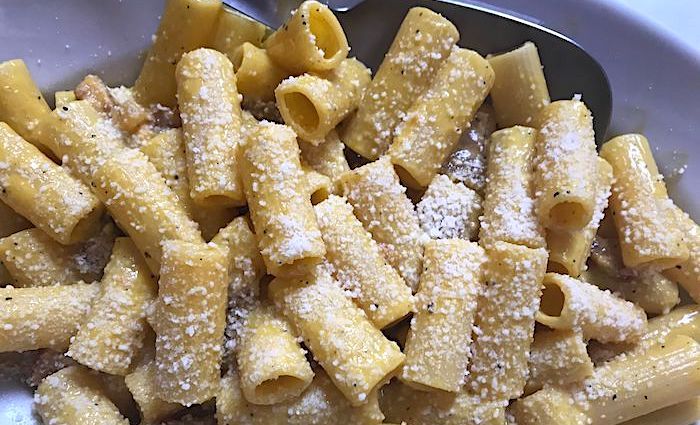 Egg& Pork |Primo | Mainly Rome
I will be adding a few pasta dishes to this list. The reason is when you are in Italy certain types of pasta need to be on the bucket list. This dish is insanely simple to make, but takes quite a bit of time to master.
Consider that all you need are four ingredients to make arguably one of the best pasta dishes on the planet. Ready? Here they are:
Guanciale ( Similar to Pancetta, but not quite)
Egg Yolks
Pecorino Romano Cheese
Crushed Black Pepper
That's it! I would recommend eating this pasta dish in Rome. That is where it comes from and that, in my opinion, is where it will taste the best.
14. Tiramisu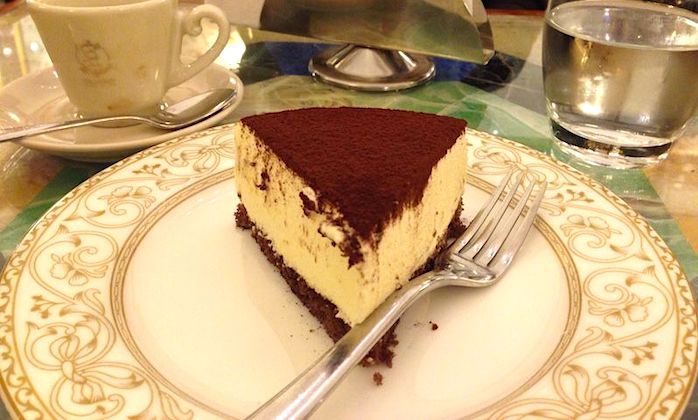 Coffee & Mascarpone |Dolce | All Italy
The literal translation of " tiramisu" is- Pick me Up! This has to do with the coffee content inside. This is a very popular dessert for Italians and visitors who come to Italy alike. I find that the trick is to not make it too sweet. There have also been many spin-offs with the likes of Strawberry tiramisu or other flavors. However I prefer the classic taste.
The classic tiramisu is with following:
Mascarpone Cheese
Coffee
Savoiardi Cookies
Eggs
Whipped Cream
Cacao Powder
When made correctly, the cream will be light and fluffy and almost melt in your mouth. The contrast of the bitter coffee & cacao are offset by the sugar in the cream and cheese. In your mouth this create sensations of true joy. Not to be missed!
13. Filetti di Bacalà
Fried Codfish |Antipasto | Mostly Rome or the South
Filetti di Baccalà is basically the Italian version of fish and chips. That means it is less greasy and tastes good (sorry England). The batter is a little lighter and the portions are a little smaller.
You also don't serve this with "chips" but normally a vegetable. Italians eat it as an appetizer with pizza. It is commonly eaten before or after watching a football match.
12. Limoncello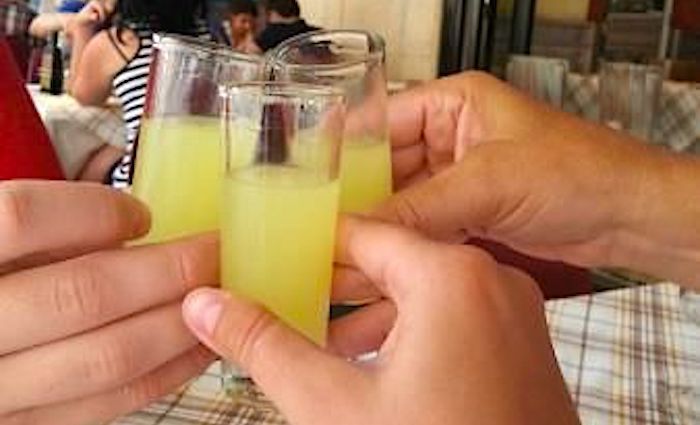 Lemon Liqueur |Digestivo | Amalfi Coast
It would be impossible to write an article about food and drink in Italy and not include the king of drinks- Limoncello! While this liqueur is exported, it is very popular in the Bel Paese as well.
You can find this drink all around the country, but the best you can find is on the Amalfi Coast. The reason being is that it is all produced here. To make limoncello you need lemons. And the best lemons come from Sorrento and the Amalfi Coast.
To make limoncello all you need are lemons, sugar, alcohol, and water. Once at a limoncello farm I tried to get the nonna ( grandma) to tell me her secret recipe and she gave me the death look, so I knew to quit while I was ahead. From what I know, you take the lemon peels and soak them in pure alcohol for a period of time, and then at some point add sugar and water. What I do know is that this is delicious after a meal.
11. Supplí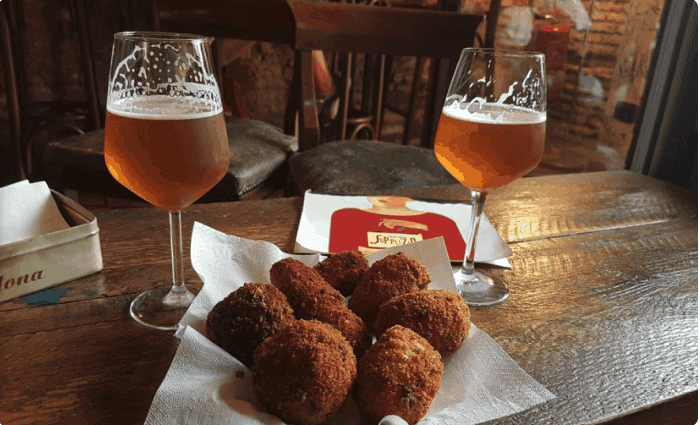 Fried Rice Balls |Antipasto | Mainly Rome
These showed up on the map, at least in writing, around 1847 at a restaurant in Rome named Trattoria Della Lepre. The restaurant is no longer active but I couldn't imagine this dish was at fault.
You will see these on the menu of most authentic pizza places and definitely at any takeaway pizza place where you can get piazza al taglio. You'll definitely do a lot of walking in Rome and these little treats will come in handy when it's 4 pm and you're starving but restaurants don't open until 8 pm. Pop in, grab one for 1€, and eat it walking.
What is it? Basically, it is rice mixed with a light meat sauce and pecorino cheese with a small ball of mozzarella cheese at the center. It's fried in an egg and bread-based shell which is crunchy and delicious. Amazing.
10. Bistecca Fiorentina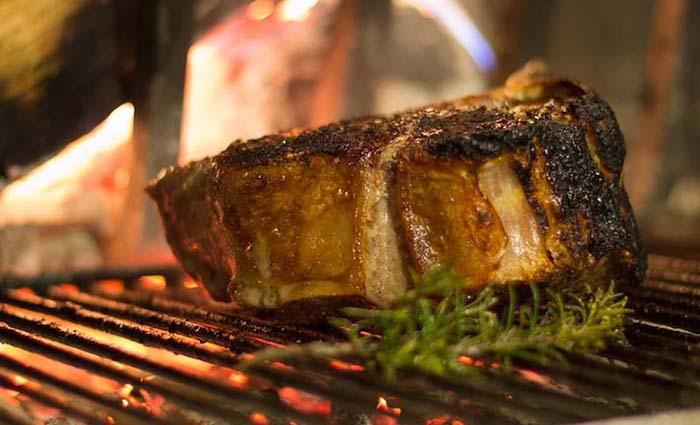 Steak |Secondo | Florence
The Bistecca Fiorentina is what it sounds like – a Florentine Steak. The cut of meat can be veal or from a heifer cattle which is a cow that has not birthed a calf yet. Furthermore, it must be taken from a Chianina breed of cattle that has origins in Siena. Before ordering this steak you should know it is commonly served rare.
Like most Italian recipes, there is no fancy marinade to bring flavor to the dish. The flavor comes from the high-quality cut of meat and salt brings that flavor forward. That said, salt or pepper cannot be added until after it is cooked.
To be a "Fiorentina" it must be grilled over hot coals. The steak is bone-in and comparative to the American T-Bone. You obviously must place it on the grill at room temperature so take it out of the fridge 30 minutes before cooking.
In my research, I have seen an article from Eataly and other English language websites recommending cooking this with rosemary and sage which may be a tasty recipe but it is not the authentic Florentine recipe. You can use rosemary to the plate as a garnish but do not let it touch the steak.
If you search "ricetta bistecca alla fiorentina" you'll get all the Italian recipes for this dish. They may be difficult to read but they contain 4 ingredients. The steak, salt (sale), pepper (pepe), and EVOO (olio). When you are in Florence, join our Florence Food Tour to sample this delicious steak!
9. Cichetti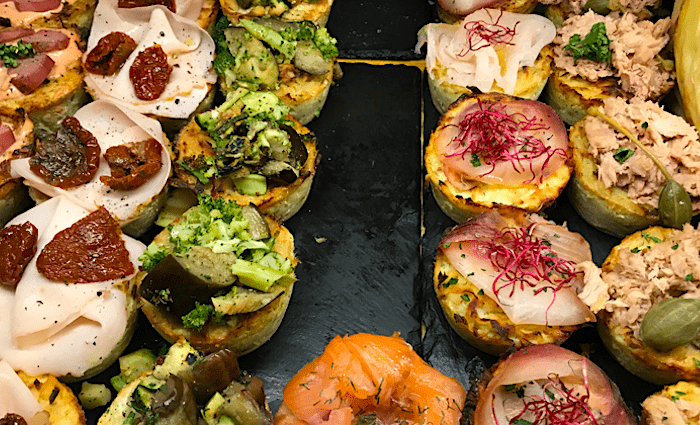 Snack sized |Antipasto | Venice
For a starter, Cicchetti are typical Venetian, small plates or finger foods accompanied by a glass of wine or Spritz.
When in Venice, you must try cichetti. Especially on a Venice food tour or just hanging out with friends (a typical pub crawl). It might surprise you, but eating and drinking in Venice on a budget is actually quite easy. That's why we want to let you in on a secret, Cicchetti.
These bites of Venetian tradition are both cheap and filling, ranging from about €1 to €3 per plate. As always, ask the staff what you should eat & drink and trust them. Menus are for tourists.
8. Mozzarella di Bufala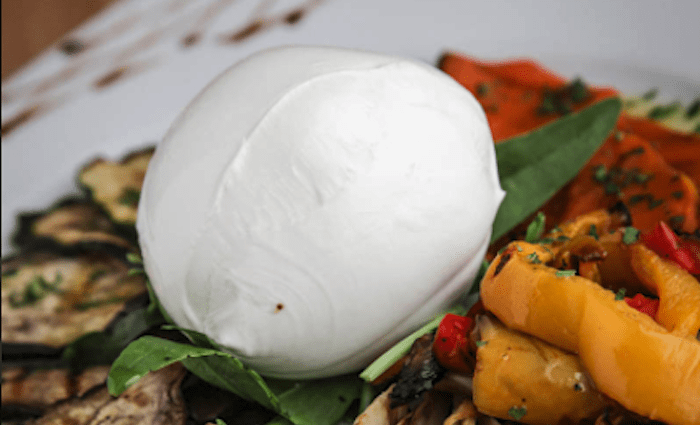 Buffalo Cheese |Antipasto | Naples/ Amalfi Coast
Mozzarella di Bufala is the king of all Mozzarellas. There are generally two kinds- Bufala and Fior di Latte. Fior di Latte has a bit milder taste and is usually the kind used on pizza. The difference in production is that fior di latte is made with cow's milk, while for the Bufala Mozzarella they use the milk from the water buffalo.
The term Mozzarella comes from the word Mozzare, meaning to cut by hand. They cut the curd and make them into little balls which is what we eat today. Mozzarella di Bufala has been a protected trademark (DOC – "Controlled designation of origin") since 1993. That means that outside of the major production area ( around Naples) is the only place where you can produce and call it by that name.
How to eat it? It is served as a starter and usually comes either with prosciutto or with some vegetables. The best way to tell if it is good and fresh is when you cut into it, see how much milk spills out from it. If it is top of the line, then your plate will be covered in milk as you make a few cuts. In the South, they take this very seriously so this is why this is a food to try in Naples or close by.
7. Lampredotto & Trippa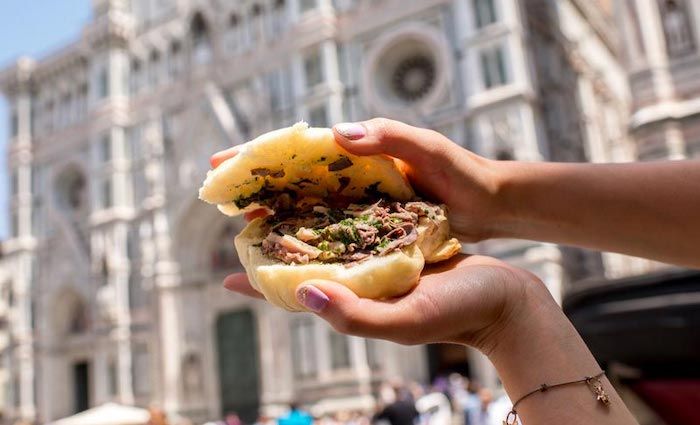 Cow stomach |Primo | Florence
Do you consider yourself daring? If so, find a great Lampredotto stand and have a sandwich prepared out of the fourth stomach of a cow.
How would anyone even think up this dish? Imagine you are a poor farmer and you want to provide for your family. You've invested in a cow and want to get the most from it. Being the marketing-genius farmer you are, you start experimenting with dishes using less desirable parts of the animal to increase your yield per animal. The result is Lampredotto.
It may not have happened exactly like that but you get the point. Lampredotto is likely the product of trying to get the most out of each animal to feed the general population in times where wealth and food were not in abundance. Today, it is a local favorite and definite street food. Lampredotto is commonly served as a sandwich. Some say it is delicious and others cringe at the sight. You'll only know if you try it!
6. Carciofi alla Giudia & alla Romana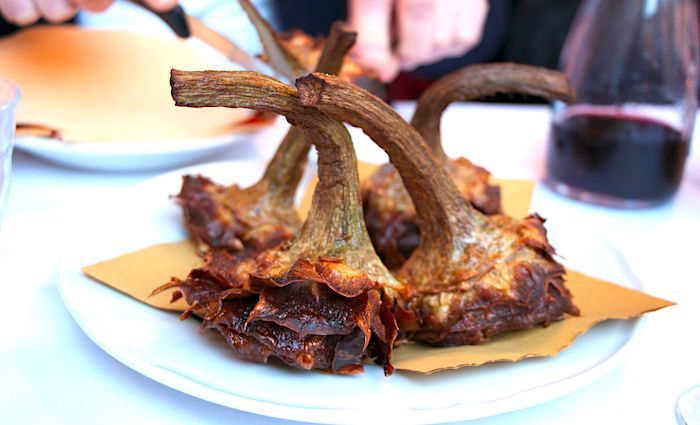 Artichoke |Antipasto | Rome
Carciofi alla Giudia
Carciofi alla Giudia translates to Jewish Artichokes. Artichokes thrive in Rome's climate so they are very popular in the city with two main recipes. Alla Giudia (above) and alla Romana (Jewish style and Roman style). Don't worry, you are allowed to prefer either without fear of reprisal but the Jewish ones are almost always chosen as the victor.
Jewish artichokes are seasoned with salt and pepper and then fried twice in olive oil. Yes, twice – which is how they get their super crispy (crocante in Italian) texture. They are also fried in olive oil which is a high quality oil. Different oils have different boiling points so they really aren't Jewish artichokes unless they are fried in olive oil twice.
Carciofi alla Romana
Roman style artichokes are a world of difference. The only thing that is the same is that they are artichokes. They preparation and cook time is more intensive and the outcome is different. These artichokes are most often served cold but cooked for up to 30 minutes.They are seasoned with lemon, mint, garlic, olive oil and black pepper.
This may sound a bit eccentric and possibly politically incorrect but I would stick to religion on this one. If the restaurant is run by Catholics, I would order Roman-style artichokes. If it is Jewish run, I would order the Jewish style artichokes without question. How do you know who runs the restaurant without asking an awkward question? Well, the Jewish Ghetto is still occupied mostly by Jews.
5. Saltimbocca alla Romana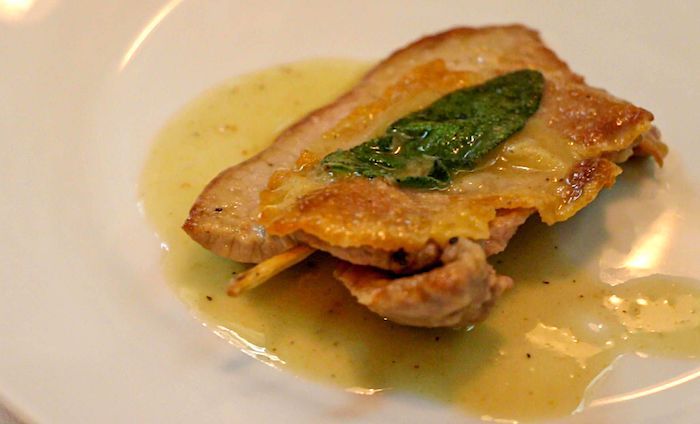 Veal | Secondo | Rome
This dish was invented sometime in the 19th century. As always, simple with high quality ingredients. Calf veal filet with a slice of sweet prosciutto crudo attached to it with a tooth-pic. It is sauté in butter with white wine and lightly salted with a bit of salvia to add flavor. It is a purists dish in Rome with little variation.
Many visitors to Italy will order a pasta dish as their meal but the right way to do things is order antipasto (appetizer), primi (pasta), secondo (meat) and so on. Saltimbocca is a light secondo that you can finish on your own or split. Sharing in Italy is perfectly normal and expected.
The name translates to "Jumps in Your Mouth" which describes its incredible flavor. The photo above admittedly does not jump off the page but it is one of those things that you won't understand until you try.
4. Gnocchi con sugo di carne- Only on Thursdays
Potato Dumplings in Meat Sauce | Primo | Rome
One of the most wonderful and beautiful things about Rome and Italy as a whole is the tradition. Imagine there were rules for everything you eat and drank but they were wonderful rules that everyone loved and adored. Rules based on tradition and culture. That is how Rome works and Gnocchi are no different – they are only served on Thursdays at traditional trattoria in Rome. Why?
Gnocchi are prepared from potato and other heavy ingredients. A big plate of gnocchi with sugo di carne (tomato meat sauce) is more than filling. Thursday can be an exciting day for this reason. You can probably get a plate of gnocchi at a tavola calda or pizza place that serves daily dishes for 5€ or so on a paper plate or in a to go container. Boy are they delicious too. Wait, why only on Thursday?
In Rome, Friday was a day to eat fish. This was because meat was prohibited on Fridays as penance on the day of Christ's death. Not just during lent but all year around. Fish can be delicious but often light and digested quickly. Romans figured they'd eat Gnocchi on Thursday to fill up in preparation of Friday's lighter meal. Then, they'd eat la Trippa on Saturday to balance the scales since it is also a heavier meal.
Regardless, if you want to be traditional in a good way, order Gnocchi con Sugo di Carne while in Rome on a Thursday.
3. Pizza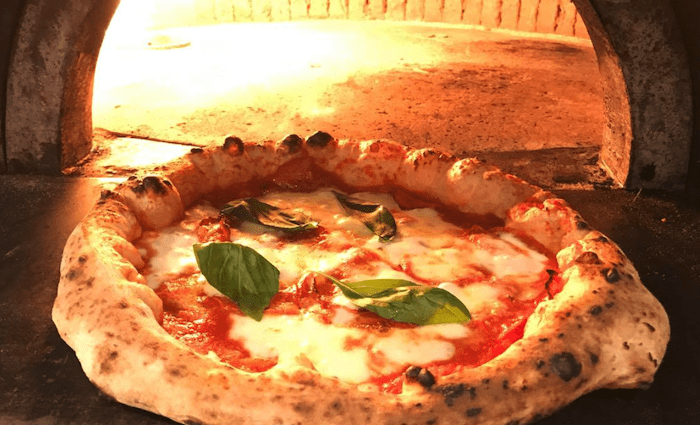 Pizza | Primo | All of Italy
I already know what you are going to say- I can eat pizza anywhere, why put it on this list? The reason is simple and I will explain. While it is true that you can eat pizza anywhere in the world, pizza as we know it was invented in Naples. However, there are two main styles of Pizza: Pizza Romana & Pizza Napoletana
Pizza Napolitana:
While there have been many variations over the centuries the pizza as we know it started in Naples in the 19th century. Tomatoes was a vegetable that originated in North America so it was brought over to Europe after the colonies were established. In the beginning, the upper class rejected the vegetable due to its appearance, but was readily adopted by the lower classes.
The Pizza Napolitana is very doughy. It will have a huge crust that goes all the way around the pizza.
Pizza Romana:
While it is true that Naples has history on its side, Rome has a completely different kind of pizza. The glaring difference is that Pizza Romana is paper-thin with practically no crust at all. Some people prefer one over the other, but if you have a chance, try them both. They are both delicious!
2. Fritto Misto di Frutti di Mare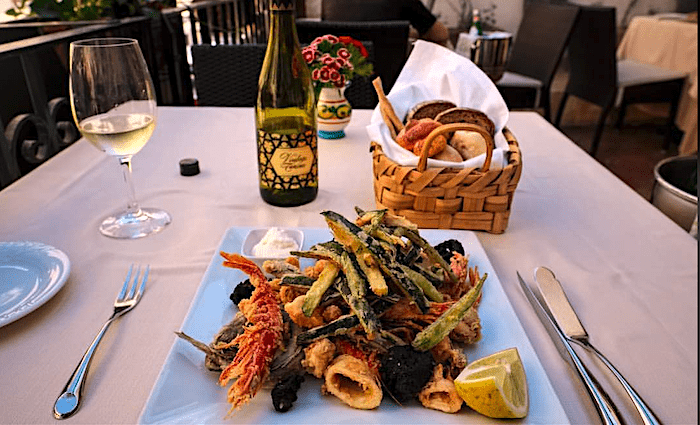 Deep Fried Shellfish | Secondo | All Italy where there is water nearby
The fritto misto is translated as " Mix Fried", so what you are actually getting is various kinds of seafood that have been lightly battered and deep-fried. If you like fried food and you like seafood then this is obviously the perfect mix. I would highly recommend however that even if you don't like fried food to give it a try. It is not a heavy batter and fried like KFC, but fried and battered just enough.
Depending on where you go on the coast, they will probably mix up the fish used. The usual suspects are calamari and shrimp, but they could definitely throw in there many different things according to the restaurant. By the way, there is no tartar sauce in Italy. Actually, there might be, but it is not used very often. For your fritto misto they will give you a lemon, so squirt it on there and enjoy.
1. L'Amatriciana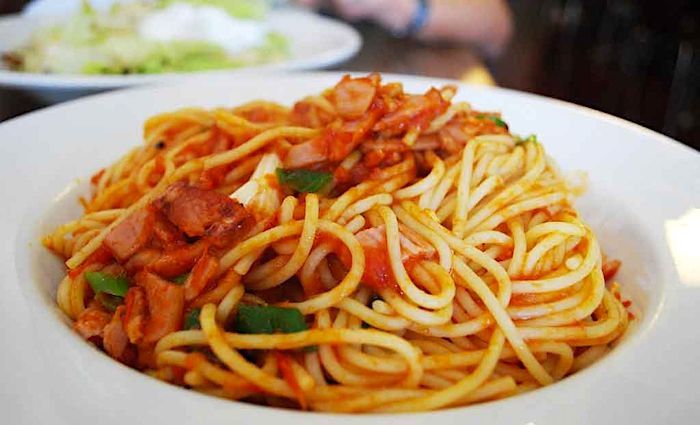 Pasta with Pork | Primo | Rome
Like any good rivalry, Rome is split between l'amatriciana and la carbonara. Both plates are delicious and it would be impossible to decide which one is actually better. I can't take sides but I do tend to make l'amatriciana more – so it is my #1 favorite dish in Rome.
Like many of the best Italian dishes, this Roman favorite is made with simple ingredients. It is often made at home with la passata which is a quick tomato sauce base but you couldn't do that in a restaurant without Italians noticing. In reality, you should use cherry tomatoes (pomodori ciliegini), fresh chilli peppers (peperoncino), pork cheek (gaunciale), and most importantly pecorino cheese (pecorino romano).
For the pasta, you should use a spaghetti or bucatini (spaghetti in the form of a straw). This is yet another rivalry between Amatriciana purists – spaghetti or bucatini? Bucatini is arguably the original recipe which I prefer as well but in Rome this dish could be served with spaghetti or even maniche corte which are about half as long as rigatoni and use more commonly in Rome.
This is a 100% must eat plate.