You could either remember 2021 as the year before you could travel or the year where you visited Barcelona without the crowds. Yes, it may take a little more effort and definitely a vaccine before you go, but you will find amazing deals in 2021 and 1/5 of the visitors.
This blog outlines the best most affordable hotels in Barcelona for 2021 and I PROMISE that many of these hotels will NOT be on this list next year!
---
Our Partnership with Booking.com. If you like our content, please book by clicking on our Booking.com links. The price is the same for you and we get a small commission that helps support our helpful blog content. We've partnered with Booking.com because they have the most options, great prices, and a solid loyalty program.
The BEST and Most AFFORDABLE Hotels in Barcelona
That said, many of the hotels have flexible cancellation policies and are willing to work with travelers who want to travel. There is not as much risk in reserving as their may have been in 2020 and you may get the vacation of a lifetime if you prepare well (I am talking about a vaccine!).
Expect cities like Barcelona to be far less crowded than in 2019 with possibly 25% of the visitors, if that. This means a more enjoyable vacation, more welcoming locals, and cheaper hotels. Here are the most affordable hotels in Barcelona in 2021 – the year of the deal!
El Palace Hotel Barcelona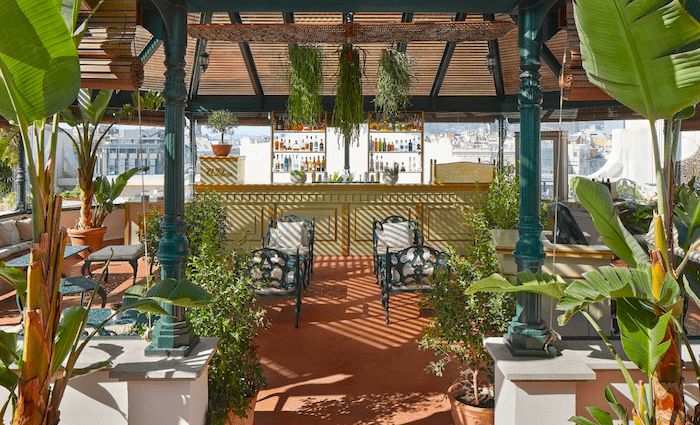 5 Star Hotel | €€€ | Eixample | Rooftop Pool
I really like this hotel for a few reasons. First, the location is just about the best in the entire city. This is because it is near all the great shops of Eixample & Passieg de Gràcia, but walking distance to the Gothic quarter which is super picturesque for day-time strolls.
The hotel itself is incredibly reasonable in terms of pricing. This level of hotel in Paris or Rome would cost twice the price for a standard room.
This is an easy choice for anyone that wants a great hotel in a great area at a great price. The low prices may only be available for a short time based on demand during the pandemic. My recommendation is to book now for the future and take advantage of their low prices in 2021.
Almanac Barcelona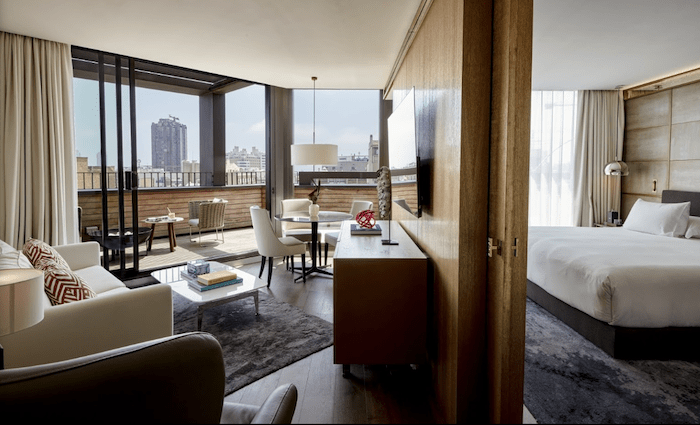 5 Star Hotel | €€€ | Eixample | Luxury & Modern | Rooftop Pool
I love this hotel for many reasons but above all the design and location. The soft earth-tone colors are relaxing which is what you really need on vacation. Sitting on the balcony and having a fresh-squeezed orange juice would be a dream come true.
It is also in this perfect little pocket very close to everything. You could walk into the Gothic Quarter of Barcelona or hang around Passeig de Gràcia and do some shopping.
They also have some killer deals for their "buy now, stay later" feature on the site. Flexible stays for the future at discounted rates. I love it!
Sir Victor Hotel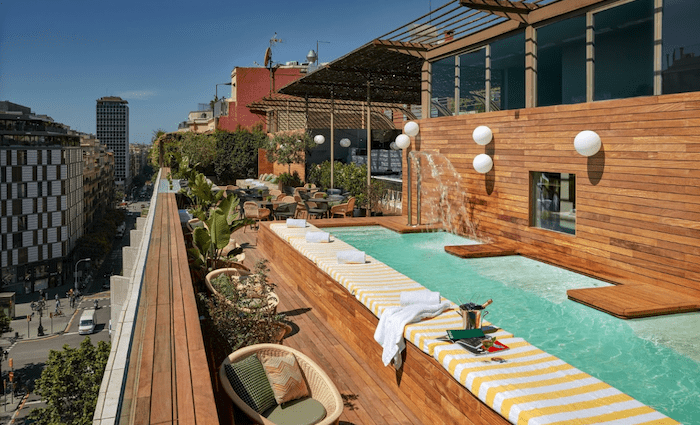 5 Star | €€ | Eixample/Passeig de Gràcia | Rooftop Pool
Barcelona hotels can be insanely nice at super low prices and Sir Victor is a great example. Prices may likely increase when travel demand returns, but they would have to double to match the market of other major EU cities and I don't see that happening.
Sir Victor is a great hotel, with modern rooms, a beautiful pool, and excellent reviews. For me it is an easy option as a romantic, family-friendly, or simply a nice hotel.
Hotel SB Glow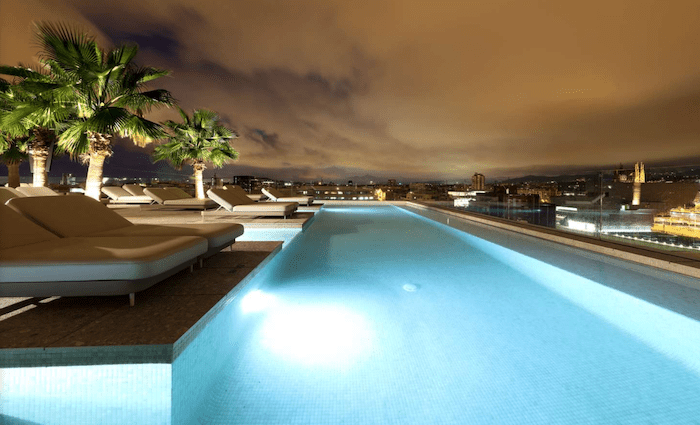 4 Star | € | Modern | Rooftop Pool | Family Friendly
Beautiful 4 star hotel in a great location of Barcelona with an epic rooftop pool. The prices are too good to be true so book sooner than later!