Spanning an 800-year history, seeing the artworks in the Rijksmuseum is a must on your trip to Amsterdam. In this guide, you'll find out everything that you need to know about visiting this national museum from how to get tickets to what to see, top guided tours, and more. Here's how to visit the Rijksmuseum.
---
Pro Tip: Planning what to do on your trip to Amsterdam? Bookmark this post in your browser so you can easily find it when you're in the city. Check out our guide to Amsterdam for more planning resources, our best Amsterdam tours for a memorable trip, and the top things to do in Amsterdam.
Visiting the Rijksmuseum: What We'll Cover
The Rijksmuseum in Amsterdam houses an impressive collection that encompasses the most celebrated of Dutch art and history. There's no doubt you'll want to see the incredible works of art by the likes of Rembrandt, Van Gogh, Vermeer, and more. To help you prepare for your visit to the Rijksmuseum, here's what we'll cover:
Rijksmuseum Opening Hours and Tickets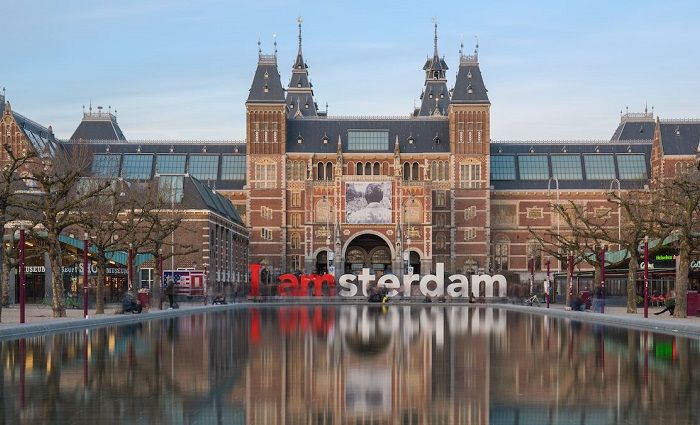 Opening Hours
Open daily from 9 am to 5 pm, including all public holidays. So, you won't have to worry about when the museum is closed or when to plan your visit to the Rijksmuseum.
Tickets
Adult tickets cost €22.50
Free entrance for visitors up to 18 years old.
You can purchase your Rijksmuseum ticket on the official website. When you purchase your ticket, you'll need to select a time for your visit. Make sure you are on time and that you don't miss your start time, otherwise, your ticket is no longer valid.
However, you're free to stay as long as you wish during opening hours. There's no need to worry about printing out your tickets. At the museum, they can scan the ticket from your mobile phone. Also, keep in mind the Rijksmuseum is cashless, so you'll need to be prepared to pay by card or other digital method.
Address: Museumstraat 1
---
Not ready to book a tour? Explore our Amsterdam Guide.
How Long To Spend at the Rijksmuseum
Short Answer: 3 hours
The Rijksmuseum is enourmous! With around 800 years of history in this museum, there's so much to see the last thing you'll want to do is rush. If you want to enjoy the museum in tranquility, then I recommend about 3 hours.
Pro Tip: A great plan of attack is to do research beforehand on what you would love to see. This way, you won't feel overwhelmed on your visit to the Rijksmuseum. I'd also recommend stopping for some lunch at the RIJKS restaurant or a snack at the café, so you can refuel and go back with fresh eyes.
Check Out Our Best Amsterdam Tours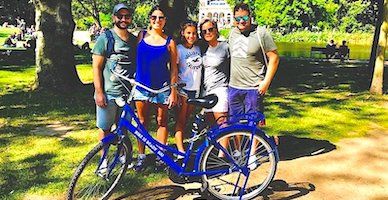 Top Rated Tour
Amsterdam in a Half Day by Bike
Explore the Dutch Capital with a local guide by bike. Beginning in the heart of Amsterdam, head through the Jordaan district and the city's largest park. Ride along the network of canals and then sample some of Amsterdam's best beers. See the Rijksmuseum, Heineken, Amsterdam Central Station, and more. Bike Rental Included.





Starting at €30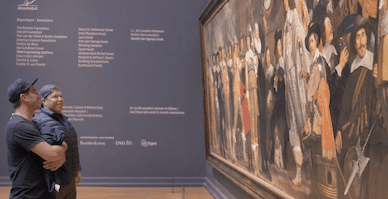 Likely to Sell Out
Royal Rijksmuseum Tour with Skip the Line Access

Known for its impressive collection of over 8,000 works by the greatest Dutch artists, the Rijksmuseum is the National Museum of the Netherlands. With your expert art historian guide, see the best of the museum including Rembrandt's famous The Night Watch. Learn the stories and discover the hidden gems of these artists and their works on this fun and informative Rijksmuseum tour in Amsterdam.





Starting at €59
Not ready to book a tour? Check out our Amsterdam Guide for more resources.
What To See at the Rijksmuseum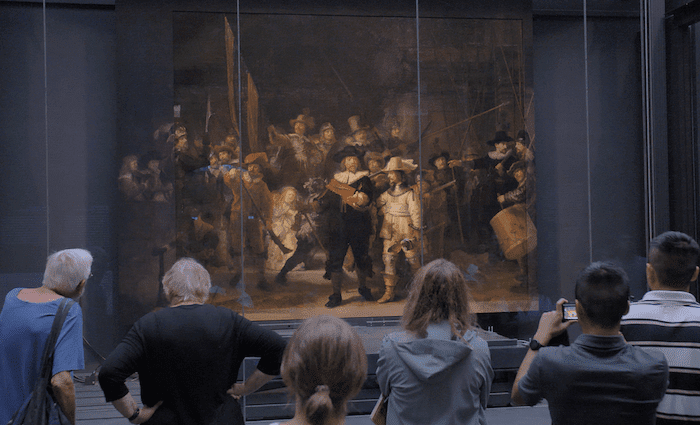 There's no better place to appreciate the best of Dutch art than the Rijksmuseum. With its impressive collection of artworks representative of hundreds of years of history, there's plenty to see.
On your Rijksmuseum visit, be sure to see these paintings. For in-depth descriptions and images of these artworks, read our article on the top works of art to see inside the Rijksmuseum.
The Night Watch
The Milkmaid
Portrait of a couple (probably Isaac Abrahamsz Massa and Beatrix Van Der Laen)
Landscape With Two Oaks
Morning Ride Along the Beach
Girl In A White Kimono
Winter Landscape with White Ice Skaters
The Merry Family
The Threatened Swan
Self Portrait of Van Gogh
Still Life With A Turkey Pie
Rijksmuseum Guided Tours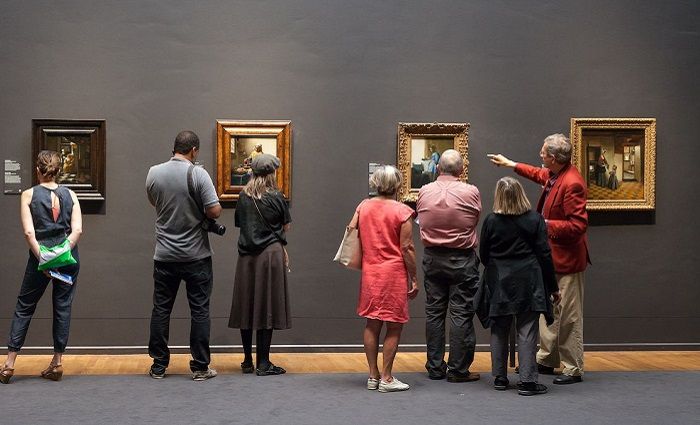 With an impressive collection of over 8,000 works by the greatest Dutch artists, the Rijksmuseum is best appreciated in the company of a passionate expert guide.
W. H. Janson, famed art historian and author, wrote that "Holland produced a bewildering variety of masters and styles." On a tour, you'll be guided through this incredible museum and its celebrated works of art, with stories and history to bring your visit to life.
Your expert art historian guide will regale you with stories about the museum's most celebrated works and artists. See The Night Watch by Rembrandt, Van Gogh's Self Portrait, The Milkmaid by Vermeer, and more.
Not ready to book a tour? Find out if a tour of the Rijksmuseum is worth it.
Facts and History of Rijksmuseum
The Rijksmuseum was originally founded in the Hague.
What first started as a "prestige project," is now known as the national museum of the Netherlands.
The Rijksmuseum first opened 200 years ago; however, it wasn't in Amsterdam!
The museum tells the story of Dutch history from 1200 to now. That's 800 years of Dutch history!
The Rijksmuseum was designed by famous Dutch architect Pierre Cuypers.
Places To Eat Inside and Nearby
Looking for somewhere to grab a bite to eat or take a break near the Rijksmuseum? Here are a few suggestions. For a more comprehensive list covering the city, check out the best restaurants in Amsterdam.
Inside the Rijksmuseum
RIJKS: €€€ | Upscale Eatery—Located in the Philips Wing, you can enjoy fine dining at this Michelin-star restaurant in the museum. Fun fact: RIJKS has an active exchange program with guest chefs from around the world!
Rijksmuseum Café: €€ | Quick Snack—Indoor and located in the atrium right above the museum shop. It's ideal for some coffee or a quick bite to eat.
Near the Rijksmuseum (Outside)
Cobra Café: € | Quick Snack—The perfect spot close to the museum to have a simple meal and drink. It has a nice terrace and good apple pie.
Lunchkiosk Museumplein: € | Fast Food—A food stand where you can find quick and easy options to eat. People enjoy the hotdogs here.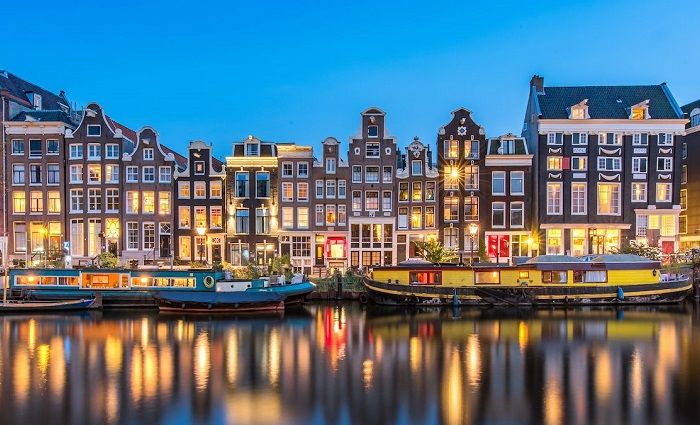 Find the best places to stay
Where To Stay in Amsterdam
Amsterdam is a vast city with many areas to stay in, including beyond the downtown area. Choose a hotel near the top things you want to see in this beautiful old city.