From breathtaking canal views to state-of-the-art museums, the Dutch capital is a city full of flavor! If you're looking for great places to eat in between biking around the city and exploring its top sights, here are our favorite restaurants in Amsterdam.
---
Pro Tip: It's easier to organize your trip when you have all your resources in one place. Bookmark this post so you can easily find it when you're hungry in the city. Check out our guide to Amsterdam for more planning resources, our best Amsterdam tours for a memorable trip, and the top things to do in Amsterdam.
Best Places To Eat in Amsterdam
Sunny bites on a terrace, peaceful mornings over the canals, and picture-perfect moments wherever you turn, Amsterdam is a city with a lot to offer. With a diverse and rich culture, there's no doubt you'll be able to find any cuisine your heart desires in Amsterdam.
For a top-notch local food experience, check out our Amsterdam local food tour in the Albert Cuyp Market. Ranging from affordable dishes to fine dining experiences, Amsterdam is certainly a gastronomy trip worth taking!
In this guide, we'll introduce you to some must-visit places in the heart of the city. Here are our top recommendations for the best restaurants in Amsterdam.
Nomad aan het IJ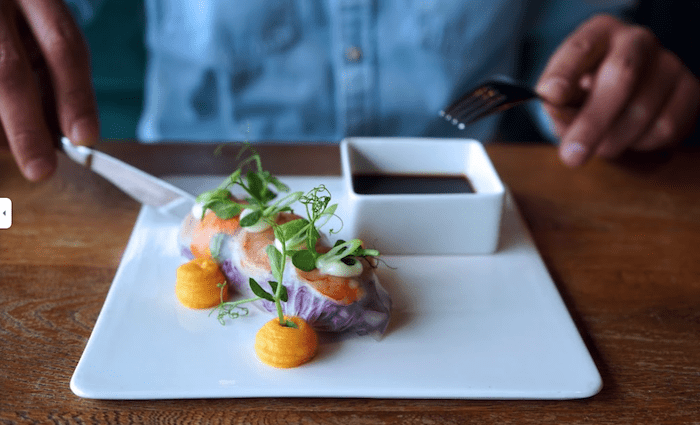 €€€ | Daily Menu | Colorful Dishes | Wine Pairings | Fun Atmosphere
Nomad was one of the best dining experiences I had in Amsterdam. They've created an unbelievably posh restaurant and atmosphere together with a rotating menu of international fare that made the entire experience fun—something our group greatly appreciated.
Also, this restaurant has the best ground-level water views we saw in Amsterdam. €80 to €100 gets you a 5-course meal with wine pairings, which felt like a good deal. The owners are directly involved in the day-to-day operations including the chef who is from Slovakia. If you have a nice travel budget, this place is a must.
Address: IJdok 87
The Chicken Bar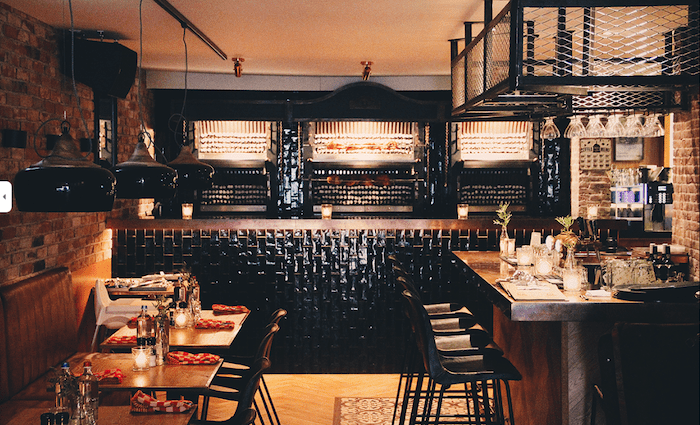 €€ | Rotisserie | Chicken Dishes | Incredible Ambiance and Service | Outdoor Seating
The Chicken Bar is something I did not expect to meet my expectations and I was right. This joint completely exceeded what I believed you could do with chicken. Boyd Baptist has revolutionized rotisserie chicken in Amsterdam making it a must.
The decor is just as amazing as the food and the service. It's great for lunch but you'll want to get here early or reserve ahead! This trendy spot is a popular choice.
Address: Voetboogstraat 6
Albert Cuyp Market Food Tour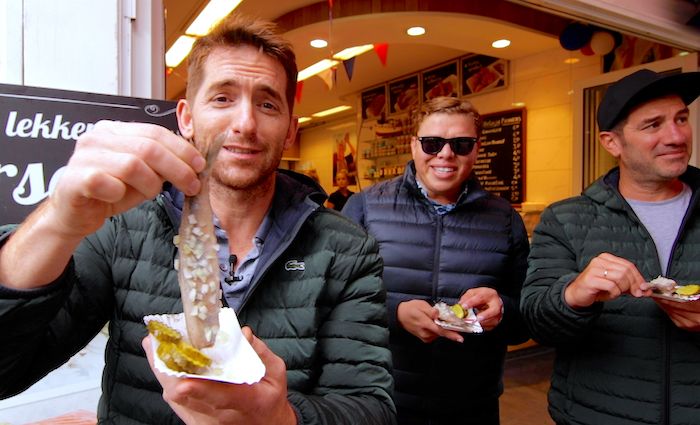 Food tours are, without a doubt, some of the coolest experiences you can have in a new city, which is why you should put one at the top of your list. Amsterdam is home to one of Europe's largest outdoor markets, the Albert Cuyp Market, and the food tour there is a must! With hundreds of stalls, you'll get a chance to taste a wide range of foods in one of Amsterdam's most happening food scenes.
You'll try traditional dutch dishes from pickled herring to the iconic stroopwafel as well as Indonesian fusion dishes from the days of imperialism, which makes this tour special. Beer and drinks are included along with many characters along the way. Yes, this tour will replace a full meal and you'll have a great time!
Not ready to book a tour? Check out our Amsterdam Guide for more info.
O Bistro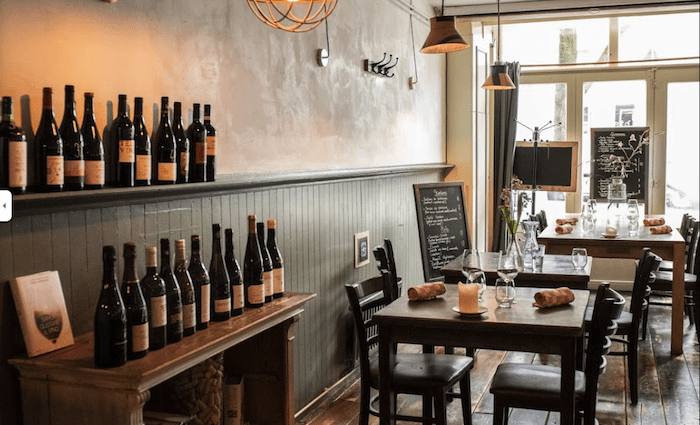 €€ | French | Jordaan Neighborhood | Dinner and Weekend Lunches
O Bistro is owned and operated by a French chef and Italian front of the house, which is likely the perfect combination. The chef pulls together dishes from his childhood that are absolutely delicious.
I had the mackerel when I was there, but their dishes are seasonal and depend on what ingredients are fresh. Be sure to get recommendations from Daniele before ordering!
Address: Lindengracht 248
Benji's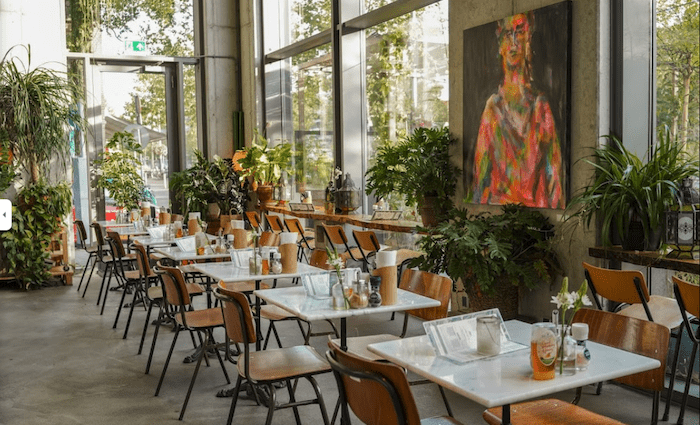 € | Breakfast and Brunch | Bali Decor | Refreshing Dishes | Great Coffee
We stopped in at Benji's after a late night out with some friends and it cured our hangovers akin to doing hot yoga except without the sweating. This place is done incredibly well and has such high-quality food.
I highly recommend getting the Salmon Avocado Toast or just asking the waiter what you should try. Try to order beyond your comfort zone because this place has some killer plates.
Address: Three locations
Dignita Hoftuin
€€ | Outdoor Seating | Vegan | Garden
What better way to start off your first morning in Amsterdam than with a good brunch? Located right in the heart of the city, Dignita Hoftuin is a little hidden gem that offers an all-day brunch with a lovely green garden and lots of vegan and vegetarian options to choose from!
Eat until your heart's content! Not only will you eat well, but you'll also feel good. Dignita Hoftuin is known for its friendly customer service, unique atmosphere, and delicious food.
Address: Nieuwe Herengracht 18a
Mama Makan
€€ | Indonesian Cuisine | Cozy
Want a little taste of Bali while enjoying your stay in Amsterdam? Then, head to Mama Makan in the Plantage neighborhood for an authentic Indonesian restaurant with bold flavors. Treat yourself to an amazing Thai experience where you can relax and enjoy Indonesian cuisine, botanical cocktails, and top service.
Address: Spinozastraat 61
Not ready to book a tour? Check out our Amsterdam Guide for more resources.
Mondi Caribbean Cuisine Restaurant and Terrace
€€ | Caribbean Cuisine | Shared dining | Terrace
The perfect hidden garden, Mondi brings Caribbean flavors and a warm atmosphere to Amsterdam! Mondi offers a shared dining experience with an outside terrace and delicious dishes. The ambiance of the restaurant brings in the Caribbean culture and warmth and there's no doubt you will feel like a very special guest at Mondi. restaurant.
Address: Roelof Hartstraat 1a
MOON Restaurant
€€€€ | Fine dining | Revolving Restaurant
What better way to get to know Amsterdam than having dinner overlooking the city? Looked on the 19th floor of the Amsterdam Tower, Moon is a revolving restaurant that will give you a 360-degree view of the lovely Dutch capital. This restaurant offers a special 2 or 3-course meal experience with a unique location and friendly service.
Address: Overhoeksplein 3
Yamazato
€€€€ | Japanese | Fine dining | Smart Casual
Located in the Okura hotel, Yamazato is a traditional Japanese Michelin-star restaurant since 2002. Here, you'll get to experience authentic Japanese cuisine served by kimono-clad waiters.
In addition to its signature menu, Yamazato serves luxurious food and has a phenomenal 8-course meal that you won't soon forget.
Address: Ferdinand Bolstraat 333
Meatless District
€€ | Vegan | Casual
With dishes prepared fresh on a daily basis, Meatless District is a plant-based restaurant that offers a multitude of flavors. The restaurant offers high-class food at reasonable prices.
Meatless District has the best vegan burger I've ever tried! This restaurant is a must for all fellow vegans. Serving a variety of dishes from soups to salads and burgers, the Meatless District is a vibrant and cozy restaurant with friendly staff.
Address: Bilderdijkstraat 65-67
Not ready to book a tour? Check out our Amsterdam Guide for more resources.
De Plantage Restaurant
€€ | Mediterranean Cuisine | Family Friendly | Outdoor Seating
With a very spacious terrace and offering a bright and stylish ambiance, De Plantage serves delicious and surprising dishes. Known for its beautiful location, this restaurant is a perfect option for lunch or dinner.
The emphasis is on the breathtaking views and the opportunity to sit comfortably either inside or outside while experiencing friendly service and a mouthful of deliciousness.
Address: Plantage Kerklaan 36
Mr. & Mrs. Watson
€€ | Vegan | Cozy | Outdoor Seating
Mr. & Mrs. Watson is a plant-based cheesery and restaurant where you'll have the ultimate vegan experience. If you are a vegan and a fellow cheese lover, this will be your favorite place in the city.
A cozy restaurant with an extensive menu and friendly staff, Mr. & Mrs. Watson is a true discovery. Whether you'd like to have a cozy evening eating cheese and drinking wine or a pleasant dinner, this restaurant is the place to be.
Address: Linnaeuskade 3h
Vapiano
€ | Italian | Casual
If you're busy exploring the city and need somewhere quick and affordable to get a tasty meal, this is your spot. Vapiano is a modern Italian restaurant lunch option where you can enjoy a fresh pizza, pasta, or salad.
The speed and convenience of ordering at this restaurant could help you relax after a long day of touring the city. For even faster service, you can call the restaurant ahead or order online on their website for pick up. This is the place to get good food fast.
Address: Amstelstraat 2-4
The Pantry
€€ | Dutch Restaurant | Casual | Outdoor Seating
The Pantry is an ideal and affordable place to explore Dutch cuisine while you're in Amsterdam. It's the perfect place to savor traditional Dutch home-cooked dishes. The Pantry is a local favorite here in Amsterdam as it serves high-quality and delicious meals.
Address: Leidsekruisstraat 21
Not ready to book a tour? Check out our Amsterdam Guide for more resources.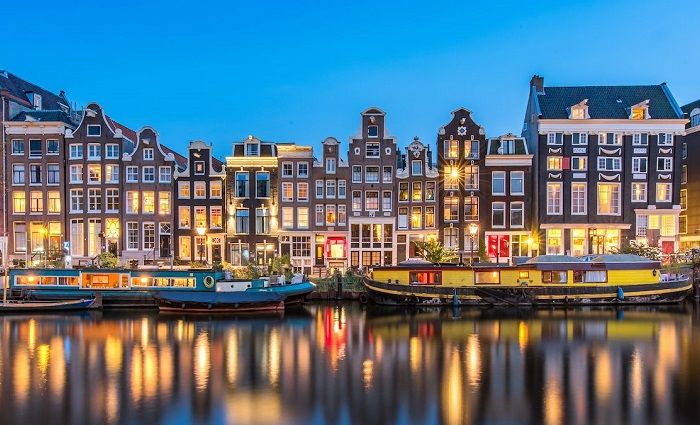 Find the best places to stay
Where To Stay in Amsterdam
Amsterdam is a vast city with many areas to stay in, including beyond the downtown area. Choose a hotel near the top things you want to see in this beautiful old city.