Visiting Las Vegas is always epic no matter the time of year. However, New Year's Eve in Las Vegas is extra special! Prepare to experience Sin City like never before! Whether you want to dance the night away or you'd like to see an amazing fireworks show, you'll find it here. Read on for our top tips on how to ring in the New Year in Vegas.
---
Pro Tip: Planning what to do on your trip to Las Vegas? Bookmark this post in your browser so you can easily find it when you're in the city! Check out our guide to Vegas for more planning resources, our best Vegas tours for a memorable trip, and our detailed itinerary on how to spend 3 days in Las Vegas!
The 8 Best Things To Do On New Year's Eve In Las Vegas
Even if you've never been to Las Vegas before, you've definitely heard of the Strip and the famous Vegas shows. You know that Vegas knows how to party. But what exactly is there to do on New Year's Eve in Las Vegas?
There's no shortage of things to do in Sin City year-round. Tons of world-famous artists perform in the city, so there's always a concert going on. Despite the city's gambling-inspired nickname "Lost Wages," Vegas is actually full of amazing free activities, like watching the famous Bellagio fountain show or people-watching on Fremont Street.
Although Vegas is jam-packed with activities all year, there are even more events happening on New Year's Eve than usual. However, there are some things to keep in mind before you go.
Tips for Spending New Year's Eve in Las Vegas
Vegas is a desert. So, while it's an oven in the summer, plan for chilly weather on New Year's Eve. If you opt for an upscale event, they may have a dress code. Make sure your outfit includes a jacket!
If you're spending the evening on the Strip, you'll probably end up walking a lot, because the street traffic is completely shut down from 6 pm. So, wear comfortable shoes you can walk in.

It'll also be virtually impossible to call a Lyft or Uber to, from, or along the Strip that night. However, the local bus system RTC usually provides free rides on New Year's Eve starting at 6 pm and running until the next morning.
Now that you're armed with some practical tips, read on for the top things to do on New Year's Eve in Las Vegas. If you'll be in the city for a few days or more, definitely check out our awesome Las Vegas tours and day trips.
Not ready to book a tour? Read more in our Las Vegas Guide.
8. Attend "America's Party" On The Strip (With Fireworks)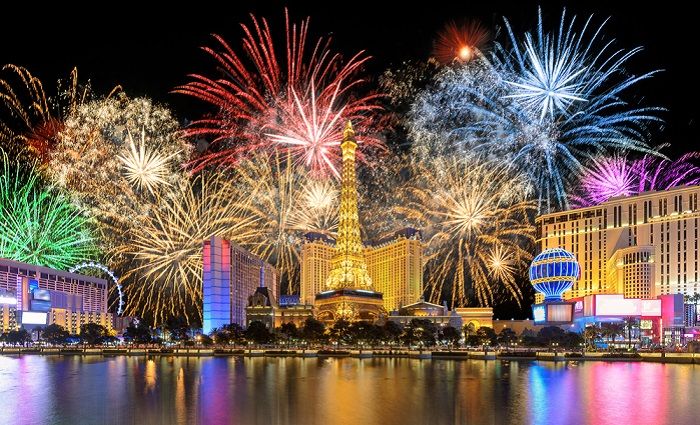 Every New Year's Eve, the famous Las Vegas Strip turns into a gigantic block party. From 6 pm until midnight, the Strip is shut down between Mandalay Bay and the STRAT Hotel to make room for the more than 300,000 people from all over the world who will be reveling in the street all night.
Nicknamed "America's Party," this world-famous celebration is 100% free to attend. If you're looking to party on a budget, this is an amazing option! The block party culminates in an astounding fireworks show at midnight.
Enjoy 10 minutes of over 80,000 different fireworks taking over the sky set to music. The fireworks will be shot from eight casinos along the strip: The MGM Grand, Aria, Planet Hollywood, Caesar's Palace, Treasure Island, the Venetian, Resorts World, and the STRAT. No matter where you are on the Strip, you're sure to see them!
Cost: Free
7. Go To a Fireworks Viewing Party at the Cosmopolitan Ice Rink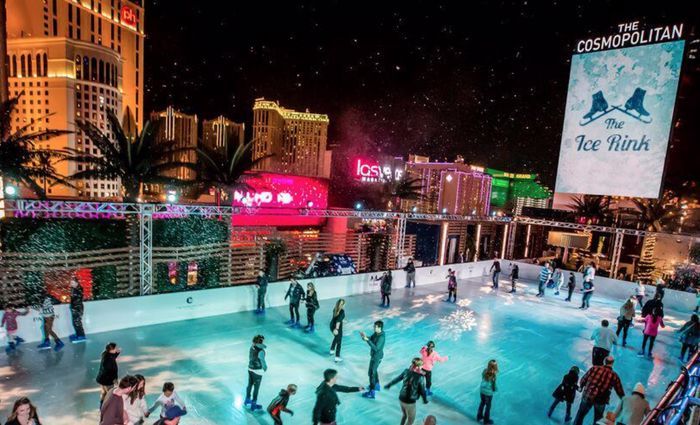 If you're not a fan of crowds but you still want to see the fireworks, the Cosmopolitan Hotel's fireworks viewing party is a great option. It's held at the Cosmo's famous rooftop ice-skating rink, so you'll be able to observe the hubbub of the Strip from up high!

Additionally, this event is family-friendly. If you're in Vegas with your kids, this might be the perfect New Year's Eve activity. On top of the amazing views and ice-skating fun, this event will include a DJ and an open bar for adults.
Tickets for non-alcoholic beverages will be available for purchase. What's more, your ticket includes skate rentals, so you can ring in the New Year from the ice. At midnight, watch the fireworks explode over the Strip. Adults will be treated to a champagne toast at midnight as well.

Cost: $100 plus taxes and fees
6. Have the "Time of Your Life" at Fremont Street Experience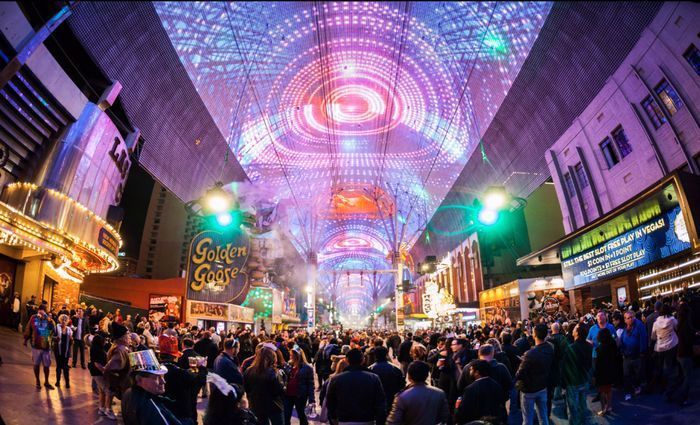 Have you been to Fremont Street before? A bustling street in the center of downtown Vegas, Fremont Street is home to many bars, restaurants, and the famous Fremont Street Experience.
This moniker refers to the five blocks of Fremont Street that are covered with a vibrant, flashing ceiling made of the world's largest video screens! The area is also filled with many stages. Only in Vegas, right?

On any given weekend night, the Fremont Street Experience hosts several live concerts and people dancing in the street. On New Year's Eve, however, Fremont Street will be home to the Time of Your Life Festival, featuring classic bands like Bush, Sugar Ray, and the Sugarhill Gang, to name a few. This 21+ event runs from 6 pm until 4 am, and the street will be closed to the public starting at 5 pm.

Cost: $60
5. Delight the Whole Family With an All-Ages Vegas Show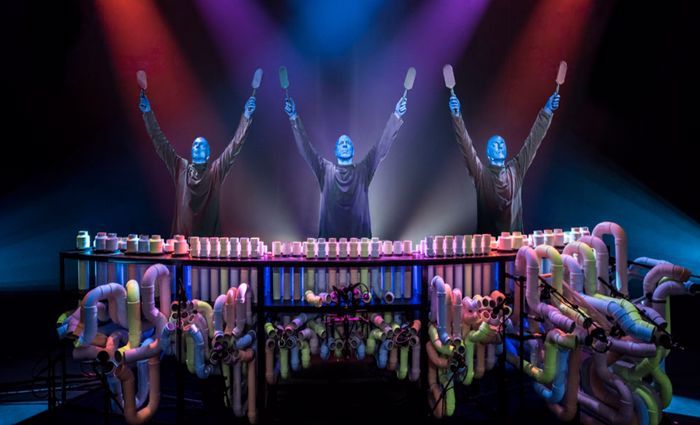 If you're in Vegas with your kids, catching an iconic Vegas show is a great option! Please note that most of the shows likely end much earlier than midnight, but that might work better for you and your family's plans anyway.

The majority of the most famous Vegas shows will have performances on New Year's Eve, such as the slapstick comedy troupe The Blue Man Group. Additionally, many of Vegas' top magic acts are performing that night, such as Shin Lim. Mostly full of astounding card tricks, this show is appropriate for all ages and great for fans of classic magic tricks.
You and the fam can also catch one of the famous Cirque du Soleil shows, such as O at the Bellagio Hotel and Casino. Tickets for the aforementioned shows typically range from $62 to $165 before taxes. Be sure to grab tickets soon, as they are likely to sell out.
Cost: varies
Not ready to book a tour? Explore our Las Vegas Guide for more info.
4. Ring In the New Year with An Amazing Concert
Of course, there are many famous bands performing in Las Vegas on New Year's Eve. If you're a music lover, you're sure to find something to keep you dancing all night long, no matter what genre you're into.

If you were a Gwen Stefani fan growing up, there's "no doubt" you'll want to see her at the Venetian Hotel, with prices starting at around $183. Alternatively, if you're a huge Killers enthusiast, you'll probably want to be at the Cosmopolitan to watch them rock out. Ticket prices start at $453. More of a crooner? Bruno Mars will be singing the night away at the MGM Grand with prices starting at $405. 
Cost: varies
3. Dance the Night Away at a Famous Vegas Club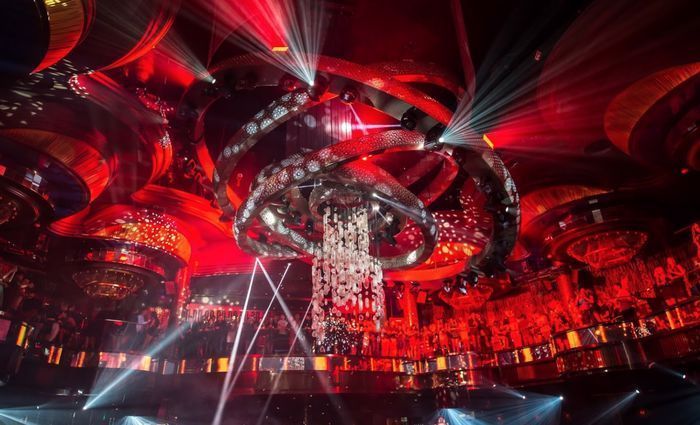 Las Vegas nightclubs welcome world-famous DJs every weekend of the year, and New Year's Eve is no exception. If you'd prefer to ring in the New Year in a club environment, you can't go wrong with Steve Aoki at Omnia Nightclub.
Located inside Caesar's Palace Hotel & Casino, Omnia is amazing because of the epic moving chandelier that illuminates the dance floor! Tickets for this event start between $100 and $150.

Alternatively, you could catch Tiësto at Zouk Nightclub inside Resort's World. This moderately new hotel and its nightclub are definitely worth exploring, especially when a big name like Tiësto is in town. Tickets start between $125 and $175. 

Cost: varies
2. Enjoy a Rooftop Dinner and Fireworks at the STRAT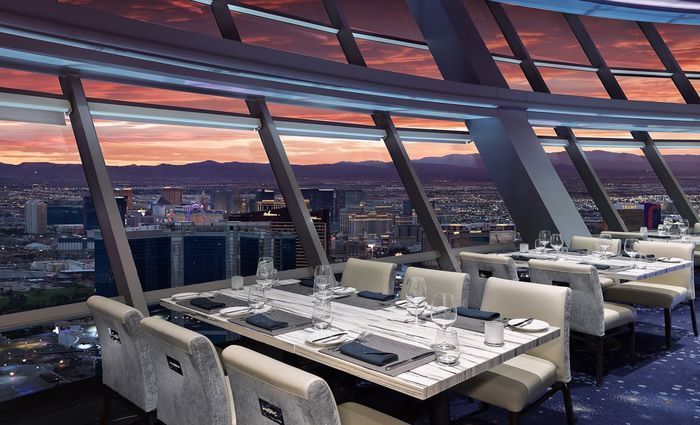 If you've been to Vegas before, you've probably noticed the Space Needle-esque building on the North end of the Strip. That's the STRAT hotel, and they're hosting a New Year's Eve party on their 108th floor!

Called "Party at the Top," this 21+ event costs $150 and runs from 9 pm until 1:30 am. It will also feature a DJ, as well as stunning views of the Strip's fireworks at midnight!

Before the party, we suggest dining at the STRAT's famous rotating rooftop restaurant, Top of the World. Depending on where you sit in the restaurant, there may be a special pre-fixe menu for New Year's Eve. Reservations start at $155.

Cost: $150 for the party
1. Party in a Speakeasy at the Mob Museum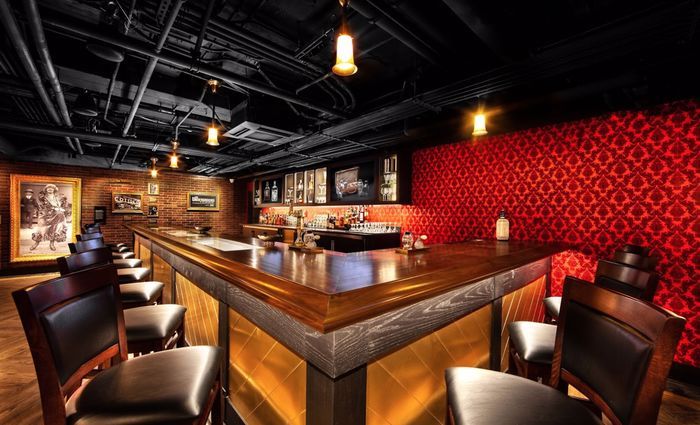 Talk about an unusual New Year's Eve activity! Located near Fremont Street, The Mob Museum is home to a speakeasy, The Underground. They'll be hosting a 21+ New Year's Eve party complete with live music, Prohibition-inspired cocktails, and a midnight champagne toast. If you want to spend New Year's Eve on a dance floor but you're looking for something unique, this is the perfect choice!

Cost: $120 – $165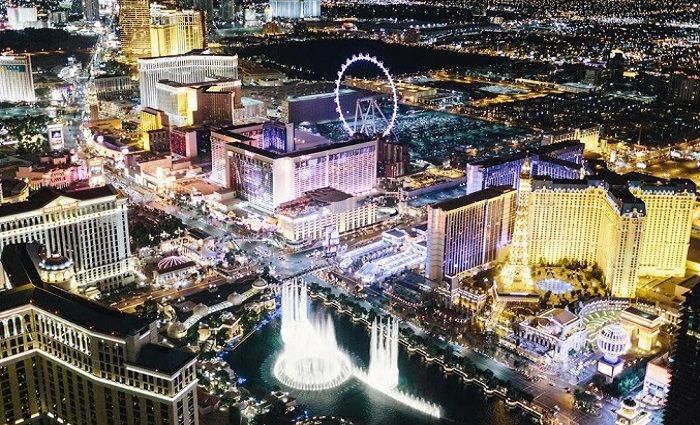 Find the best places to stay
Where To Stay in Las Vegas
Discover some of the most iconic and best places to stay in Las Vegas to make this trip the most memorable of all your trips to the Strip