There are a lot of big-name restaurant chains in Times Square and plenty of tourist traps to get lost in if you're not careful. But if you know where to look, there are some decent spots to eat here that are fun, tasty, and dare we say slightly affordable? Here are our picks for the best restaurants near Times Square.
---
Top Restaurants Near Times Square
Times Square is known for its massive digital billboards, its bright lights, and its endless entertainment, including Broadway shows and wax museums. It's also known for, well, its chain restaurants that cost way too much. However, there are some spots aside from the Hard Rock Cafe and Bubba Gump Shrimp Co that are worth the visit when you're here. Check out the best restaurants near Times Square below.
Victor's Cafe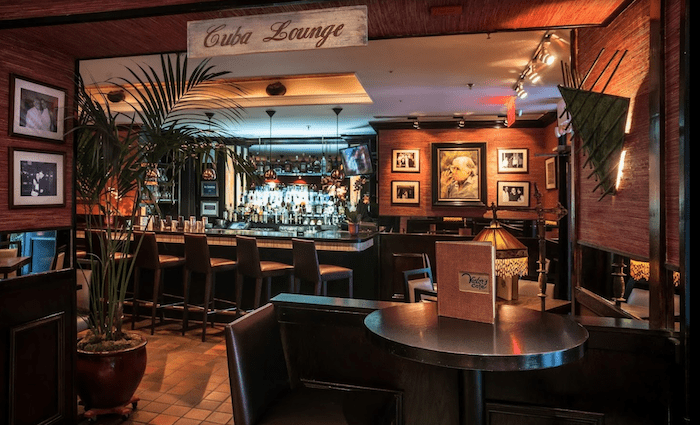 $$ | Cuban | Live Music
Victor's Cafe serves up some of the best Cuban food this area has to offer. Order anything from the handmade sweet plantains to the croquettes and you won't leave disappointed. Brunch is also an option, and a good one at that, with its dishes of tortilla Cubana and Cuban arroz frito to choose from.
Personally, our favorite thing to do here is to order a mojito at the bar in the sultry Cuba Lounge and listen to the Latin jazz band Son de Cuba Band play. Whether you sit in the lounge or in the dining room, plan to get here early if you don't have a reservation. Anytime before 5 pm is best, especially if you're looking to nab a seat in the lounge (where you can also order from the regular food menu).
Address: 236 W 52nd St, New York
Gyu-Kaku Japanese BBQ
$$ | Yakiniku | Good Service
Gyu-Kaku Japanese BBQ is located in Times Square but tucked away a bit from the crowds, which we appreciate. Its no-frill digs make it anything but pretentious, and the friendly staff is always welcoming. However, like most places around this neighborhood, you'll likely need reservations no matter what time of the day (or night) it is.
We hope you like grilling your own meat because that's what you do inside this Yakiniku joint. Slide into a booth and grab a pair of thongs to use with the small grill located in the middle of your table. Cook up shrimp, pork belly, and even the Wagu, which is imported directly from Japan.
Address: 321 W 44th St 103, New York
Carmine's Italian Restaurant – Times Square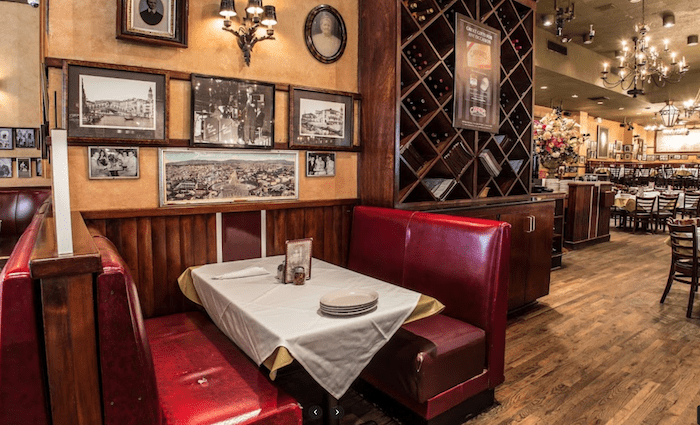 $$ | Italian Staple | Big Portions
Heading to Times Square with a big group? Check out Carmine's. You'll find delicious traditional Italian eats ranging from spaghetti and meatballs to Lobster Fra Diavolo and everything in between. Just be warned: the portions are enormous and meant to be shared family-style at the table. If there are only two of you, expect to walk away with leftovers for days.
The waitstaff is great at keeping an eye on the time when you have a show to attend, but we think this is a place where you don't want to rush. If not only for the hearty portions but for the overall vibe. It's homey and friendly, making you feel like you're at your great aunt's place instead of a restaurant in Times Square. We say, sit back, take your time, and enjoy it. And wear elastic-waisted pants while at it.
Address: 200 W 44th St, New York
Joe's Pizza
$ | Pizza Shop | New York-Style Slices
You can't go wrong with Joe's Pizza. If you're looking for the best slice in the city, this is your stop. The original location in Greenwich Village has been around since 1975, but this outpost in Times Square isn't to be shied away from. It will be busy no doubt, as both locations usually are, but it's worth standing in line for those super-thin crust slices any day.
There are not a lot of places to sit here so don't expect to get your slice and stay. Instead, take it with you and walk around to catch the sights and bring plenty of napkins with you.
Address: 1435 Broadway, New York
Sushi Lab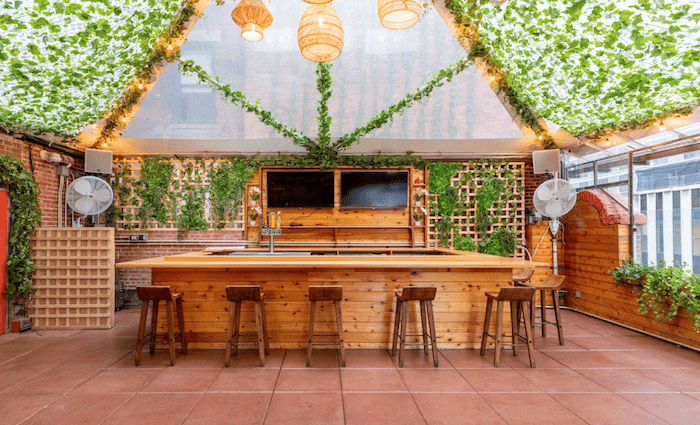 $$ | Sushi Bar | 13-Course Omakase Menu
Sushi Bar sits at the Sanctuary Hotel right smack in the middle of Times Square. However, when you're here you don't feel like you're in the chaos at all. There's an intimate counter bar along with small tables placed throughout the airy space. You can order salmon belly and spicy tuna tartare paired with one of their signature cocktails (Tokyo Mule, perhaps?), but we tend to opt for a glass of the Yamazaki Japanese whiskey.
If you want the 13-course tasting menu, you'll have to head into the Chemistry Room that recently opened. Here, you'll find a light wood interior that is clean and modern where a master chef awaits to serve you some of the freshest omakase offerings around.
Address: 132 W 47th St, New York
Charlie Palmer at The Knick
$$$ | Upscale American | City Views
When you're looking for a fancier night out on the town, Charlie Palmer at The Knick is a great option. Located at The Knickerbocker Hotel, a historic landmark dating back to 1906, this American restaurant offers all the swanky feels in its modern space with all-over neutral decor. The views aren't bad here either as you'll be able to check out Broadway from the large windows on the fourth floor.
The menu consists of upscale American eats such as golden fries topped with aged parmesan and Thai steak noodles with mango. We like to go here for some oysters and a martini before a show, but there's also a breakfast buffet with eggs and cold cuts that's perfect for when you're staying at the hotel or if you're looking for a hearty way to jumpstart the day.
Address: 6 Times Square SE Corner of 42nd Street &, Broadway, New York
Etcetera Etcetera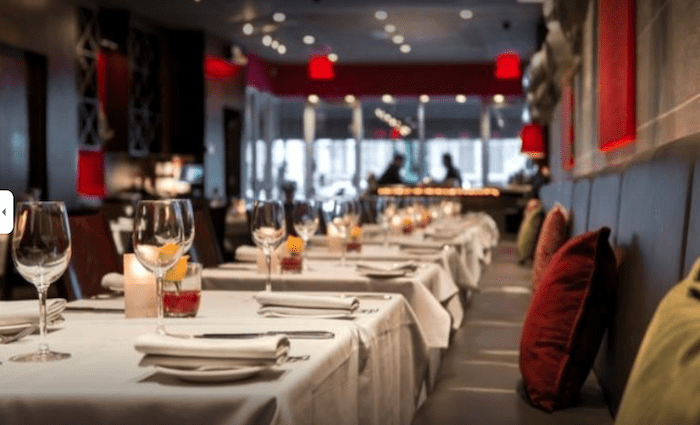 $$ | Italian and Mediterranean | Cozy and Intimate
Etcetera Etcetera is in Hell's Kitchen, so it's close to the theaters but not directly on top of them. It's a great place for appetizers to share, including the juicy octopus with roasted peppers and burrata with balsamic. If you're gluten-free, there are several options to enjoy rich homemade pasta, and a wide range of various seafood dishes to devour if you want your own plate.
It's a pretty small space which helps give it that extra cozy vibe. The dark lighting and red accents only make the mood more intimate. If you only have time for a drink, grab a seat at the small bar for a smokey negroni and some easy chit-chat with one of the friendly bartenders.
Address: 352 W 44th St, New York
Juniper Bar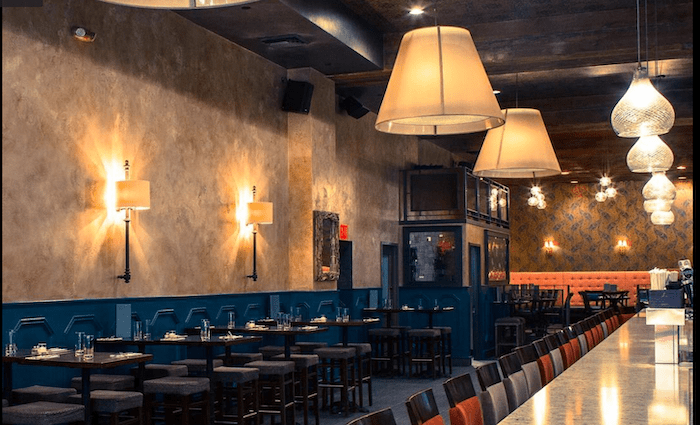 $$ | American Pub | Happy Hour
Juniper Bar is a short walk to Times Square but super close to Penn Station so it's all-around convenient. We love the always busy bar with its $6 happy hour drinks, especially since they are served every day but Sunday. The good thing here is you can even get the happy hour deals when you sit all the way in the back of the dining room which is ideal for when you can't get a seat at the bar.
The food is pretty good, too. It's your typical pub grub but there's a lot to choose from. Anything from the roasted veggie tacos to the lobster mac and cheese dish is worth a try and will definitely help fill you up.
Address: 237 W 35th St, New York
Toloache
$$ | Mexican | Vibrant Bi-Level Hotspot
If you're looking for your guacamole and margaritas fix before a show, you'll want to head to Toloache. It's right in the Theater District so it's ideal when you have plans to check out "Hamilton." Not only is the location perfect but the servers make sure you get in and out in enough time. However, this place usually has a long wait if you don't have reservations (even late at night), so it's best to book ahead.
We love the layout of the restaurant with its top floor overlooking the downstairs to take in the always busy vibe. While this place is always busy, it's usually with more of a local crowd (or really in-the-know out-of-towners) so you aren't bombarded with tourists and their big shopping bags from the Lego store.
Address: 251 W 50th St, New York
The Terrace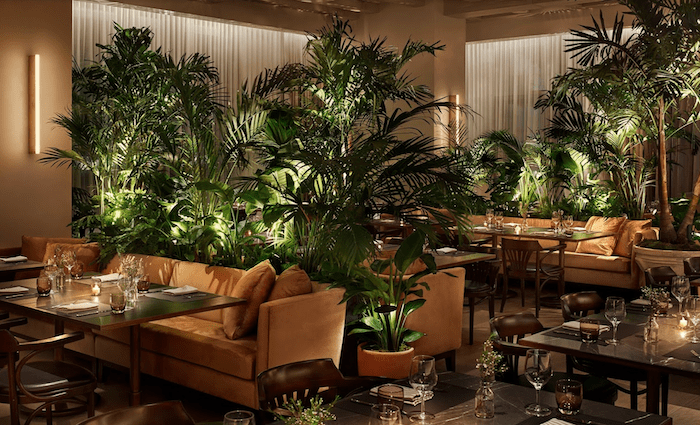 $$$$ | American and French Brasserie | Garden Escape
Head to the Times Square EDITION hotel where you'll find this stunner of a French Brasserie. The Terrace immediately takes you away from the hustle and bustle of Times Square and into this sexy, relaxed state thanks to its dim lighting, lush greenery, and comfy sofas to sit on. And if the interior doesn't excite you enough, there is always the outdoor garden with a candle-lit bar that will.
For food, you can expect top-notch steaks and homemade pasta. But it's really known for its vegetable dishes (hello, vegan carrot bolognese) that will turn even the biggest carnivores into admirers.
Address: 701 7th Ave 9th floor, New York
Utsav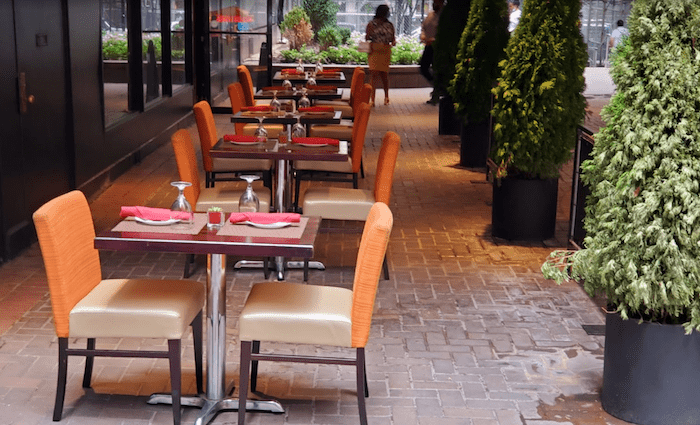 $$ | Indian | Prix Fixe Lunch Specials
Utsav first opened back in 2000 by the woman behind 19 other Indian restaurants all located in Tokyo. It's a cool spot as it's located on a skywalk in Times Square and has floor-to-ceiling windows that overlook the area. The space is decked out in bright and bold colors so it has that fun Times Square vibe that you may or may not be after.
You'll enjoy authentic chicken tikka masala and juicy lamb kebabs here, while also nabbing some lunch deals with the prix fixe menu that includes protein, vegetables, rice, and naan all for under $20. There's also a new Indo-Chinese menu with items that include chilli prawns and Szechuan noodles if that's more your speed.
Address: 1185 6th Ave, New York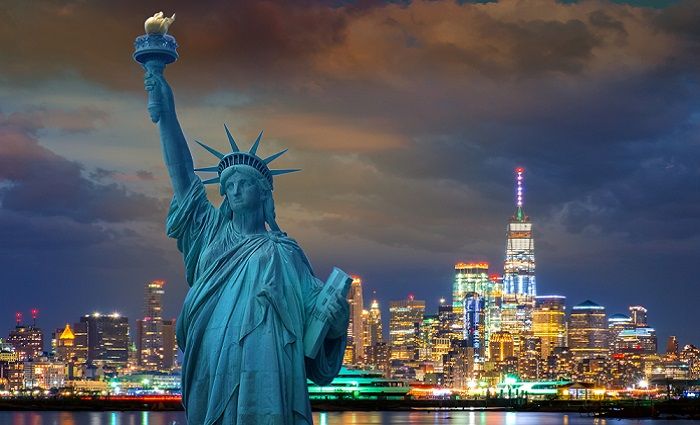 Find the best places to stay
Where to Stay in NYC
New York City is the center of the universe to those who adore this iconic city. Choose the best neighborhood to stay in as you plan your upcoming trip to the Big Apple.