Paris is world famous for its excellent cuisine. When you're finished exploring Sainte-Chapelle, don't miss out on the chance to eat at a nearby restaurant. To narrow down your choices and help you avoid the overpriced and unappetizing tourist traps, I've curated this list of the best restaurants near Sainte-Chapelle from Vietnamese to traditional French fare. Bon appetit!
---
Pro Tip: It's easier to organize your trip to Paris when you have all your resources in one place. Bookmark this post along with our guide to Paris for more planning resources. Check out our top-rated Paris tours for a memorable trip and the top things to see at Sainte-Chapelle.
The Top Places To Eat Near Sainte-Chapelle
Sainte-Chapelle is located closer to the west end of the Île de la Cité, the larger of the two islands in the Seine river in the historic center of Paris. The chapel is set back within the walls of the Palais du Justice where you'll find several important French law courts.
There aren't many restaurants on the Boulevard du Palais besides the crêperie across the street. However, there are many great restaurants near Sainte-Chapelle just a 10 to 15-minute walk away that are well worth a visit.
On the Île de la Cité (island)
You'll find a few restaurants just to the west of Sainte-Chapelle. They face a charming, triangular-shaped square called the Place Dauphine. If you walk to the east in the vicinity of Notre-Dame, you'll come across several other restaurants that are mostly tourist traps. Of course, if you want to grab a sandwich or a crêpe and enjoy it down by the river, these little cafés and stands are cheap options.
Right Bank Versus Left Bank
The side of Paris that's north of the Seine river is known as the "Right Bank." As you may have guessed, the area south of the Seine is called the "Left Bank." To be honest, there aren't any good dining options within close walking distance on the Right Bank.
The nearby restaurants that face the Seine are largely tourist traps with uninteresting food. The view is nice but the traffic along that side of the river is heavier and the exhaust doesn't make for a pleasant outdoor dining experience.
The Left Bank is your best option for a large variety of restaurants, from small bistros and to-go counters to more upscale experiences. If you're torn between several of these suggestions, keep them in mind for other meals as you're sure to be back in the area!
Find out even more about the differences between the Left and Right Banks, or just jump right into our restaurant recommendations near Sainte-Chapelle.
Brasserie Les Deux Palais (Island)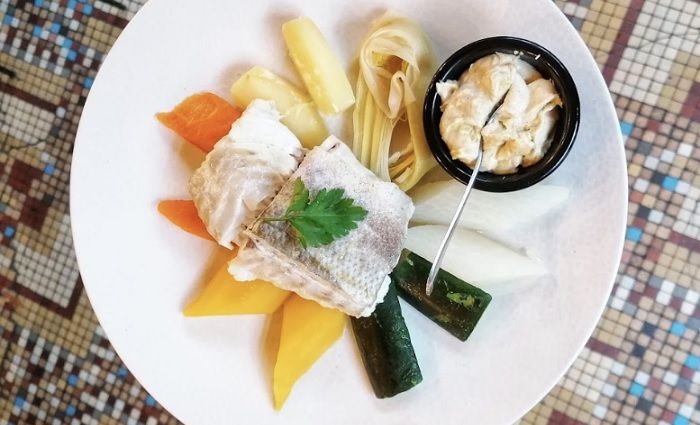 €€ | Belle Epoque Brasserie | Across the Street from Sainte-Chapelle
This bright and tastefully decorated restaurant is tourist-friendly. They prepare perennial favorite French dishes like escargot, French onion soup, steak and fries, and crème brûlée.
They open at 7 am on weekdays and 8 am on weekends, so consider stopping in for breakfast before your visit to the royal chapel. Remember, a typical French breakfast consists of juice, coffee, and a pastry but you can order an omelet if you're in the mood for something more.
Address: 3 Boulevard du Palais
Maison Paul (Island)
€€ | French Food | Cozy Bistro Atmosphere | Friendly Staff
Maison Pau serves traditional French fare. Try their excellent Paté en croûte, a slice of delicious paté wrapped in buttery pie crust, Aubergine farcie végétarienne, vegetarian stuffed eggplant, and a variety of tartare offerings if you're feeling adventurous. The food is reliably good and the wait staff are happy to help you select a good wine to accompany your meal.
Address: 15 Place Dauphine
Ha Noi (Island)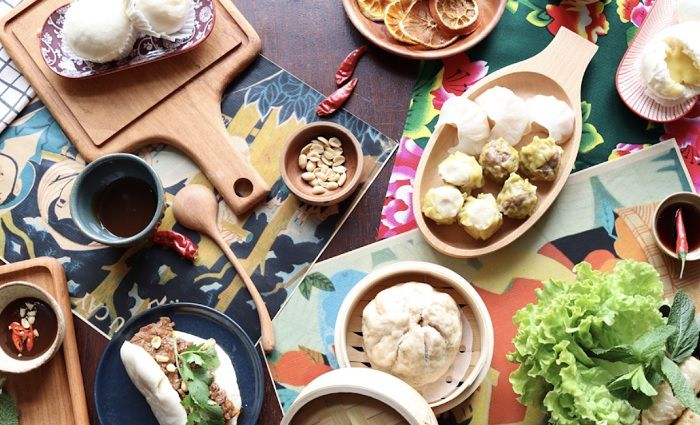 €€ | Award-Winning Vietnamese Food | Traditional Dishes
Ha Noi is a favorite with people who work on the island, so it may be crowded around lunchtime but it's worth the wait. Note that the menu is only in French but the staff are willing to give you a rough version of a given dish in English.
I recommend the Gỏi cuốn Tôm, a light spring roll for a starter. The mixed Dim Sum dumplings with shrimp, beef, and chicken (one each) are to die for. All of the soups, the Pho, are excellent.
Address: 72 Quai des Orfèvres
Relais Louis XIII (Left Bank)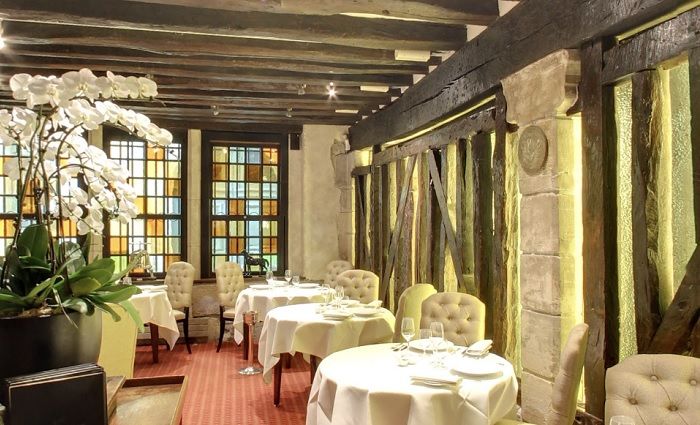 €€€€ | French Fine Dining | Elegant Old World Ambience
What better way to follow your experience of the splendor of Sainte-Chapelle than to enjoy French haute cuisine? Relais Louis XIII, a 7-minute walk from Sainte-Chapelle, is located in a former convent on a street brimming with history. Guillaume Apollinaire and Honoré de Balzac lived in homes on this street. Pablo Picasso painted his famous Guernica in a studio not far from the restaurant.
Michelin-star chef, Manuel Martinez, has been with Relais Louis XIII since 1986. Menus change daily, but you can expect dishes such as stuffed squash blossoms with creamy bisque, ravioli with lobster and foie gras in a mushroom cream sauce, and duck roasted with cherries followed by pie with duck foie gras.
Cheese, wines, and spirits are all excellent. Enjoy a mango, avocado, and gin jelly tartelette served with balsamic sorbet or a pavlova with red berries as an exquisite punctuation mark to your day.
Address: 8 Rue des Grands Augustins
Les Deux Colombes (Island)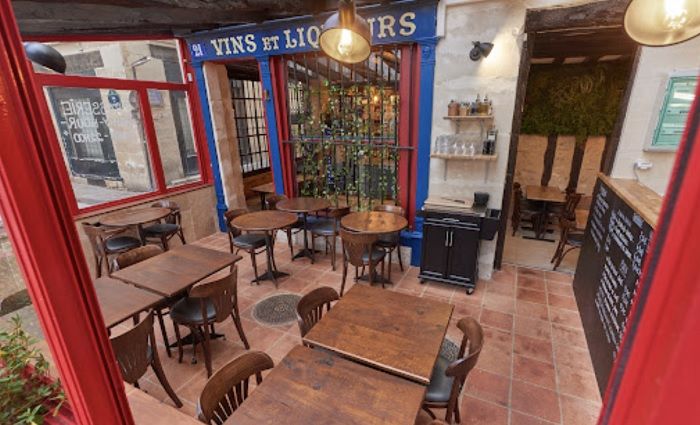 €€ | Treasure Among Tourist Traps | Inexpensive Fare Expertly Prepared
Les Deux Colombes, which means "The Two Doves," is my favorite restaurant on the big island. It's located due north of Notre-Dame but far enough away from the constant hubbub that you'll feel you've found a secret niche. And you have!
I love the Asperges blanches sauce hollandaise, white asparagus with hollandaise sauce. White asparagus is a French delicacy and you'll understand why when you try it. The Agneau Confit (slow-cooked in fat) lamb is mouth-watering. Don't leave without trying the Pain Perdu Brioché, which is essentially bread pudding with caramel sauce and vanilla ice cream.
Address: 4 Rue du la Colombe
Prêt A Manger (Left Bank)
€€ | Good Chain Restaurant | Good Food To Go
Head south on the Boulevard du Palais after your visit to Sainte-Chapelle and over the Pont Saint-Michel (Saint Michael Bridge) to the infamous Left Bank. Once you cross the bridge, you'll see the triangular Place Saint-Michel with its fountain and street performers. Prêt A Manger will be on your left, on the near corner of the Place.
They offer hot dishes like chicken tikka masala and rice, hot sandwiches or "toasties," all sorts of pastries, classic French sandwiches on baguettes, coffee, a variety of beverages, and more. I love grabbing food to go and then heading down the stairs by the Seine for a nice picnic.
Address: 49 Place Saint-Michel
Our Best Guided Tours of Paris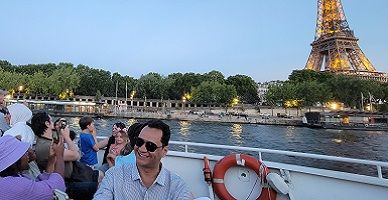 Likely to Sell out
Privileged Access Eiffel Tower Night Tour With Seine River Cruise
Sometimes the most amazing moments happen by chance. Other times, they are orchestrated by professionals. Our Eiffel Tower tour takes you on a cruise down the Seine River for incredible views of Notre-Dame and the Eiffel Tower. Champagne included, of course. Then you'll be guided to the Eiffel Tower, skip the long lines, and head up the elevator to the second floor for a night to remember.





See Prices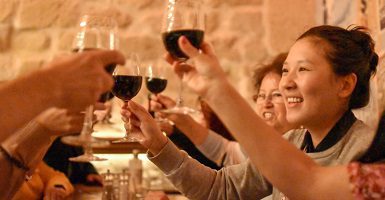 Top Selling
Ultimate Taste of Paris Food Tour in Le Marais
Embark on a culinary journey in Le Marais—one of the hippest neighborhoods in Paris. Most food tours in Paris offer cheese and wine, but we include a full, sit-down meal! Enjoy a feast of French cheeses, oysters, street food, boeuf bourguignon, crème brûlée, and more. This 3-hour food tour combines the best of Paris' culinary heritage and you won't find a better deal out there!





See Prices
Not ready to book a tour? Check out our best Paris tours to take and why.
Loulou (Left Bank)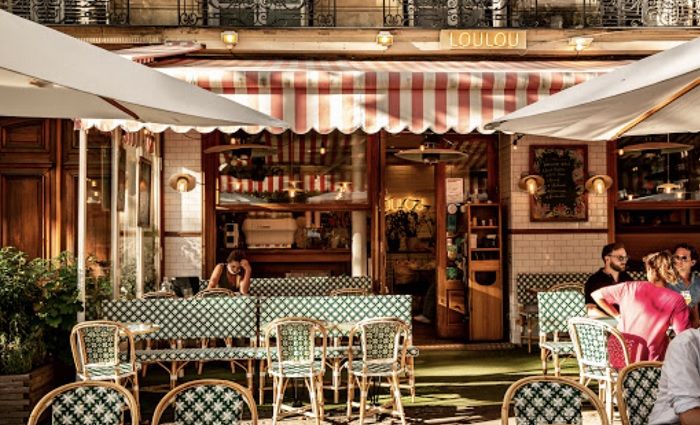 €€ | Perfect Brunch Spot | Very Warm Welcome
I love Loulou's for breakfast! It's popular with the students at the Sorbonne, so it's best to make a reservation. They open on weekdays at 8 am and weekends at 9 am.
Grab an excellent coffee and a pastry or a tartine avec beurre et confiture, toast with butter and jam, or go with a big breakfast of poached eggs and trout or Paleo banana pancakes.
On the brunch menu, the Ceviche is the best I've had in Paris. You can also get a variety of freshly made juices and other beverages, including beers and cocktails.
Address: 90 Boulevard Saint-Germain
Galway Irish Pub (Left Bank)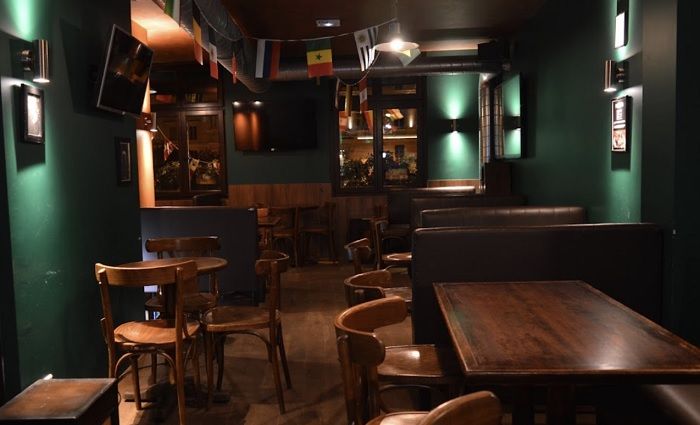 €€ | Authentic Irish Pub Experience | Friendly | Irish Breakfast All Day
Irish pubs the world over are favorites of English-speaking tourists. Sometimes you just want a little break and to order in English, right? This is a good place to do it and to enjoy a Guinness and a burger.
The Imperial Burger really is royalty. Loaded with Irish cheddar, caramelized onions, and a fried egg with cornichons, those delightful little French pickles on the side, this burger is memorable. Note that they only open at 2 pm on weekdays and noon on weekends.
Address: 13 Quai des Grands Augustins
Lolita (Left Bank)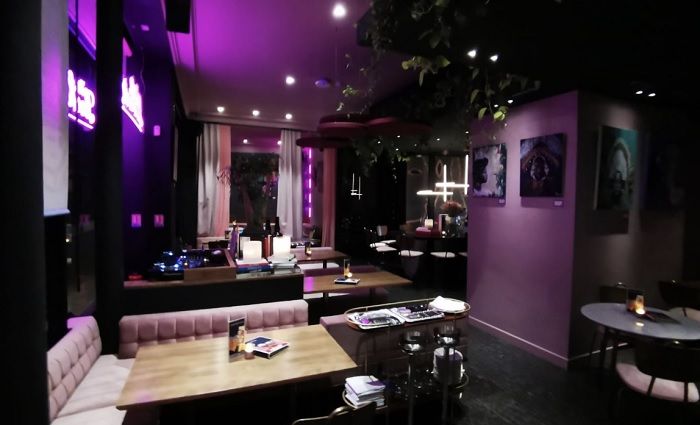 €€€ | Trendy | Left Bank | French and Middle Eastern Fusion
Lolita is virtually always busy, so you may have a short wait or you can make a reservation for, say, two hours after your Sainte-Chapelle arrival time. Go in the morning before your visit (probably your best bet without a reservation) and enjoy some gourmet avocado toast.
Or, linger over lunch afterwards and share a plate for two of pasta with a white truffle cream sauce and parmesan or beef with a black pepper, whiskey, and gorgonzola sauce.
You should note that "plate" is the main dish and "entrée" is the starter. My favorite dishes for one person are the incredible pulled pork burger and chicken caesar salad. The pasta dishes are also fantastic. If it's a nice day, ask for outdoor seating.
Address: 53 Quai des Grands Augustins
Kodawari Ramen (Left Bank)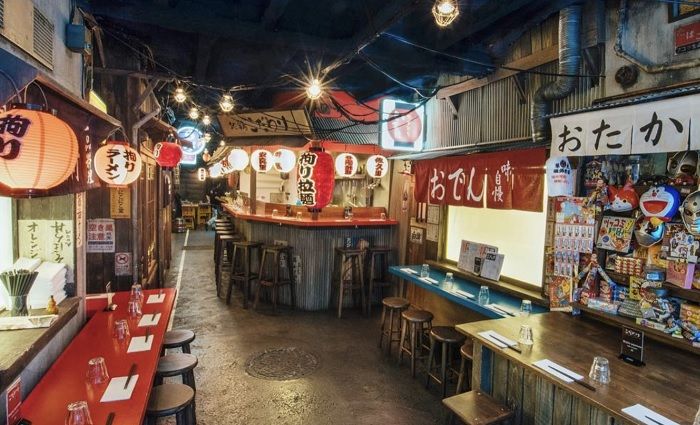 €€ | Best Ramen in Central Paris | Open Kitchen | Lives Up To Its Reputation
On a cold day in Paris, there's nothing like a bowl of savory ramen to warm you up! On the weekends, Kodawari is really busy, so you may have to wait for a table. It's easier to get in on weekdays and the wait is worth it.
I recommend the spicy noodles with ground pork for an appetizer and the Niboshi Paitan Ramen. The complex flavors of all of the ramen offerings are impressive. Suffice it to say everything here is good!
Address: 29 Rue Mazarine
La Palette (Left Bank)
€€ | A Glimpse of Arty Paris | See-and-Be-Seen Outdoor Seating
A 10-minute walk from the Île de la Cité to the Left Bank gets you to La Palette in the artsy part of Saint-Germain-des-Pres. At La Palette, outside seating is where it's at.
Squeeze between boisterous patrons to get to a table and then take in the energy of Paris at its most creative and authentic. The menu features basic French food but it's all expertly prepared.
Go for the Guillotine Jambon du Pay ou Cantal, beautiful cured ham of your choice, a simple but lovely omelet with smoked ham, or the grilled Spanish sardines. Everything is good.
Address: 43 Rue de Seine
Ladurée (Left Bank)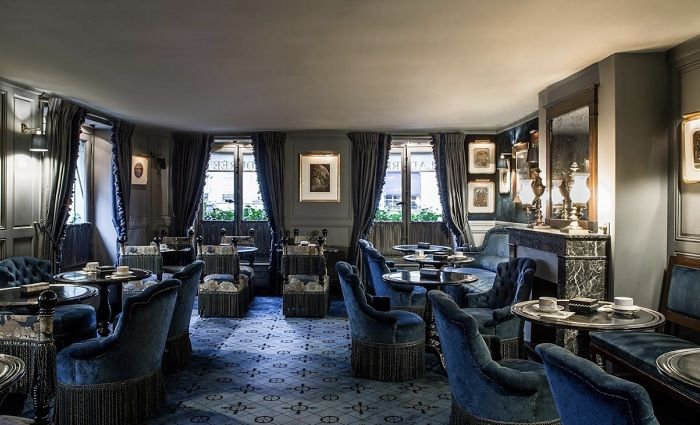 €€ | Iconic Upscale French Bakery | Macaron Heaven
I've saved the best for last. You haven't experienced Paris until you've tasted a macaron from Ladurée. The window displays alone are masterpieces. Everything they make is scrumptious but their signature macarons are the reason this place is famous.
In addition to the bakery, the restaurant is tastefully decorated. The food is reasonably priced and consistently great. It is nearly impossible to dine in without a reservation, so reserve in advance online if you want the full experience.
Otherwise, buy a mixed box of 4, 6, or 12 macarons to go, or try one or two. The flavors are coffee, salted caramel (my favorite), chocolate, orange, pistachio, rose, vanilla, lemon, raspberry, Thé (tea) Marie-Antoinette, and black currant and violet (my other favorite).
Address: 21 Rue Bonaparte
Not ready to book a tour? Check out our best Paris tours to take and why.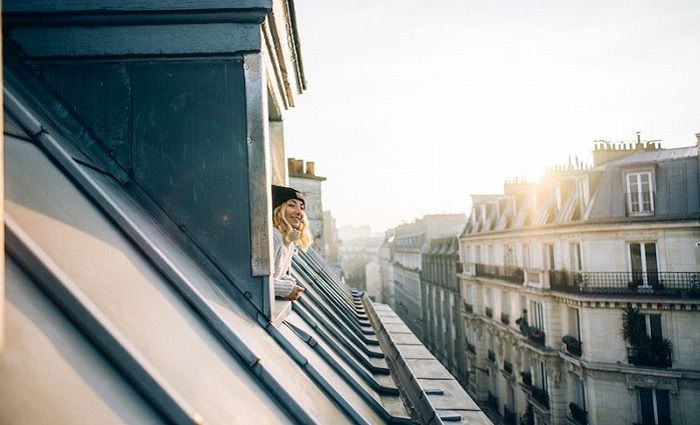 Find the best places to stay
Where To Stay in Paris
With a city as magnificent as Paris, it can be hard to find the perfect hotel at the perfect price. Explore the best hotels and places to stay in these incredible neighborhoods in Paris.