Hell's Kitchen in Manhattan has a huge selection of restaurants to choose from with an emphasis on true global flavor. You'll find anything from Cuban cuisine to Thai street food and then some. With all these options, narrowing down where to eat might seem overwhelming. But we're here to help. Here are the best restaurants in Hell's Kitchen you need to try right now.
---
Best Places to Eat in Hell's Kitchen, NYC
When it comes to great restaurants, a booming nightlife, and a thriving LGBTQ+ community, Hell's Kitchen has you covered. But it wasn't always the case. A once down and dirty neighborhood full of crime and gangsters, Hell's Kitchen has definitely cleaned its act up over the years and we're thankful for it. It has a lot of street cred, and being so close to the Theater District, it's a go-to for grabbing a bite before or after a show.
Speaking of food, if you're looking for some good spots to try in this area, you're in luck. We know some great restaurants in Hell's Kitchen that will feed that hunger and also provide some exciting flavors found all around the globe. Here are our picks for the best restaurants in Hell's Kitchen.
Guantanamera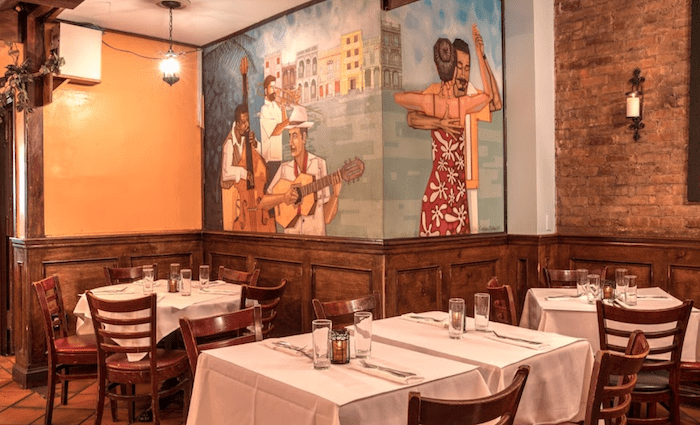 $$ | Cuban | Live Music
Guantanamera has been a Cuban staple since 2005 and for good reason. This is the spot you go to for a real Cubano (or pressed Cuban sandwich with pork, ham, and cheese). And the apps are good, too. We're all about the tostones rellenos (shrimp-stuffed plantains) and croquetas made with chicken or ham. But this vibrant spot is also known for its live Cuban music and cigar rolling on the weekends.
And while everywhere else in the city you're gonna pay way too much for drinks, Guantanamera has some serious deals to help you save. Check out the all-day happy hour on Mondays and $6 mojitos on Tuesdays. Saving all this money on drinks can have you opting for the good seats at the theater.
Address: 939 8th Ave, New York
Inti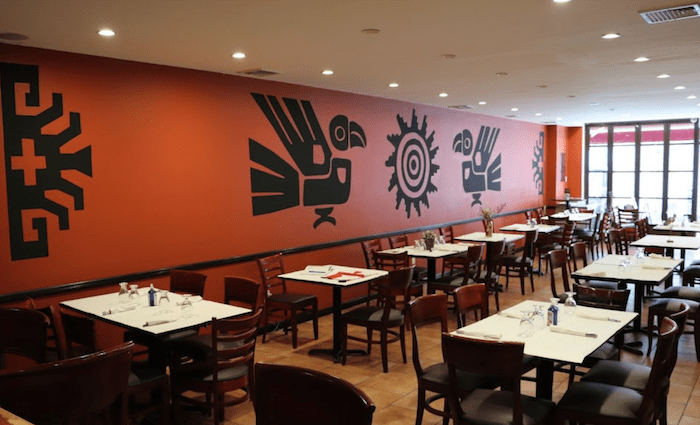 $$ | Peruvian | Rotisserie Chicken
Step inside this cozy spot and allow your taste buds to travel to Peru. Inti has some of the freshest ceviche and the best seafood paella around. But it's really known for its juicy rotisserie chicken. And with a choice of getting a whole, half, or quarter size, you have plenty of options when it comes to chicken. There are also all the classic desserts to try, including flan and tres leches. But we say, go for the Peruvian doughnuts that are made with sweet potato. They are unlike anything you have ever tasted.
And a Peruvian joint wouldn't be complete without pisco sour to wash it all down. Here, you'll find a menu dedicated to the cocktail with several different options that range from the classic to Cosmopolitian-inspired pisco.
Address: 820 10th Ave, New York
Ñaño Ecuadorian Kitchen
$$ | Ecuadorian | Homecooking
If you're in the mood for some authentic Ecuadorian food, you have come to the right place. Ñaño Ecuadorian Kitchen is all about home-cooked recipes that have been passed down from generations. The menu is also updated on a regular basis so if you're a regular, you're constantly trying something new.
We love starting our meal off with some plantains, including the Empanada de Verde (a plantain turnover that is stuffed with cheese). As for the main course, you can't go wrong with the beef stew on a cold day, but we love Tonga (chicken in peanut sauce with yuca) any time of the year.
The place is cozy and small, so be aware that it can fill up fast. It also doesn't stay open late, only until 10 pm. We like to get here for lunch or before a show. But on Fridays, doors are open until 1 am (they just stop serving food at 10 pm) where you can enjoy drinks and karaoke, if that's your thing.
Address: 691 10th Ave, New York
Cantina Rooftop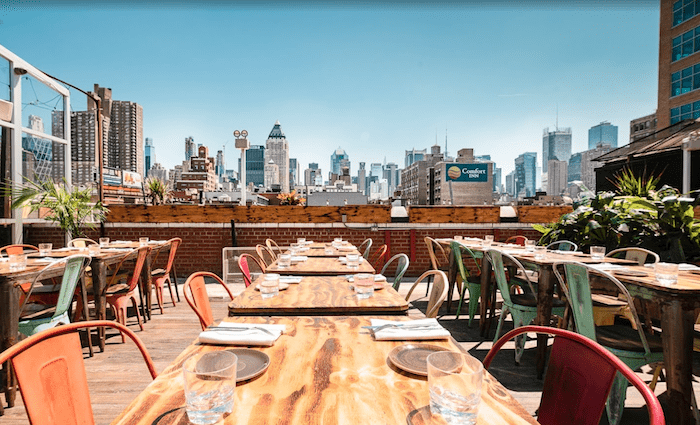 $$ | Mexican | Year-Round Rooftop
Who doesn't like sipping a margarita on a sunny rooftop? Cantina Rooftop is the place to do just that and it doesn't even matter what season. You can enjoy the impressive city views any time of the year thanks to the space being climate-controlled and fully equipped with a retractable glass roof. The restaurant is bright and colorful even on those gloomy winter days thanks to its fun decor and friendly ambience.
But let's get to the food. The guacamole is a must and can be made with mango or chipotle. We're big fans of the classic with cilantro and onion, and of course, serrano pepper to add a bit of spice. You have your choice of tacos, but we can't get enough of the enchiladas con pollo with avocado and beans. A margarita (or three) is almost obligatory, but we suggest trying your meal with traditional mezcal for a smoky good flavor.
Address: 605 W 48th St, New York
Pure Thai Cookhouse
$$ | Thai | Homemade Noodles
Noodle lovers rejoice. Pure Thai Cookhouse has some of the best homemade noodles (straight from a family recipe) that are beyond slurp-worthy. Take the crab and pork made with handmade egg noodles for example, or the Tom Yum Koong made with thin rice noodles, shrimp, and chili coconut milk. Watch out, your nose will run after that one.
The place is small, narrow, and tight, which is sort of its charm. It's a great spot to go solo with intimate tables that are perfect for one when you're craving some noodles after work
Address: 766 9th Ave #2, New York
Danji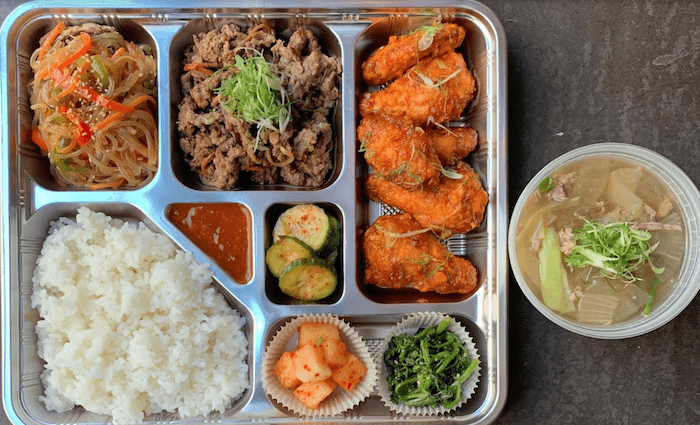 $$$ | Korean | Tasting Menu
Everything is tasty in this little Korean nook. Danji has it all from kimchi fried rice to handmade dumplings, bulgogi bibimbap (sirloin steak and rice), and some tasty chicken wings. But when we come here, we opt for the tasting menu so we can enjoy it all. It's served in multiple courses starting with sashimi appetizers and ending with ice cream for dessert. You can't go wrong.
The portions are small but are great for trying a variety of plates at your table. And pretty much everything you consume is either organic or sustainable and locally sourced. That means you can feel good about what you're eating, which is ideal since you'll likely be back again and again.
Address: 346 W 52nd St, New York
Capizzi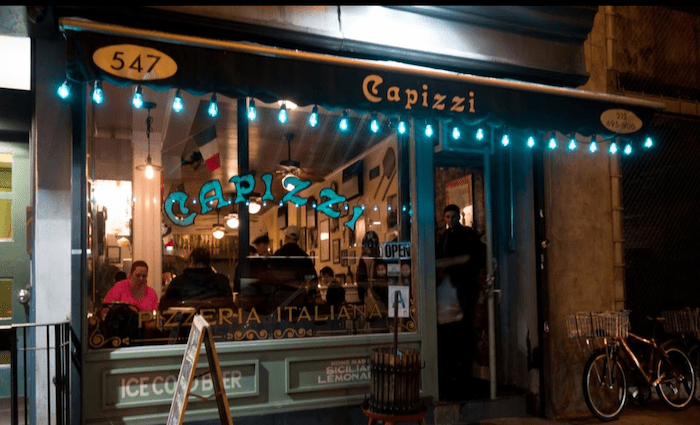 $$ | Wood-Fired Pizza | Relaxed Setting
This tiny pizzeria in Hell's Kitchen is definitely worth a trip. It's family-owned and has some of the best wood-fired pizza in the area. You can't go wrong with the Margherita pie with its golden-brown crust topped with tomatoes and fresh mozzarella.
But there are plenty of other options to try here, too for the meat-eaters, including pepperoni or Italian sausage. As for something sweet, expect real cannolis—like your Italian grandmother might make. There's also the Nutella pizza that we can't get enough of.
As we said, this place is small so it can be hard to get a seat. If you can score one, it's worth it. The quirky, vintage decor (like that old-school TV) makes for a relaxed setting to eat some serious carbs. But grabbing a pie for takeout isn't a bad choice either.
Address: 547 9th Ave, New York
Empanada Mama Hell's Kitchen
$$ | Latin | Open 24 Hours
If you're an empanada lover, you're going to really enjoy this Latin spot. Empanada Kitchen has a few locations in the city, but we love this Hell's Kitchen outpost. It's vibrant and fun and has some great tables by the windows facing the street.
You'll have ample people-viewing for dinner and a free show. And when we say there are empanadas, there are really all kinds here. You'll have your choice of corn or wheat flour, with a wide selection of meats and cheeses to stuff them with.
While the empanadas are the stars here, the homemade arepas are also definitely worth an order as is the Colombian breakfast. Here, you can fill up on scrambled eggs served with rice and beans for less than $10. And there's no way you're leaving this place without ordering the churritos with that homemade dulce de leche sauce to dip them in.
Address: 765 9th Ave, New York
Queen of Sheba
$$ | Ethiopian | Rum Cake
You go to Queen of Sheba when you want some incredible Ethiopian food. This place will not disappoint when it comes to serving authentic dishes of Gomen Besiga (slow-cooked beef) and Sambousa (egg roll stuffed with meat or lentils). And the menu is huge. There are options for just about anyone, including the vegetarians at your table. Once you're finished eating the main course, you have to try the rum cake. This moist dessert is the perfect finishing touch to any and every meal.
This corner spot is as homey as you get. We love the simple decor that allows us to be casual and comfortable. It's perfect for when we want to dig into our food and not feel self-conscious about it.
Address: 650 10th Ave, New York
Hummus KItchen
$ | Mediterranean | Prix-Fixe Brunch
When we're craving some really good hummus, we know where to go. Hummus Kitchen has two locations in the city (Upper East Side and Hell's Kitchen) and both are winners. There's almost any hummus that you can imagine available. If you want your hummus with ground lamb, you got it. Craving sliced mushrooms with the hummus? No problem. Of course, there's always the more traditional with only chickpeas, which is our favorite.
Another big draw to this cozy spot? The prix-fixe brunch menu. It comes with an appetizer sampler and entree for only $16. Plus, you can add on unlimited sangria for an extra $15. Probably one of the cheapest bottomless brunches you'll find in this city. Too bad it's only limited to an hour. But we admit that a lot can be had in a short amount of time.
Address: 768 9th Ave, New York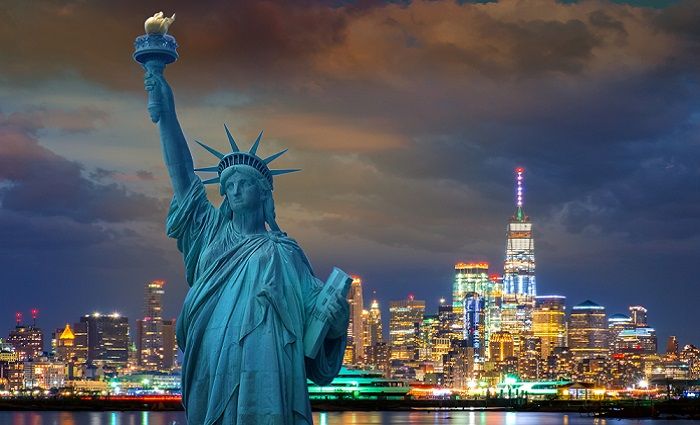 Find the best places to stay
Where to Stay in NYC
New York City is the center of the universe to those who adore this iconic city. Choose the best neighborhood to stay in as you plan your upcoming trip to the Big Apple.