The west side of Los Angeles has some of the finest restaurants and hotels you'll find in the area. Beverly Hills maintains its high standards of luxury with the restaurants you'll find here, from Michelin star fine dining to casual eating. Our list of the best restaurants in Beverly Hills includes a variety of cuisines and dishes that shouldn't be missed.
---
Pro Tip: Bookmark this page to stay on top of the best restaurants in Beverly Hills! We update it often to make sure we've included all of the most popular restaurants from a variety of cuisines. Also, you can check out other restaurants in LA or the best luxury hotels in Beverly Hills.
The 11 Best Places To Eat in Beverly Hills
Beverly Hills may be a physically small city, but there's nothing small about the decadent hotels and refined restaurants here. The close quarters actually makes it easy to find a tasty restaurant nearby no matter where you are. The Los Angeles area has long been a foodie haven.
Fresh, local, accommodating, inspired. These four words embody many of the unique menus in the area and Beverly Hills is no exception. In fact, some restaurants here have paved the way for numerous franchises in other popular cities.
Culinary creations using local ingredients often put new restaurants ahead of existing competition. But of course, specialties like Waygu beef and Maine lobsters are essential to rounding out a menu. Most restaurants have excellent vegetarian options and many have gluten-free choices as well. And whether you prefer to eat at an expensive restaurant or choose a laid-back location, there's something for everyone on our list of best restaurants in Beverly Hills.
Matsuhisa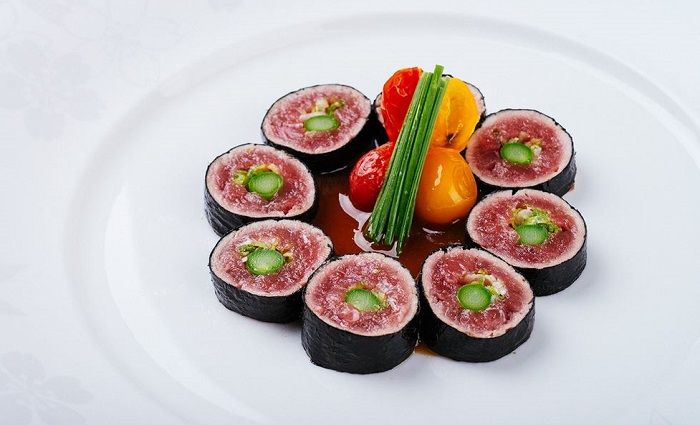 $$$$ | High-end Japanese Cuisine | Elegant but Low-Key | Celebrity Favorite
This Beverly Hills location is Nobu Matsuhisa's original flagship restaurant that leads the way for over 40 other locations. It's an acclaimed destination for celebrities, locals, and tourists alike.
You can order Omasake style or off the expansive menu that seems to include every seafood in the ocean: mackerel, giant oysters, golden eye snapper, yellow and blue tuna, orange clam, and much more. For a fun twist, try the Kobe beef or sashimi tacos.
Address: 129 N La Cienega Blvd, Beverly Hills, CA
Hours: Daily, 11:45 am – 2:15 pm, then 5:45 pm – 10:45 pm
Da Pasquale Trattoria
$$ | Venetian-style Italian Dining | Indoor and Outdoor | Cozy & Inviting
Da Pasquale Trattoria could probably charge more for their delicious Italian dishes than they do. This restaurant offers the perfect menu for a mid-range price in an otherwise expensive city. The lasagna is a top favorite among most customers, but so are the seafood pastas.
The pastas are handmade fresh, so you're sure to enjoy a tasty, authentic flavor here. We definitely recommend leaving room for the flourless chocolate cake that practically melts in your mouth!
Address: 9749 S Santa Monica Blvd, Beverly Hills, CA
Hours: Tuesday – Saturday, 11 am – 2:30 pm, then 5 pm – 9 pm
The Belvedere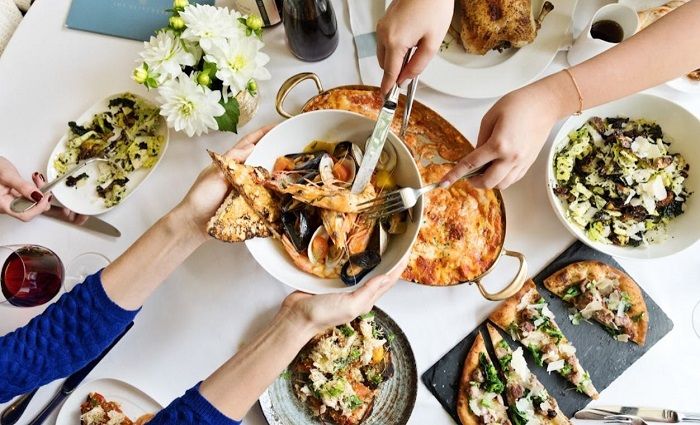 $$$ | French-California Cuisine | Fresh, Bright Decor | Perfect Brunch Spot
Located in the stunning Peninsula hotel is the swoon-worthy Belvedere restaurant. With bright decor inside and on the patio, you'll enjoy your meal in comfort and with all the light of good California vibes. For those who enjoy fine caviar, try the incredible lobster and caviar focaccia which looks as good as it tastes.
The saffron risotto croquette will also delight your palate. Once you've experienced the Belvedere, you'll likely come back again for the amazing food and the impeccable service.
Address: 9882 South Santa Monica Boulevard Ground Floor, Beverly Hills, CA
Hours: Wednesday – Saturday, 6:30 am – 2:30 pm, then 5 pm – 10 pm; Sunday, 6:30 am – 2:30 pm
SUGARFISH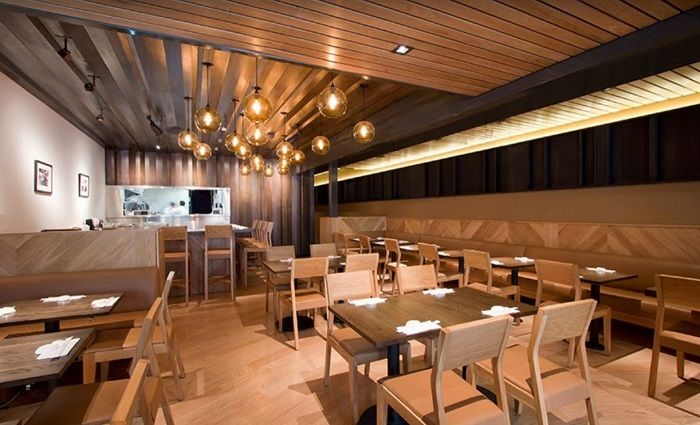 $$$ | Japanese Cuisine | "Secret" Michelin Star Bar | Simple and Tasty
Sugarfish is one of the top places to go for fresh seafood and sushi in Beverly Hills. Don't let the simplicity of this little restaurant fool you. The dishes here are extraordinary. That's why the secret sushi bar in the back (Nozawa Bar) has already earned a Michelin star.
Meals are ordered Omakase style, so you might enjoy a variety of sushi, sashimi, and handrolls. Ruby red snapper, Japanese yellowtail, thin-sliced octopus, and large scallops will just about melt in your mouth.
Address: 212 N Canon Dr, Beverly Hills, CA
Hours: Monday – Saturday, 11:30 am – 10 pm; Sunday, 12 pm – 9 pm
Prospect Gourmand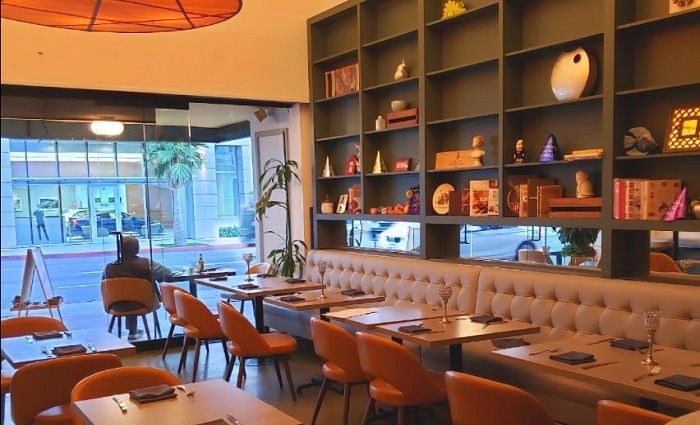 $$ | California International Cuisine | Refreshing Flavors | Great Owners and Incredible Food
Chef and co-owner Isaac Gamboa trained under Michelin star chef Michael Mina, and his dishes reflect that professionalism. Not only do they look amazing, they taste just as good. The chef's humor even comes through on the menu when he says the soup of the moment could change due to "chef's boredom." Using many local ingredients, each dish offers flavor pairings you won't soon forget, though the menu does change often. Try the amazing honey truffle fried chicken if it's on the menu.
Address: 105 N Robertson Blvd, Beverly Hills, CA
Hours: Monday, 11 am – 8 pm; Tuesday, 11 am – 9 pm; Wednesday & Thursday, 11 am – 10 pm; Friday, 11 am – 11 pm; Saturday 10:30 am – 11 pm; Sunday, 10:30 am – 8 pm
Fogo de Chão Brazilian Steakhouse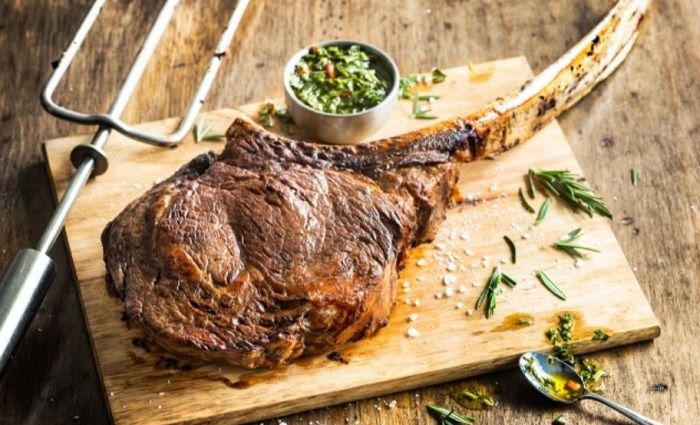 $$$ | Brazilian Cuisine | Meat Lovers Haven | All-You-Can-Eat, Upscale, Tableside Service
If you've never been to a Brazilian steakhouse, you don't know what you're missing. Fogo de Chão definitely earns a spot on our best restaurants in Beverly Hills list. While you could order off the impressive menu, most choose the all-you-can-eat buffet that's better than it sounds. In traditional Brazilian style, servers bring piles of meat on skewers and slice it tableside.
Prepare for the meat sweats as you enjoy slices of pork tenderloin, Waygu beef, New York Strip and more, all prepared with incredible flavors. Oh, and the grilled pineapple. Well, there almost aren't words to describe its deliciousness. To indulgently refresh yourself between servings, the Brazilian limonade is an absolute must.
Address: 133 N La Cienega Blvd, Beverly Hills, CA
Hours: Monday – Thursday, 11:30 am – 10 pm; Friday – Saturday, 11:30 am – 10:30 pm; Sunday, 11:30 am – 9 pm
Spago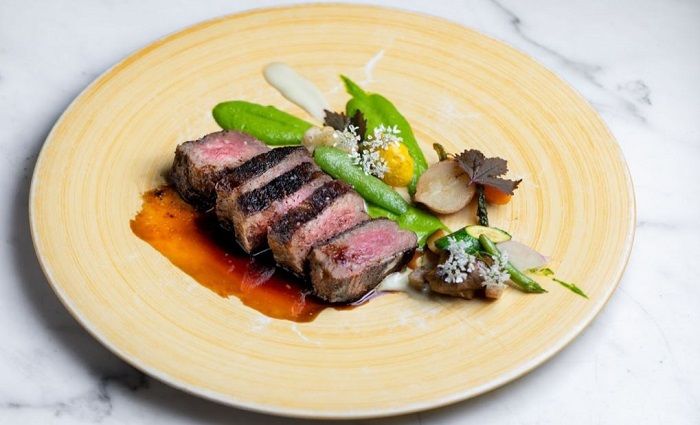 $$$$ | Busy Bistro | Local Ingredients | 2 Michelin Stars
Spago is considered the flagship restaurant of the Wolfgang Puck Fine Dining Group—an impressive position, which is why it earned two Michelin stars and a spot on our best restaurants in Beverly Hills list. The dishes look as good as they taste, since food should be an experience of more than just one of your senses.
For lox lovers, try the Scottish salmon pizza. And the bread box service is a popular choice to enjoy bread, butter, and fresh strawberry jam. We love that the seasonal menu changes often to flow with local ingredients. However, if you prefer to order off the regular menu, prepare to be well satisfied with a multi-course meal.
Address: 176 N Canon Dr, Beverly Hills, CA
Hours: Sunday, Tuesday – Thursday, 5 pm – 10 pm; Friday – Saturday, 5 pm – 10:30 pm
Le Pain Quotidien
$$ | Bakery and Cafe | Lighter Fare | Casual but Classy | Organic Options
For a more laid-back breakfast or lunch, definitely opt for Le Pain Quotidien. It's a delightful little bakery and cafe that offers surprising dishes at great prices, most of which are organic. The food tastes so fresh and looks vibrantly colorful here, which just adds to the start of a great new day.
The Belgian waffles are always a hit, but you might also love the smoked salmon omlette, or croque monsieur tartine. And don't leave without taking a sumptuous almond croissant or bottle of jam with you!
Address: 9630 S Santa Monica Blvd, Beverly Hills, CA
Hours: Daily, 7 am – 4 pm
Cantina Frida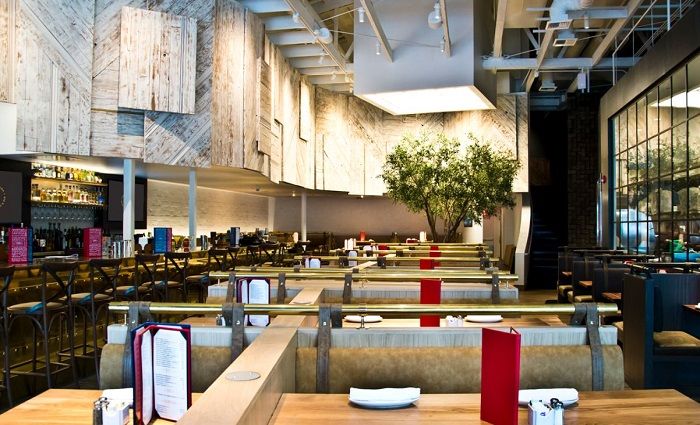 $$+ | Authentic Mexican | Fun Ambiance | Great for Small Groups and Couples
This isn't your average Mexican restaurant. Here you'll find authentic dishes with traditional mole or fried plantains. It's an experience in traditional food that's meets modern expectations, so you'll be impressed with how each dish is plated, too.
Whether you want to try fresh ceviche, lobster tortillas, or incredible chicken molcajete, you can't go wrong here. The menu has a range of prices, so it works for anyone ready to experience true Mexican food.
Address: 252 N Beverly Dr, Beverly Hills, CA
Hours: Sunday, 11 am – 9 pm; Monday – Thursday, 11 am – 10 pm; Friday – Saturday, 11 am – 11 pm
The Rooftop by JG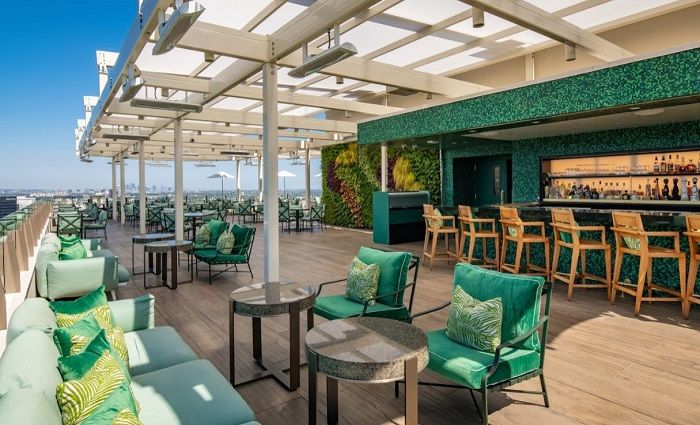 $$ | American Fare | Rooftop Views | Casual California Garden Vibes
Located on the upper level of the Waldorf Astoria hotel in Beverly hills, this rooftop cafe boasts some of the best restaurant views in Beverly Hills. It's open all day so whether you prefer a morning brunch or a sunset dinner, The Rooftop has you covered.
Pair your scrambled eggs and caviar with a refreshing, energizing blend of organic juices at breakfast. Otherwise, the lobster burger is an incredible option that's paired with gruyere cheese and green chili dressing.
Address: 9850 Wilshire Blvd, Beverly Hills, CA
Hours: Daily, 8 am – 10 pm
CUT by Wolfgang Puck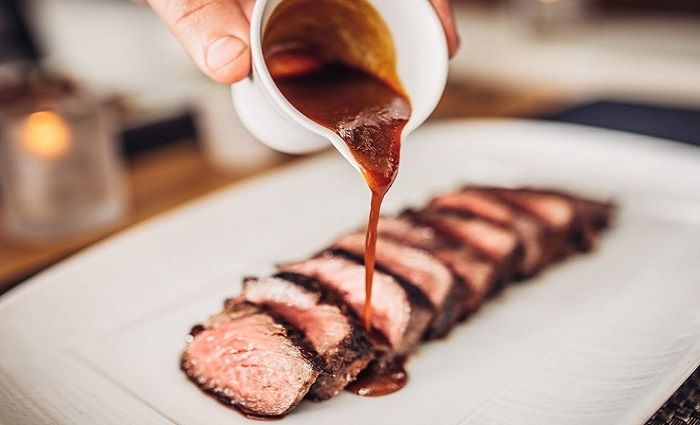 $$$ | High-end Steakhouse | Luxurious Yet Casual Vibes | 1 Michelin Star
Located inside the decadent Four Seasons in Beverly Hills, you'll find Wolfgang Puck's modern restaurant: CUT. It's a great place to enjoy a relaxing meal of impressive food in this Michelin star steakhouse. It can feel busy, but the service and food make up for it.
The Waygu beef always ranks high on the menu as a favorite but so do the Maine scallops. If you're up for a tasty option, consider the bone marrow flan which is healthy, rich, and tasty since it's also covered in a bordelaise sauce.
Address: 9500 Wilshire Blvd, Beverly Hills, CA
Hours: Tuesday – Thursday, 5:30 pm – 10 pm; Friday – Saturday, 5:30 pm – 11 pm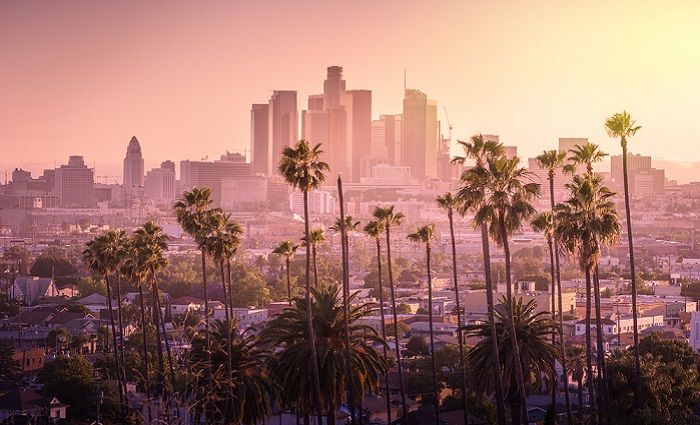 Find the best places to stay
Where to Stay in Los Angeles
With Hollywood, Beverly Hills, and Santa Monica nearby, there are no shortage of great places to stay in the Los Angeles area. Use our guide to help you decide which hotel to book on your trip to LA.